Taking Inland Waterways To the Mainstream
By Chip Jaenichen, U.S. Maritime Administrator
It takes nonstop work to maintain America's position in today's global economy. Every day we compete against strong international rivals for demanding foreign and domestic customers. Thankfully, the American economy has a large-scale, crucial asset that gives us an edge on the rest of the world: over 28,000 miles of inland river and coastal waterways with consistent navigation at suitable depths (9 feet during 9 months of the year) – more any other nation on earth.
Although we have the world's greatest industrially-useful waterway network, we are barely using its full capacity. In 2013, the U.S. moved just under 5 percent of our domestic freight shipments by water. Imagine if the Denver Broncos played Peyton Manning for just three minutes each game. That's essentially what our nation is doing. We are hardly utilizing our greatest competitive advantage. But you can rest assured, other nations are using theirs. Inland waterway shipping currently accounts for over 40 percent of all European Union freight transportation, and that percentage is rising.
Today, the United States moves roughly 80 percent of all goods on just 10 percent of our nation's landside trade corridors. Congestion and delays have become as American as apple pie, and as a nation with a rapidly-growing population, this arrangement should not be acceptable to any of us. If we remain on our current course, it will inevitably choke freight flows, limit our economic growth and impact our international standing.
America's future hinges on our ability to move goods to markets both at home and abroad. If our nation is to succeed going forward, we have to better utilize the untapped capacity of our U.S. inland and coastal waterways.
The Maritime Administration's (MARAD) foremost effort on this front has been the development of a National Maritime Strategy, a framework of vital actions necessary to fully leverage America's inland and coastal waterway network and reinvigorate the U.S. Maritime Industry. To launch this endeavor, MARAD hosted two public symposiums with over 600 maritime stakeholders representing all segments of our industry. The innovations, ideas and solutions that came from those events provided the foundation for our preliminary strategy, which MARAD took to the Marine Transportation System National Advisory Council (a chartered, non-federal body that advises the Secretary of Transportation on Marine Transportation System issues) for evaluation last fall. We have since coordinated our working strategy with numerous interagency partners and a private sector strategic communications firm, and made great strides towards generating an actionable, accessible and viable product.
Our draft strategy includes numerous measures that will strengthen domestic marine highway services, initiate investments for essential inland waterway infrastructure and further develop the Marine Transportation System. MARAD intends to post our draft strategy on the Federal Register for public comment soon and we hope to receive at least as much high quality input from stakeholders as we did at our National Maritime Symposiums. We also hope that you, the maritime-knowledgeable readers of MarineNews Magazine will make the time to evaluate the draft strategy and provide us your assessments as well.
MARAD will make use of this final public consultation as we forge our ultimate National Maritime Strategy. We will then deliver the strategy to Capitol Hill, and collaborate with policymakers to construct practical actions needed to implement the strategy on a national basis.
Parallel to the development of the National Maritime Strategy, MARAD is advancing other actions to benefit the inland waterways. One great example is our continued work to expand America's Marine Highway Program – an initiative that is seamlessly merging waterborne routes with our nation's surface transportation system. The Marine Highway System currently includes 22 all-water Marine Highway Routes and 11 designated Marine Highway Projects, and MARAD has been working with a number of state, county, local and private stakeholders to promote more designations.
Just this spring, MARAD welcomed a large group of mayors representing communities all along the Mississippi River – from St. Paul to New Orleans – to the U.S. Department of Transportation Headquarters in Washington, DC. MARAD facilitated a candid discussion between the mayors and representatives of private vessel operators, shippers, ports and terminals. We addressed opportunities and challenges facing Mississippi River shipping, and as we did so, we developed a healthy atmosphere of information exchange, collaboration and achievement.
I am sure that some of you are familiar with how this effort turned out. During the last week of April, Secretary Anthony Foxx announced the designation of the M-55/M-35 Container-on-Barge Marine Highway Project, which will provide services between Chicago and Minneapolis and New Orleans. In addition, I can proudly report that the public leaders and industry stakeholders behind this effort have already made strong progress developing a container-on-barge service for the route.
As I noted earlier, our inland rivers and waterways can be the edge our nation needs going forward. That's why MARAD is working hard to spearhead recapitalization and reform efforts, and why we want elected representatives to reach across party lines, partner with the private sector, and make investments and models for growth on the inland waterways.
It's also why MARAD is asking you – the readers of MarineNews – to do your part to help us create a more robust inland waterway system. While some of us are in prime positions to assist dredging efforts and/or reinforce our aging lock and dam infrastructure, every one of us can make a difference through information and education.
Almost 319 million people live in the United States, and far too few of us understand the value of the Marine Transportation System. So take advantage of every opportunity to tell others how the inland waterways bring coal to the utility plants that provide electricity to our houses; how 15-barge tows move grain and other agricultural products to markets domestic and ultimately abroad; and how the waterborne supply chain ensures cement and gravel for construction sites nationwide.
Building awareness is a valuable but often overlooked means of building support for our inland waterways—and it's an approach that we can't afford to dismiss. Our inland waterways have significant untapped capacity, and with prioritized investment, they are a logical solution to some of the mounting problems facing our surface transportation system. As maritime proponents, you and I understand this. Now it's time for others to realize it as well.


(As published in the June 2015 edition of Marine News - http://magazines.marinelink.com/Magazines/MaritimeNews)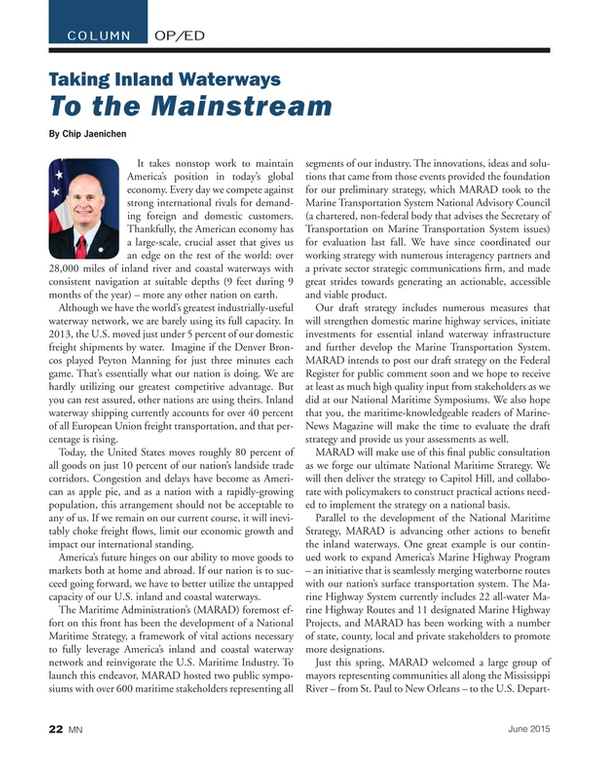 Read Taking Inland Waterways To the Mainstream in Pdf, Flash or Html5 edition of June 2015 Marine News
Other stories from June 2015 issue
Content