Campbell CEO Stephaich Weighs in on All Things Inland
By Joseph Keefe
Peter H. Stephaich is Chairman and CEO of Blue Danube Incorporated and Campbell Transportation Company. Peter is also on the Board of Directors of Blue Danube, a position that he has held since 1982. If today he isn't the most familiar name on the domestic waterfront, then perhaps, he should be. Serving the barge industry for over 30 years in a number of key roles, he also counts among his many qualifications his tenure(s) as Past Chairman and Past Treasurer of the American Waterways Operators (AWO), Past Chairman and Trustee of the National Waterways Foundation, Vice Chairman and Executive Committee of Waterways Council (WCI) and as Commissioner and Vice Chairman of the Port of Pittsburgh Commission.
Stephaich and his firm, Campbell Transportation Company, own and operate boats, hopper barges, and jumbo barges on the Upper Ohio River. The company specializes in servicing industrial customers on multi-year barge transportation agreements. It moves primarily coal to utility and steel industries. No small outfit, Campbell Transportation Company has approximately 500 employees, owns and operates 50 boats, 1,100 barges and four shipyards. It would be an understatement to say that Peter brings a unique perspective to the inland river business. That's because, and prior to arriving on the domestic waterfront, Stephaich lived in Europe and New York City where he worked for various financial institutions, including Lazard Frères, and Bankers Trust Company. At Bankers Trust, Mr. Stephaich concentrated on international financial advisory work, mostly in the transportation and aerospace industries. A native of New York City, he earned his bachelor's degree from Middlebury College and his MBA, with a major in finance, from New York University. While he speaks five languages, he is particularly fluent in 'river' talk. This month, he weighs in on all things 'inland.'
Give us your assessment of today's market conditions on U.S. inland waters, especially in the areas that Campbell operates.
Campbell Transportation Company, Inc. (CTC) is an integrated marine services provider that operates primarily on the Ohio River. These markets are currently depressed due to the reduction of utility coal demand and the over building of the open hopper fleet. There are about 2,000 excess barges in the system and it will take 3 – 5 years for demand and supply to come into equilibrium as long as the industry greatly reduces the number of new barge construction.
What is the most important issue facing inland operators today? Is that issue the same for industry as it is for Campbell's position?
From our perspective, the reduction of demand for our services, and the conditions of our inland waterways infrastructure are the two issues that are tied for first place.
What will it take for freight rates to improve on the inland rivers?
Economics 101, demand and supply. We either need more tons to move or we need to shrink the barge fleet. Preferably both.
You've just completed a fairly significant acquisition and resultant increase in your fleet numbers. Do you see more consolidation ahead, as operators struggle to get the rates they need to keep quality equipment and mariners on the water?
More consolidation is inevitable. Campbell has tried to be a consolidator over the past 5 years. We have not built any new open hopper or covered barges and have grown our fleet by acquiring around 150 used hoppers barges, prior to our recent acquisition.
Your acquisition of ACBL tonnage and assets comes at an interesting time. On one hand, the market in certain sectors is hurting and on the other hand, a down market can sometimes be a place where savvy stakeholders can increase their portfolios at a discounted price. Tell us what you can about Campbell's latest, exciting transaction?
A transaction requires a buyer and a seller, which typically have different outlooks on the market. We basically purchased ACBL's coal business on the Ohio River. We believe that coal tonnages will continue to be challenged but also believe that a number of the coal plants that we service will continue to operate for many years to come. This is a very good strategic as well as operating fit for CTC. Both sets of traffic patterns integrate very well together. We all understand that the markets will not allow for rate increases so the only way to reduce our unit costs is by improving our operations via increased density and frequency.
Incorporating quality tonnage – especially from an operator like ACBL – is a positive event. At the same time, it creates challenges as you try to meld one quality / operating system into another. Both will have their strong areas. What will be your formula in this regard?
As part of our traction, we have added a number of quality customers and plants to our portfolio. In terms of the integration, we already have switched over these new customers to our existing CTC operating systems. Fortunately, CTC has invested in new logistics and accounting systems over the past five years that makes this type of acquisition much easier to integrate. The integration has gone very well.
You also only just recently agreed to a contract with Inland Marine Services to provide what they characterize as "turnkey services." What do those turnkey services entail and why is that important to Campbell? In other words, where does IMS bring value to your operations?
One of our challenges was to crew a number of additional boats all on June 30th. This involved having qualified crews ready to go all on the same day. We turned to Inland who has demonstrated safe and efficient operations and that can fulfill our Sub M and TMSA 2 safety requirements. Inland did a fine job crewing these additional boats for us.
Subchapter M is here and it is impacting the inland waterfront like nothing that came before it. You are a past officer of the AWO and as such, Campbell is likely ahead of the curve when it comes to future Sub M compliance through its past RCP efforts. The question: will Sub M be largely a 'non-event' for your tonnage and mariners or will there be certain things that you'll need to do different?
Our mariners are constantly undergoing some type of training. Our vessels and systems are in very good condition as it relates to Sub M. CTC also tows liquid barges on the Ohio River for many customers. These customers require a higher level of compliance than Sub M. The four vessels that we purchased as part of our acquisition as well as the sister ship that we acquired a few months prior are all in excellent shape and meet all the Sub M requirements.
Inland operators depend heavily on the maintenance of inland waterways. In today's situation, many stakeholders agree that this is not being done fast enough, nor is it keeping pace with failing infrastructure that is well past its intended life span. Your past role with WCI positions you well to speak about solutions. What are your thoughts?
Even though WCI has been successful in securing record funding for our locks and dams, the physical condition of the system continues to deteriorate. We need both increased funding levels (above the record numbers that we are expecting for FY2018) and improved project execution.
Regarding inland infrastructure – failure is not an option, is it? So much depends on it – your business as well as the supply chain itself. What would be the consequences of a major lock failure on our primary tributaries?
Depending on the location and the duration of a catastrophic failure at one of the locks and dams, we could be either more or less affected. If one of the primary inland navigations structures would fail for an extended period of time, the impact would be devastating to the supply chain, including the barge companies. We have no way around the failure – no detour, which means that the commodities that we move would either have to be sourced from a different origin (above or below the failure) or would need to be moved by alternative mode of transportation, at a much higher cost. Additionally, if there were a loss of the pool, there would be a significant impact to the local economies on both sides of the lock. These impacts could be shortage of municipal water, disruption of industrial water intakes, environmental issues, etc.
Yours is a PA-based firm, no doubt you are familiar with the Port of Pittsburgh's 'wireless waterway.' What is its current state, what is its future and more specifically, how does Campbell deal with 'comms' between the boats and office? Is SatCom a viable (and/or affordable) option for today's river operators? Is it necessary? What is "enough?"
As Vice Chair of the Port of Pittsburgh Commission (PPC), I am very familiar with the "wireless waterway." Originally, the project was make available high capacity broad band that would serve as a platform for all types of applications. The PPC conducted "test beds" with many of the local technology companies. Tests were all positive and well received. The challenge was to create a sustainable economic model to pay for the network. One of the goals of the network was security related, linking cameras along the rivers. This part of the network was spun off to local law enforcement agencies and continues to operate. The non-security, commercial applications were discontinued due to lack of funding.
Outline to the extent that you can, the Campbell business strategy going forward? Could you anticipate the possibility of another acquisition?
We have a formal strategic planning process at CTC. In order to continue to grow our business, we decided five years ago to diversify away from utility coal, our largest market segment. We converted coal barges to grain barges, we developed a third party towing business that runs between Pittsburgh and Cairo, IL, we entered the liquids towing business for a number of the liquid carriers, we purchased a shipyard that specializes in tank barge support services and we expanded geographically. In other words, we did many things as part of our diversification strategy. The recent ACBL opportunity presented itself and we decided to go forward based on previous comments. The four 3,000hp boats that we purchased from ACBL and the sister ship that we purchased a few months prior, will all be 'SIRED' and be available to move liquid barges on the Ohio River. This fits well into our long term. We are open to further acquisitions if the right opportunity presents itself.
Coal has seen a bit of a rebound in the past year, in part due to the problems in Australia, in part due to (perhaps) a softening policy shift in Washington. That said; does coal have a future, and if so, how long will it last? And, once (and if) it is done – at some future point – how do transportation stakeholders wean themselves from that source of income and move onto others? Are you doing that now?
One of the reasons for the 2017 small rebound in coal is because 2016 was such a poor year due to cheap gas prices, a warm winter and high coal inventories at the power plants. We expect coal volumes to continue to decrease with the announced plant closures. We expect that as long as gas prices stay at $3.00/MMbtu or above, that we will see coal volumes stabilize for the foreseeable future. We need to wean ourselves off this by shrinking the fleet and by developing new petrochemical manufacturing markets in the Marcellus / Utica fields which happen to be on the Upper Ohio river.
Midwest refinery construction perhaps bodes well for tank barge operators. Give us a breakdown of what you operate in terms of closed, open, hopper and tank barges. Do you see that mix changing in the near or long term?
Our current barge fleet, including our recent acquisition, is (owned/leased/managed) includes 70 Stumbo barges, 987 Jumbo opens, 77 Jumbo covered, all adding up to 1,134 total barges. Our current towboat fleet, including our recent acquisition, is (owned/chartered/managed) is approximately 50 (approximately) depending on chartered boats. We currently have the correct mix of boats and barges to service our customers. Should our customer requirements change, we will need to adjust our fleet accordingly.
What keeps you up at night when it comes to operating your considerable assets?
The 0300 phone call on a Sunday morning. The news is never good.
Finally, you bring considerable financial experience – some of it from other sectors – to your current role. So, here's the question: what can the inland marine transportation industry learn from other industries that can improve its lot in today's business climate?
We are in a long term capital intensive business. Our customer base (mainly the larger public ones) is constantly looking to save short term supply chain dollars. At the same time, we are so anxious for business that we have a habit of cutting our rates to the bone. This aggressive pricing it makes it very difficult to justify replacing older assets. This will eventually shrink the boat/barge fleet, but the process will be very slow and painful, especially for the higher cost operators.
(As published in the September 2017 edition of
Marine News
)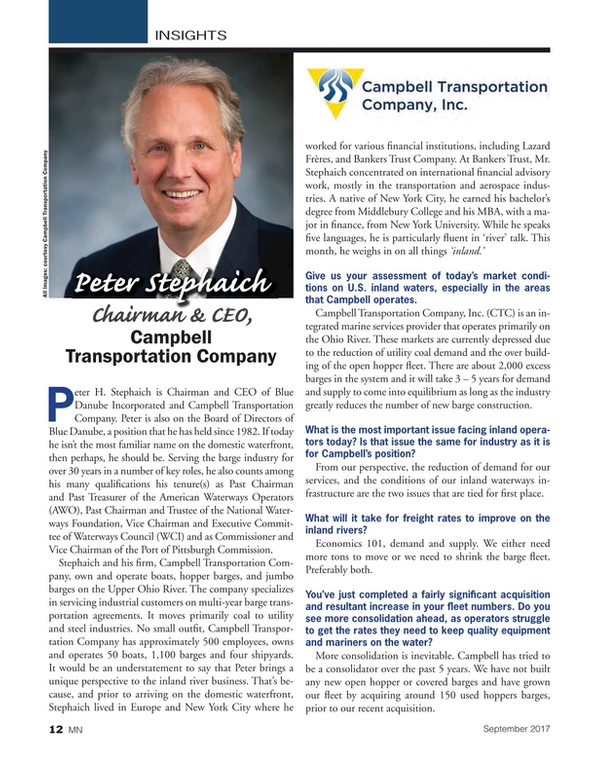 Read Campbell CEO Stephaich Weighs in on All Things Inland in Pdf, Flash or Html5 edition of September 2017 Marine News
Other stories from September 2017 issue
Content