ESG Sees Green With its Tier IV Thunderbolt Design
By Joseph Keefe
Eastern Shipbuilding's forward-thinking inland towboat design now features CAT Tier 4 propulsion and aftertreatment.
When Eastern Shipbuilding Group (ESG) introduced its cutting edge 4,000 hp Thunderbolt inland towboat designed around twin azimuthing AAA Propulsion electric V-Pod propulsion and diesel-electric technology back in 2015, the approach was collaborative, with input from operators, naval architects (Gilbert Associates, Inc. (GAI)) and propulsion OEM's. In selecting the podded propulsion system for inclusion on the design, Eastern met with two inland owner/operators that had Z-Drive towboats, and others that didn't. Starting as far back as 2013, listening to each and noting their concerns, it was decided that the V-Pod was the best solution.
Because the Thunderbolt will typically operate in shallow, sometimes turbid, debris filled water, ESG designed underwater protection in the form of a pipe guard protection system for each V-Pod. These pipe guards protect the vessel from side bank impacts when turning in rivers and canals and stern impact protection when backing down. And, while those pods are an important part of the vessel's design package, the new EPA Tier 4-compliant CAT engines now baked into the concept design make for an irresistible combination when it comes to operators looking for their next newbuild package.
Futuristic Vision Includes Tier 4
ESG coined the Thunderbolt as a "vision of the future for the U.S. inland waterways." Now, with CAT's proprietary Selective Catalytic Reduction (SCR) aftertreatment solution built into the design, few could argue that the powerful offering doesn't provide everything one could ask for in a robust, river-tough hull. This isn't Eastern's first rodeo in the inland waters game. And, while they have yet to sell a single Thunderbolt package, ESG has delivered as many as 20 diesel-electric offshore supply vessels starting in 2010 and more than 75 inland towing vessels since 2007. Similarly, AAA Propulsion V-pods have been installed on more than 20 vessels in Europe.
The Thunderbolt design joins Eastern's history of building reliable vessels and is now integrating its Tiger Shark Class diesel-electric technology into a refined, environmentally friendly, highly maneuverable Inland Towboat design. The Thunderbolt has been designed using ABS Class Rules for Building and Classing Steel Vessels for Service on Rivers and Intracoastal Waterways-2014. It is also designed to the Proposed U.S. Coast Guard 46CFR (Sub-Chapter M) Towing Vessel Rules and IEEE 45 2002 Standards. When it came to selecting the right propulsion specialist to bring Thunderbolt into EPA Tier 4 compliance, ESG turned to Richard Tremayne, the Marine Business Manager for Thompson Power Systems, Inc.
Why CAT?
Tremayne told Marine News in July, "Eastern and Thompson Tractor have a close working relationship. Eastern chose CAT and Thompson because they like that the units are designed for longevity and convenience to the operator, they're competitively priced, and they're well supported by Thompson and the rest of the CAT dealer network no matter where the vessels travel." That kind of flexibility was important to ESG from the start, especially since the shipyard had no way of knowing where the first customer would come from. CAT's wide network of service providers solved that potential issue from the outset.
Tier 4 engine arrangements on the water are a new concept, but CAT boasts deep roots in the Tier 4 markets. Tremayne explains, "Tier 4 came to our land-based and vehicle-based customers before it came to our marine world, so there are many CAT Tier 4 engines operating across the United States. These marine designs are an adaptation of those predecessors, tailored to suit this market's needs." Robustly marinized for the marine markets, CAT's Tier 4 solutions have already been proven in demanding industrial markets everywhere.
In a nutshell, CAT's package of components was designed to work proactively together in order to control each engine's performance and emissions. The design allows the engines to keep performing even if the aftertreatment fails for some reason. Beyond this, CAT created this newest tier-compliant package to use less fuel than previous tier engines, enough to more than offset the cost of the aftertreatment's urea.
According to Steve Berthold, ESG's Vice President of Sales & Marketing, ESG has had Tier 4 in mind since the very beginning, when the design project with John Gilbert and Associates kicked off. That's because, with tier 4 coming, the last thing ESG wanted was major design or space issues down the road. Berthold adds, "The EPA Tier 4 requirement is now upon us and the design has evolved as planned. We actually started working on the specific Tier 4 design and engineering change effort in March of this year."
There are many ways to get to the Promised Land when it comes to engines and tier 4. In this case, the decision came down to the fact that the CAT package is designed from the beginning so that all components are optimized to work with each other component. More importantly, it is a turn-key tier solution which is EPA and class society certified before it leaves the factory. Tremayne explains, "Our customers aren't burdened by field emissions certifications or any other special submittals or testing to certify the CAT packages." That's not to say that price and life cycle economy weren't also important variables. They were.
Why SCR?
ESG could have gone with a number of solutions – including the new EGR solutions notably offered by GE Marine. But, the strong relationship with CAT and Thompson – spanning over 20 years – won the day. Berthold adds, "Caterpillar only offers after treatment with SCR for the C32 Tier 4 engine." Moreover, and while some operators might worry about fitting all that equipment associated with SCR into the engine space, Tremayne says that the engine's size is non-issue. "The CEM is about the size of the engine, but flatter. Eastern fit it in the upper engine room. Some yards have fit it into the lower engine room overhead, above the engines," he explained, adding, "The dosing cabinet is about the size of a portable welder. One of the architects' challenges has been designing the urea storage tank into vessels, but they've all managed."
All improvements come with a price, and the necessary move to Tier 4 was no different. ESG's Berthold explained that for this Inland Towboat, the Cat C32 940eKW Tier 4 engines with all CAT Tier 4 after treatment accessories, including engineering, materials and man-hours for all systems, the modifications increased the vessel design cost by about USD $500,000. For owners who don't like that upfront cost, the good news is that fuel economy for the new propulsion arrangement is expected to improve significantly.
"In rough terms, fuel economy is expected to improve by about 9% in this application compared to our Tier 3 C32. CAT was able to optimize the engine design for use with the SCR (CAT Emissions Module, or CEM) so that the engine fuel consumption could replicate the lower figures of previous tier engines while relying on the CEM to clean the exhaust to today's requirements," said Tremayne, adding, "The CEM allowed CAT to dramatically improve fuel economy. Another noteworthy achievement of this design – it allows the same amount of exhaust system backpressure at the CEM outlet as was previously allowed at the engine outlet. This means that the exhaust silencer and piping can remain the same size as before."
SCR necessarily comes with the need for urea, but according to Tremayne, the annual cost for that urea depends on vessel load factor and operating hours each year. He continued, "CAT's closed-loop control system allows urea to be consumed at the most efficient rates, based on engine load. We calculate urea tank sizes at 5% of expected fuel usage as a rule of thumb." Hence, even with the urea cost and consumption, fuel costs will actually go down, in certain cases. Amortizing the extra cost for those Tier 4 engines therefore becomes a little easier to swallow.
Finally, Thompson and CAT have been busy of late. Hence, ESG, when the keel of the first Thunderbolt gets laid, will hardly be alone as it becomes one of the early adopters of Tier 4 CAT SCR engine packages. That's because Thompson has 9 tugs currently under contract with Tier 4 engines. "It's such a new marine product that none of our projects has finished, so they aren't yet in operation," concedes Tremayne, adding quickly, "Of course, CAT engine designs are developed extensively in test cells, and every engine is test run at the factory, so we have no doubt they will perform as designed."
Taking Care of Business and the Crew
It is (arguably) unusual for a shipyard to come up with its own turnkey design, but inland 'teams' are now more common, as operators, shipyards and naval architects push the concept that all OEM equipment has to fit into a bigger package, instead of being procured in a stovepiped, standalone basis. That integrated power package also gets designed with an eye towards those who will someday have to leave the dock on board the Thunderbolt.
Eastern touts the boat as having 'reduced Noise and Vibrations' for what they characterize as "Remarkable Crew Comfort." Berthold explains, "We have included noise, vibration and structural fire protection measures into the design. For example, thermal insulation is installed throughout the superstructure – A-60 insulation to protect the crew from fire – but in particular, sound dampening materials and vibration treatments where it makes sense." The effort doesn't stop there, however. The (3) main generator skids are on isolation mounts along with the 90kW harbor generator which dampen engine vibration through the steel structure. The pod system itself also has a vibration isolation system.
Before and after Tier 4, Eastern Shipbuilding's Thunderbolt combines all the key hot button issues of any inland operator: Economy and Efficiency all packaged neatly onto an Emissions friendly hull. None of that comes at lightning speed for the conservative inland markets, but when it hits the water, it will be a 'bolt out the blue.'
(As published in the September 2017 edition of
Marine News
)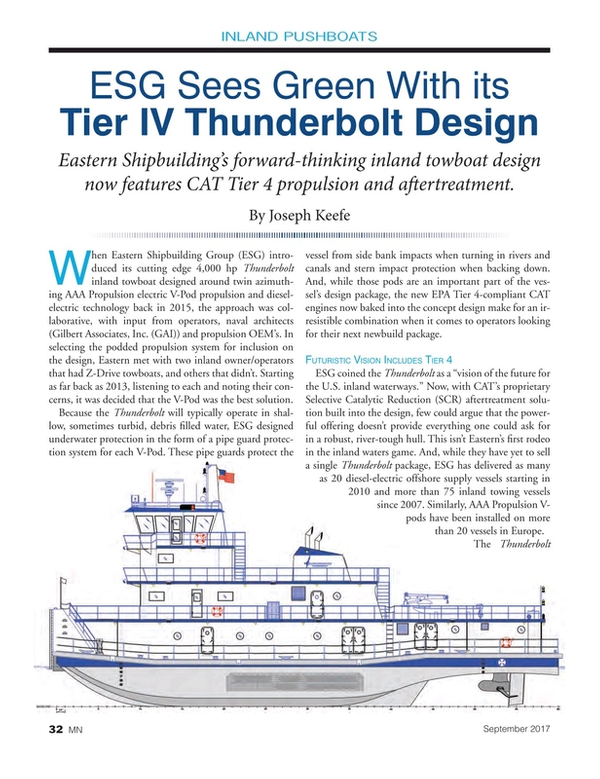 Read ESG Sees Green With its Tier IV Thunderbolt Design in Pdf, Flash or Html5 edition of September 2017 Marine News
Other stories from September 2017 issue
Content