Market Snapshot: Offshore Outlook
Marine News
Notwithstanding the recent surge in crude oil prices, it isn't lost on anyone that the offshore oil exploration business is, and has been for some time, in the doldrums. In the U.S. Gulf, that pain can be seen through Chapter 11 filings and the sobering specter of vessel after vessel rolling off the shipyard ways and directly into cold iron layup. And, it doesn't help that the shore-based shale drillers have not only found a way to drastically reduce their operating expenses, but also how to turn the valve off and on, seemingly at will, in response to market conditions. Industry consolidation, say some stakeholders – Harvey Gulf's Shane Guidry among them – will be the key to survival in the coming months and year.
Offshore Outlook
One way to gauge the real state of the market is to determine just how many vessels offshore service vessels are laid up and how many are on order – here and across the big pond. This month, VesselsValue (VV) shed some light on the real numbers. The news isn't all good.
According to VesselsValue, newbuilding orders for tanker and bulkers have increased during the first half of 2017. However, the overall number of orders placed has more than halved when compared to the same period in 2015. If you are operating in the depressed bulker sector, that's one way to eliminate the glut of tonnage. On the other hand, when comparing the 50 offshore vessels ordered in H1 2015 against the absence of any offshore orders placed during H1 2017, the situation in the offshore oil patch becomes only too obvious.
Separately, and looking at the global fleet of offshore vessels, VesselsValue reports that about 28% of this fleet is currently in layup. Using VesselsValue's Offshore mapping service [
[email protected]
], Senior Offshore Analyst Charlie Hockless put together a snapshot showing the percentage of the offshore fleet currently laid up. PSVs – or Petroleum Supply Vessels – top the list with 36% of their fleet currently laid up.
Mr. Hockless explains the definition of 'laid up' used in this context: "Estimating the number of vessels in lay-up is an imperfect science, however, using a big data approach VesselsValue can provide a valid estimation using the following methodology: VV observes the recency of a vessel's AIS signal and filters the data appropriately. Vessels that have not signaled for over a week are considered to be in lay-up."
The VesselsValue offshore database includes Offshore Support Vessels (PSV, AHTS, AHT, FSV, Ocean Going Tugs and ERRVs), Offshore Construction Vessels (Pipe layer, Cable Layer, Well Intervention, Dive Support Vessels, MPSV, Floatel, Accommodation Ship, Crane, Lift Boats, SOV, and Utility Vessels) and Mobile Offshore Drilling Units (Drillship, Semi submersible, Jack Ups).
Hockless continues, "This lay-up statistic spells danger for the future of the offshore market. Results can vary from market to market and depend on fleet structure by age, but rates will likely remain depressed for an extended period of time due to vessel reactivation. As rates recover, more vessels will be reactivated and will force rates back down due to oversupply. Other factors that will put further pressure on the market going forward include the bloated orderbook, and the fact that drillers have been able to increase operational efficiency during these leaner times. This results in vessel demand and vessel supply going in opposite directions."
Finally, we asked VesselsValue to break out the U.S. flag offshore fleet from the pack, to get a better look at it. And, the numbers here, as shown in table 1, are even worse than the global numbers.
VesselsValue.com provides instant, accurate and unbiased data that can be accessed from anywhere in the world, at any time. VV is used by the world's leading commercial and investment banks, private equity, investment and hedge funds, shipowners and operators, lawyers, accountants, brokers, underwriters and more. Four core modules VV$ (Value), VV+ (Search),
[email protected]
(Mapping) and VV Trade give clients access to real time values, advanced database functionality, vessel tracking and vessel trade and ton mile demand information. VesselsValue covers the global fleet of Bulkers, Tankers, Containers, LPG, LNG, Small Tankers, Small Dry and Offshore.
www.vesselsvalue.com
(As published in the September 2017 edition of
Marine News
)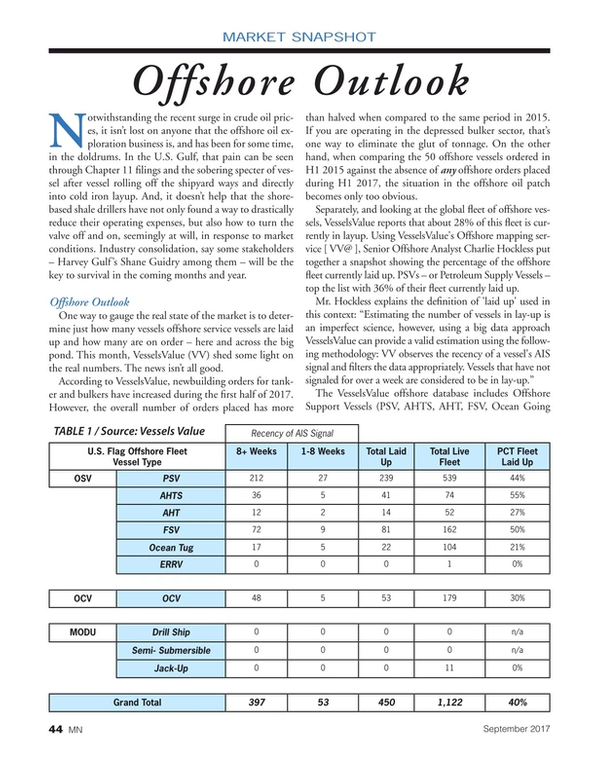 Read Market Snapshot: Offshore Outlook in Pdf, Flash or Html5 edition of September 2017 Marine News
Other stories from September 2017 issue
Content