OP/ED: A Measured Response
By Chad Fuhrmann
The Offshore Sector's Support of National Interests in Times of Crisis.

Desperate Times Call for Diverse Resources
In 2017, North America was assaulted by significant weather events resulting in cascading humanitarian crises. Despite the substantial response from the U.S. maritime industry, a misconception arose that insufficient U.S. assets were available to support critical response activities in affected regions; in particular, Puerto Rico and the U.S. Virgin Islands. Public perceptions – fed by a general lack of understanding – combined with a demand for action from the Administration resulted in unnecessary Jones Act waivers. Under the auspices of crisis response, foreign-flagged assets were given access to a national market which could have been provided for on a shorter timescale by available U.S. flagged OSVs.
The reaction to these circumstances made it apparent that efforts are needed to raise government and public understanding of the industry's capabilities and, in turn, the industry's awareness of the needs of entities requiring its services. Agencies responsible for disaster response remain uninformed of the extent of the available resources and have failed to successfully engage the industry in dialogue aimed at creating a better understanding. Meanwhile, the offshore industry continues to evolve, developing more wide-ranging skills and technologies but shares fault in neglecting to effectively bridge the gap between perception and reality.
To begin the process of resolving this disparity, the National Offshore Safety Advisory Committee (NOSAC), by direction of the U.S. Coast Guard, launched the Response & Recovery Activities Subcommittee in late 2018. The intent of the Subcommittee is to lay the foundation for a cooperative relationship between industry, government agencies, and the national interests which they all serve. Consisting of representatives from across the offshore sector, the Subcommittee's remit was – and continues to be – providing guidance and recommendations to the USCG regarding the effective use of OSVs during times of crisis.

Response does not have to be the "Second Disaster"
U.S. flag maritime resources (across industry sectors) are capable of multiple functions that can effectively support any disaster response scenario. These capabilities are as diverse as the assets themselves and are therefore difficult to categorize throughout the available fleet. Nevertheless, it is capturing and understanding those characteristics that is the key to developing an efficient and effective response.
OSVs are particularly capable of a wide variety of functions – by design and innate ability to perform operations within the maritime environment. The capabilities, of course, are not limitless. Unfortunately, both the strengths and limitations of OSVs are only partially attributable to their physical capabilities. Some restrictions are imposed based on U.S. regulations, international law, and class rules. Application (and at times, interpretation) of these criteria may restrict vessel operations based not on response capabilities but rather on regional restrictions on operations and personnel, effectively disqualifying capable assets that would otherwise be immediately available.
In addressing these issues, the Subcommittee relied heavily on the precedents set by existing standards. With appropriate updates, current policies and procedures satisfactorily describe the strengths of OSVs and adequately address anticipated risks. Additionally, existing standards for personnel have established a history of safe manning across a wide array of operations.

Most importantly, during times of humanitarian crises, these standards effectively represent a practical assessment of risks that will allow for a safe and immediate response using capable resources.

The TRV Solution
Given the diverse capabilities of the Jones Act fleet as well as the regulatory environment in which they operate, the efficient employment of these resources in disaster response remains a complex undertaking. As a proposed solution, the NOSAC Subcommittee's ongoing work involves defining a new endorsement for eligible OSVs – the Response, Restoration, and Recovery Vessel ("Triple-R," or "TRV") endorsement. This endorsement is intended to expand the pool of U.S. flagged vessels available to state and federal agencies for disaster response operations minimizing any possible need for Jones Act waivers.
Owners will not incur any additional cost for the endorsement, but vessels must undergo an assessment of their legal qualifications and ability to safely accomplish response related activities based on existing, immediate capabilities. Despite its crisis-response objective, such an endorsement would likely create a perceived threat to existing commercial interests. To address this, the TRV endorsement would be allocated to vessels on a graded scale (TRV 1, 2, 3) and would be applicable only during times of an officially declared disaster. While the endorsement would supersede other operating restrictions, it would only be applicable for limited durations and within certain operating areas.

Obligation vs. Opportunity
The U.S. maritime industry serves as a lifeline to the nation and the globe at all times, but particularly during times of crisis. It carries the capabilities to respond to such emergencies with existing resources. However, these capabilities extend across the greater maritime industry and cannot be ethically monopolized in the hope of commercial gain.
While the U.S. Jones Act fleet of OSVs service primarily the contiguous United States, it too recognizes and demonstrates its obligation beyond arbitrary boundaries and commercial interests. Based on its regional distribution and myriad capabilities, the OSV sector represents a crucial piece in the nation's immediate response to natural or manmade disasters, and strengthens the critical resources that the greater industry offers. Versatile OSVs are capable and willing to collaborate across industry sectors to assist in developing efficient and effective processes that facilitate an equally efficient and effective response to those in need.
Participation in the Subcommittee's ongoing efforts is open to all interested parties. More information, including the official NOSAC Task Statement and interim report can be found through the USCG Homeport site at https://homeport.uscg.mil/.
Chad is the Director of Regulatory Affairs for the Offshore Marine Service Association (OMSA). As a licensed Chief Engineer and subject matter expert, he has consulted with numerous organizations focusing on developing awareness of marine operations at the individual level and within organizations. Chad is active in various industry volunteer efforts including the National Offshore Safety Advisory Committee and the Marine Technology Society Dynamic Positioning Committee.
This article first appeared in the July 2019 print edition of MarineNews magazine.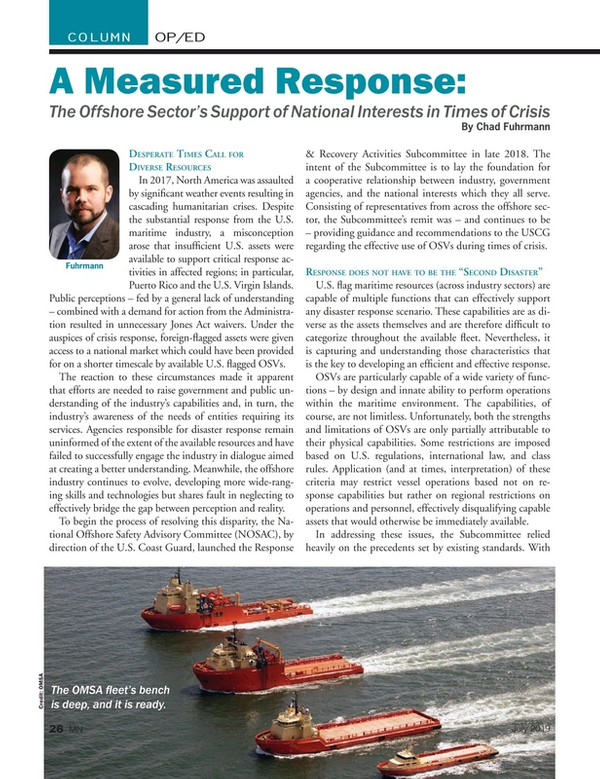 Read OP/ED: A Measured Response in Pdf, Flash or Html5 edition of July 2019 Marine News
Other stories from July 2019 issue
Content