PROPULSION: 'Power' to the People
By Joseph Keefe
Interstate-McBee brings affordable aftermarket replacement parts to a marine sector thirsting for new ways to bolster the bottom line. As freight rates, subchapter M and the advent of EPA Tier IV requirements all impact the market, an affordable overhaul of an existing engine is one way to find real relief.

A recent report, entitled "Impact of Updated Service Life Estimates on Harbor Craft and Switcher Locomotive Emission Forecasts and Cost-Effectiveness," found the average Category 2 workboat remains in service for 50 years, instead of the 23-year lifespan estimated by the EPA in the 2008 Heavy Duty Locomotive and Marine Rule. A longer service life reduces the fleet's turnover rate to cleaner, lower-emitting engines, but it also means something else: these engines are well built, long lasting, and perhaps just as importantly; virtually all of them are out of warranty.
As much as 41 percent – a whopping 17,596 vessels – of the domestic commercial fleet is now older than 21 years, some of it (13,353; 31%) 25 years or older. Moreover, 61% of all U.S. flag self-propelled vessels are older than 25 years. And, since the vast majority of these self-propelled vessels toil in workboat sectors, that means that a serious amount of work is necessary to keep them on the water. Central to that effort is engine maintenance.

U.S. Vessels: a cornucopia of engine rehab possibilities …
| | | | | | | | |
| --- | --- | --- | --- | --- | --- | --- | --- |
| TYPE / AGE | TOTALS | <= 5 | 6-10 | 11-15 | 16-20 | 21-25 | >25 |
| TOTALS | 42,542 | 6,881 | 7,065 | 4,201 | 6,740 | 4,243 | 13,353 |
| Self-Propelled | 9,410 | 837 | 925 | 652 | 814 | 446 | 5,740 |
| Dry Cargo | 832 | 48 | 60 | 104 | 93 | 67 | 460 |
| Tanker | 79 | 21 | 22 | 14 | 7 | 3 | 12 |
| Pushboat | 3,382 | 421 | 353 | 169 | 196 | 106 | 2,137 |
| Tugboat | 2,462 | 128 | 243 | 139 | 185 | 84 | 1,683 |
| Passenger | 881 | 27 | 31 | 54 | 87 | 102 | 580 |
| OSV, etc. | 1,774 | 191 | 215 | 172 | 246 | 84 | 866 |
Source: USACE

Domestic workboat operators face many challenges in today's business climate. When it comes to propulsion, operators have choices: they can repower with an expensive new engine, they can spend even more money on a new vessel, or for those not in a position to pay for either of those pricey options, they can economically overhaul their existing engines. Many are choosing to do just that. For those that do, Interstate-McBee is there to help.

Meet Interstate-McBee
Interstate Diesel Service, founded in 1947, originally specialized in remanufacturing Detroit Diesel fuel injectors. Since then, they've expanded several times and into many more markets. According to Pat Roach, Interstate-McBee's Vice President of Sales & Marketing, from the very beginning, the firm worked with many OEM's, including being the exclusive supplier to EMD. Since then, he says, "Through our OEM experience we have implemented tight quality controls earning us ISO & EPA certifications unmatched by any other replacement parts manufacturer. We offer the marine market a high quality alternative for engine parts with an opportunity to save money while maintaining high performance and reliability demanded by the marine industry."
With over 300 full time employees, the firm operates in multiple engine sectors, but Roach reports that the marine market has been growing the past 10 years and has become increasing import for Interstate-McBee. "This growth can be attributed to our focus on higher horsepower engines; especially Caterpillar and Cummins," explains Roach. Beyond this, a rapidly aging domestic fleet has thrifty owners, in particular those smaller 'mom and pop' operators, turning more often to engine overhaul as an economical way to extend the life of their tonnage. And, why not?
Although Interstate-McBee has supplied parts to a number of OEM's over the years, its primary focus has been aftermarket replacement parts. Roach explains, "Our target market is engines that are out of the OEM warranty period." But, that doesn't mean that Interstate-McBee isn't part of the solution when it comes to cleaning up the environmental footprint of workboats. They are.
Since the 1990's, Interstate Diesel designed, patented and marketed a variety of revolutionary fuel injection components. "ECOTIP" technology for EMD engine applications is an example of one of these components. This technology dramatically reduces exhaust particulates and significantly improves fuel economy for rail, marine, power and industrial applications.
"Certainly, the Ecotip technology can be a significant factor in improving the emissions level for an engine," explains Roach, adding quickly, "We have provided Ecotip injectors to various engine builders who have incorporated these injectors into their own emissions certified kits." And, while emissions involve more than just fuel injectors, the Ecotip is a key component in many current EPA emission certified engines operating in various markets. Beyond this, the Ecotip injector can also be used during regular maintenance as injectors need to be replaced every 2-3 years to maintain EPA compliance.
Moreover, Interstate-McBee manufactures its own brand of engine gaskets and gasket kits; myriad types for a wide range of engines. Roach explains, "We sell many of our parts in 'overhaul kits' which include engine parts and gaskets. The marine market is certainly more demanding than other markets and our reputation for quality and service has opened more and more hatches for us. This is why we see growth in our marine business."
Today, and for lower horsepower engines, Interstate-McBee is the only replacement parts company to manufacture both fuel injection and engine components used in marine service around the world. The firm reports customers in 90+ countries. Hence, a key part of the Interstate-McBee promise involves distribution centers on the U.S. East, West and Gulf Coasts. That infrastructure allows the firm to ship 95% of all orders on the same day. Roach adds, "We tie all the centers together with a single back end ERP system so parts in every location are available to everyone at any time."
In terms of marine applications, especially if it's a Caterpillar, Cummins, or Detroit Diesel engines, Interstate-McBee has over 20,000 part numbers in stock and over 75,000 part numbers available through their distribution points.

Propulsion Problems? You have options …
With all engines, there is a certain "useful life" which is often calculated in terms of machine hours. This could be anywhere from 18,000 to 30,000 hours depending on the application. At the end of this life cycle, an engine can be rebuilt for a fraction of the cost for a new engine, particularly a large diesel engine. For marine applications the engine will often last as long as the vessel or perhaps even longer. The need to replace the power plant often comes from emissions regulations and/or the availability of government funding (DERA or WV funds) to cover a large portion of the replacement costs.
According to Roach, customers with older engines tend to be more open to replacement parts rather than just 'OEM Only.' But, he says, those same customers still want performance and efficiency so the quality of their overhaul parts and their service parts are just as important to them as they are to owners of newer engines. As this domestic fleet sector ages, that's not like to change any time soon.
"We still receive calls from customers looking for parts to service engines that were built during WWII," says Roach. "There is no doubt that a properly maintained engine can last literally a lifetime or longer. Certainly parts wear out and sometimes catastrophic failures happen which prevent an engine from being rebuilt, but in the marine market in particular replacing with new can be very costly which is why maintenance is so important. Marine operators tend to be diligent about maintenance as a breakdown at sea can have perilous consequences. That is why you see engines in the marine industry lasting for a very long time."
Simply stated, the Interstate-McBee business model involves the manufacture of myriad replacement parts for diesel engines, selling direct to service personnel whose engines are likely out of warranty – for far less than the OEM's do it themselves. That said, Roach insists, price is only one part of the equation.
"Although price is one area in which we compete with the OEM, we excel on the service and support side. As a privately held business, we are both flexible and fast. Our prices are lower because we take one step out of the distribution chain meaning one less markup to the final user, but our same day ship service really puts us above most of our competition as today's customer needs and expects their parts now, not next week or even next month."

Always Looking to the Future
In 2008, with the rapid expansion of the business, McBee Supply moved into an independent dedicated distribution facility in Cleveland. With more space at the manufacturing facility Interstate-McBee created two engine test cells to validate new products prior to launch. These test cells allow testing of engines up to 2,000HP. That's important because as engines have evolved, the specifications for individual components within engines have become much more stringent. The equipment needed to manufacture is very different from the equipment used for older components. And, says Roach, Interstate-McBee responded to the challenge by investing more heavily in the business.
"Starting in early 2018 and with a nudge of the bonus depreciation in the federal tax code, we committed to bringing in new, state-of-the-art equipment that is not only more capable, but more productive. We launched a new business within the business that will be fully capable of producing the latest common rail fuel injection. In addition to the new equipment, we are in the process of redesigning our factory for efficiency and environmental control such as humidity and temperature control, cleanliness and positive air pressure."
Servicing the complicated aftermarket engine market is no easy task. Hence, Interstate-McBee is constantly expanding its legacy product offering along with new engine lines. Roach reports that another addition will be announced later this year; something directly related to his marine market sector work. 72 years old and counting, Interstate-McBee continues to invest into personnel and equipment.
Pat Roach – bullish on what will come next – sums it up simply by saying, "We are positioned for decades to come." That's good news for domestic workboat operators who want to claim the very same thing. www.interstate-mcbee.com
This article first appeared in the July print edition of MarineNews magazine.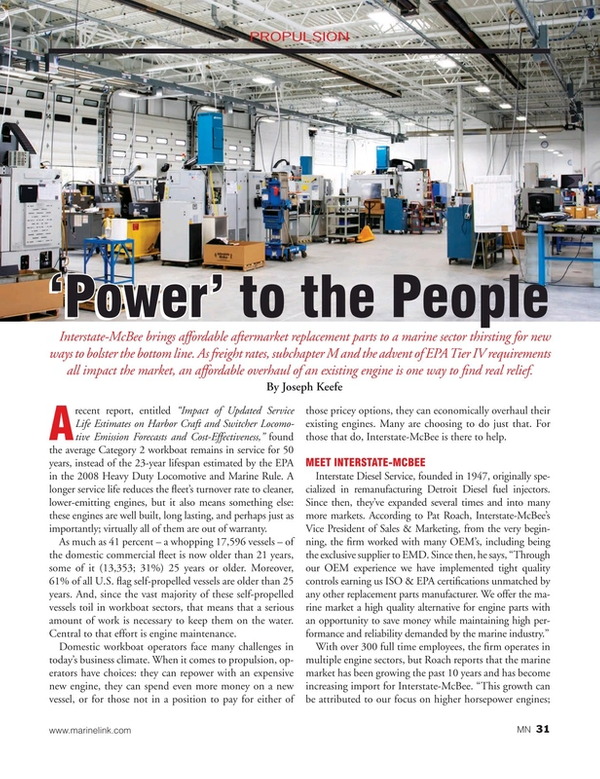 Read PROPULSION: 'Power' to the People in Pdf, Flash or Html5 edition of July 2019 Marine News
Other stories from July 2019 issue
Content