Wachs Subsea Answers the Call for Chevron
By Mark Leska
When looking for an emergency preparedness system for the Gulf of Mexico and elsewhere, Chevron enlisted the aid of Wachs Subsea to create an automated pipeline repair system using Wachs Combination Prep Tool (CPT) as the key operational component. The design parameters included a machine that was lightweight so it could be transported by air, operational at depths to 3,000 meters (10,000 feet), and configured to perform all the pipeline machining tasks associated with installing a sleeved replacement pipe section (or spool) in a single deployment.
Wachs Subsea's CPT-3, or Combination Prep Tool Generation 3, is designed and manufactured to excel at this task. It's a complete hydraulically powered subsea machining system, equipped with three integrated modules that "combine" to perform five functions: cutting, ID and OD chamfering, weld seam removal and FBE (fusion bonded epoxy) removal. The CPT is a multifunctional device that is easy to deploy, easy to operate and leaves nothing on the seabed at completion. In the past this usually required three different machines, multiple vendors, trained dedicated operators, multiple deployments, big ships, and lots of time and money. The CPT-3 changes all of that.
The CPT's basic design is a robust twin clamp, open "C" framed rotary machining platform with a rotating frame travel range of 0-200 degrees from top in both directions. The CPT features a universal mounting interface for the attachment of the three operating modules, and is provisioned for the fitting of an IHPU (Isolated Hydraulic Power Unit or "Dirty Oil Pack"), which is recommended and available from Wachs Subsea as an option. Each module is individually remote controlled, and each is equipped with a subsea camera for live monitoring. Electric power for the ancillary, non-hydraulic components of the CPT is provided via hot stab 24V DC from the ROV.
The CPT-3 features the ability to transit ("walk") the axis of the pipe with an 8-in. (203mm) stroke, utilizing a caterpillar action of alternating clamps, pushing and pulling between the two. It's part of a cut, lift, remove and replace system designed to machine subsea pipelines from 12 to 24-in. OD (DN300-600) at depths up to 3,000 meters (9843 sfw). Available soon is the CPT-4, utilizing the same technologies as the CPT- 3 but scaled up in size and capabilities to accommodate pipelines in the 26 to 44-in. OD (DN650-1050) range.
The CPT-3 is compact, measuring just 70.75-in. (180cm) long by 72-in. (183cm) wide by 56.25-in. (143cm) high (machine only, without the deployment frame). Weight in air for the machine itself is a comparatively light 6145 lbs (2793 kg). With its deployment frame, tooling and fluids lifting weight is approximately 11000 lbs (4990 kg). Weight in sea water is virtually neutral buoyant at 50 lbs negative (23 kg), user adjustable.
All clamping, walking, cutting, chamfering and removal operations are controlled remotely via the included CPT iVP controller program, running on a dedicated laptop included with the system. The graphical user interface on the iVP based software is intuitive, allowing for ease of use without the need for intensive operator training. iVP was the preferred platform for the CPT-3 due to its widespread use in the industry, as an ROV pilot familiar with other iVP operated equipment will enjoy a very short learning curve.
The CPT-3 controller software was developed by real world testing using experienced ROV pilots. Every operation of the machine can be viewed on a centralized screen (Figure 4), with additional menus opening as required, for example camera operation. While easy for an experienced pilot to quickly master, factory training for your operator(s) is included with every CPT series machine. In addition Wachs in-depth Factory Acceptance Test procedure offers a rich technical learning experience for your crew.
Every Wachs Subsea CPT is engineered and built to the highest standards under ISO 9000-2008. Each machine is hand assembled and built with the finest materials including high strength aluminum, epoxy coated syntactic flotation, high alloy stainless steel, bronze and heat treated carbon steel with protective plating. As the CPT will be used almost exclusively in salt water the machine includes integrated cathodic protection. Every part on Wachs Subsea's CPT is designed to resist corrosion and require minimal maintenance.
The machine's hydraulic and electrical systems are equipped with depth compensation for deepwater operation under extreme pressure, and each includes an advanced warning system to alert the operator if seawater infiltration is detected. While primarily developed for deepwater operations it's worth noting that the CPT series is equally suitable for shallow water operation, in keeping with the industry trend of keeping divers out of the water and out of harm's way. The CPT-3 and CPT-4 will function equally well in 30 meters of water as in 3000 meters.
Another feature worth noting is the machines ability to perform on near vertical work pieces. With its centralized center of gravity plus it's near neutral buoyancy it's an easy maneuver for the ROV operator to position the CPT on a pipeline ascending or descending even the steepest seabed feature.
Deploying the machine begins by positioning the CPT in its custom deployment frame on the seabed, in close proximity to the repair site. The CPT clamps securely to a center fixture on the frame for transport and storage. The deployment frame features a single pivot arm for ease of lowering and lifting, and a mudmat to prevent stiction on the seafloor and to minimize silt clouding. As pressure compensation is integrated into the CPT, the deployment frame requires no additional compensation.
The CPT-3 is compact and light enough to be deployed with a wide array of ROV's, and is energized and powered by the ROV via electrical and hydraulic zero leak hot stabs. The pipeline repair begins with the ROV pilot removing the CPT from its deployment frame, then flying and clamping it on the damaged pipeline near the initial cut line. The CPT Severing/OD Chamfer module performs the first severing operation. Its hydraulic autofeed system produces pinch-free severing with a smooth, controlled cutting action suitable for pipelines under light compressive loading. For heavy compressive loading some manner of subsea pipe handling equipment (by others) is recommended. Wachs CPT-3 has been successfully integrated into several manufactures pipe lift systems.
The CPT is then transited to the second cut line, where the operation is repeated. The replacement jumper spool section, following metrology measurements, is typically fabricated topside at this stage and made ready to lower to the seabed. Following removal of the damaged section the CPT chamfers the pipe OD to prevent sleeve connector damage when installing the replacement spool section.
The Weld Seam Removal module utilizes a combination face mill and ID chamfer tool to face mill the weld crown for a smooth sleeve mounting surface, and indexes and pull mills the ID, creating an internal chamfer to prevent pig snagging. The final prep has the FBE Removal module abrading the FBE (fusion bonded epoxy) from the pipe with a high speed rotary abrasive disk, utilizing a combination of axial indexes and radial rotation to deliver unlimited axial removal lengths. The weld crown and FBE removal steps are performed to ensure a good seal and tight grip of the sleeve connectors.
The CPT system is designed to carry out all severing and preparation work in a single deployment. Apart from tooling the only consumables in the entire operation are the jumper pipe spool section and two pipe connectors. Upon completion the CPT is unclamped from the repaired pipeline and flown back to its deployment frame by the ROV. The machine is clamped to the deployment frame fixture, de-energized and hoisted topside, leaving nothing on the seabed. The CPT is then cleaned and prepped for the next deployment, or for storage.
Wachs Subsea CPT represents the latest thinking in subsea pipeline repair and emergency preparedness. It's a single multifunctional machine, with its compact size and light weight allowing it to be air lifted within hours to any repair site. Its size eliminates the need for a large surface support ship or for a heavy workclass ROV to deploy it. And like all Wachs products the CPT is built to last, with high quality components that require minimal maintenance, and a small footprint for storage.

(As published in the September 2014 edition of Marine Technology Reporter - http://www.marinetechnologynews.com/Magazine)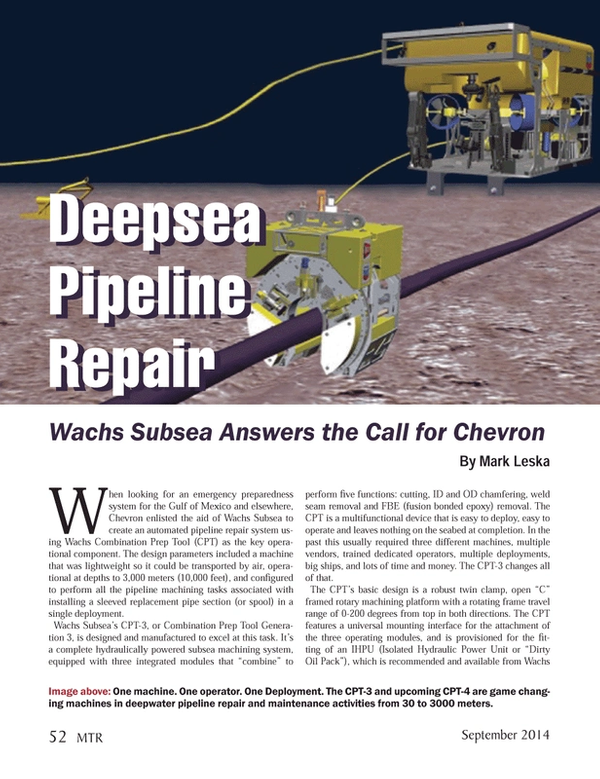 Read Wachs Subsea Answers the Call for Chevron in Pdf, Flash or Html5 edition of September 2014 Marine Technology
Other stories from September 2014 issue
Content