Profile: Coast Guard Administrative Law Judge Brudzinski
By Joseph Keefe
Just recently, we had an opportunity to discuss the Coast Guard's Administrative Law Judge Program with its Chief Judge, Walter J. Brudzinski. Judge Brudzinski has been a Coast Guard Administrative Law Judge since 2003 and was appointed Chief Judge in June 2013. We caught up with him this summer in Washington and asked him to describe what an Administrative Law Judge (ALJ) is, what the Coast Guard's ALJ Program does, how he got to be where he is, and his vision for leading this Program.

Administrative Law Judges:
There are thirty federal agencies with Administrative Law Judges, including the Coast Guard. The number of ALJs per agency varies from approximately 1,400 at Social Security to just one at the U.S. Postal Service. The Coast Guard is authorized for seven. Administrative Law Judges are appointed pursuant to 5 U.S.C. § 3105 and accompanying regulations and these laws provide for strict controls on employing agencies to ensure decisional independence.
Appointments are made with U.S. Office of Personnel Management oversight using a competitive process. Judges are provided special civil service protections and the expectation of lifetime careers. Agencies may not control ALJ's salaries, conduct performance reviews, or provide monetary/honorary awards.
In the exercise of their judicial functions, ALJs retain decisional independence within the limits of law, regulations, and agency appeal decisions. They exercise independent judgment and can review the evidence before them free from pressures of the parties or officials within the agency.

The Coast Guard's ALJ Program:
Coast Guard Administrative Law Judges primarily adjudicate Merchant Mariner Credential Suspension and Revocation (S&R) cases. Coast Guard Investigating Officers initiate S&R cases against mariners for negligence, misconduct, incompetence, violation of law or regulation, and use of dangerous drugs.
Respondent-mariners may appear with an attorney, a non-attorney representative, or self-represent. They may call witnesses, introduce documentary evidence, cross-examine Coast Guard witnesses, and submit rebuttal evidence. The Judge's decision is final unless appealed to the Commandant. Further appeals can be made to the National Transportation Safety Bureau (NTSB) and to an appropriate U.S. Court of Appeals.
The purpose of S&R proceedings is to promote safety at sea. Often confused with the criminal justice court system, S&R actions against merchant mariners' credentials are remedial and not penal in nature. They are intended to help maintain standards for competence and conduct essential to the promotion of safety at sea.
The Coast Guard ALJ Program disposes of approximately 600 cases each year. The overwhelming majority of S&R cases involve use of dangerous drugs and most cases are disposed of by settlement agreement. The remaining cases are disposed of at hearing which are conducted in a similar fashion to trials in federal court without a jury.
Coast Guard Administrative Law Judges are also authorized to adjudicate Class II civil penalties assessed under the Federal Water Pollution Control Act and the Comprehensive Environmental Response, Compensation and Liability Act. Coast Guard Judges also adjudicate cases initiated by agencies within the Department of Homeland Security and other agencies the Coast Guard supports. These cases are adjudicated on a reimbursable basis, pursuant to law, and as caseloads permit. For example, in 2003-2004, Chief Judge Brudzinski was temporarily assigned additional duties to hear cases for the 9/11 Victim Compensation Fund. Coast Guard Administrative Law Judge are located in Seattle, WA, Alameda, CA, Galveston, TX, New Orleans, LA, Baltimore, MD, and New York, NY. The Chief Administrative Law Judge is located in Washington, DC.
How he got there:
Chief Judge Brudzinski was initially appointed U.S. Administrative Law Judge in 1996 with the Social Security Administration. He was previously an Assistant and later Deputy Commonwealth's Attorney for Virginia Beach. Prior to his prosecutorial career, he served in the U.S. Coast Guard as a commissioned officer both afloat and ashore and in various legal assignments as a judge advocate.
During his last judge advocate assignment, he also served as Special Assistant U.S. Attorney. He is a graduate of the University of Maryland and the George Mason University School of Law (with distinction) where he was a member of Law Review. Chief Judge Brudzinski also holds a Master's and Ph.D. in Judicial Studies from the University of Nevada and has earned Certificates in Judicial Development in Administrative Law, Dispute Resolution, and General Jurisdiction Trial Skills from the National Judicial College. He attributes his success as a Coast Guard Judge to his litigation background, Coast Guard experience, the professional training programs at the National Judicial College, and the academically rigorous Judicial Studies Program at the University of Nevada.
As Coast Guard's Chief Administrative Law Judge, he is widely published and has authored many articles in a wide variety of venues, trade journals and other publications. Chief Judge Brudzinski was admitted to practice in Virginia, Maryland, and Pennsylvania; the U.S. District Court for the Eastern District of Virginia; the U.S. Court of Appeals for the Fourth Circuit; the Court of Appeals for the Armed Forces; and, the Supreme Court of the United States. His professional affiliations include the American Bar Association – Judicial Division; the Federal Administrative Law Judges Conference; the National Association of Administrative Law Judiciary; the Maritime Law Association of the United States; and, the Connecticut Maritime Association.

Vision for Leading the Program:
Chief Judge Brudzinski's vision for the Coast Guard ALJ Program is simple: "We are dedicated to performing our judicial duties fairly, impartially, and in a manner that secures the trust and confidence of the regulated community, the agency, and the general public. We secure that trust and confidence by treating the parties with respect and by issuing clear decisions and orders the public understands and accepts as correct, fair, and well-reasoned."
Brudzinski's vision reflects the ALJ's Organizational Goals which promise fast, impartial, and well reasoned judicial services; to clarify agency policy concerning cases brought before them; to promote confidence in the administrative adjudicative process; and, to create an atmosphere in which the parties recognize they have been dealt with fairly.
To maintain the highest standards of quality in their written decisions, Coast Guard Judges receive training at the National Judicial College. They also subject their written work products to rigorous editing and review to ensure legal sufficiency and clarity.
Of note are two ongoing initiatives being addressed by Coast Guard judges. The first initiative is to further ensure due process for unrepresented mariner-respondents. Brudzinski says, "We do this by facilitating opportunities for them to obtain representation from attorneys that have previously indicated to us they are willing to represent mariners at no cost." The second initiative is to have Coast Guard attorneys appear at hearings on a regular basis, in addition to the Investigating Officer. Brudzinski explains, "Coast Guard S&R proceedings are adversarial and our experience has shown that the process works best when both sides are represented by counsel. These two initiatives will improve the overall quality of the S&R process and we expect them to be finalized in the near future."


(As published in the 3Q 2014 edition of Maritime Professional - www.maritimeprofessional.com)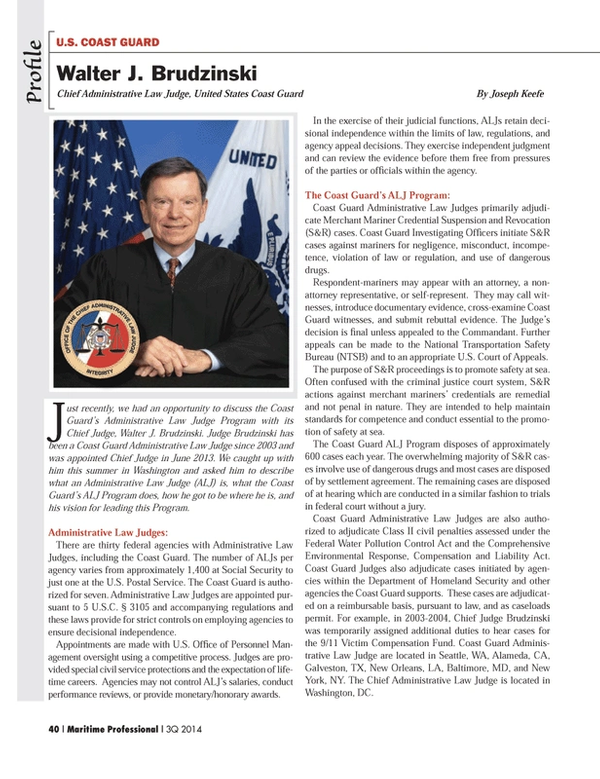 Read Profile: Coast Guard Administrative Law Judge Brudzinski in Pdf, Flash or Html5 edition of Q3 2014 Maritime Logistics Professional
Other stories from Q3 2014 issue
Content