Seafarer Shore Leave: MLC Business, or Not?
By Joseph Keefe
The Seamen's Church Institute's (SCI) Center for Seafarer's Rights conducted its thirteenth annual Seafarer Shore Leave Survey during the week of May 18-24, 2014. Port ministries in 27 U.S. ports visited 416 vessels with 9,184 crewmembers (representing 60 nationalities). A total of 1,030 seafarers on 97 vessels were denied shore leave. An overwhelming majority (86%) of these seafarers were denied shore leave because they did not have visas. Other reasons for shore leave denials included terminal restrictions (7%), vessel operations (7%) and U.S. Customs and Border Protection restrictions (< 1%).
The problem, well known here in the United States, makes a difficult job even harder, especially considering that some of these mariners spend six months or more on board and never get to even go down the gangway during that period. Which brings up another issue: should the denial of shore leave be considered a violation of the newly enacted Maritime Labour Convention (MLC 2006)? We think it is. This year's survey was the first SCI conducted after MLC came into force. Standard A1.4 Section 5(b) of the code requires shipowners to pay for seafarers' visas. Furthermore, flag states must verify shipowners' compliance with the MLC, 2006 recruitment and placement requirements, which include Standard A1.4 Section 5(b), before issuing a Maritime Labour Certificate. Curiously, approximately 79% of the seafarers denied shore leave because they did not have a visa were serving on ships registered in countries where MLC is in force. Notably, these included Antigua and Barbuda, Bahamas, Cyprus, Greece, Liberia, Malta, Marshall Islands, Panama, Philippines and Singapore.

SHORE LEAVE RESTRICTIONS: Ninety-seven of the 416 vessels (23.3%) had at least one seafarer on board denied shore leave, representing about 11 percent of the mariners on those vessels. Compared to last year's survey, this year's data shows an increase in shore leave denials—both in the percentage of ships with at least one seafarer denied shore leave and in the percentage of seafarers denied shore leave. Where it was possible to determine seafarers' nationalities, more than one-half of those detained for lack of visas were from the Philippines (484) with China (148) a distant second. Reports also detail that 70 seafarers (approximately 7%) were denied shore leave because of vessel operations.
CREWMEMBER VISAS: In this year's survey, 86.4% of seafarers were denied shore leave because they lacked a valid crewmember (D or C-1/D) visa. The Convention on Facilitation of International Maritime Traffic (FAL) prohibits countries from requiring seafarers to have a visa for shore leave. The United States has ratified the FAL, but it nevertheless still requires crewmembers on merchant ships to have a visa to obtain shore leave. Ratification of the International Labour Organization's Seafarers' Identity Documents Convention (Revised), 2003 (ILO-185) would both enhance maritime security and increase seafarers' shore leave opportunities in the United States. The Convention enhances maritime security by setting international standards for seafarer identification documents that provide reliable, verifiable and internationally acceptable seafarer identification. Countries that have ratified ILO-185 are obligated to accept valid ILO-185 seafarers' identification documents in place of visas for the purposes of shore leave. The United States could comply with ILO-185 by waiving visa requirements for seafarers who have valid ILO-185 seafarers' identity documents. For security, the US could maintain its existing 96-hour pre-arrival crewmember vetting process and verify ILO-185 seafarers' identity documents supplemented by the US-VISIT program in American seaports.

RESTRICTIONS TO THE VESSEL: The survey identified many reasons for detention on board. Three seafarers on one ship denied shore leave by CBP because the seafarers did not understand some of the questions asked by CBP during their interview. As many as 67 seafarers – notably including 19 Americans – were denied shore leave by terminal restrictions. In truth, the numbers of seafarers being denied shore leave by terminal restrictions is likely under-reported because some terminals did not allow terminal access to SCI chaplains. At least four ports reported restrictions at terminals within their port.
Founded in 1834, the Seamen's Church Institute of New York & New Jersey is the largest, most comprehensive mariners' agency in North America. Annually, chaplains visit thousands of vessels in U.S ports, along 2,200 miles of America's inland waterways and into the Gulf of Mexico. Every year, SCI provides training to 1,600 mariners via simulator facilities in Houston, TX and Paducah, KY. The Institute and its attorneys are recognized as leading advocates for merchant mariners. Download the complete survey results at:
http://smschur.ch/shoreleave2014


(As published in the 3Q 2014 edition of Maritime Professional - www.maritimeprofessional.com)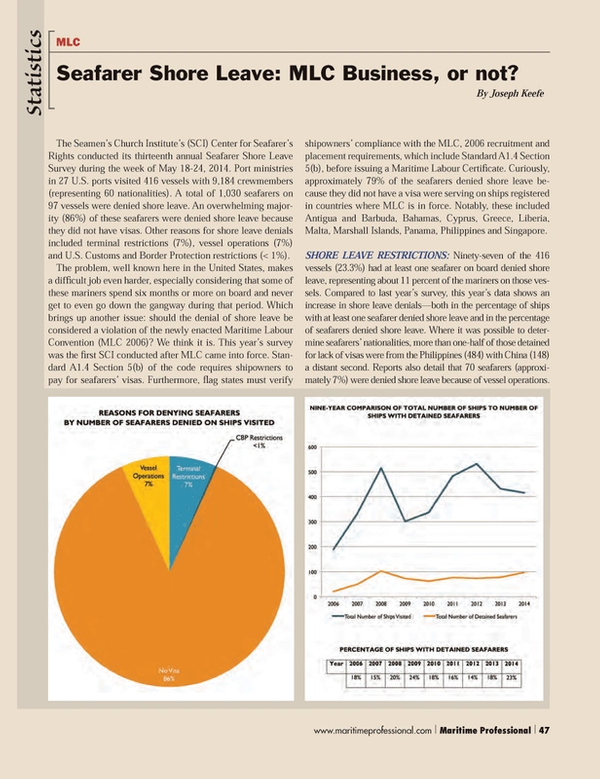 Read Seafarer Shore Leave: MLC Business, or Not? in Pdf, Flash or Html5 edition of Q3 2014 Maritime Logistics Professional
Other stories from Q3 2014 issue
Content