The Logistics of Regulating the Supply Chain
By Joseph Keefe
FMC Commissioner William P. Doyle defines the mission, machinations and many triumphs of the Federal Maritime Commission.
It would not be a stretch to say that the Federal Maritime Commission (FMC) is perhaps the least understood, possibly the most obscure, and at the very same time, one of the most important federal agencies on the commercial waterfront today. The independent federal agency is responsible for regulating the U.S. international ocean transportation system for the benefit of U.S. exporters, importers, and the U.S. consumer. Along the way, FMC says that its mission is to foster a fair, efficient and reliable international ocean transportation system and to protect the public from unfair and deceptive practices.
In a nutshell, says, FMC commissioner William P. Doyle, fairness and efficiency in the U.S. maritime commerce sectors is the primary focus of his organization. How that gets accomplished is a bit more complicated than one might think. Doyle, who has been a fixture on the Commission since President Obama appointed him in January of 2013, arrived there via an interesting career path. He is a 1992 graduate of the Massachusetts Maritime Academy, where he earned a Bachelor of Science in Marine Engineering.
Doyle, who served for over a decade as an officer in the U.S. Merchant Marine as a marine engineer aboard numerous classes of vessels, also boasts over 20 years of experience in the transportation industry, including both the maritime and energy sectors. While still serving in the U.S. Merchant Marine, he entered law school at Widener University School of Law in Harrisburg, Pennsylvania. All told; he probably has one of the broadest backgrounds in terms of maritime affairs of anyone on the FMC staff and his perspectives, because of it, are that much more valuable.
Even Bill Doyle will tell you that the FMC wasn't necessarily on his Radar when the opportunity presented itself. He explains, "I was not familiar with the FMC while in law school, let alone as a cadet. And, when I sailed, it was always on U.S.-Flag vessels which come under the jurisdiction of the U.S. Coast Guard and the Maritime Administration. Later, I had studied international law and become increasingly interested in the global movement of goods and the flow of energy. To this end, I was selected to serve in a few advisory roles under both the Bush and Obama Administrations. That eventually led to a call from the White House in 2011, asking if I was interested in being vetted and perhaps nominated by President Obama for the position of Commissioner to the FMC. I said yes. And now, I have been confirmed twice by the U.S. Senate." Nevertheless, Doyle was no stranger to contracts and regulations when he joined FMC.
In 2008, he was appointed under the Bush Administration as Director of Permits, Scheduling, and Compliance with the Office of the Federal Coordinator for Alaska Natural Gas Transportation Projects. There, he managed and directed the permitting and regulatory coordination of 24 federal agencies, numerous State of Alaska agencies, and both federal and provincial agencies of Canada. Beyond this, he acted as lead negotiator for the U.S. Government in securing cost recovery agreements with private sector national and multinational companies. On the advisory side, Doyle has previously been appointed to as many as five different boards and committees under both the Obama and Bush Administrations.
In Action: the long arm of FMC
Since its founding on August 12, 1961, the Federal Maritime Commission (FMC) has worked to ensure that neither the activities of liner shipping groups nor foreign government laws or regulations impose unfair costs on American exporters, or on American consumers of imported goods. The FMC list of responsibilities is long, but says Doyle, FMC's oversight of ocean carrier consolidations and the reshuffling of Ocean Carrier Alliances is one of the most important. That's because there is massive overcapacity in the liner trade, resulting freight rates which are plumbing historical lows.
As the industry consolidates, these potential mergers scramble the four major ocean carrier alliances that are in existence today – 2M, Ocean Three (O3), CKYHE, and G6. "The merger activity involves companies that are members of separate alliances. For instance, CMA CGM is a member of the O3 alliance, while NOL-APL is a member of the G6 alliance. Likewise, COSCO is a member of the CKYHE alliance and CSCL is a member of the Ocean 3. It's complicated," says Doyle, adding, "By the time this article is published there will most likely be an announcement on another formation of a new ocean carrier alliance."
For its part, the FMC looks at price and service, reviews alliance filings and determines to what extent costs increase and service decreases as a result of these alliance(s). The FMC can stop an alliance through an injunction or allow an alliance to move forward with conditions attached through robust monitoring of the alliance(s). In this way, Doyle says simply, "We're busy."
Principal statutes administered by FMC:
The Shipping Act of 1984 (amended by OSRA 1998)
The Foreign Shipping Practices Act of 1988
Section 19 of the Merchant Marine Act, 1920
Sections 2 and 3 of Pub. L. No. 89-777, 80 stat.1350
Separately, one of the more interesting (and important) tasks undertaken by Doyle and his staff in recent years involved the Value Added Tax (VAT) regime that the People's Republic of China (PRC) implemented over the past two years. Simply stated, China decided to change from a "business tax" to a VAT. Doyle explains, "This was delicate issue. U.S. businesses including carriers and shippers were concerned about their tax treatment under China's new VAT. There was very little guidance coming out of China on implementation plans for the new tax regime." The FMC got to work.
U.S.-China Maritime Bilateral talks – where Doyle served as Co-chair for the United States – brought out questions as to the fair application of the tax with regard to international maritime transportation.
In the end, China issued a series of circulars on the VAT that modified the rules and further explained and alleviated the concerns of U.S. businesses. It worked out well for everyone, but Doyle insists that the key to this was persistence and patience on the part of FMC.
A good example of the regulatory reach of the FMC is the power vested under the Shipping Act to make sure U.S. carriers, shippers and businesses are not disadvantaged or treated differently by the regulations of foreign governments or entities. In such cases, Doyle explains, "The FMC has the authority to tell the U.S. Coast Guard to 'deny entry for the purpose of ocean-borne trade' and to detain vessels already in port. According to Doyle, such a scenario was actually set in motion in 1997. The shipping dispute involved rules set by the Japan Harbor Transportation Association. American shipping lines had complained for years that the association required all carriers to receive prior approval for even the most minor operational changes in handling cargo in Japanese ports. Those changes include alterations of schedules, substitutions of one ship for another and re-routing of ships.
The rules were believed to benefit Japanese interests at the expense of all other interests including U.S. businesses. As a result, the FMC issued an order to begin the process of detaining three Japanese companies, K-Line, Mitsui OSK Lines and Nippon Yusen Kaisha. In the end – but only after the Order was issued by the FMC – Japan and U.S. negotiators resolved the dispute amicably.
Collaboration
FMC's reach, although long and powerful, isn't necessarily a unilateral event. Collaboration with a wide range of players is necessary in order to get the job done. That collaboration also involves a necessary separation powers when it comes to maritime regulations. For example, and in 1950, the regulatory programs of the United States Maritime Commission were transferred to the Federal Maritime Board at the Department of Commerce, where they resided until the FMC's creation in 1961. Doyle sums up the beginnings of FMC neatly. "Post-World War II brought new thinking to maritime policy and regulation. One of those policy concepts included promotion of the U.S.-Flag maritime industry and regulating the rapidly expanding international maritime trade. The school of thought was how can the same agency promote its national maritime interests and regulate the international side of maritime trade? Basically, it was a perceived conflict of interest. This led to the 1961 JFK Presidential executive order that gave MARAD
the promotional responsibility and FMC the regulatory role."
MARAD, often referred to as "America's Maritime Cheerleaders," is a direct US DOT executive branch agency under the exclusive jurisdiction of the President. Commissions like the Federal Maritime Commission are independent federal agencies. The President nominates Commissioners who then must be confirmed by the Senate. The FMC comprises five Commissioners, who serve staggered 5 year terms. Doyle explains the process further, saying, "I have been confirmed twice, and my current term would expire in July 2018, 1-½ years past the upcoming Presidential election. With respect to policy positions and orders, the Commission is an independent agency governed by majority rule – we each cast one vote.
In practice, Marad and FMC work side by side in certain areas, especially where they relate to international shipping matters and trade negotiations. With respect to bilateral maritime consultations, FMC and MARAD co-chair the U.S.-side of the bilateral. In the recent past, for example, the United States has held bilateral maritime discussions with China, Vietnam and Japan.
On any given day, Doyle leverages the full breadth of his career experiences to provide value wherever necessary on the waterfront. Looking back, he explains, "With MEBA, I negotiated hundreds of contracts, grievance adjustments and prosecuted arbitrations. I was able to draw on this experience when the West Coast PMA-ILWU contract negotiations were in full swing (late 2014 / early 2015)." Working with the White House and Secretary of Labor Tom Perez, Doyle eventually helped to bring the negotiations to a successful conclusion.
FMC: always there, on the move
Commissioner Doyle and his colleagues get around. After managing the most recent update to the 2012 FMC Study of U.S. Inland Containerized Cargo Moving through Canadian and Mexican Seaports, Doyle also surveyed construction sites for the Panama Canal's third set of locks – a major transit point for FMC-regulated vessel operating common carriers and a critical component to international oceanborne commerce to and from the United States.
When not on the road, Doyle works with fellow Commissioners to adjudicate a backlog of cases filed with the Commission. He reports that the Commission now resolves over 90% of its cases within two years. Chances are, whether you know it or not, FMC decisions have impacted and probably benefited your maritime organization. In fact, wherever and whenever the fairness and efficiency of the U.S. international ocean transportation system comes into question and/or under pressure, the FMC typically steps in to sort it out. Quietly, efficiently and typically under the Radar – that's the one thing you can count on in the fast-paced, ever-changing world of maritime logistics.
FMC Mandates at a Glance:
Review, Monitor ocean common carriers and marine terminal operator agreements.
Ensure that foreign carrier agreements do not cause substantial increases in costs or decreases in services.
Maintain, Review confidentially filed NVOCC Service Arrangements.
Provide a forum for exporters, importers, shipping public to prevent impediments to ocean commerce.
Ensure tariff rates, charges are published in private, automated tariff systems and electronically available.
Monitor rates, charges, and rules of government-controlled carriers to ensure they are just & reasonable.
Address unfavorable conditions caused by foreign government or business practices.
Protect the public from financial harm.
Resolve disputes involving shipment of cargo, personal or household goods
Resolve disputes between cruise vessel operators and passengers.
Investigate & rule on rates, charges, classifications complaints.
License shipping companies with appropriate character & adequate financial responsibility.
Identify and hold regulated entities accountable for mislabeling cargo.
Ensuring that cruise lines maintain financial responsibility to pay various passenger claims.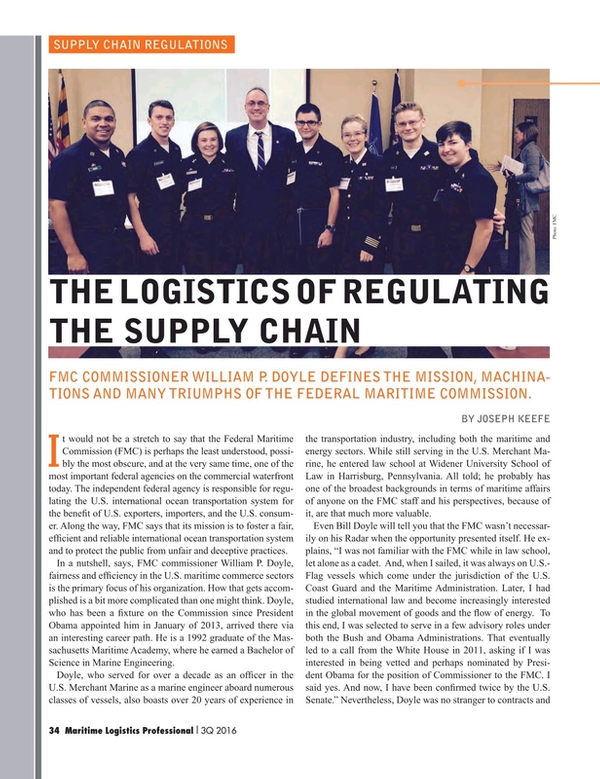 Read The Logistics of Regulating the Supply Chain in Pdf, Flash or Html5 edition of Q3 2016 Maritime Logistics Professional
Other stories from Q3 2016 issue
Content