Goal Zero: An Up-close Look at Shell's Safety Culture
By Greg Trauthwein
Earlier this year at the SUNY Maritime Towing Forum, we met up with Jerry Crooks, CSHM, Marine Technical Advisor, Shell Trading (U.S.) Company. Crooks provided insights on the training culture, systems and philosophy that drives Shell Trading (U.S.) Company to instill excellence in safety.
How did you find yourself with a career in the maritime industry?
During my Coast Guard career I had the privilege of participating in the Merchant Marine Industry Training Program, spending several months with Shell in Houston, Texas. My Shell mentor was a Captain in the U.S. Coast Guard Reserve, and over the rest of my U.S. Coast Guard career he provided me with very sound advice about how to prepare for a career in the corporate world. My experience with Shell helped me understand the skills required to work in the maritime industry, and also provided insight into how government regulations and decisions affect business. When I decided to leave the U.S. Coast Guard, I applied at Shell because it was a company that shared the core values that I had learned in the U.S. Coast Guard, especially the ideals of respect for people, the environment and property.
Although Shell is a large and well-known company, can you please offer insight and data that will help give our reader a size and shape to the maritime dimension of Shell?
Shell has been in the business of shipping since the company's foundation in the late 1800s. Shell is one of the world's leading charterers of vessels globally and in the U.S. On an average day there are about 1,300 vessels carrying Shell cargo globally, and about 300 other floating assets, such as drilling rigs and support vessels, on charter to Shell. In addition to chartered tonnage, Shell manages one of the largest fleets of crude oil, oil products tankers and liquefied natural gas (LNG) carriers in the world, including 10 oil tankers and 44 LNG carriers. Shell Shipping and Maritime employs about 4,000 office staff and seafarers.
The movement of energy products around the globe comes with inherent risks. At the SUNY Towing forum you broached the "Goal Zero" culture initiative. Can you please describe in detail what exactly you mean by "Goal Zero?"
Goal Zero is the vision statement and foundation of Shell's HSSE programs. It provides a clear statement about the culture we aim to build and a simple phrase that provides a common language for use with our partners in safety. It also serves as a non-negotiable anchor point for powerful safety conversations and a standard against which we can measure performance and recognize and reward individuals and teams. Goal Zero shifts how we think and act, and means relentlessly pursuing no harm to people and no significant incidents. We measure Goal Zero by the number of "zero" days. We maintain two Goal Zero counters, one for "no harm" and the other for "no leaks." It is critical that our employees, contractors and partners in safety embrace and believe that Goal Zero is possible. Anything less is unacceptable.
Is there one style, one mode of learning that Shell Shipping holds above all of the rest?
One of the greatest challenges for any global business that seeks to build a culture of safety is the penetration and effectiveness of learning, measured by whether it actually changes behavior. This is particularly true in the maritime realm, where crew rotation, shift work and distance from management makes it difficult to reach everyone. There is evidence that the traditional methods of delivering safety messages and learning from incidents – such as fleet notices, safety alerts, safety meetings and tool box talks – are not having the desired outcome in changing people's deep seated behavior and mindset in preventing similar future incidents from happening. For example, people continue to die or sustain serious injuries in mooring accidents or working in confined spaces. These incidents too often share common causal factors that are well documented in the lessons learned from previous incidents.
Shell has adopted reflective learning as a means of making a step change in learning from incidents (industry evidence indicated ~70% content retention compared to <10% retention when using existing communication tools). Reflective learning uses simple and engaging materials, such as video, in a facilitated, interactive group setting. The objective is to focus on the important themes, drawing out personal experiences from participants, in a way that creates behavioral change. This type of structured, face-to-face engagement has been shown to be more effective than lectures, reading or brief tool box talks or safety meetings.
The typical reflective learning session lasts about an hour and involves 20 to 30 participants. A trained facilitator starts the session with a discussion of barriers, and then uses a video that describes a scenario developed from one or more actual incidents. The video is paused at key points and the group divided into teams to consider questions posed by the video narrator. These discussions are the key to the success of reflective learning, and the facilitator plays an important part by keeping the teams focused, drawing out personal experiences for sharing, and helping them identify factors within their control that will make barriers on their own vessels more effective. The video is re-started after each pause and more information provided. Most important, the session concludes with the participants identifying and committing to actions to make barriers more effective on their vessels.
Shell is helping improve industry safety by providing facilitator training and producing reflective learning videos and written 'Learnings From Incidents,' which are shared through the Shell Partners in Safety program.
Quantify the importance of the extension of this safety culture throughout the entire organization, from the CEO to the newest hire?
The first step in establishing a strong safety culture in any organization is a statement of commitment from the highest levels. To embed this statement at all levels in the organizations requires that the statement be more than just a document posted to a bulkhead. Leadership must demonstrate every day, through actions and not words, that the policy statement is meaningful. This is very difficult in the maritime industry, where the vessels and people are for the most part out of sight of management.
Since 2012 Shell has taken a leading role in furthering industry safety by creating the "Maritime Partners in Safety" program. As a major operator and charterer of vessels, Shell cannot work in isolation to realize the goal of a zero incident industry. To support this aim we have created a network of 500 partners, engaging a collective dialogue & commitment at ship owner/operators/CEO level, who share the same aspiration of ensuring personal safety as a non-negotiable in the way that we work together. Together, we have reduced the number of significant incidents by a factor of three so far. Safety not only means people go home safe to their families, but it also is good business. Reducing incidents in the industry benefits everyone's bottom line.
At annual events in London, Rotterdam, Singapore and Houston, we invite the CEO's of our partners to make a "Zero Incident Industry." Through these conferences three actions were agreed:
■Visible Leadership – "I care, I want to know, I want to check for myself."
■Activity Focus – "Doing things right, with thorough implementation."
■Lessons Learned – "The front line staff need to know, understand it, and apply it."
The objective of the visible leadership action is to engage and inspire crewmembers by getting CEOs and senior leaders on board vessels. These leaders are expected to thoroughly plan these visits and demonstrate a passion for safety and genuine interest in personal safety. The leaders solicit feedback on board, follow through on actions, and communicate the results of these visits to their fleets. Tools have been developed to ensure consistency, and a simple, online tool has been created to record visits. Shell is conducting follow-up visits to measure the penetration of the senior leader's key messages on board, which are also recorded using an online tool. Each partner CEO has committed to a frequency of 12 visits per year, four of which are to be undertaken by the CEO. I have conducted some of these verification visits myself, and have personally seen and heard of the positive impact on crews. This visible leadership initiative has great potential to make a significant impact on safety.
We have written many times over the years regarding the nature and cause of maritime casualties and the "Human Factor," and depending on who you speak to, the "Human Factor" may account for more than 80% of all maritime casualties (versus, for example, mechanical failure). With this as a backdrop, how do we (as a ship's crew, as a company, as an industry) best learn from our mistakes to reduce the risk of repeating in the future?
In my first role with Shell I was responsible for reviewing incident reports submitted by our U.S. and Canadian carriers for incidents that occurred while a vessel was on charter to Shell in North America. At first the quality of the root cause analysis was a major issue, in part because the reports are largely written by people with no investigations experience or training. Over the first year Shell established clear guidelines and expectations for incident reports, which allowed us to better analyze causes and trends.
Most reports do a terrific job of stating the facts: who, what, when and where. Analyzing these facts to determine the "why" and "how" is an area that needs improvement. For example, I recall receiving more than one report about a barge breakaway that identified the root cause as "the towline parted." This is a description of what happened, not why it happened.
Too often we cite the incorrect actions of a crewmember, or a failure to act or follow procedure, as the root cause, but fail to answer the question about why the error was made. If an investigation focuses on blame or fault the true root causes will not be identified. Root causes lie most often in failures of our management systems. As an investigator I was introduced to the work of Dr. James Reasons, an expert in human error, who famously said, "Human error is a consequence, not a cause." This is a very simple and powerful statement that the mistakes made by people are caused by some other factors, most often hidden in our management systems.
Let me illustrate with an example. There was a tank overfill from a chartered tug due to a tank overfill while refueling. The report blamed the Person-in-Charge (PIC) for not monitoring the tank levels – relying on the alarms – and for being distracted while helping another crewmember prepare for transferring slops. When the alarm sounded the PIC checked the sight gauges and noted the tanks were not full. He silenced the alarm, attributing it to a malfunction because false alarms were common. In fact the sight gauges were not reading correctly because the valves were not fully open, but the PIC chose to rely on the sight gauges over the alarm system because of the history of false alarms, (a history that was not known to management). In addition, the PIC had dutifully read the company procedures when hired about 18 months before, but had not read them since. When asked to read the portions of the procedures that applied, he could not explain what he read because the procedure was ambiguous. The procedure was
also generic to the entire fleet, and some of the steps required by the procedure were not applicable to this vessel. For example, the procedure required the high level alarms be tested prior to the transfer, but this test was not possible on this vessel. This is a classic example of human error caused by weaknesses in that company's management systems. That said it is important to hold people accountable and recognize that they have a duty to do the right thing and follow procedures. It is equally important for leaders to be accountable for the systems that their people work under.
In your career, if you could point to one technology that has best enabled the efficient, safe operation of ships at sea, what would that one technology be, and why?
So much has changed over the 41 years since I first joined the Coast Guard that I do not believe I can point to a single technology that has had the greatest impact on safety. Some might argue for double hulls, ARPA, Inert Gas Systems, AIS or ECDIS. Others might argue for non-technological solutions like international treaties such as STCW or the ISM Code, or laws such as OPA-90. I would personally argue for the rise of Port State Control regimes, which started in the mid-1990s with the U.S. Coast Guard's Port State Control Initiative, and later the various Port State Control MOUs. From that starting point there has been a sea change among all facets of the maritime safety nets, and we now operate in a world where a substandard vessel makes headlines because they are so rare.
Who is Jerry Crooks
Jerry Crooks is a Marine Technical Advisor for Shell Trading (US) Company, based in Delaware, providing advice and assistance to Shell terminals in the northeast regarding the ship-to-shore interface. He also performs Baseline Criteria Assessments of third party terminals on the east coast and SIRE inspections of tugs and tank barges. Jerry enlisted in the U.S. Coast Guard in 1975 and started his career as a Boatswain's Mate on ice breaking tugs, becoming a Chief Petty Officer in 1984 and serving the next two years as Officer in Charge of a tug. Upon promotion to Chief Warrant Officer he became a marine inspector and investigator, serving five field tours at Marine Safety Offices in the northeast, Great Lakes and Western Rivers. During this time he was promoted to Lieutenant, and retired as a Lieutenant Commander in 1999. In the years leading up to retirement Jerry served as Senior Resident Inspector at a major U.S. shipyard and the first Chief of the U.S. Coast Guard Port State Control Center of Excellence.
After retirement from active duty Jerry took a civilian position with the U.S. Coast Guard as Chief of Investigations and Pollution Prevention in Hampton Roads. Jerry has extensive investigations experience, including the 2004 explosion and sinking of the chemical tanker Bow Mariner off the coast of Virginia, with the loss of 21 lives, and the allision of the container ship Cosco Busan with the San Francisco Bay Bridge in 2007. He is a recipient of the Congressman James Sener Award for Excellence in Marine Investigations and numerous other military awards. He holds a BS and MS in business management and is a Certified Safety and Health Manager.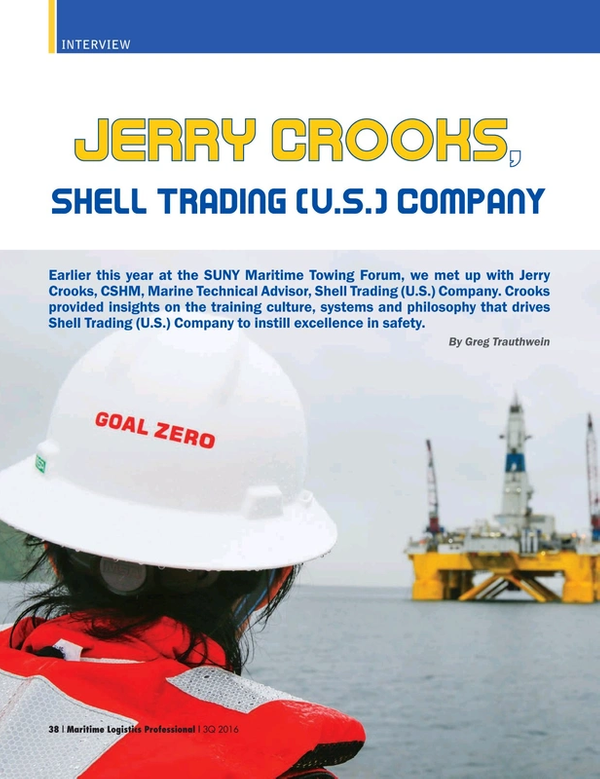 Read Goal Zero: An Up-close Look at Shell's Safety Culture in Pdf, Flash or Html5 edition of Q3 2016 Maritime Logistics Professional
Other stories from Q3 2016 issue
Content