Risk Management and the Human Element
By Joseph Keefe
Even as ship vetting and risk management techniques evolve, defining the human element of the equation nevertheless remains ever elusive.
If the vast majority of shipping casualties are a function of 'human error,' then it is also true that the effort to identify, define – and mitigate – the risk that emanates from the human factor remains very much a work in progress. As vetting procedures have improved and become more sophisticated, the ability to pinpoint which vessel or fleet might not be a good candidate for hire has also improved. According to RightShip CEO Warwick Norman, predictive analytics is just one key to a safer shipping sector. How to incorporate some measure of the human element into that ever-complex equation is another thing altogether.
Virtually every maritime concern on the planet is today, in one form or another, actively addressing risk on the water and looking for ways to better define, mitigate and ultimately eliminate risk where possible. Within that subset, the international vetting experts at RightShip, the tanker industry stakeholders who comprise the ranks of INTERTANKO and Shell Trading each approach the subject differently. All say that there is still much work to be done.
Important Work, Impressive Stakeholders
Since 1970, the International Association of Independent Tanker Owners (INTERTANKO) has been the voice of independent tanker owners, with the goal of ensuring that liquid energy is shipped safely, responsibly and competitively. As of January 2016, the organization boasted 210 members, a combined fleet of 3,654 tankers totalling 313 million deadweight tons.
According to Katharina Stanzel, the Managing Director of INTERTANKO, Safety first and the aim of zero accidents and incidents have been a long standing aim for INTERTANKO. Stanzel told MarPro in July, "As part of the sectors quality improvement efforts over the past 20+ years, structural and operational aspects were important, but the Human Element has been very much at the core of our work. Among INTERTANKO's 12 working committees, the 'Human Element in Shipping' Committee (or HEiSC) sits at the center and contributes to the work of the other committees at every level. It is staffed by a broad range of subject matter experts from within the Membership, including crewing, HSQE and academic & training professionals."
At the heart of Shell's efforts to grow its staff organically, their Goal Zero program is the vision statement and foundation of Shell's HSSE programs with two Goal Zero counters: one for 'no harm' and the other for 'no leaks.' Tim Gaughan, Shell's General Manager of Maritime Talent, explains further, "We believe that safety is paramount to our success and strive to recruit from within our own operated fleet whenever possible. In growing our own timber, we can ensure that our staff are fully aligned with our Goal Zero culture onboard our ships and this continues in their shore based assignments."
Despite that kind of industry focus, Warwick Norman, CEO of RightShip, says it isn't quite that simple. "We look at human factor more closely for a new delivery or change in DOC, however we are working to augment the human element to supplement the vetting process – in particular, with closer analysis of 'the human factor' in PSC deficiencies, including those associated with the MLC Convention." That said; those involved with assigning a rating to a particular vessel or fleet must tread lightly. That's because risk transcends just a cursory look at the crew itself.
The RightShip Way
"When we say that, for example, 80% of incidents are caused by 'human error', this does not mean that it is necessarily the crew's fault; it could also refer to human error in the design stage, at the shipyard, or even at the vessel manager level," says Norman, adding, "'Human error' is often used as a collective term or 'bucket' for everything that's not mechanical. The assumption is that experience is aligned with competence – which is often the case, but not always so. As well as privacy laws, more general issues surrounding the privacy of individuals need to be factored in here too, adding to the complexity."
This year, RightShip is introducing the next generation vetting tool, RightShip Qi. Pronounced 'key' – and an acronym for Quality Index – RightShip Qi is all about improving maritime safety and efficiency. According RightShip, the new system harnesses 'big data,' predictive analytics and real-time risk assessments to better target substandard maritime performance. Vast quantities of ever-changing data are analyzed by sophisticated algorithms to spot patterns and draw conclusions from data sets too large, diverse and dynamic for analysis with previous technology.
The newest version of RightShip – Qi has moved from an expert-opinion model (SVIS) to a predictive model (Qi). Warwick explains, "Previously we utilized multiple data feeds from different providers, however now we are managing it all in-house through our own data warehouse. This eliminates the variable quality of 3rd party providers, allowing us to aggregate data across numerous sources and to create a single 'golden record' that is updated in real time."
According to Norman, the model works. "A vessel with a 1 star rating in 2015 was 20 times more likely to have an incident than a vessel with a 5 star rating. This predictive model is fluid, and we have the capacity to continuously improve it; however customers can be confident that it works."
Despite the difficulty in predicting the human element, RightShip records show that in terms of the top five reasons that vessels are turned down for charter, the Crew Matrix ranks right up there with an Unsatisfactory SIRE report, Age of the Vessel, PSC actions and/or Environmental Sustainability (or lack thereof). But, he cautions, "There is a blurred line between vessel risk and the human element. When the latter is not explicitly measured, we find that PSC and DOC reports are often a mask or proxy for crew experience (or lack thereof) as issues will often be uncovered in this process."
Five Minutes with Shell Trading US Company
On the front lines in the battle to ensure that the world's merchant fleet and in particular, its oil tankers are run to the safest standard possible, it is likely that no one entity has more at stake than Shell Trading US Company. At the tip of that spear is (Captain) Tim Gaughan, Shell's General Manager of Maritime Talent. Long before he was tasked with finding the best and the brightest for Shell, he's done just about every job that he recruits for. Most importantly, Gaughan, first and foremost, knows risk.
A graduate of SUNY Maritime College and from St. John's University in New York with an MBA in Executive Management, he has been with Shell for over 26 years and joined the company after completing a 13-year seagoing career working aboard crude, product and chemical carriers, ultimately sailing Master for three years. Along the way, he held marine technical, operations, and commercial positions within Shell Oil Company in Houston, and then, overseas. Those roles have taken him from London to The Hague, into Nigeria and finally back to Houston in 2012.
Gaughan describes the reach of his domain, saying, "We have about 3,500 seafarers on our operated vessels that are managed out of our Shell Ship Management Limited (SSML) office in the Isle of Man, UK. Currently, we have about 500 maritime professionals in various technical, operational, commercial, assurance, risk management and safety roles throughout the Royal Dutch Shell Group. I am responsible for maintaining a robust talent pipeline globally for Shell Shipping & Maritime for all these positions into the future."
Shell's recruitment strategy is a simple one, and reflects the need to integrate shoreside ranks with expertise (and experience) from the marine side. "We recruit maritime professionals from across the Maritime sector and from academia all over the world, namely Europe, Americas and the Middle and Far East. One of our main drivers for operating a fleet is to grow our own Ship's Staff with the ultimate goal of bringing the best and brightest ashore for a future career in our global organization. We also have a Graduate Internship program wherein we recruit business, logistics and engineering talent from top tier universities around the world."
Separately, and in a world where oil touched $20 briefly, and at a time when the bulk, offshore and containership trades find themselves in the doldrums, Gaughan and Shell have seen little impact to their ranks. He told MarPro in July, "As the majority of our marine professionals are primarily involved in ongoing oil, product, chemical, LNG and upstream operations, safety and assurance activities, we have seen minimal impact to our current staff levels."
Even in a down climate for many sectors, Shell relentlessly looks toward the future. That effort involves providing cadets berths to U.S. maritime academy cadets. These include SUNY Maritime College, the Massachusetts Maritime Academy, Texas A&M at Galveston and the U.S. Merchant Marine Academy. The program is yielding fruit, with caveats. "Currently, we have a number of junior American officers who are sailing in our International Fleet. Sailing on board a multi-national crewed vessel is not for everyone and remains a challenge for many American seafarers. We have found success by hiring academy graduates who have cadet sailed with us as our best option, as they know what to expect on board from previous experience."
Gaughan says that most Americans who join and stay with Shell, enjoy the global international sailing experience and also the ability to sail on new, state of the art oil, product and LNG carriers. He adds, "We plan to continue our cadet program and also to hire American officers for our future talent pipeline needs."
INTERTANKO Weighs In
Katharina Stanzel couches the INTERTANKO focus in a different light. "I think the word 'quality' needs to be better defined. We and our Members are focusing a lot on competency and experience as a measure of what I think you describe by 'quality'. Regarding our Member's attitude, entrusting their multimillion dollar asset (with an even more valuable cargo) to a handful of professionals does by definition focus the mind on the 'quality' of those professionals, so they are extremely aware and focused on the quality of their crews and officers." She adds quickly, "I think here the tanker sector does have a clear advantage and much better training today because of the dangerous nature of our cargoes."
Nevertheless, Stanzel says there will always be caveats. "Trying to define measures and KPIs for this 'quality' is what is difficult, particularly when simple answers are preferred. The crew matrix requirements are in my mind an example of such simple answers because they try to express numerically, what is really a complex combination of factors." Beyond this, she insists, "I would urge caution to equate accidents with a lack of quality. One of our major challenges is to address and prevent complacency in very experienced and highly qualified personnel." That process is anything but easy.
Because INTERTANKO maintains that competency and experience can be undermined by complacency, the organization is focusing on learning from incidents and what tools are most effective to get 'lessons learned,' disseminated and then acted upon. That, she says, is easier said than done. "A lot is down to basic human psychology – which is why 'case studies' or stories we can relate to and that elicit an emotionally charged response and recognition work so well. One major difficulty is trying to keep simplified assessment systems useful in how they actually address the risks they are designed to mitigate."
Vetting the human element is a delicate task, fraught with political, social and national ramifications. Stanzel herself concedes, "... there is probably no other industry where national stereotypes and cultures are addressed so overtly and directly as shipping. Bridge team management and similar efforts for example seek to address directly some of those very delicate issues – for example, how an Asian junior officer can safely challenge a higher authority on the bridge. We have some subject matter experts within our Membership that deal with crewing and others with training, so the links can often be directly demonstrated and discussed."
Stanzel's position on vetting drills deeper than simple 'suitability' of a vessel. "In my mind, 'vetting' always has something to do with suitability and one of the things we have done for nearly ten years is to establish model training and experience requirements for tanker officers to ensure they are 'suitable' to do the job safely. Many of our Member companies have specific training schemes for their officers and sometimes crew and we are currently revising and collating what we consider 'best practice' in that field together with some of the charterers."
And, she maintains that there are many ways to test for suitability. "Some types of training (like simulator work) may be able to gauge the suitability at a certain level, but I would argue there is much more to it. I am also absolutely convinced of the importance of going beyond pure 'competency based training' as that tends to address specifically needed skills rather than the personal and professional development of the individual. Most of our members work to enhanced training standards, in particular for their officers and many have personalized development plans for all their staff, addressing not just required competencies." Taking a step back, that sounds very much like the Shell approach.
Three Views: One Goal
When it comes to the effort to create a safer environment at sea, INTERTANKO, RightShip and Shell are all on the page, albeit approaching the same ideal in different ways; sometimes for different reasons.
RightShip and founder Warwick Norman aim to more precisely define risk and at the same time, help customers to manage marine risk by identifying and eliminating substandard ships from their supply chain. Along the way, promises Norman, "We are working to augment the human element to supplement the vetting process – in particular, with closer analysis of 'the human factor' in PSC deficiencies, including those associated with the MLC Convention." In fact, the next evolution for Qi is to directly factor a crew matrix into the risk rating. Warwick adds, "Our analysis shows us that the crew is an important factor, but to consider this in terms of experience alone is an oversimplification: it is the crew's interaction with events that is important. For example, if we look at a crew (rather than a vessel) that regularly calls at a terminal, we can see a direct relationship to their efficiency at that terminal."
For Shell and Gaughan, it involves more than just looking for mariners. "We have found that today's seafarers are looking for much more than just finding a ship to sail on and then upgrade their licenses. They all want a long term career. At Shell, we have developed an Employee Value Proposition (EVP) to attract the best and brightest and to offer them future possible career paths throughout the Shell Organization," says Gaughan.
Separately, INTERTANKO's aim is to address and mitigate human factors and associated risks, not quantify them. "That may be more something for the charterer's liability lawyers or P&I underwriters or the likes of RightShip trying to provide easy answers to complex combinations of factors. We are of course interested in whether tools like the crew matrix for example could be re-engineered with a goal based approach so they actually address the risks of concern directly. I believe at the moment there is little actual evidence that the measures in the matrix (time in rank and with the company) actually directly correlate to a risk of incidents."
Whatever the underlying motivation, the goals remain the same. Safety, in its purest form, will always involve the human element. Measuring, mitigating, and managing risk. We all want the same thing. It's only human.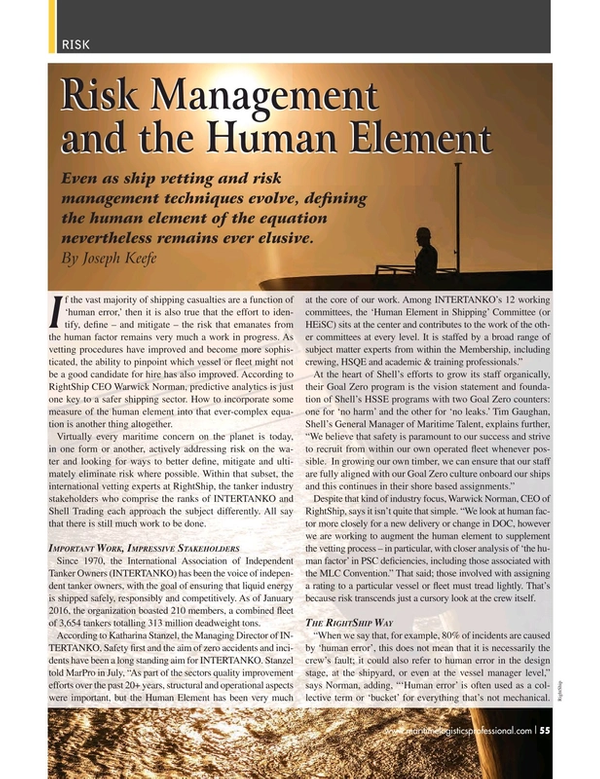 Read Risk Management and the Human Element in Pdf, Flash or Html5 edition of Q3 2016 Maritime Logistics Professional
Other stories from Q3 2016 issue
Content