USCG Drug and Alcohol Regs: Pitfalls for Foreign and US Carriers
By Lee Seham
In the aftermath of a serious marine incident, Coast Guard regulations effectively reverse the presumption of innocence by creating a legal obligation for mariners to prove that they were not under the influence of drugs or alcohol at the time of the mishap.
Applicability of 46 CFR Part 4 to International Flag Vessels
The consequences of non-compliance with SMI testing requirements are severe and administrative fines are arguably the least of it. Officers who are unable to establish their sobriety become, perhaps unfairly, the focus of post-accident investigations. Insurers may dispute coverage where operators cannot satisfy their legal obligation to prove that damages were not causally linked to the gross negligence inherent in navigating under the influence.
Frequently unrecognized is the fact that the testing requirements of 46 CFR Part 4 extend to international flag vessels that suffer an SMI event in U.S. territorial waters (12-mile limit). 66 Fed. Reg. 42964, 42965 (August 16, 2001). Moreover, since Part 4 drug testing must be conducted in compliance with the protocols mandated by 49 CFR Part 40, international operators are also required to have the training and materials necessary to obtain urine specimens in a forensically acceptable manner as determined by U.S. law.
Companies with international flag vessels operating in U.S. territorial waters should consider conducting the following summary self-audit to determine if they are compliance-ready:
Are the senior officers knowledgeable of the eight-part legal definition of a serious marine incident and summarized in Section II of USCG Form 2692B?
Does the vessel carry USCG-approved alcohol testing devices?
Does your vessel carry Part 40-compliant split sample testing materials and chain-of-custody documents?
Is your vessel staffed with several officers certified as Part 40 specimen collectors and alcohol testing technicians?
Does the vessel carry a calibration logbook reflecting monthly accuracy checks of any Evidential Breath Testing devices in use?
Does your company have a contract with a SAMHSA-certified laboratory and qualified Medical Review Officer?
If the answer to any of the questions is "no," then there is work to be done. The testing requirements are daunting – two hours from the time of the incident to complete required alcohol testing and 32 hours to collect urine specimens – and extend to all crew members who "cannot be ruled out" as causally linked to the incident.
Local law enforcement, prejudiced by the staggeringly high percentage of traffic and work place accidents attributable to substance abuse, often enter an investigation with the mindset that it is as likely as not that the crew members were drunk or drugged. In fact, American Maritime Safety's industry-wide statistics reflect a post-SMI positive rate of approximately 0.3%. Thus, the principal concern is not whether the crew members will test positive, but whether they will get their tests done in a timely fashion.
Vessel operators should encourage their crew members to think of the post-SMI process as defensive testing; the maritime employer's goal is to prove his employees' sobriety not establish their impairment. Moreover, the ability to prove sobriety through post-accident substance abuse testing constitutes a rapidly closing window of opportunity as dictated by the body's rapid metabolization of these substances. Crew members need to be encouraged to leap through that closing window before they forever lose the ability to prove their sobriety.
Renewed Focus on Random Testing Requirements
The Coast Guard has been stung by recent losses in license revocation cases where the agency was unable to prove, to the satisfaction of the presiding administrative law judge (ALJ), that the employer has properly initiated a random drug test. Evidence of the improper initiation of such tests has effectively led to the suppression of the test results.
The initiation requirements of reasonable cause are generally well understood. The tests should be initiated based on the direct observation of specific, contemporaneous, behavioral cues indicating substance abuse. Whenever practicable, reasonable cause should be based on the observations of two persons in supervisory positions. Supervisors who engage in the initiation of reasonable cause testing should receive 60 minutes of training in the detection of behavioral cues indicating substance abuse.
With respect to random testing, however, well-intentioned maritime employers have been found to violate regulatory requirements. The concept of randomness requires the absence of a human intervention in the selection process. Thus, a marine employer utilizing a computer program that selected individual mariners for testing also violated Coast Guard regulations when decided to test the remaining crew members on a vessel, for good measure. Similarly, a marine employer who determined that there was a drug problem on a particular vessel and, therefore, handpicked that vessel for "random" testing would violate Coast Guard requirements. The mandate that random selection be conducted using a "scientifically valid method" may also the availability of an appropriate witness to testify with respect to concept of scientific suitability.
In the context of license revocation proceedings based on an alleged "refusal" to submit to a random test, the Coast Guard has confronted the defense that the mariner did not receive proper notification that he/she had been selected for testing. In an attempt to neutralize this defense, USCG Marine Safety Advisory 06-16, issued on June 29, 2016, now specifies that a marine employer notify the merchant marine selected for random testing "discreetly and in writing."
Safety Advisory 06-16 provides a useful summary of USCG random testing requirements, which concludes with the dire warning that non-compliance may result in civil penalties of up to $7,500 per day, per violation. The Coast Guard is trying to get your attention.
The Author
Lee Seham is a partner in the labor/employment law firm of Seham, Seham, Meltz & Petersen and General Counsel of the non-profit drug testing consortium American Maritime Safety, Inc. Mr. Seham has counseled numerous clients in the transportation industries concerning employment-related drug and alcohol testing issues. Seham graduated from Amherst College and received his law degree from New York University School of Law.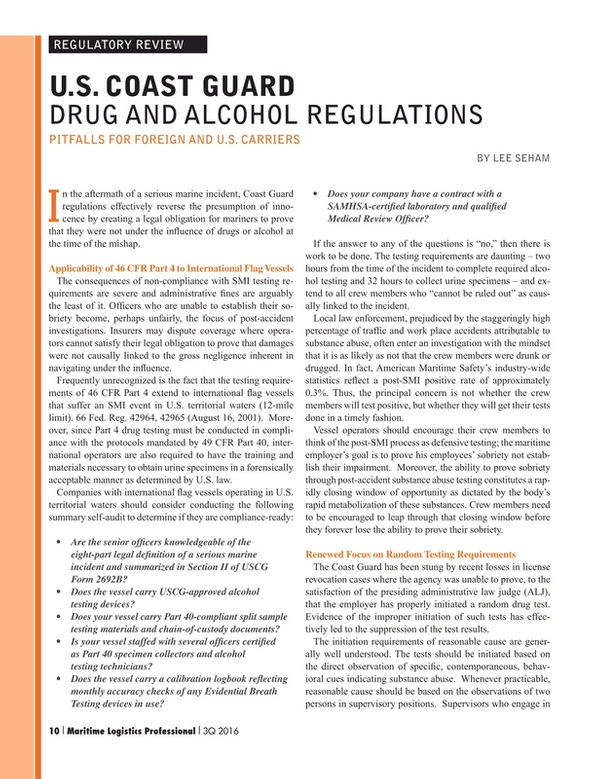 Read USCG Drug and Alcohol Regs: Pitfalls for Foreign and US Carriers in Pdf, Flash or Html5 edition of Q3 2016 Maritime Logistics Professional
Other stories from Q3 2016 issue
Content