Container Security Devices: The Time Is Now
By Ed Harrison and Stefan Reidy
A look at international trade and cargo security provides a short primer on how to reduce unnecessary costs.
Global Trade Challenges
The global market is unbelievable in size and scope, and it is expanding with global demand for goods and the growing adoption of offshore-sourcing by major U.S. and EU corporations, creating increasing demand for cargo transport in unprecedented volumes. More than 16 million maritime containers are in transit throughout the world on any given day – at sea, on rail and/or over the road. Moving these containers is a $900 billion business per year, accounting for an estimated 10 percent of the cost of goods sold for a container load. In addition to cargo shipped in containers, an additional 980 million full truckloads are utilized every year, and much more by air or rail.
An incident rate of only 1 percent would already lead to over 200,000 interruptions (container intrusions, cargo loss, temperature and shock damage, delay and more per day). Importers/exporters are commonly affected by such interruptions and delays in the supply chain. The conventional control and reporting systems do not use the available chain-of-custody shipping process which provides an end-to-end visible and auditable control system. Currently, each trade stakeholders gathers and reports trade transaction data at different stages of the supply chain without a comprehensively linked process. These proprietary trade systems are not connected and often involve paper-based transaction trails and updates.
This results in poor end-to-end data timeliness and creates visibility, quality and integrity issues. Because of the inefficient and vague control on the international supply chain, importers, exporters and their intermediaries must face the following challenges:
30 percent of all shipments are either damaged or delayed;
15 percent of companies' logistics costs are either inventory costs or safety costs;
30 percent of all perishable goods never reach the end destination;
one in five cargo claims is due to moisture and
$60 billion cargo is stolen worldwide annually.
Eliminating uncertainty and reducing variability by providing more visibility and creating an auditable chain-of- custody will enable global trade to become more efficient, more cost effective and secure. The analytics component of cargo movement also leverages the power of big data. Thanks to the availability of historical shipment data across different clients from different industries, predictive analysis can be done to improve the effectiveness and efficiency in today's supply chains. It is time to correct negative trends before they become more costly problems than they already are. These data analytics investigations provide unique, industry and corporate specific business cases for security, operational efficiencies, quality control, customer support and costs savings. Modern technology now includes the use of container security devices (CSD) and systems that provide verification of the cargo, its quantity, identification of the conveyance, the method of shipment and the control and monitoring of its movement from stuffing at origin to accessing the cargo at destination, all the while automatically providing visibility and control.
Trade Compliance, Control, Visibility & Cost Reduction
Research in the private sectors in the EU and U.S. has confirmed the reliability of certain CSDs and modern control monitoring and control technologies and their global scalability. Clearly, the private sector has developed and demonstrated the use of sophisticated CSDs that are affordable to the user and do more than just monitor the door openings. They provide a complete end-to-end chain-of-custody control just as evidence of a crime is gathered and protected. In fact, the new CSDs also provide an unforeseen benefit of providing all stakeholders, an automatic electronic audit of the conveyance movement and any breach into it from origin to destination.
Since 9/11, there have been a plethora of new government programs and requirements involving control within the international and domestic supply chains beginning with what we really know about the actual contents, access to, and control of the movement of these cargo conveyances into, out of, and through the United States.
One such system to reduce supply chain costs is an auditable chain-of-custody process. That process involves the use of container security devices and a communications platform that provides an auditable chain of custody, utilizes an identified authorized agent of the entity shipping and loading the cargo at origin and opening it at destination. This authorized agent is the individual who is responsible for insuring the accuracy of the shipment and is accountable for confirming the contents and quantity of the cargo prior to securing the conveyance at origin for its movement to destination. In effect, this places liability for the accuracy of the cargo's identification and quantity on the firm and its agent. Its use makes the shipment visible from origin to destination, avoids potential Customs issues.
These varied government requirements contain both trade compliance and trade facilitation components. The fundamental foundation, role, and purpose of these programs are accommodated in this electronic chain-of-custody process which employs the use of the appropriate CSDs and begins at origin and ends at destination. The highly controlled coverage serves the needs of Customs and Border Protection with respect to Customs issues and its anti-terrorism mandate, the needs of the Department of Transportation (DOT) regarding hazardous materials control, and the Food and Drug Administration (FDA) with respect to safe food and pharmaceutical movement control, trade facilitation and how all of these international and domestic movements from origin to destination are recorded and available as an auditable record automatically saved in an electronic format for the number of years required by government regulation.
CSD's: Trade Facilitation + Supply Chain Security = Profits
The bottom line is that the use of currently available chain-of-custody systems combined with the right CSDs will save money, speed up movement through Customs, provide visibility and knowledge from the time of stuffing at origin what the cargo is and its quantity, and conveyance identification, and knowledge of the identity of the person verifying the cargo, its movement monitoring, any breach into the conveyance during its movement, and even a divergence of path to its ultimate destination. It even shows the identity of the individual who opens the conveyance at destination. It should be a "no-brainer" for all supply chain stakeholders. It is an answer to trade facilitation and security while the international supply chain stakeholders make money by using these technologies.
The Authors
Ed Harrison is CEO of Powers International LLC, a technology company focused on international transportation security. Harrison has been invited to present to various organizations including the Chinese Government, The International Cargo Security Council, the Transportation Asset Protection Association and The Department of Homeland Security. [email protected]
Stefan Reidy is the founder and the CEO of the Swiss Arviem AG, helping manufacturers, exporters and importers to reveal inefficiencies in their supply chains by enabling transparent global trade via supply chain visibility solutions and real-time cargo monitoring services. [email protected]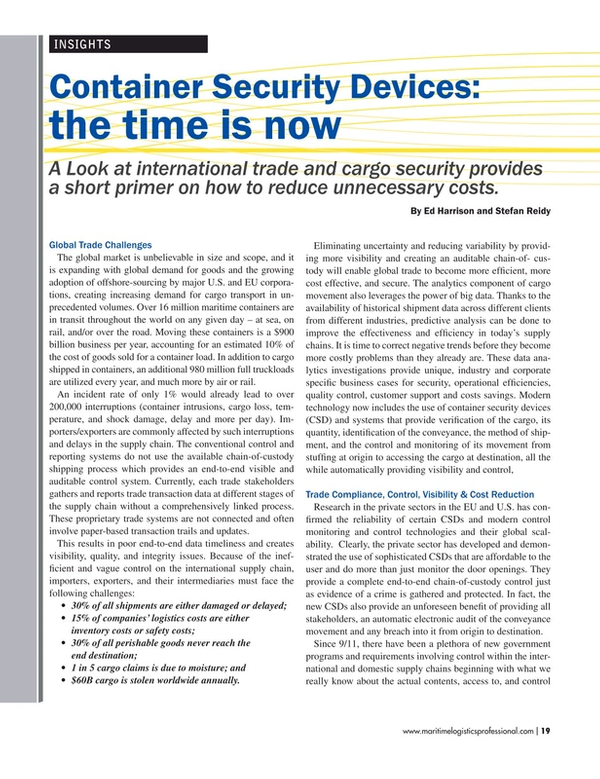 Read Container Security Devices: The Time Is Now in Pdf, Flash or Html5 edition of Mar/Apr 2017 Maritime Logistics Professional
Other stories from Mar/Apr 2017 issue
Content