Murky Waters Persist as Ballast Water Weighs on Shipowners
By Barry Parker
Ballast Water rules and approvals advanced in 2016. Shipowners, OEM's and shipyards now have to do the same, as 2017 looks to be even busier.
September 2016 was a milestone for the international shipping business. Fully 12 years after the international convention on Ballast Water Treatment (BWT) was agreed by the International Maritime Organization (IMO), the convention was officially ratified, after Flag States for 35 percent of merchant shipping tonnage voted "yes." One year later, in September 2017, the convention, impacting ocean-going vessels of 400 gross tons, or greater, becomes effective. To put it bluntly, it's been a long and tortured journey from 2004, when the IMO's Marine Environmental Protection Committee (MEPC) began formulating best procedures (expressed in its "G-8" guidelines) and best practices.
Along the way, there's been a great deal of confusion- still ongoing, amidst murky regulatory standards (changing guidelines, changing standards for testing) against the backdrop of about various technologies' viability to measure up to IMO's dictates. Importantly, a Port State with enormous clout, recently brought a measure of clarity to the muddied situation.
In December 2016, the U.S. Coast Guard (USCG) issued its first "type approval" for a BWT solution, the Optimarin Ballast System, which irradiates organisms with ultraviolet (UV) rays. Just prior to Christmas, type approvals were announced for two additional systems – Alfa Laval's PureBallast 3 system (which also uses UV) and OceanSaver's BWTS MKII (deploying an electro-chlorination process). Consultant Jad Mouawad told MLPro, "I expect 10 systems to be type approved by end of 2017." Separately, and according to ABS Regional VP Michael Michaud, it is possible if not very likely that as many as 12 BWT systems in total could be approved by the end of the year.
With the type approvals (in contrast to earlier USCG alternative approvals, with a five year duration), one set of shipowner worries about long-term compliance have been assuaged. However, uncertainties are far from over; the IMO's "G-8" guidelines are set for a re-write in the coming year when the IMO's environmental committee meets, and scientists continue to quibble over testing procedures.
In a nutshell, owners of deepsea vessels trading internationally will be required to manage their ballast water according to requisite standards, detailed in a vessel-specific management plan. For most owners of tonnage already on the water, this means that they will need to install a system to treat vessel ballast water, prior to discharge overboard, sometime during 2017 to 2022 – with the requisite timing depending on the expiry of a vessel's "IOPP certificate" (a document evidencing pollution prevention, which comes due every five years, usually re-issued in conjunction with a vessel's required drydocking).
Installation on existing vessels – depending on the type of system installed – may require significant mechanical and piping work within machinery spaces of the vessels, so the work must be done in conjunction with shipyard work. Mr. Valentios "Eddie" Valentis, the Chairman & CEO of Pyxis Tankers (a Nasdaq-listed owner with a fleet primarily hauling refined petroleum products) explained, "The Convention comes into effect in September, 2017, but vessels will have to install the units at the first drydocking following that date," adding that, "In our case, our company has some runway. Our first required installation is not until Fall 2018."
American Pie
U.S. based owners in particular were caught in a regulatory logjam – U.S. legislation passed in 2012 required installation of systems in 2014 and 2015, but U.S. approvals were effectively limited to a five-year timeframe with uncertainty thereafter. The result was that many U.S. owners had requested, and received multi-year extensions from the USCG. Whether these extensions will be readily available going forward is an open question.
Richard Wells, Vice President at the Offshore Marine Service Association (OMSA) recently advised OMSA members (active in the OSV sector), "Previously, the Coast Guard would automatically grant a five year extension … now [following the first "type approval"], to get an extension, you will have to point to something specific, with a particular vessel, that makes it not possible to comply."
For U.S. yards, sadly, the INTEL from a recent BWTS conference was that virtually anyone with a blue water, Jones Act hull needing BWT retrofits was either fleeing (or getting ready to bolt) to an Asian drydock for a cheaper price.
Looming CapEx, Capacity Worries
Beyond the worries of when the equipment absolutely has to be on board, capital costs and installation of the requisite equipment, with capital costs are estimated variously between $0.5 million and $2.5 million (and possibly as high as $5 million, if a recent statement from the Liberian shipping registry is accurate) for each vessel. This will potentially impose a severe strain on an industry presently in the midst of a severe slump across all sectors.
Lloyds Register (LR) estimates that as many as 68,000 ships that are subject to the new rules. Because many, though not all, will be installing systems, the overall capital spend, during the five year period out to 2022. This equates to between $50 billion and $100 billion, or $10 billion to $20 billion annually, depending on assumptions. To put this into perspective, annual ship finance drawn from banks has been estimated by commercial bankers to be on the order of $100 billion; with total portfolios for the industry's largest bank lenders totaling just under $400 billion at end 2015, according to Greek researcher Petrofin.
Ahead of the looming CapEx, owners took steps to reduce costs in the advent of the new regulations (a matter of "when" not "if"). Pyxis Tankers, with new ships, said: "Our company, being proactive, has ordered 'BWT-ready' newbuilds, which means that the cost will be more efficient as soon as a specific system is chosen." Mr. Mouawad suggests, "For 2017, I see very few retrofits, only newbuilds. For 2018, in addition to new builds, we will see a slight increase in retrofits. The bulk of the ship will come during 2019 – 2023, with some even distribution between those years." Analysts at VesselsValue.com, an information provider linked to on-the-market brokers for deepsea ships (a smaller universe than the LR number), told MLPro, "We have 55,538 live vessels in our system. According to our BWTS check for Class Society notations there are around 2,027 vessels fitted with BWTS. This leaves us with 53,510 vessels in need of retrofit," as of mid December 2016.
Another concern has been the ability of shipyards to handle a burst in BWT related work. But, Mouawad insists, "I believe there is capacity to handle the new work. Especially shipyards and equipment capacity is available. You will see some lack in engineering capacity but this will quickly be filled by shipyard staff, with varying quality. Therefore when the implementation is down by some years and we know where, and how many retrofits are done, we can look at whether we should give ships a year or two more to comply with the D-2 standard (measurement of allowable concentrations of microbes discharged). But now, we just need to start."
These huge dollar impacts have not been lost on a business that is both capital constrained (with each week bringing reports of banks exiting the sector) and over-tonnaged (supply of ships greatly exceeding demand for vessels). Analysts have pointed to the potentially positive impacts of BWT requirements on the supply side- more ships might be retired. Veteran shipping equities analyst Noah Parquette, at JP Morgan (JPM), explained to investors that, "Incremental costs could bolster scrapping over the implementation time period" as calculations of shipowners, facing a bleak market outlook, cannot justify the capital investment in a BWT system.
In the shipping market's perpetual tug-of-war between supply and demand, some sectors may benefit more than others. Parquette suggested that the new rules "…could become a greater factor for smaller, cheaper ships, as the BWT systems could be a greater percentage of the ship value." He suggested that three sectors of the markets could benefit from the relatively outsized capital expenditure (in relation to depressed ship values): smaller drybulk, container and product tankers. Shipowner Eddie Valentis, from Pyxis, explained it this way: "Everyone is trying to get a handle on BWT system costs. Depending on the circumstances, and in conjunction with forthcoming emission control regulations, an owner of an older vessel could opt to scrap earlier than anticipated."
Logistics: Looking Ahead
What about the impact on cargo interests? With interconnected logistics, cargo owners are not immune from consequences of the actions of shipowners. Mr. Valentis, whose customers include demanding movers of refined products and chemicals, told MLPro, "For the time being, there is no charterer involvement on the specific issue." Jad Mouwad explained that charterers were influencing the choice of system (and timing of installations), telling MLPro, "… this is happening to a certain degree especially with small ship owners. The larger ship owners are still presenting their plans to charterers who will then have less to say about the choices." The maritime industry is bombarded by regulation, sometimes without apparent payoffs to shipping interests. In describing the commercial advantages for owners who install BWT, Mr. Valentis said: "There are no material business benefits besides being able to trade in areas such as the U.S. where BWT rules are strictly enforced and therefore commercially appealing." And, unspoken in all of this the impact of handling ballast in conjunction with cargo operations, how that will affect the ability of a vessel to comply with charter parties, and who is going to pay for the OpEx associated with the cyclical and now endless treatment of ballast.
Even with the ratification of the BWT convention and its entry into force in September, 2017, additional pieces are needed to fall into place for U.S.-based vessel owners. In the States, the Environmental Protection Administration (EPA) and numerous individual states all have something to say about discharges from vessels – including ballast water. A coalition of industry groups has been seeking to consolidate all the diverse and sometimes contradictory rule-makings. One trade association on the front line of efforts to streamline rules on discharges is the American Great Lakes Ports Association (ALGPA), which said in a year-end 2016 update, "The resulting regulatory chaos threatens the viability of interstate and international maritime commerce." ALGPA has fought hard for a new piece of law-making, the C Vessel Incidental Discharge Act (C VIDA), which "…would have simplified ballast water and other vessel discharge regulations by consolidating oversight in the U.S. Coast Guard." The legislation did not move forward, but ALGPA says, "Indeed, there is strong support for VIDA in Congress and with Congressional leadership. We will work with our coalition partners to enact the bill next year." Ms. Kathy Metcalf, President and CEO of the Chamber of Shipping of America, also on the I-H-S conference call, said that the C VIDA bill, which would be re-introduced in the new Congress, could possibly pass in 2017, but 2018 is a more likely date.
In the meantime, all assumptions are based on the premise that OEM's themselves can ramp up quickly to produce the necessary hardware in quantity. A good engineer and/or naval architect will tell you that ship operators ought to be planning now for the big event, something which can take up to six months to put all the pieces into place.
And yet, talk often seems to come back to the topic of how one might obtain or apply for an extension from the U.S. Coast Guard. Consensus at the show was that, looking at the three systems already approved and with as many as nine more looming large in the proverbial porthole, the nation's fifth uniformed service was about to get a lot more stingy with any approvals for delay. In other words, you better have a compelling reason for that delay. Bottom line: if, in terms of BWT progress 2016 was exciting, then 2017 is probably about to get equally more expensive.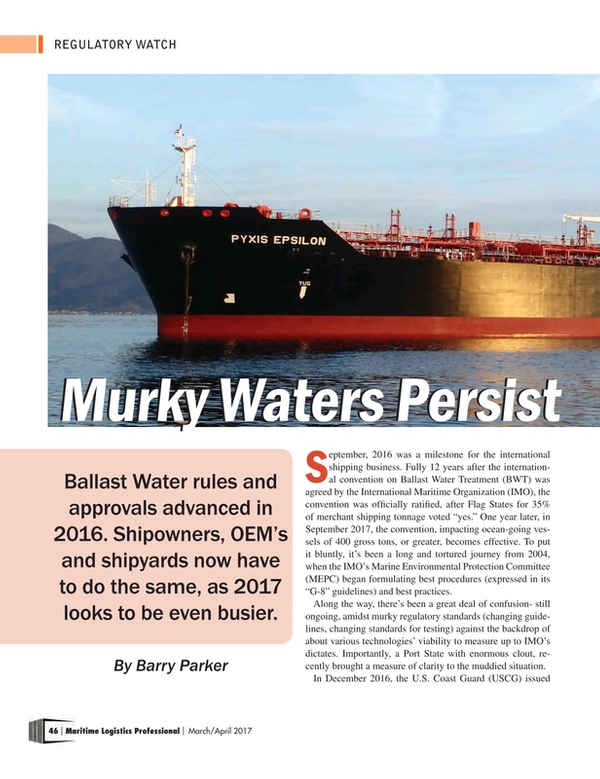 Read Murky Waters Persist as Ballast Water Weighs on Shipowners in Pdf, Flash or Html5 edition of Mar/Apr 2017 Maritime Logistics Professional
Other stories from Mar/Apr 2017 issue
Content