Flexport & the Changing Face of Shipping Logistics
By Greg Trauthwein
Ryan Petersen and his Flexport team are seeking the help re-write the global logistics playbook.
Ryan Petersen is the founder and CEO of Flexport. He is also the founder and ex-CEO of ImportGenius.com, the largest provider of business intelligence to the import-export industry. Armed with an MBA from Columbia and a B.A. in Economics from UC Berkeley, he is also a licensed customs broker and freight forwarder, with his built company squarely around an online dashboard backed by leading venture capital firms like Founders Fund, Google Ventures and Bloomberg BETA.
In April, Petersen told MLPro, "Before Flexport, I co-founded ImportGenius, a leading provider of business intelligence for the import-export industry. Flexport is a tech-enabled freight forwarder and customs broker, meaning that we help to coordinate the logistics of importing and exporting goods around the world." And, says Petersen, the 'tech-enabled' aspect is what differentiates Flexport from the rest of the pack. "In addition to our human logistics experts, we use modern technology to provide our clients with real-time data on the locations of their goods and unparalleled visibility into their supply chains."
But, what does all that mean? In 2005, Petersen spent time living in China, for the purpose of working closely with manufacturers and freight forwarding partners, essentially toiling in the supply chain trenches. It was here where he formulated his own ideas on what the supply chain could be. "While I was there, I was frustrated with the inefficient and outdated processes of shipping goods internationally. Nothing was ever indexed properly and there was no software layer to help you find and sort your goods."
Disruptive Technologies
According to Petersen, and although global trade is one of the biggest and oldest industries in the world, it still operates like it's 1970. He explained, "The logistics and trade industries have been content with their stagnation, so in 2013, I founded Flexport to give companies real-time data on the locations of their goods and visibility into their supply chains. By applying a modern software layer to augment the freight forwarding service our logistics experts provide, we're helping our customers to ship more efficiently and allowing logistics managers to have full visibility and control into their shipments every step of the way."
Flexport was built from the ground up on a technology stack. Petersen says that the company is already far ahead of traditional freight forwarders simply because of our its use of sophisticated software and automation. He doesn't see that market position changing, any time soon. "Because our team is constantly working on improving our software and adding new features, I don't anticipate we'll have too much trouble staying current. Our strategy is probably best described as the opposite of traditional freight forwarders' strategies. We are open to new technologies and to disruption, and we're excited about bringing in modern techniques to help the industry adapt for this decade."
Like all global forwarders, Flexport works with local service providers in every market to manage shipments end-to-end. But, insists Petersen, it goes deeper than that. "As a full-service freight forwarder and customs broker, our logistics and trade experts work to understand the customer's needs and connect them with the right carriers. We use our own software to capture many of the underlying processes in a transaction—such as inputting SKUs and processing customs information—which results in digitizing data and automating certain processes from end-to-end. This allows our team to be more efficient and spend more time working on solving problems that require a human touch."
For example, customers use online dashboards as a one-stop searchable source of truth for information about their supply chains. Users can compare quotes for any given price and service level, and book their shipment directly in the web app. From there, they can track and trace shipments in real time while Flexport's logistics team updates and resolves problems. Petersen adds, "What we're providing is the software that connects everything and coordinates everybody. And in addition, we're also the human intelligence layer providing the services that make it work smoothly."
With much of the trade industry still stuck on paper, Petersen's Flexport has transferred a good amount of information into its online portal, but it will be a while before the entire industry goes online. That's because traditional freight forwarders and carriers are still somewhat reluctant to deviate from the way they've always done things. Says Petersen, "Companies like Flexport that aim to disrupt an industry and gain market share first have to convince the industry that there is a need for the disruption. In the trade industry, I think it's exceedingly clear that the outdated processes being used are no match for what our platform can do. Our software helps customers collect data. Using this data, we can discover the most efficient ways to ship and the best manufacturers to partner with."
The 'complexity of international trade' involves compliance with myriad trade laws. Petersen is only too aware of this reality. "As a fully licensed customs broker, we keep track of every important trade law that affects our customers. We have a team of experienced, licensed customs brokers that offer customs services for our clients, meaning compliance, forms, and fees. A good example of how our software and human team work together to deal with the complexity of trade is our work on the Denied Parties List application. If a company wants to import or export something, they cannot be on this list. It's maintained by the U.S. government and every customs broker and freight forwarder has to check that their customers are not on it."
But, it's not that simple. Petersen explains, "Many brokers or companies only check the list once for a company's name, but if you want to be compliant, you want to check for every shipment. We check every hour because we have software automatically running it through, looking for anything that matches our fuzzy algorithm. Our software outputs a probability of a match and at that point, we have a human looking and making sure that the software is right."
People and Software: Managing International Trade – Together
Flexport would not be where it is today without the combination of software and people. Petersen firmly believes that although software can do many things well, humans are better at making important, nuanced decisions. "We're combining the two and enhancing human intelligence with software. We have really smart engineers tackling the creation of software tools for freight forwarding, while our operations managers research quotes and rates. They work in tandem so that our engineers are solving the real problems our operations teams encounter."
According to Petersen, Flexport is and remains very much a full freight forwarder; moving freight all day long for people. But, and at the same time, the customer experience is enhanced and Flexport's transaction costs are lowered because of software. The Flexport app and platform are cloud based, meaning companies can access their dashboard at any time while they're on the go.
Value Added
The complexity of international trade compliance means that every single shipment will always need to have an expert involved. In addition to providing customers with visibility and control over their product and competitive rates, logistics experts who intimately know how the trade industry works and what the best practices are, will always be a hallmark of the 'turnkey' service.
Petersen and Flexport, therefore, take a consultative approach with clients, continuously looking for opportunities to optimize supply chains. That's just smart business, says Petersen, adding, "We operate more quickly and more reliably than traditional freight forwarders because of the technology that augments our team's expertise. As a result, our clients are able to make data-driven decisions from transportation spend to inventory planning. It's this combination of human and machine intelligence that sets us apart." Shipping logistics may never be the same. If so, that's probably a good thing.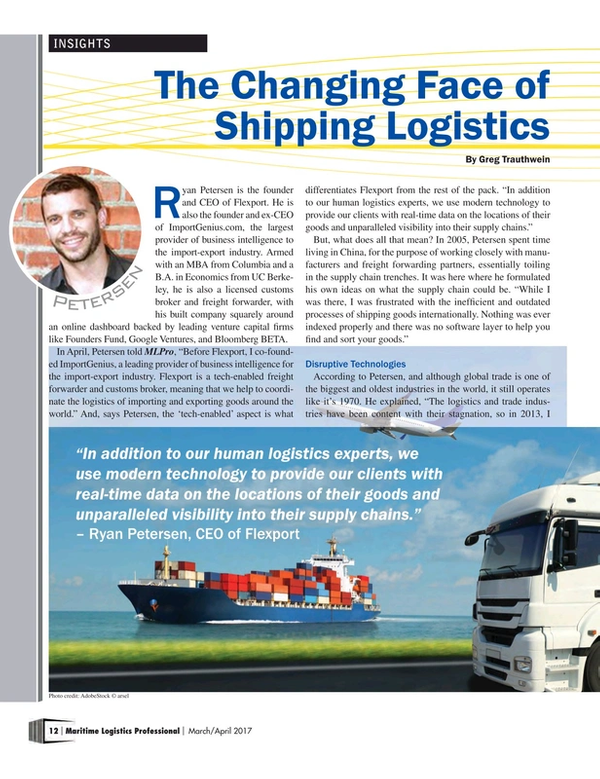 Read Flexport & the Changing Face of Shipping Logistics in Pdf, Flash or Html5 edition of Mar/Apr 2017 Maritime Logistics Professional
Other stories from Mar/Apr 2017 issue
Content