Invasive Species Meets its Silver Bullet: Envirocleanse
By Joseph Keefe
A new entry to the ballast water treatment promises compliance along with savings in both CapEx and OpEx. Who says there's no 'silver bullet' in the BWTS game?
In the port of Houston, Texas, three medium-sized tankers are berthed adjacent to one another at this sprawling petrochemical complex. The first, a 70,000 ton shuttle tanker, is discharging a parcel of Brent Crude Oil. The second, a coastwise product carrier, is taking on a parcel of gasoline destined for the East Coast. And the third, another crude carrier, is also discharging bulk crude oil. All considered quality vessels, operated by reputable and fully vetted owners, only one is experiencing what could be described as a satisfactory port call. For the two poor performers, that's got nothing to do with cargo equipment, and everything to do with their newly minted ballast water treatment systems.
As the product tanker loads cargo, it struggles to keep up with the delivery volumes from shore. On at least one occasion, cargo is interrupted for two hours and for the balance of the lifting, a ship-imposed restricted loading rate – owing to restricted draft at the berth – kept the vessel at the berth well past its allowed window. The demurrage quickly eats into what had been thought to be profitable charter party. Slow deballasting rates, owing to the necessity to 'retreat' in-line, is determined to be the culprit.
Across the channel, crude tanker number one has a different problem. As discharge continues, the intake of murky, muddy ballast water also impacts its ability to get enough ballast on in order to make a speedy departure from the berth once finished stripping its tanks. It experiences ballast filters that impede the flow of water into its segregated ballast system. Many hours after finishing discharge – and not before receiving a raft of Letters of Protest for poor performance – it finally departs the berth.
In contrast, tanker number three discharges an entire 70,000 ton parcel of Bonny Light crude oil in just 22 hours, including crude oil washing of 25 percent of its cargo tanks. Ballast was loaded at maximum rated pumping capacity. Unimpeded by an in-line ballast water treatment system, the vessel was ready to depart immediately upon hose disconnection, and then presented promptly for her next fixture.
On the way, the tanks are treated, and then neutralized in transit – while employing real time monitoring to optimize dosing – using one of the newest entries into the ballast water treatment game. The vessel's Envirocleanse inTank (TM) BWTS utilizes salt water and Electrochemical Activation (ECA) to generate Hypochlorite as the active substance to achieve ballast water discharge standards. The dosing module mixes one tank at a time where ballast water quality is assessed and the generated disinfectant is applied until the target Total Residual Oxidant (TRO) level is reached.
The circulated ballast water is returned through the patented in-tank nozzle mixing system that ensures even chemical distribution. After an initial hold time, the dosing module rechecks the TRO in each tank, applying more disinfectant if required. For our tanker, this was repeated for all ballast tanks that require treatment. Prior to arrival in port, the dosing module checks the remaining TRO in the ballast tanks and applies Sodium Thiosulfate to neutralize any remaining active substance and the ballast water is ready for discharge.
The inTank (TM) BWTS does not filter the ballast water on uptake, which is different than most in-line systems. To ensure consistent and effective kill of target organisms and pathogens, the Concentration-Time (CT) treatment approach is utilized. The recirculation capacity enables monitoring and re-dosing to meet the target combination of oxidant dose and hold time. The ability to dose in-tank and re-dose ensures effective treatment regardless of organic and inorganic loads in the ballast water. And, while those advantages translate into real operational gains – and profits – the Envirocleanse BWTS delivers in many more ways, as well.
Fashionably Late
The Envirocleanse BWTS product is not yet the best known of the 50+ systems that have dipped their toes into the global ballast water treatment game, nor is it the first to hit the market. On the other hand, when the dust shakes out from the testing, certification and production phase of this burgeoning market, it will likely be one of the few to survive.
Anything but new, Envirocleanse LLC is a division of Charter Brokerage LLC, a Berkshire Hathaway company. Charter Brokerage knows its way around the waterfront. A market leader in duty drawback recoveries; import brokerage and freight forwarding services; marine barging both inland U.S. and ocean voyages; and import/export commodities trading, the firm has been interacting with shipping for many years. Beyond that, Berkshire Hathaway, through their ownership of Marmon Water Technologies, also knows water treatment.
All of that said; the Envirocleanse entry into the market was anything but late. Matt Hughes, Envirocleanse Senior VP of Sales and Marketing told MLPro in April, "We have admittedly been fortunate with much of our timing for market entry, some by design and some by luck. Several requirements have changed, even over just the last year. Being currently in the middle of our Type Approval testing however, we are able to incorporate the new G8 testing requirements, as well as all current guidance from The U.S. Coast Guard and the EPA."
With a proven disinfectant treatment solution already in hand, the firm was also hesitant to commit too early to a market that had no ratified or defined standards. And, adds Hughes, "There was no interest at a corporate level to simply 'be another player' just because it appeared to be a large market potential. When we were able to team with Glosten to bring the inTank (TM) BWTS to market, we felt very strongly at that point that we had something unique to offer." The choice to partner with Glosten proved to be a smart one.
Marinizing-to-Market
Envirocleanse management knew that just because a technology worked ashore didn't necessarily translate into a successful marine offering. And after interviewing several other groups, Envirocleanse determined that Glosten was the right fit for marinizing their system. Matt Hughes adds, "Their inTank (TM) treatment technology was the perfect complement to our EC system, enabling Envirocleanse to bring a uniquely ship operator-focused solution to market."
Kevin Reynolds, Principal at Glosten, leverages prior experience in the marinization and integration of as many as a dozen of the leading ballast water treatment technology providers. He explains, "We help them understand how controls work on ships, the testing regimen, and how to navigate marine-style hazard assessments. We understand how ships work, and we understand how to integrate and get marine equipment working on vessels. You can bring the best shoreside technology to a vessel, but that doesn't guarantee you success on the water at all. In fact, I don't think there's anyone out there who has done more marinizing of equipment than Glosten."
After seeing what Envirocleanse had to offer, Reynolds and his team were convinced that in-tank treatment was the way to go. Eliminating the need to install massive amounts of equipment into existing pumprooms and/or engine spaces was at the top of the list.
In fact, says Reynolds, "It is rare and unusual to be able to install a large 3,000-to-5,000 cubic meter per hour system along with heavy filters without having to do significant relocations of equipment in those spaces. In addition, there's quite an additional effort to put together a rigging plan just to get that equipment into the belly of the ship," he said, adding, "We've actually had to cut holes in the bottoms of ships to put those filters in because to do otherwise would've involved too much equipment removal. And that involves recommissioning equipment that had to be relocated. So you end up commissioning not just a BWT system, but other equipment as well."
The inTank (TM) approach, with no filtration, has a very small amount of work required in crowded pumprooms or machinery spaces. What this means is that the installation team can install the piping and equipment in different areas of the ship at the same time, removing any bottle necks. This significantly reduces the total time for installation as compared to inline treatment systems, making refit within a 10 day period practical.
Beyond the complexity of the typical in-line BWTS system installation, the reality of the matter is that the vast majority of these retrofit systems will be installed overseas, to a large extent in Asian yards. Hence, says Reynolds, on a tanker or a bulker that requires an extraordinarily large in-line system, shipyards that are used to cropping and replacing and other simpler items and coating repair, will now be asked to employ skills that they are not used to – those very complicated relocations and installations. He explains, "If you go with the in-tank system, you've put your shipyard – particularly those that typically do repair work – back into their comfort zone. Their traditional work is cutting and replacing steel and running pipe. With the in-tank treatment – the main effort is running pipe – and that's their comfort zone."
Taking into consideration engineering, labor and material line items, the CapEx involved with an in-tank treatment system is significantly lower than the cost of the in-line systems. Real CapEx and OpEx savings are easy to calculate. But, the purpose of ballast water treatment is to meet compliance. According to Reynolds, using the in-tank process is the only way to actually respond to the water quality that the ballast treatment sees. "Any other method puts in a fixed amount of UV radiation or a fixed amount of chemical," says Reynolds, adding, "The in-tank process adjusts how much chemical is added based on the oxidant demand in the ballast water. It is the only method that we're aware of that can really assure compliance."
For those operators still unsure about the long term impact of chemicals on ballast tank coatings, IMO research in collaboration with coatings manufacturers has determined that as long as the oxidant level stays below 10 mg/liter in the ballast tank, it doesn't compromise the tank coatings.
Advantage: Envirocleanse … at a glance
The ability to separate ballast treatment from cargo operations.
A simpler system – easier / cheaper to install (easier for retrofit yards), easier to run (automation).
The system is able to fulfill all the IMO and USCG ballast water disinfection requirements.
Flexible and modular Installation, lower upfront CapEx.
Operation is simple and fully-automated, with very low maintenance requirements.
Low OpEx: power consumption is very low, circulation pumps smaller than typical ballast pump.
Testing & Type Approval
Envirocleanse LLC has previously received both EPA registration and FDA approvals for usage in various industries including oil and gas applications, food preparation and medical disinfection. Also armed with in-house knowledge of water disinfection utilizing electrically-activated treatments systems, Envirocleanse expects U.S. Coast Guard regulatory approvals to occur in the first quarter of 2018. Already commissioned on the Golden Bear testing facility in California and having been through pilot testing, the system has already passed the first couple of tests.
How it Works
Under the vast majority of cases the system will use sea water to generate hypochlorite on-site. In cases where fresh or brackish water is the feed, bulk dosing using liquid hypochlorite or NaDCC are options. Because the system constantly and automatically monitors the residual oxidant in the tank, the vessel can allow the oxidant to degrade over the life of the voyage, keeping a minimal amount to ensure there is no regrowth. By allowing degradation to a level of .1 ppm - .5 ppm towards the end of the voyage, there is minimal neutralization using sodium Thiosulfate. Typical neutralization will require roughly .5 kg per 1,000 m3 of ballast water, and the cost of STS is about 50 cents per kg. Thus, chemical costs for neutralization is quite minimal. And, sea water is free.
Finally, and for vessels operating in fresh and/or brackish water, there are several options available to shipowners. Unlike some other systems, Envirocleanse was designed to allow fresh water ballast to be treated by an electrolytic system. This is accomplished by using clean sea water feed during the ocean voyage to feed the generator. Hughes adds, "For vessels that trade exclusively in fresh water, we've developed bulk chemical options. These bulk chemicals are part of our type approval kit, and treat in the same manner as the electrolytic version in the ballast water tank."
Power requirements are indeed an advantage when using power in transit at non peak times, as opposed to in port. The reactor cells creating the disinfectant are very efficient, and have low power requirements. The unit can be properly sized to take into account the typical voyage time. So a system could be smaller than might otherwise be anticipated by the ship owner which again, would use less power.
A key concern of vessel operators and regulators alike has been the fear that BWTS OEMs wouldn't be able to ramp up quickly enough to produce enough equipment in a timely fashion to meet demand. According to Matt Hughes, that's unlike to be an issue for Envirocleanse. "Manufacturing will be 100 percent in the U.S.A., using almost exclusively U.S. made parts. We are prepared to manufacture up to 10 complete systems per week, he said, continuing, "I would rather anticipate that industry wide, the engineering, project management, and ship yard availability will be more problematic. However, these are all issues we are already in the midst of solving for the Buyer."
Underscoring the compact, flexible and easy to install nature of the equipment, Matt Hughes told MLPro, "There are two distinct modules to our system; the treatment module and the dosing module. The dosing module must have access to the ballast water system and will likely go in or near the pump room. It can be constructed with EX rated components and be installed in classified areas when needed. The treatment module can be located almost anywhere. We simply need to be able to run piping from the treatment module to the dosing equipment. In short, the entire system as a whole is very flexible and modular. Also, each component is smaller, as compared to other systems."
No Silver Bullet?
In the BWT business, 'there is no silver bullet.' Nevertheless, Matt Hughes tells MLPro, "While we do believe we are a viable option for the vast majority of vessels, certainly the high-ballast longer-voyage ships will see the most benefit from our system." He adds, "We do not have a maximum ballast volume capacity, in fact, we believe our system has benefits at the higher ballast rate levels. By treating in-transit, our primary evaluation is total ballast capacity, and voyage time. When taking those two factors into consideration, we can then present the option for a customer vessel, both for pricing and anticipated commercial uses. The rate of ballasting during uptake is of absolutely no consideration for our system."
Beyond the easier and less expensive installation process, a key fundamental of the Envirocleanse solution is that it does not operate during cargo operations. Everything in the vessel's current ballast system remains exactly the same. Kevin Reynolds explains, "The ability to completely separate ballast water treatment from in port cargo operations is a huge benefit. Imagine you clog the filter on an in-line system during cargo operations and now you must either notify the Coast Guard or other flag state that you no longer are able to meet your treatment requirements or you need to shut down cargo until you remedy some sort of fix. With an in-tank system, you avoid it and you defer that treatment to the sea passage."
As the Envirocleanse BWTS entry marches quickly towards market entry and regulatory approvals, vessel owners suddenly have a new option – one which costs less to install, less to operate and one which doesn't impact cargo or ballast operations. Backed by one of the most recognizable and successful names in business today, Envirocleanse also has the staying power to provide service for the long run. If that sounds like the full package you've been waiting for, then perhaps there is a 'silver bullet' for BWTS compliance.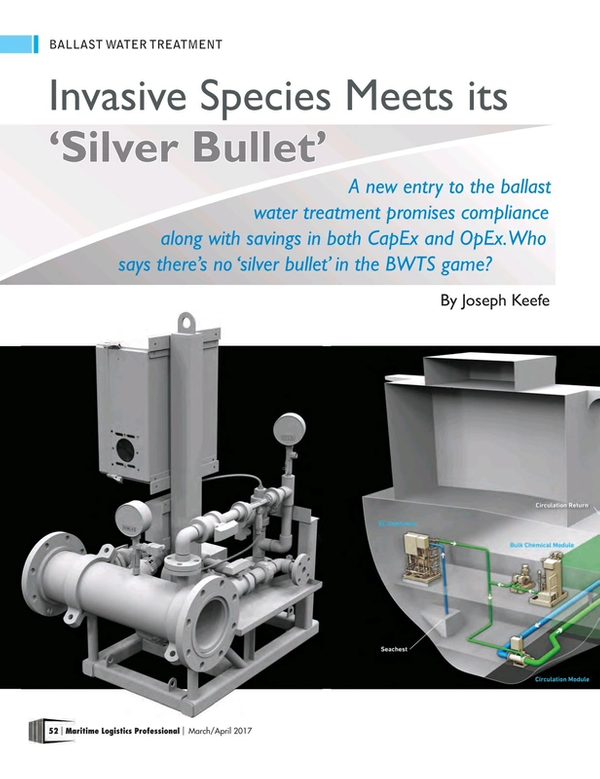 Read Invasive Species Meets its Silver Bullet: Envirocleanse in Pdf, Flash or Html5 edition of Mar/Apr 2017 Maritime Logistics Professional
Other stories from Mar/Apr 2017 issue
Content