Interview: Brandy Christian - President & CEO, Port of New Orleans
Maritime Logistics Professional
Brandy D. Christian serves as the President and CEO of the Port of New Orleans, a public agency that manages more than $60 million in revenues, nearly 300 employees and $200 million in capital projects. Christian is one of 11 female port directors in North America and the first female CEO in the Port of New Orleans' 120-year history. She brings a global perspective and experience building high performance teams in complex organizations to the role, and emphasizes strategic focus, collaborative partnerships and bold action.
Prior to joining Port NOLA, she served 14 years with the Port of San Diego, California's fourth-largest cargo port and one of the State's largest public land developers with a portfolio encompassing maritime, industry, hospitality and tourism. Serving as vice president of strategy and business development, Christian was the driving force behind streamlining the public agency's operational processes, reducing costs, securing major accounts, and negotiating leases for the cruise and cargo business lines.
Before joining the Port of San Diego, Christian worked for KPMG Consulting as a quality management consultant in their public sector practice. She earned a bachelor's degree in political science from the University of Arizona and a master's degree in public administration from the University of Southern California. Christian is a Certified Port Executive, Certified Six Sigma Green Belt, Board of Examiners - Malcolm Baldrige, and the recipient of the Examiner of the Year by the California Award for Performance Excellence.
Additionally, Christian serves on the Green Marine Board of Directors, as Cruise Committee Chair for the American Association of Port Authorities, and on the University of New Orleans Transportation Institute (UNOTI) Advisory Board. Follow along in this edition as she brings MLPro readers up-to-speed on one of the fastest growing – and most important – ports in the United States.
Your tenure as the Port's president and chief executive officer began in January, following two years of service as chief operating officer. You've got much on your plate, but if you had to focus on just one goal, then what would it be? Why?
While serving as chief operating officer, I recognized that Port NOLA's success could be multiplied and its economic impact substantially increased with targeted investments and operational improvements, so I initiated the development of a strategic master plan. We are nearing the end of that process and I am confident that the outcome will ensure we serve as a true gateway port with integrated facilities and transportation solutions, staying ahead of market demand and exceeding expectations by all measures.
You also serve on the Green Marine Board of Directors. Green Marine is a voluntary environmental certification program for the North American marine industry, a rigorous, transparent and inclusive initiative that addresses key environmental issues through its 12 performance indicators. Where would you rank your port in terms of achieving excellence in all of those important areas?
Green Marine's emphasis on continuous improvement and a framework with clear standards allows its members to hold themselves accountable. The 12 performance indicators provide broad yet measurable goals. I am pleased with the progress we have made toward overall excellence, with our measurable successes in all areas, and our partnerships with stakeholders in the effort. One of our terminal operators was so impressed with Green Marine that they joined the program. A recent initiative enabled 35 local truck owners to reduce diesel emissions by replacing older model trucks with newer models. The Clean Truck Replacement Incentive Program, or Clean TRIP, is a cost share program, funded by federal EPA and state grants. We are also partnering with the City of New Orleans and working with stakeholders to revitalize brownfield property along the Inner Harbor Navigation Canal, utilizing an EPA planning grant. This two year project will create a vision and implementation plan to help bring a number of underutilized and vacant properties back into commerce, as well as create jobs and other benefits for surrounding communities. Another environmental leadership initiative is our By-You Drainscapes program, which spreads awareness by installing artwork on storm drains as a reminder to the public that the city's drains eventually lead to Lake Pontchartrain and the Mississippi River. As a member of the Green Marine Board of Directors, it's a privilege to have Port NOLA positioned as a leader in increasing awareness of the maritime industry's activities and environmental benefits.
For so many ports and terminals today, the two most important keys to the future involve (a.) infrastructure improvements and (b.) the state of its intermodal connections. Describe your port in these terms today.
Investing in infrastructure is both capital intensive and necessary to maintain a competitive advantage. We are carefully evaluating our options as part of our strategic Master Plan process to ensure our investments support the business well into the future. Port NOLA is known as America's Most Intermodal Port with good reason. Our Mississippi River Intermodal Terminal provides on-dock rail service, and we are in the process of acquiring the New Orleans Public Belt Railroad, which serves all six Class I railroads. In partnership with SEACOR AMH, Port NOLA provides a weekly container-on-barge shuttle service between New Orleans, Baton Rouge and Memphis. This service is becoming more popular faster than was expected.
This year's AAPA Facilities Engineering Award will go to the Port of New Orleans for its Mississippi River Intermodal Terminal Improvements Program entry. Tell us about this project, what made it special and what it means for the future of the port.
The Port dedicated the $25 million Mississippi River Intermodal Terminal in April 2016. The terminal was made possible by a $16.7 million federal transportation TIGER grant. The terminal is equipped with on-dock rail access to move cargo via the New Orleans Public Belt Railroad which serves Port tenants and switches for all 6 Class I railroads. Additionally, the terminal has the capacity of moving 160,000 TEUs per year by rail and is equipped with two rubber tire gantry cranes. Since the opening of the Mississippi River Intermodal Terminal, Port NOLA has seen increased interest from our rail partners to reach key inland markets efficiently served by New Orleans, including Memphis, Chicago, Detroit, St. Louis, Dallas and Kansas City. The Port is served by the three major global container carrier alliances, and this February, CMA CGM launched their direct all-water Asia container service which has served as a launch-pad for intermodal growth. Supply chain partner CN Railroad, has provided intermodal service at the Port for many years and in 2015 signed an MOU to attract more container traffic through New Orleans.
Box Shipping: you were after 2016, the 18th ranked U.S. box port, with a year-on-year gain of 3.6%. Encouraging, but not as robust as some others. What's the long-term goal of the port for this sector?
We are working to attract investment from both the public and private sectors to our container facilities to retain our place as the premier regional container terminal on the Gulf Coast. In the first quarter of 2018, we expect to begin an expansion project at our Milan Street Wharf in the Napoleon Avenue Container Terminal to increase our annual throughput capacity.
We anticipate the more than $32 million project to attract new customers seeking dedicated terminal space. Also, the expanding chemical industry sector in Louisiana is forecast to triple its current volumes in the next three years, and we expect to compete and win the majority of that cargo. The challenge we have in Louisiana in the container market is with growing imports. So, we are actively working with regional and state economic development officials to attract new distributions centers and manufacturers, to help bring more inbound cargo to New Orleans and Louisiana as a whole.
The ports of Los Angeles and Long Beach recently announced plans – prompted in part by local regulatory and political pressures – to bring emissions to zero by the year 2030. Is there a similar pressure in Louisiana and/or is this something the port itself will address and set benchmarks for? To that end, what are your goals?
Port NOLA has a number of programs aimed at reducing air pollution from port activities, including the previously mentioned Clean TRIP program that helped 35 truckers replace older dray vehicles with models that meet current emission standards. Additionally, Port NOLA recently became the first port in the U.S. to pilot the use of Transport Canada's Port Emission Inventory Tool to study our emissions with the long-term intent to develop a plan with targets and timelines.
Your nascent Container-on-Barge (COB) service, intended to be an integral part of the regional intermodal equation, is gathering momentum – and customers. Give us a sense of how it started and your assessment of what it can someday be.
The success of the container-on-barge shuttle service is a result of the $81 billion infrastructure investment boom in the chemical and petrochemical industry on the Lower Mississippi River. SEACOR AMH operates the COB shuttle service to export products of the investment boom via Port NOLA. Year to date, the COB shuttle service has moved more than 25,900 TEUs between Memphis, Baton Rouge and New Orleans. Factoring in the chemical industry's investment boom and more Port NOLA carrier partners participating in the COB shuttle service, we are poised to continue to grow.
You were appointed to the Railroad Shipper Transportation Advisory Council, a group that advises the Surface Transportation Board on Rail operations and issues. That said; what is the biggest issue today for rail as it interacts with the waterfront – both globally and locally? What are we doing about it?
Rail and maritime traffic must interchange efficiently and seamlessly to meet the expectations of shippers and consumers. As the supply chain becomes more complex, we must prioritize investments in aging infrastructure and incorporate technological advances so we can continue to facilitate global trade and serve as a local economic driver. Both ports and railroads are require ongoing capital investments. Many of the most transformative projects are multi-year and extremely expensive. Both maritime and rail associations have been making the case about the need for investment at the Federal and local level – we need to continue that effort. The alignment of the Port of New Orleans and the New Orleans Public Belt railroad allows us to share operational plans and work toward a shared vision. This will include an emphasis on strategic infrastructure investments.
Royal Caribbean International has announced that it will return to New Orleans in 2018. That's good news for a tourist destination rich in culture, history and hospitality knowhow. The Port handled 1,070,695 cruise passengers in 2016 (and that number is increasing year-on-year, and impressively ranks as the sixth-largest cruise port in the United States, with direct industry expenditures in Louisiana of $406 million). What's the long-term goal for those numbers? What are you doing about keeping, and attracting even more business?
We are fortunate that New Orleans is such an appealing location, both as a standalone destination and cruise port, as well as being easily accessible by air, rail and car. Sixty percent of our cruise guests spend an average of two nights in the city either before or after their cruise, so the region truly benefits economically. Our goal, not surprisingly, is to provide superior service to the cruise lines and passengers, so we can continue to attract newer and larger ocean going ships and grow our river cruise business. We enjoy close and positive relationships with our longtime cruise line partners, Carnival and Norwegian Cruise Line and Royal Caribbean, who will return to Port NOLA next year. A key aspect of growing cruise opportunities includes optimizing capacity at our two state-of-the-art cruise terminals and planning for our future needs. We also partner with tourism and economic development groups on initiatives that contribute to the region's appeal, such as working to attract more direct domestic and international flights.
The Port of New Orleans, the New Orleans Public Belt Railroad and the City of New Orleans have agreed to align the Public Belt Railroads and its assets under the Port of New Orleans. The Public Belt will continue to effectively serve the Port of New Orleans and the move is expected to give the Port greater competitive advantage in international trade. What trades do you see benefiting the most from this move? Break bulk, containers, bulk, cruise traffic or perhaps all sectors in different ways?
We expect all sectors will benefit from an alignment of NOPB and Port NOLA. With control over a larger portion of the supply chain, the Port can plan future investments and operations synergistically and strategically. Cargo, including container and breakbulk, is an obvious beneficiary of the NOPB acquisition, though cruise passengers will benefit as well, with more access to the riverfront along nearly three miles of contiguous open space.
The plan also calls for the Port to transfer the Governor Nicholls Street and Esplanade Avenue Wharves along the Mississippi River to the City of New Orleans. This move, showing unusual community outreach, ensures that the port and the city's tourism industries can operate side by side in prosperity. What else prompted the decision?
When the City of New Orleans began exploring options to sell the shortline railroad or outsource its management, the resulting uncertainty had a chilling effect on NOPB's business. For nearly 100 years, the railroad has served as a utility, providing cost effective service without favoring any one railroad. During the City's process, Port NOLA came to a new appreciation of the competitive advantage our access to six Class I's has been. We also recognized that having a shared vision for the railroad and port could result in greater efficiencies and growth. The City had long hoped to provide contiguous riverfront access in the French Market area for residents and visitors and the configuration of the two wharves that interrupted the flow of public access are less than ideal for today's maritime operations. From the Port perspective, an acquisition of NOPB provided a greater benefit. Together, the City and the Port realized that a realignment of assets would be more beneficial and a win-win-win for all involved.
Port NOLA has announced and launched Architectural and Engineering Services Roundtables Discussions Promoting Professional Services Opportunities with Port. Who are these roundtables reaching out to, and what is the ultimate goal of the effort?
As part of a commitment to ensure greater opportunities for all who want to work with the Port and a complete overhaul of the procurement process, the Port held a series of roundtable discussions to promote professional service opportunities to small, local architectural and engineering companies. The goal of the roundtables is to ensure qualified businesses have the opportunity to work with the Port. In return, the Port obtains a larger pool of prospective professional service providers.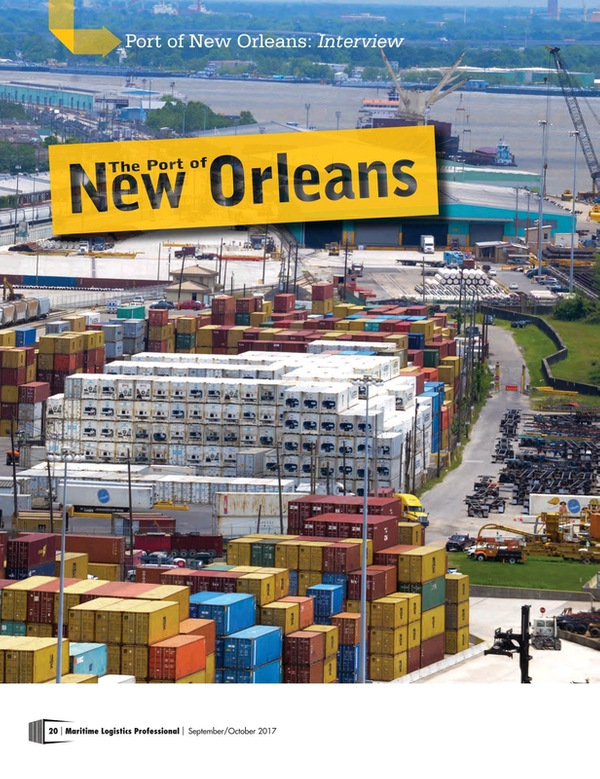 Read Interview: Brandy Christian - President & CEO, Port of New Orleans in Pdf, Flash or Html5 edition of Sep/Oct 2017 Maritime Logistics Professional
Other stories from Sep/Oct 2017 issue
Content