The Turnkey Supply Chain of Cranes
By Joseph Keefe
Cranes are much more than just critical equipment. At ZPMC, it means the supply chain itself.
In post-Panamax world – that is to say one which includes an expanded, deepened and improved Panama Canal – there are many layers to the logistics onion. These include reinforced and improved berths and bollards, deepened blue water harbors, improved intermodal connections ashore and a reshuffling of ever larger tonnage for ports that can handle those ships. All of that is important, of course, but it is the post-Panamax sized cranes which may be the hottest commodity on the water as the race for the cargo reaches full speed.
How those cranes are sourced and acquired may surprise you. It turns out that the global crane business is very much a 'turnkey' operation. The firms that embrace that idea today find themselves in a very good spot as today's market moves forward to realize what the Panama Canal promised when its operators announced that they would expand what is arguably the world's key global supply route. One such firm, Shanghai Zhenhua Heavy Industry Co., Ltd. (ZPMC), a global heavy-duty equipment manufacturer listed on the Shanghai Stock Exchange, has arguably perfected the art of the container crane supply chain.
Meet ZPMC
ZPMC is the world's largest heavy-duty equipment manufacturer and owns 22 heavylift ships ranging in capacity from 60,000 DWT to 100,000 DWT, delivering products all over the world. ZPMC North America is the operating company for North America, and ZPMC Crane Services is its North American service subsidiary. The firm boasts annual revenues of $5 billion and employs more than 30,000 personnel. With eight factories in the Shanghai area, the firm claims a 70% global market share of the STS Crane market. What is particularly noteworthy is that when ZPMC sells a crane, the sale typically (but not always) involves the manufacture of that crane, its transport from point A to point B, the dismantling and/or removal of the old crane and the in situ delivery of the new one. All that, and the logistics piece, as well.
According to Jeff Rosenberg, ZPMC Crane Service's Jeff Rosenberg, VP, Sales & Marketing, the firm delivered more than 200 STS cranes last year alone. Here, as is the case overseas, his firm has captured over 70% of the North American Market. And, says Rosenberg, it is very much a conscious decision to create a business model that in reality does it all when it comes to box cranes. "This service business is modeled after a very successful contracting company which did all this work, East Coast Cranes. ECC was purchased by Kalmar in 2006. This team is the same team."
The Supply Chain of Cranes
When Rosenberg says that his firm 'does it all,' he literally means 'everything.' One recent assignment involved the delivery of two new STS Cranes to the port of Charleston, SC followed by the loading of two older, smaller cranes at the same berth and then transporting the used units to St John, New Brunswick.
Rosenberg explains further, "I don't know of anyone else who handles it all. There are contractors that do the lifting, moving, etc., but none of the other OEM's has service companies with our capabilities."
For those contemplating the purchase of a new crane, Rosenberg says the typical turnaround time of a large post-Panamax crane order – from contract signing to delivery – can range from 12 to 18 months. And, the market has been booming. All during the construction of the Panama Canal, ports and terminals everywhere have been preparing to handle bigger ships. This means new cranes, raising existing cranes, dredging, and wharf improvements; all in the hope they will attract new business from the Panama Canal expansion.
No two assignments are exactly alike. A port might choose to have ZPMC demolish and remove an existing crane and then dispose of the scrap. Rosenberg adds, "The scrap value is factored into the demo price." Or, a port or terminal might get lucky and be able to sell its older, smaller crane(s) to another port, in which case, ZPMC might also be tasked with its safe removal and redelivery.
The cranes, for the most part, are quite robust and have long lifespans. But, says Rosenberg, it is usually a sale of opportunity. "There is not a great demand for used cranes, mostly because of the cost to transport them," he said, adding, "There are a lot of older cranes available for sale."
Real Jobs: Real Results
A fast-track project by ZPMC Crane Services helped North American operations for DP World this month at the port of Saint John, New Brunswick. ZPMC Crane Services was able to prioritize and complete an STS crane modification and relocation project with an extremely short deadline, with work days reduced even more by Hurricane Matthew. Indeed, and in this case, the agreement for the sale of the cranes between the South Carolina Ports Authority (SCSPA) and St John was not finalized until ZPMC was delivering the new cranes to Charleston.
"The idea to use our ship to move these cranes was presented, and a contract was negotiated and signed. Things moved very quickly as the ship was now waiting for the cranes which had about 3-4 weeks' worth of preparation before being ready to load on the ship. During this time Hurricane Matthew hit the east coast and shut down operations for over a week. Finally, with prep work completed, the cranes loaded, transported, and unloaded, we received an e-mail from DP World last week with a picture of both cranes working a ship for the first time." This assignment was truly the ultimate 'turnkey job,' attempted and completed under sometimes trying circumstances.
ZPMC's heavylift vessel Zhen Hua 14 stood by in Charleston for the preparation work to be completed as a 30-man ZPMC crew jacked up the cranes and performed the alterations. But on October 7, five weeks into the project, the vessel was ordered out to sea to take it out of the path of Hurricane Matthew. The project was idled for 10 days until the ship could return. Eventually, the vessel made the six-day trip to New Brunswick, and offloaded the first crane on November 1. Notably, ZMPC offloaded the first crane on a rising tide in 35 minutes using the ship's specialized gear. The second crane was unloaded in just 28 minutes.
Before all of that could happen, however, the delivery of SCPA's two super post-Panamax cranes marked a significant milestone in the Port's big ship readiness. This is to be followed in the coming years by the completion of the Wando Welch wharf project and harbor deepening to 52 feet. The ZPMC-manufactured cranes now provide SCPA with 155 feet of lift height from the dock to enable SCPA to work larger container cargo ships. Last month the SCPA Board of Directors approved the purchase of two additional cranes of this size for delivery at the end of 2017, coinciding with the completion of the wharf project. The deal represents still more repeat business for ZPMC.
For his part, Jim Newsome, SCPA's President and CEO was effusive in his praise of the ZPMC team. "ZPMC is the world's largest manufacturer of ship-to-shore container cranes and a world class engineering company which has enabled the growth of containerization. We are proud to have them as our partner." And it wasn't too long after the cranes were delivered and began working that SCPA reported its strongest November container volumes on record. Fiscal year-to-date pier container volume at the port is up 4 percent, with 487,924 boxes moved at its North Charleston and Wando Welch container terminals.
The arrival of new cranes, especially post-Panamax units is typically a joyous event at most ports. SCPA was no different and in a concerted outreach to the local community designed, in part, to raise the port's exposure to the general public, two Charleston elementary students earned $500 from SCPA for their school, thanks to their winning entries in a Port contest to name cranes at the Wando Welch Terminal. A team of SCPA employees selected two entries, which have been painted onto the cranes. Cranebob Bluepants and Heavy Metal were the winning entries.
Elsewhere, the tallest port crane in North America was recently raised to that height by ZPMC, which raised the crane 33 feet (10.08 meters) to prepare for Ultra-Large Container Vessels calling at APM Terminal's Pier 400. In a landmark project that kicked off July 1, 2016, ZPMC is upgrading 10 cranes for APM Pier 400 Terminal. When complete, the cranes will be able to service ships carrying up to 20,000 twenty-foot equivalent containers (TEUs). Prior to this crane raise, the largest vessels that could be serviced at the Port of Los Angeles were 13,000 TEUs. The scope of work also includes installing a new energy-efficient LED lighting system, forestay repairs, and repositioning of all 10 cranes.
Looking Ahead: New Toys, Better Service
As good as its performance has been over the course of the past 12 months, ZPMC is always looking to improve its service signature. That effort includes making sure its crews have the best equipment available to speed the jobs along even faster. To that end, ZPMC Crane Services recently acquired a second specially designed jacking system that offers a significant speed advantage during a crane raise. Because the jacking system is built on the dock rather than the crane's sill beam, it does not need to be disassembled between cranes. A completed crane can be moved out of the way leaving 90 percent of the structure intact. This approach can speed up the process by as much as a week for each crane. Beyond this, the firm also purchased 16 new Self-Propelled Modular Transporter (SPMT) trailers for current and future work.
It is these kinds of decisions – and others like them – that dominate the ZPMC business strategy. In turn it continues to dominate that markets that it serves. That's because STS cranes aren't just necessary equipment anymore. In fact, the process of acquiring or shedding one is a carefully planned event – in and of itself a supply chain; all its own. The success or failure of that kind of operation can be the 'make or break' for any port or terminal in the fast moving world of bigger ships, demanding shipping alliances and deeper channels. No one wants to get left behind is the unbelievably competitive quest to get, keep and grow TEU market share. For its part, ZPMC makes sure that doesn't happen, all in one neatly packaged turnkey operation.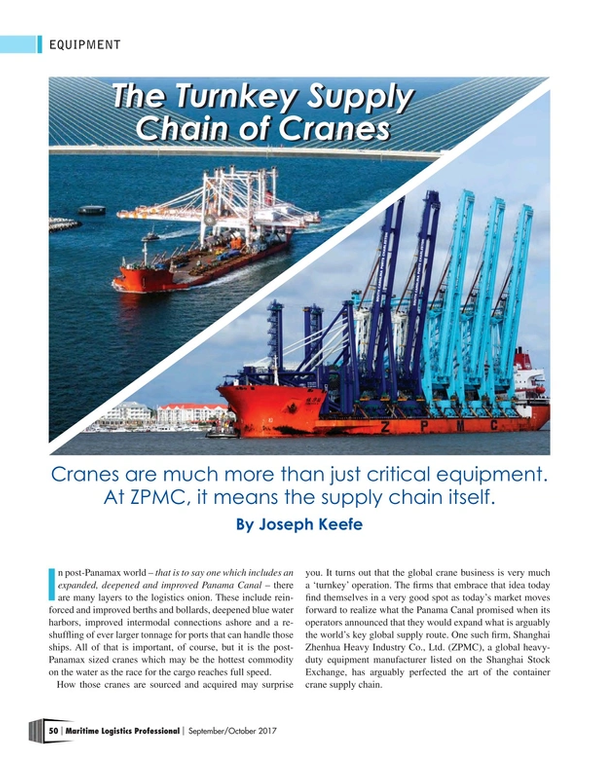 Read The Turnkey Supply Chain of Cranes in Pdf, Flash or Html5 edition of Sep/Oct 2017 Maritime Logistics Professional
Other stories from Sep/Oct 2017 issue
Content