The Digitalization of Tanker Logistics
By Barry Parker
The tanker business carefully dips its toes into the digital chartering, analytics and big (data) pond. It is a work in progress.
Like every other business, raw materials, refined products and petrochemicals, are undergoing unprecedented waves of digitalization. However, shipping is one linkage, albeit an important one, within the much bigger supply chains for crude oil and products. But cargo is king, raising an important question: Will future efforts to link ship chartering, and ship brokerage, into oil company supply chains come from the charterer side – that is, oil companies developing bespoke systems – rather than from the brokers or their service providers infusing an online component into ship brokerage?
Digitalization: tankships search for their niche
As the thinking goes, processing of data, by machines, using algorithms (repeatable ways of handling inputs) and applying artificial intelligence (where the machine may "learn" from its previous efforts), is more efficient than employing humans to process paper. With these efficiencies, through automating processes, comes savings of costs. In the oil businesses, a major driver has been the (relatively) low prices of oil and products, following the late 2014-2015 price collapse.
Looking at the oil business, consultants McKinsey (in marketing efforts aimed at large entities on the cargo side of the business) note that fat has been squeezed out of purchasing during the recent cycle. They say, "Many services and equipment purchases currently are outsourced to a variety of providers, which results in complexity and a fragmented supplier base. Multiple oilfield services and equipment (OFSE) companies are now bringing these services in-house, with integrated offerings reducing coordination costs. This can lead to savings of as much as 30 percent." But, where, exactly, does tanker shipping fit into this missive?
Irrespective of the levels of oil prices, it's tough to argue with the logic of cost savings, as supply chains across cargo generating businesses have been digitized. In liner shipping, with high valued cargoes and market concentration on the carrier side, there has been a recent push to advance further on steps towards automating commercial processes. INTTRA, a successful online booking venue developed by the carriers more than ten years ago, has now, nearly two decades after its formation, been making a push towards real supply chain integration. In drybulk chartering,
Australian iron ore charterer BHP Billiton has been deploying online inquiries for routine standardized Capesize chartering inquiries, with a stated objective of reducing ship-brokerage commissions, but also driving a move towards counterparties meeting more rigorous standards. But, if INTTRA and BHP Billiton are pointing to the way forward for tanker logistics, then certainly, we are not yet there.
Solutions Emerge and Evolve
Inside of companies, on the operational side, established vessel management companies and arms of large owners have streamlined their processes. Consider, for example, Bernhard Schulte Ship Management (BSSM) which has created an entire company, called MariApps, to market a maritime Enterprise Resource Planning (ERP) package to other shipowners, for the purpose of optimizing vessel management. The marketplace recently learned of a new initiative by the Italian owner d'Amico (in conjunction with Class Society RINA and communications provider Telemar), to collect data for optimizing vessel performance. Class NK has launched its "Internet of Ships" platform, and attracted the large Japanese carrier NYK. These firms, whose fleets include more than one type of vessel, all manage tankers, as well.
Shipping deal makers have certainly been quick to adopt new tools; email and messenger applications have replaced telex machines. Ship positions are readily available with multiple platforms displaying vessels' locations, pinged from AIS, on a map. Applications described further below pull in feeds from services such as AIS specialists Marinetraffic.com and Vesseltracker.com. Traditional brokerages have inched towards the online world; "traditional" service offerings are enhanced with enhanced delivery using new tools, through the Software as a Service (SaaS) model- where users log into a central server, hosting the broker's application, via the internet.
But, here is the rub: if a computer scientist were to study how a ship brokerage is organized, and sketched out a diagram, it would be labeled as a "Distributed Agent" model. In plain English, this describes a fragmentized ship chartering marketplace, where activity occurs in multiple private pockets, albeit with robust overlaps. This means that no one central force is in charge (and therefore able to force precise standards on all the participants), bedeviling efforts to bring vessel chartering into a central automated fold. And when there is a need to interface with multiple oil company logistics interfaces, each one a little bit different (and, most likely, each with a slightly different brand of blockchain), the complexities become exponential.
AXSMarine, Paris, an offshoot of the long established Paris-based broker Barry Rogliano Salles (BRS), with the large German owner Oldendorff Carriers also an investor, was formed during the dotcom era, and has thrived as a provider of data and insights into the drybulk, tanker and liner sectors. Its deep connections into the tanker broker community have enabled it to gain support from many of the brokers. Its aim is to provide tools to assist them – not supplant them. Its product suite goes beyond fixture histories, vessel descriptions and distances, and takes advantage of Big Data capabilities analyzing reams of AIS data. Ships (with positions pulled from real time AIS) are displayed, along with locations of cargoes, with capabilities for the user to filter the data.
Big data analytics come into play with patterns of port congestion and traffic flows (including likely movements of vessels) developed from crunching historical voyage and port call data. Importantly, the tools on offer here support vessel fixtures and enable brokers to manage their workflow (for example organizing numerous e-mails regarding specific ships and cargoes, and private messaging venues), but do not delve into the supply chains for the movement of crude oil, or products.
Most recently, a new entrant still in beta (testing) phase, Athens-based Signal Maritime made a big splash in Greece at the Posidonia event in June, 2018. The company (online at www.signalocean.com), with ties to the Greek shipowner Thenamaris (Martinos family) describes itself as "a commercial ship management company with a technology twist. The company's focus is placed on producing sustainable, responsive, high-performance commercial management for a growing, modern fleet. At the same time, we are leveraging the group's technologies, as design clients, to enable and pursue new buisiness (sic) models in shipping."
Signal Maritime, one of multiple Martinos companies, is indeed a tanker specialist. Its Signal Ocean Platform emphasizes an ability to get out from under a mountain of brokerage paperwork, by linking cargo opportunities on a specific ship with the products of Artificial Intelligence. Here, predictive models and geospatial processing are used to develop "private market views" or forecasts of possible build-ups (or not) of vessels in particular ports and loading areas. Vessel specific data and calculation algorithms (time charter equivalent) are then fused into the picture, offering brokers (and, importantly, traders, as well) a tool for quickly evaluating and comparing multiple pieces of business.
Another player is Vesselbot, on the scene since 2016, which founder Constantine Komodromos (an oil industry veteran who also spent time at BSSM) describes as an online chartering marketplace that digitizes the whole chartering process. In an interview, Komodromos indicated that drybulk (with many more parameters than tanker chartering due less standardization of vessels) was the primary target, but that inquiries had also come in from the LNG sector.
Vesselbot's promotional information offers a bold and improbable mission: "To transport chartering brokerage into the 21st century by providing an online ecosystem supported by cutting edge technologies." This includes electronic charter parties, a technology now being embraced among brokers. Similarly, the Baltic and International Maritime Council (BIMCO) has created a vast repository of electronic documents, including charter party forms.
In a Vesselbot whitepaper, there is a great emphasis on computerized matching of cargoes with "optimal" ships, improving on the tedious human chartering process. In between the lines, there are inferences to "…finding the best positioned vessels…" and "…minimizing ballast legs…" suggesting an operations research linear programming approach to optimization beyond the intra-company level. In a page perhaps borrowed from Uber and Lyft, charterers can rate the performance of owners.
Owner's choices for routing tramp ships (in anticipation of cargo buildups), rather than automating brokerage, provide a hint at the potency of Big Data and Machine Learning, in the hands of serious people. At the June, 2018 Marine Money conference, ex Coastie and now self-described "Quant", Dr. Scott Borgerson, founder of information guru CargoMetrics Technologies, shared the podium with his client, Mr. Soren Meyer, Chief Strategy Officer (an implementer of new technologies) at Maersk Tankers, which is also a shareholder in Mr. Borgerson's company. Mr. Borgerson did reveal that CargoMetrics collects real time information on stocks and flows of oil and refined products (besides voluminous vessel position data), and emphasized the relatively short term emphasis, with models being run on a daily basis. "We are not making five year forecasts on buying or selling [vessels]," he said.
For his part, Meyer talked about the need for augmenting Maersk's already superior operations "platform" with additional layers of intelligence (with machines processing vast caches of data) to solve problems with a timeframe extending out over weeks and perhaps three months. One example mentioned was generating returns, and managing risk/reward metrics, through better chartering decisions on routing LR2 vessels (tankers of 100,000 to 120,000 DWT tons usually deployed in crude oil trades) "… to the East or West of Suez."
In spite of the flood of "digitalization" solutions for shipping (some real, some purely aspirational), old timers may not have it entirely wrong. Looking through the electronic fog, there are clear hints that a hybrid entity, with an integral role for humans, has a place in creating more efficient solutions for vessel brokerage. Quite possibly, these efficiencies will enable new channels, beyond the usual clusters on the big matrix, to be carved out, allowing occasional fixtures between two pockets that would otherwise not communicate.
However, when it comes sealing the deal (with the result being a vessel fixture agreement), the human input, with a knowledgeable hand on the tiller (or mouse pad) is still widely in evidence, especially when it comes to chartering ships. Vesselbot, a self-proclaimed disrupter and innovator, notes, on its website, that "Our dedicated team of Maritime specialists is on call 24 hours a day, 365 days a year, to personally deal with any problems that may arise between parties from the initiation to the completion of all shipments arranged via the VesselBot platform. Furthermore, our leading team of Maritime experts are available, on request, to provide an advisory service which offers market insights, route freight rate indications, negotiation facilitation, charter party terms and post fixing operations etc., for both Charterers and Vessel Owners." If this sounds very similar to the functions of a traditional old-style broker, emphasizing the important "value added" from humans, then perhaps the future won't so different from what we see today.
Barry Parker, bdp1 Consulting Ltd provides strategic and tactical support, including analytics and communications, to businesses across the maritime spectrum. The company can be found online at www.conconnect.com
This article first appeared in the JULY/AUGUST print edition of Maritime Logistics Professional Magazine.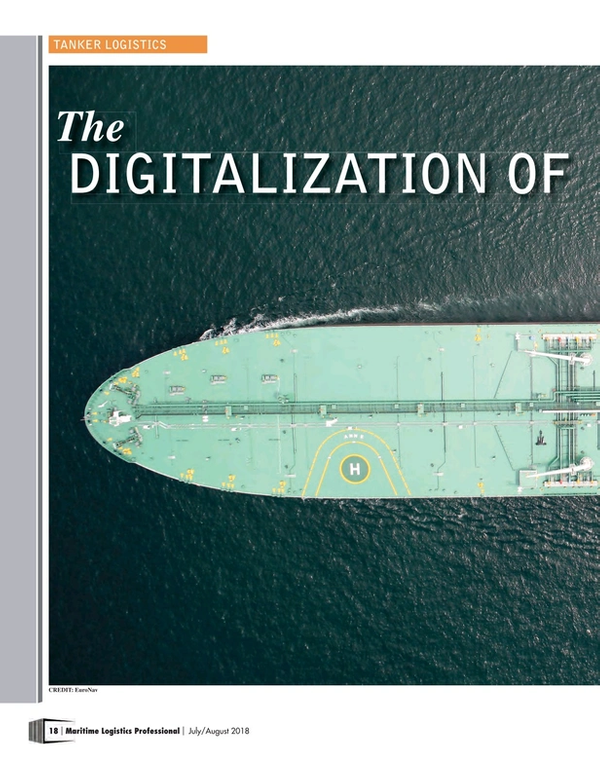 Read The Digitalization of Tanker Logistics in Pdf, Flash or Html5 edition of Jul/Aug 2018 Maritime Logistics Professional
Other stories from Jul/Aug 2018 issue
Content