Intermarine UK Investment Boosts Portland Port Activities
By Tom Mulligan
UK-based Portland Port leverages new fabrication and welding facility to win a bigger share of ship repair, refit, conversion and shipbuilding markets.
Polish-owned maritime engineering company Intermarine UK has unveiled major growth plans after investing a six-figure sum in a new 2,400 square meter (26,000 sq ft) fabrication and welding facility at Portland Port in Dorset, UK. The move will create up to 60 new jobs in the area over the next two years. Along the way, the company has signed a 20-year lease and moved its UK head office from Bridgend to Portland Port, a former naval base and the third-largest man-made harbor in the world.
Ship repair operations at the new facility started in March, and Intermarine UK is looking to work with shipyards around the UK to offer a range of engineering services to the ship repair, refit, conversion and shipbuilding markets. Intermarine UK is now ramping up operations at the new facility after taking delivery of £450,000 ($600,000) worth of new machinery.
"We are delighted to receive all our equipment on-site and start the training and commissioning process with our workforce," said Inter Marine Group President Slawomir Kalicki. "We are investing substantially in our new facility, taking a long-term view reflected in the 20-year lease we have signed. Intermarine UK is pleased to start employing workers from the south-west of England region and we are recruiting for more multi-skilled engineers who have competence across plating, welding and mechanical fitting. We urge anyone in the area with this skill set to get in contact."
New Orders Won
Kalicki said the new Portland operation had already won orders that include a £600,000 ($800,000) deal to supply piping and combing equipment to a major British shipyard.
"We have further been encouraged by the support we have received from the local authority and UK Government which understand our vision and our desire to invest in the UK, creating jobs and providing skills," added Kalicki. "We have a clear track record in the UK maritime sector we want to build on, working on projects such as the Queen Elizabeth class aircraft carrier program. We have further worked with some of the prime movers in the industry, including Babcock, Cammell Laird, BAE Systems, Ferguson Marine Engineering and CalMac. We believe there is strong demand in the market for our services."
Kalicki said the new facility was also launching a new spare parts service from Portland Port offering Wartsila, Cegielski, Sulzer, MAN, B&W and Cummins engines, Hydroster IMO pumps, Alfa Laval and Westfalia separators, and ABB and Napier and WSK turbochargers, as well as marine laundry equipment made by Primus and Lavamac.
'Huge' Potential
"We see huge potential in Portland Port as one of the best-located ports in Britain," he said. "It sits on pole position for naval and commercial shipping operating on the south coast of England and the English Channel. Our aim is to complement the range of maritime services already available at the port by offering more extensive ship repair facilities, encouraging shipowners to use Portland Port for afloat repairs."
Portland Port CEO Bill Reeves stated that Intermarine UK's new facility would strengthen Portland Port's operations. "It is great news for Portland Port and the local economy that the Inter Marine Group has decided to base its UK headquarters in Portland," he said, adding quickly, "There are exciting new job opportunities being offered by Intermarine UK, with more to come as it becomes established. We wish the company every success with their new venture and look forward to a long, productive working relationship with its team. Intermarine has shown considerable commitment by investing in new machinery in their facility and their presence enhances the range of services available in the port. We look forward to working with them as they establish themselves on the port and develop their business."
Reeves continued, "The arrival of Intermarine UK is a very welcome addition to the port. They are proactive and very professional, and are a good cultural fit. Intermarine UK and Manor Marine are now the two companies based on Portland Port that specialize in shipbuilding and ship modification and repair, and because they are primarily focused on different sectors and operate on different scales, their activities are largely complementary to each other."
Prospective Clients
Reeves stated that Portland Port was looking for more infrastructure projects and was in discussions with several prospective clients. "Over the past three years we have invested £10 million (about $13.4 million) in infrastructure improvements, including a berth extension, a new tug, and major road improvements. In the next two years, we are planning to spend an additional £7 million (about $9.38 million), including dredging and other berth enhancements. And although we have not received any financial support from the UK Government, we do have excellent relationships with, and the backing of, our local authority officers and councillors, and of our local Member of Parliament.
"We have the capacity to develop more land, and to take more shipping volume and are in discussions with a number of potential project clients which together would see about 60,000 square meters (645,000 sq ft) of land developed, bringing in a significant additional volume of shipping movements. Over the next five years, we aim to reach and exceed one million tonnes per annum of cargo movements and have 50 cruise calls in the port, increasing our turnover by about 50 percent. Cruise-line day visits are an important part of the port's business and we have seen a steady increase in calls over the past three years from 17 in 2016 to 26 in 2017 and 32 in 2018, with 45 calls booked for 2019.
"Our overall strategy is to use the port's significant advantages of deep water, low tidal range, excellent breakwater shelter and proximity to the channel shipping lanes to attract customers that will build storage capacity on port land for dry and liquid bulk operations. This will support our goal of handling one million tonnes of cargo per year by 2023 and increasing our turnover."
Port Activities
More commerce isn't just coming: it is already here. For example, and in terms of large-scale companies and activities at Portland Port, Global Marine has an operational base with storage facilities and a dedicated berth for power and telecoms cable-laying. Glencore has a large warehouse complex supporting its animal feed import activities and its exports of grain. Portland Bunkers operates a marine fuel terminal in partnership with Danish company Monjasa to provide a bunkering service for a wide range of vessels passing through the channel, while Spanish company Dragon Alfa has a storage facility through which it imports powdered cement.
The port is also the base for two thriving aquaculture companies, Portland Shellfish and Native Marine. Portland Shellfish provides fresh shellfish for the UK and export markets and supplies some of the best-known restaurants in London while Native Marine grows lump sucker fish for use in salmon farms in Scotland.
Portland Port also has a long-term commercial relationship with the UK Ministry of Defence and is frequently used by the Royal Fleet Auxiliary and the Royal Navy, with usually at least one gray ship in harbor most weeks.
"We have strengthened the port's core operational staff to ensure that we continue to provide a consistent and professional service as the port grows and develops," Reeves stated. "Unlike many other ports, we have our own pilots and tugs, which gives us greater flexibility. We have also built strong and constructive relationships with the local planning authorities and relevant regulatory bodies.
"The combination of excellent shelter, deep water, low tidal range and proximity to the main shipping lanes in the English Channel make the port an obvious choice for damage or re-classification surveys," he added. "We are also able to offer hull-cleaning services as well as commercial diving and this, together with the survey work and the bunkering operations, make the port a 'one-stop-shop' for a range of marine services.
"Leisure activities are well represented in the harbor, which is home for the National Sailing Academy and the Dean & Reddyhoff Marina, as well as for a number of sailing clubs. In good weather, the harbor is very busy with sailing regattas, canoeing, windsurfing and kitesurfing," Reeves said.
Future Vision
"My vision for the future for the port is to develop the business to maximize the use of our land and marine facilities through building strong and mutually beneficial relationships with a broad range of customers. By doing that we will secure long-term profitability for the business and deliver value for our shareholders. I want the port to be recognized by our customers as a responsive and professional service provider, by our staff as a supportive employer, by the regulatory authorities as a responsible operator, and by our local stakeholders as a good neighbour," Reeves concluded.
(This article first appeared in the JULY/AUGUST print edition of Maritime Logistics Professional magazine.)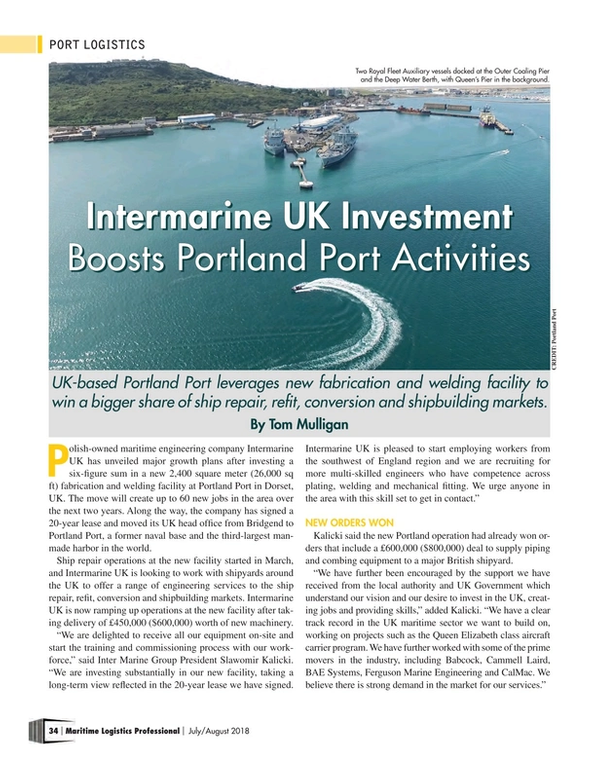 Read Intermarine UK Investment Boosts Portland Port Activities in Pdf, Flash or Html5 edition of Jul/Aug 2018 Maritime Logistics Professional
Other stories from Jul/Aug 2018 issue
Content