From Desert to Delaware
By Rick Eyerdam
Gulftainer strives for top six in terminals.
Sharjah is a glimmering city-state carved from the desert, the third largest emirate in the United Arab Emirates and the only one to have land on both the Persian Gulf and the Gulf of Oman. And soon, within weeks, a company based in Sharjah could control one of the most strategically located marine ports in the United States. Gulftainer through its subsidiary GT USA, Wilmington has inked a deal with the State of Delaware, USA, which would grant GT USA, Wilmington exclusive rights to operate and develop the Port of Wilmington, on the Delaware River downstream from Philadelphia for the next 50 years.
For an emirate which covers a mere 1,000 square miles or about 3.3 per cent of the UAE's total area and with a population of around 1,400,000, to achieve such a major foothold in the American maritime industry and culture is a major achievement. But it came with a few stumbles along the way.
The emirate of Sharjah comprises the city of Sharjah City and borders Dubai to the south and Ajmân to the north forming a conurbation, an extensive urban area resulting from the expansion of several cities and towns so that they coalesce but retain their separate identities.
The city lies some 170 kilometers away from the UAE capital city Abu Dhabi. But Sharjah also owns three enclaves on the east coast, bordering the Gulf of Oman. These are Kalba, Dibba Al-Hisn and Khor Fakkan, providing Sharjah with a major east coast port. Sharjah also encompasses some important oasis areas, the most famous of which is the fertile Dhaid region, where a range of vegetables and fruits are cultivated.
Sharjah was not Dubai or Dubai Ports World, or even close when, on December 13, 2013 the private company owned by Crescent Enterprises was renamed Gulftainer and rededicated with a new "vision and identity" that "aims for 35 (container) terminals by 2020 across five continents handling 18 million TEUs annually, (and) becoming a Top Six Global Container Terminal Operator," according to a company statement.
Eyes on the Prize
For many years Crescent Enterprises was active only in the UAE in terms of port operations, but it then began embarking on a strategy of international expansion beyond the UAE and Middle East and then into the United States, first unsuccessfully via the Port of Jacksonville, Florida.
Back in June of 2012 Paul Anderson and Roy Schleicher, then port director and his deputy at Jaxport, took a look at a proposal which the South East Shipping News said at the time was a "misspelled, unsophisticated, inaccurate; one-dimensional proposal offered by Sharjah-based Gulftainer Group to totally restructure Jaxport's major facility at Blount Island." They decided not to bother the Jaxport Authority Board with such a trifling distraction. They had just begun a years-long master planning process.
Gulftainer took the unprecedented and anti-traditional course of recruiting a couple of local reporters and a couple Port Authority board members to make a splash by showing a plan to put $250 million into the Jacksonville economy in trade for a mere 123 acres on Blount Island. It did so with little consideration that their proposed terminal could displace Ports America, Horizon/Tote, two auto import yards and the U.S Marine Corps Blount Island Command.
Paul Anderson explained at the time: "They wanted us to turn over the port to them, and we're not going to do that." With Jacksonville off the table, Gulftainer looked for another way to enter the US port market, while the company grew. By the end of 2013, the company's portfolio included four UAE operations in Khor Fakkan, Sharjah, Hamriyah and Ruwais, as well as activities in Iraq at Umm Qasr, Recife in Brazil, Tripoli Port in Lebanon, and a recent acquisition in Saudi Arabia, managing container terminals in Jeddah and Jubail.
Port Canaveral, less than 200 miles south of Jacksonville in Central Florida, had a thriving cruise business, a major submarine base and some space-related shipping but, except for bulk cargo including cement and salt, offered little in cargo handling. Unlike the Jacksonville proposal, before moving into Port Canaveral, Gulftainer thoroughly examined the Central Florida market, talking with importers and exporters and other potential customers about using shipping operations based in Cape Canaveral.
"It's a bit like the chicken and the egg," Peter Richards, the Gulftainer CEO said at the time. "It's a case of convincing the shipping line there are actually volumes there that can be imported and exported through the Canaveral port facility. It's a bit like saying to the importers and exporters 'There's a shipping line there and if you commit to these volumes, we'll actually call a ship.' "
Port Canaveral and Gulftainer struck a deal in June 2014 that gave the company control of the Canaveral container terminal operations and future development for up to 35 years for an eventual $100 million investment in terminal improvements and local hiring.
When the new Canaveral Cargo Terminal opened in June of 2015 it had a capacity of 200,000 TEU's per year with plans for expansion to 750,000 TEU's. Gulftainer added a subdivision called GT USA, which it based in the Port Canaveral administration building. GT US said the $100 million investment in infrastructure and equipment would create 2,000 jobs and contribute US $630 million to local economy. The terminal was developed on 20 acres on the northern side of the port with two berths and two cranes.
But neither GT USA nor Gulftainer operated any ships so there was no immediate rush to call at the port with containerized cargo. However it only took until January of 2016 for the first call of a weekly rotation linking the port and terminal to Central America and Europe. The Blue Stream Service, operated by StreamLines, part of the SeaTrade Group, agreed to provide refrigerated and dry container service to and from GT USA's Canaveral Cargo Terminal, with a focus on fresh produce and perishable cargo.
"We are excited about the opportunity to provide our signature world-class service to StreamLines and to be its U.S. port of call. The new Blue Stream Service can showcase Port Canaveral as an ideal gateway, opening markets in Central America to Central Florida, and providing our local exporters the most efficient route to Europe," said Richards. "This will undoubtedly lead to even more growth in coming months for Canaveral Cargo Terminal, building Port Canaveral's reputation as a key cargo destination along the Southeastern Seaboard."
In addition to containers, the terminal customer base also includes vehicles, breakbulk, and heavy lift cargo. GT USA said it provides a full range of logistics services, including trucking, cross docking, storage and inventory control and last mile distribution. But by March of 2018, the SeaTrade Group found little demand for a Canaveral destination and went looking for another east coast port, according to SeaTrade agents.
An agent for the shipping company North American General Agents, Inc. Trading as SeaTrade USA said simply, "Sometime around March we just decided to go up the coast for our calls." The port was Wilmington, North Carolina. SeaTrade already called Wilmington, Delaware.
The port's spokesman said he had no idea what happened to the SeaTrade rotation because it left before he arrived. Separately, and in a prepared statement issued July 27, 2018, Richards said, "StreamLines's Bluestream container service suspended all direct U.S. calls in April, 2018. GT USA continues to perform depot and inland logistics functions at CCT in support of StreamLines' current slot charter services."
On July 24, 2018, however, Port Canaveral announced it had begun work on a new cargo berth with no mention of GT USA. "Multi-Purpose Cargo Berth Construction Moves Ahead at Port Canaveral," the release was headlined. "North Cargo Berth 8 will provide flexible capacity, capability to handle more diverse commerce, including spaceport operations," it began.
Irony
Ironically, in May of 2016 a master planner estimated that the state-owned Port of Wilmington, Delaware would need up to $300 million for new warehouses, cranes and land to keep up with growing demands over the next two decades. And the recently shuttered Chemours Edgemoor titanium dioxide production center was evaluated as a potential site of the port to expand on the Delaware River at a cost of about $500 million to level the plant and construct port terminal facilities.
"All the numbers you saw today are big. They are all a challenge to a state that has significant budget constraints. So if we are going to expand in a significant way, we are going to have to partner with other investors," said Delaware Secretary of State Jeffrey Bullock, chairman of Diamond State Port Corp., (DSPC) the public-private board that oversees the sprawling complex.
Wilmington Port, which started operations in 1923 as the first major port on the Delaware River, is the top North American port for imports of fresh fruit especially bananas into the US, and has the one of the largest dockside cold storage facility in the country.
In October of 2016 DSPC purchased the Edgemoor site and in February 2017 retained Seabury PFRA to market a public/private (P3) project and PFM Financial to be an independent reviewer of the respondents to the March 2017 request for qualifications. The RFQ's key criteria included direct and indirect jobs, return on investment, relationship(s) with existing clients and port labor, especially union stevedores, and credit worthiness.
A total of 92 RFQ's were sent, 21 parties signed required confidentiality agreements and 10 submissions were received by the May 31, 2017closing date for submission.
Staff and Seabury in supporting roles developed a scorecard to evaluate proposals including, job creation, construction and operations, return on investment, capital investment projects, compensation to DSPC/State, continuation of existing clients and labor, cargo customers / union labor and office staff, quality of business plan, capital resources, creditworthiness and scope.
In the evaluation process 10 submissions were narrowed to six that were deemed fully responsive. In October 2017 the list was cut to three and then two joined forces, leaving two for final evaluation. In early December 2017, the final review was held by the committee. And in Mid-December the committee met with the lead respondent who scored 4.4 out of five on the evaluation, a full point higher than its rival, and authorized the Board Chair to sign non-binding, exclusive Letter of Intent with GT USA, Wilmington.
GT USA, Wilmington was formed under Delaware laws, as a 100% subsidiary of Gulftainer Company Limited UAE. Important in the selection were the company's claims that it was established for over 40 years, it is the world's largest private and independent terminal operator and that an affiliate, GT USA, operates Canaveral Cargo Terminal at Port Canaveral, Florida.
Of equal importance was the acceptance of a 50-year lease in which DSPC continues to own the real property and GT USA Wilmington is expected to operate terminals to handle containers, break-bulk, bulk (dry and liquid), roll-on/roll-off but with no liquefied natural gas terminal.
The capital investment commitment is considerable. In the first 10 years GT USA Wilmington (GT) is committed to spend about $584 million. That involves $73 million to upgrade Port Wilmington; $411 million to build the Edgemoor terminal and $100 million for warehousing. A minimum capital investment guarantee for Wilmington is $100 million with $40 million in the first 2 years and an additional $20 million in warehousing in first 3 years.
At Edgemoor, GT is required to invest $250 million starting 12/31/2020 and have the greenfield container terminal operational by December 31 2023 – extended by 2 years if container cargo volume is less than 600,000 TEUs. In addition GT is responsible for Edgemoor Delaware River dredging at a cost of about $42 million.
Based on cargo volumes and periodic adjustments for inflation payments of approximately DSPC is to collect $6 million in year one in fees rising to approximately $13 million by year 10 with no continuing financial support from DSPC and or the State of Delaware for operating and capital expenditures.
Separately, the International Longshore Association is assured Wilmington Port with be an ILA-exclusive facility. Use of existing unionized labor workforce will be in accord with applicable collective bargaining agreements while it agrees to offer employment to all other DSPC employees at substantially similar compensation for not less than six months.
Ticking All the Boxes
The DSPC Board recommended approval of the deal to the Delaware General Assembly which approval of concurrent resolution authorizing the transaction. Meanwhile the Federal Committee on Foreign Investment in the US (CFIUS) and Federal Maritime Commission approved the transaction. And on July 18, 2018 the Associated Press reported that Delaware Gov. John Carney said the federal government's sign-off from the Committee on Foreign Investment in the United States means the final terms of the agreement now must be ratified by the port's quasi-public operating board, the DSPC, to finish the deal.
"With Gulftainer's proposal, we have an opportunity to develop the overall infrastructure and potential of the port, which can lead to a direct and significant impact on our economy as a whole," said Delaware Governor John Carney. "We hope to see significant impact to the state's revenue stream with the planned injection of $580 million investment into the cargo facilities within the city of Wilmington. This massive infrastructure upgrade will have a knock-on effect to the logistics sector of the entire East coast. It is also exciting to see that Gulftainer's proposal included a plan to establish a marine training institute to boost local career aspirations in maritime industry and port operations."
Badr Jafar, Chairman of Gulftainer's Executive Board, said in prepared statement: "For over 40 years, and as the oldest container operator in the Arab Gulf Region, Gulftainer has been at the forefront of transforming port and logistics operations across four continents. We are honored and excited to extend this experience and capabilities to the Port of Wilmington, as we continue to pursue a strong growth trajectory in the U.S."
This article first appeared in the July/August edition of Maritime Logistics Professional magazine.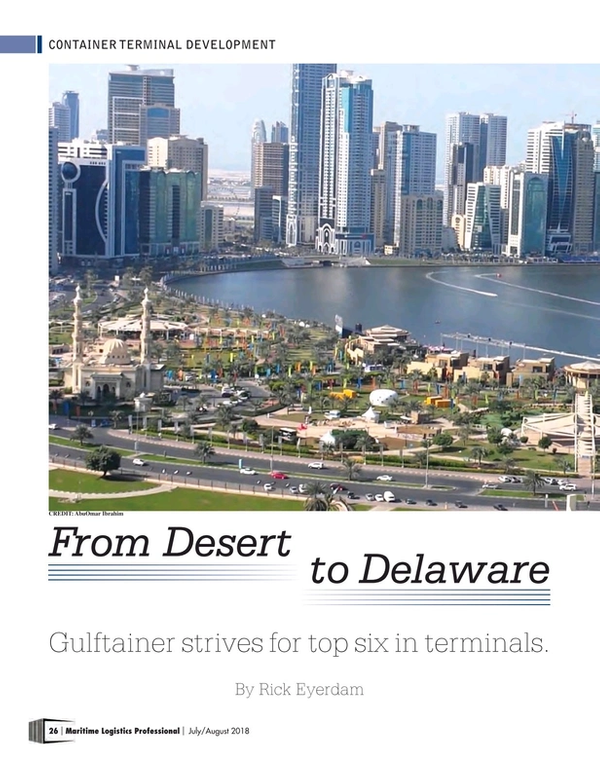 Read From Desert to Delaware in Pdf, Flash or Html5 edition of Jul/Aug 2018 Maritime Logistics Professional
Other stories from Jul/Aug 2018 issue
Content