Cruise Building: Growing, Cleaner and Not Always Bigger
By Rick Eyerdam
2019 will be the biggest year ever for new ship introductions.

The ships are coming. Cruise Lines International Association (CLIA) suggests that in the coming year 18 new ships are on order for CLIA cruise lines. The next few years will see the arrival of new cruise giants at PortMiami and Port Canaveral. But first they will need giant terminals.

The Global Impact of Cruise Lines
CLIA estimates 30 million travelers will cruise next year, up six percent from 28.2 million in 2018; and 35 percent of that 28.2 million - 9.87 million- will land in the Caribbean.
The reason is obvious: where regular jobs are few, a common thread among Caribbean cruise destinations, cruise lines mean jobs and a steady income. The cruise industry currently sustains 1,108,676 jobs around the world, equaling $45.6 billion in wages and salaries and $134 billion total output worldwide in 2017, according to CLIA research.
Perhaps the largest headwinds for ocean vessels with be preparing for the IMO's strictest pollution prevention measures. By January of 2020 all ocean-going vessels must achieve an exhaust that contains .50% sulfur dioxide though alternative fuels such as LNG or by adding scrubbers. More than 70,000 ships will be affected by the regulation. But strict limits of 1.0% on sulphur (SOx) emissions are already in place in Emission Control Areas (ECAs) in Europe, America and the Caribbean around Puerto Rico and the US Virgin Islands and have been since 2015, with little fanfare. New control areas are being established in ports and coastal areas in China.

Canaveral leads LNG cruising
Port Canaveral will be the second world port and the first in North America to host an LNG propelled cruise ship, which will also be the largest in the world, for a year or two. In December of 2018, the Canaveral Port Authority Board of Commissioners approved the issuance of bonds to provide up to $117 million to finance the port's Cruise Terminal 3 to host the Mardi Gras and other Carnival ships.
"Our record of performance, and Carnival's renewed commitment to our port with the new long-term operating agreement, are the foundation of sound planning and pillars of financial success," said Port CEO Capt. John Murray.
The two-story 185,000-square-foot terminal and adjacent 1,800-vehicle parking garage and surrounding areas was set at a cost of $150 million. Carnival agreed to contribute up to $50 million as part of a 25-year operating agreement with the line that began Sept. 1, 2018.
It is the largest project in the port's history, according to port officials. Murray said Carnival would pay the $50 million to Port Canaveral through a special fee, called a "capital cost recovery charge." The port will charge Carnival for every passenger getting on or off a Carnival ship at Port Canaveral until the $50 million total is reached.
Murray said the fee is likely to be about $2.74 per passenger boarding or departing a Carnival ship at the port. The port will assess Carnival the fee, but it is not likely to actually show up on passenger ticket charges. Notably, a LNG bunker barge sailing from Georgia will fuel the Mardi Gras.
When complete, the 1,130-foot-long, 180,000-ton vessel will overshadow the lines' largest ships, Carnival Vista and Horizon, which are 133,500 gross tons. Maximum passenger capacity is around 6,500. It is the second of 11 next-generation cruise ships expected from Carnival Corporation between 2018 and 2025 that will generate their power at sea and in port from LNG.
The first LNG powered cruise ship, AIDAnova from Carnival's German subsidiary AIDA Cruises, launched in November 2018. AIDAnova also accommodates 6,500 guests.

PortMiami
PortMiami will host both the 6,800 passenger Symphony of the Seas from Royal Caribbean and in two years, an unnamed 7,000-passenger ship from MSC; plus Richard Branson's adults only Scarlet Lady in 2023. And, this too, will all require new terminals.
In December 2018, Branson won approval from Miami-Dade County for Virgin Cruise Terminal for a new 100,000-square-foot terminal would be located on the northwest side of the Miami port. Cost of the terminal is estimated at $150 million, according to the cruise line. Branson also said that he had gotten approval to sail into Havana from Miami and that he will soon be announcing the purchase of an island.
"We've got a beautiful island which we'll soon to be announce where people will be going in the Bahamas so it's very convenient," he told reporters.
The Miami-Dade Board of Commissioners approved Branson's 100,000-square-foot terminal, the Virgin Voyages Terminal, will be located on the northwest side of PortMiami. Construction will begin in 2019 with completion expected by November 2021 in time for the 2,700 passenger Scarlet Lady. A second ship, also under construction, would debut in Miami for the 2021-2022 season.
The two-story glass terminal's rooftop is designed by architect Architectonica to resemble a palm tree grove with rooftop pockets that allow natural light to flow into the building. At night, the company's Virgin Voyages red logo will be illuminated along with shafts of light flashing against the sky and Biscayne Bay.
The Miami-Dade County Commission also approved a memorandum of understanding with MSC to build cruise Terminal AAA at the port. MSC already occupies Terminal F at PortMiami, a terminal reconditioned in time to accommodate the line's new flagship, the MSC Seaside, as well as the MSC Divina.
The completion of the Terminal F was celebrated with an official ribbon cutting ceremony on Thursday, December 7, 2017 attended by Mayor Carlos Gimenez, Juan Kuryla, PPM director & CEO of Port of Miami, Rick Sasso, chairman of MSC Cruises USA, Roberto Fusaro, president of MSC Cruises USA and members of the Miami-Dade Board of County Commissioners. With that done, MSC began negotiations for a completely new terminal to host their as yet named, 7,000-guest cruise ship, which would then be the largest in the world.
The terminal will sit east of the other two new terminals already in construction from Royal Caribbean Cruises and Norwegian Cruise Line Holdings.
Royal Caribbean's Terminal A will be completed this fall to bring its new Symphony of the Seas, the world's largest cruise ship, to Miami. At maximum occupancy, Symphony can carry 6,680 guests. The $250 million terminal is a partnership between Miami-based Royal Caribbean and Miami-Dade County. The cruise line funded construction; and the county provided around $15 million in infrastructure support. Royal Caribbean will pay the county $9.5 million per year to rent the land.
Norwegian's new $100 million Terminal B will be completed in fall 2019 to coincide with the launch of its newest ship, the Norwegian Encore, which carries 3,998 passengers at double occupancy.
With 22 cruise lines berthing 55 ships at PortMiami, millions of passengers travel through the South Florida port every year with an emphasis on cruises to the Bahamas, the Caribbean, Mexico and other destinations, according to port officials. The Cruise Capital experienced an increase of 4.7 percent in cruise visitors with a total of 5,592,000 passengers during the 12-month period ending September 30, 2018, according to a press release.
PortMiami officials attribute growth to expanded business opportunities, according to a statement. In 2018 Royal Caribbean International added sailings to the Empress of the Seas and welcomed the newly renovated Mariner of the Seas. Oceania Cruises and Disney Cruise Line extended their winter seasons. The port also welcomed three new cruise lines: Viking Ocean Cruises, Victory Cruise Lines, and Seabourn. Additionally, it welcomed Carnival Cruise Line's Carnival Magic and the new Carnival Horizon.
MSC Opera will sail two different 7-night itineraries from Havana, offering two days and one night in the Cuban capital, the first itinerary will take guests from Havana to Belize City, before heading for the beaches of Isla de Roatan in Honduras, Costa Maya and Cozumel in Mexico. The second itinerary spends two and half days and two nights in Havana and then moves on to Montego Bay, Jamaica, Georgetown, Cayman Islands and also Cozumel.
MSC Meraviglia will offer two different itineraries out of PortMiami in the West Caribbean and MSC Seaside; will continue to sail 7 nights from Miami to Western Caribbean or Eastern Caribbean.
MSC Divina will return from the Mediterranean in November 2019 offering an 11-night cruise to Jamaica, Colombia, Panama, Costa Rica, Mexico and the Ocean Cay MSC Marine Reserve. A 10-night cruise will include Antigua and Barbuda, St. Kitts and Nevis, St. Maarten, Tortola in the British Virgin Islands and Ocean Cay MSC Marine Reserve.
MSC Preziosa will sail from two embarkation ports in the French Antilles: Fort de France in Martinique and Pointe-a-Pitre in Guadeloupe. The two 7-night-7 ports itineraries can also be combined in a 14-night cruise, visiting the British Virgin Islands (Tortola), St Maarten, Dominica, St Kitts & Nevis, Antigua and Barbuda and Saint Lucia, Barbados, Trinidad and Tobago, Grenada as well as Saint Vincent & The Grenadines.
Based year-round in Cuba, MSC Armonia will give guests two and half days and two nights in Havana from Saturdays to Mondays. The itinerary includes Ocean Cay MSC Marine Reserve, Montego Bay, Jamaica and Georgetown, Cayman Islands.
Slated to open in late 2017, now expected by winter, the Ocean Cay MSC Marine Reserve is a private island exclusively for MSC Cruises guests. Located in the Bahamas, Ocean Cay will offer 40 acres of beaches, split into six unique areas, each with its own distinctive atmosphere. MSC Seaside, MSC Meraviglia, MSC Divina and MSC Armonia will all call at the island where the ships will berth at a specially built pier.

Grand Caribbean Destinations
Cruising the Caribbean is booming. Destinations including Grand Cayman, Haiti, Honduras and the Dominican Republic have built or are planning new docking facilities. Antigua and Barbados are among those expanding their ports to accommodate still-larger cruise ships. Following a recent port expansion, St. Kitts is expecting almost 1 million cruise visitors for the upcoming season.
In addition to the unnamed island to be purchased by Virgin Cruises, the following Cruise Lines have Private Islands for their guests:
Castaway Cay, Bahamas - Disney Cruise Line
Half Moon Cay, Bahamas - Holland America Line
Great Stirrup Cay, Bahamas - Norwegian Cruise Line
Princess Cays, Bahamas - Princess Cruises
Coco Cay, Bahamas - Royal Caribbean
Labadee, Hispaniola - Royal Caribbean
Ocean Cay – MSC Cruises

Upgrades, acquisitions and new builds
On July of 2018 the ultra-luxury and expedition cruise leader Silversea Cruises joined Royal Caribbean Cruises Ltd (RCL's) portfolio of top brands and announced Project Invictus, "to further enhance product and ships."
Regulators green-lighted Royal Caribbean's purchased of a 66.7% equity stake in Silversea Cruises, based on an enterprise value of approximately $2 billion. Manfredi Lefebvre d'Ovidio will remain Executive Chairman of Silversea and retain a 33.3 percent stake. According to RCL, "The investment unites two leading players in the cruise industry and fills out RCL's portfolio of cruise brands across all key market segments."
"We are proud to officially welcome Silversea's industry-leading team to the RCL family," said Richard D. Fain, Chairman and CEO of Royal Caribbean Cruises Ltd. "This is a dynamite combination and we can't wait to work with Manfredi, Roberto and the entire team as together we take Silversea to the next level."
That next level is Project Invictus, a multi-year initiative to take Silversea's ultra-luxury offerings to the next level from product upgrades to a magnified ship revitalization programs. Those already include ships for only 296 to 540 guests; all ocean-view suites (all with butler service), and almost all with private verandas and personal service where gratuities are included in your fare, and tips are not expected.
With Silversea joining the RCL lineup alongside Royal Caribbean International, Celebrity Cruises, Azamara Club Cruises, TUI Cruises and Pullmantur Cruceros, the Royal Caribbean Cruises Ltd. fleet now numbers 59 ships with an additional 15 on order.
The inclusion of the expedition ships Silver Explorer, Silver Galapagos, Silver Discoverer, and with Silver Cloud recently joining the Expedition fleet and two ships on order plus one option, means that Silversea's itineraries encompass all seven continents and feature worldwide luxury cruises to the Mediterranean, Caribbean, both polar regions and hundreds of fascinating destinations in between, according to the company.
Starting in 2019 over 20 ships with nearly 4,500 berths will be introduced offering expedition cruises. Ponant will be first during the summer with two ships in its four-ship Explorer class, while Hurtigruten's Roald Amundsen due late in 2018 and equipped with an auxiliary electric engine will be the industry's first hybrid electric vessel.
Oceanwide Expeditions embarked on its expeditionary journey in 1993, originating in a university research program in the northern Netherlands. Employing a former oceanographic vessel, this program became the first in the world to provide civilian voyages to the Arctic island of Spitsbergen. These original routes still form the core of some of their most popular voyages.
Unlike many polar providers who charter Polar rated ships. Oceanwide owns and operates the majority of its vessels, all of which comply with the highest safety standards. These include the m/v Plancius (116 passengers), m/v Ortelius (116 passengers), and s/v Rembrandt van Rijn (33 passengers). They also manage a historic schooner, s/v Noorderlicht (20 passengers).
Oceanwide Expeditions enters the luxury expedition market later this year with the launch of m/v Hondius (174 passengers). Designed from the ground up for swift and adaptive polar exploration, Hondius is the world's first-registered Polar Class 6 ship and one of the most advanced vessels on the market. The passenger capacity certificate for Hondius is 196 persons. One deck consists of a large observation lounge and separate lecture room, which are reserved for a wide variety of interactive workshops, exhibitions, and performances particular to Hondius.
Though designed in stylish mid-century modern décor, the company says this vessel holds true to Oceanwide's distinctive cozy and informal atmosphere according to company literature. "It is our philosophy to keep sea time short so that we can focus instead on fast, effective access to shore and near-shore activities," according to company literature. A 20-day trip around the Falkland Islands, South Georgia and Antarctica will cost at least $11,000 and you must bring your own snowsuit.
Norwegian Cruise Line expects to spend five-years and $400 million modernizing all its current ships starting in 2019.

China Stirs
Royal Caribbean Cruises said during an earnings call recently that sailings in China had "performed very well" — better than expected — in the second quarter. Chief Financial Officer Jason Liberty said the market was booked "nicely ahead" in volume and rate for the rest of 2018 and into next year. A new ship, Spectrum of the Seas, will enter the market in June. Norwegian Cruise Line, announced plans to move its built-for-China ship to North America. Tensions between China and South Korea reduced the demand because several popular ports were off limits. But tension between the Trump administration and China had little effect with 2.4 million cruise passengers coming from mainland China in 2017. Much of the progress has come from better relationships and better training for China-based travel agents.

Active and Exciting Year Ahead
Looking ahead again, a total of 272 CLIA-member cruise ships are projected to be in operation by June 2019. Beyond this, two other lists expect 24 new ships to debut in 2019. Whatever the final count, all stakeholders believe that 2019 will be the biggest year ever for new ship introductions. And it will certainly be the biggest year ever for the small, lucrative expedition class ships. And, that's good news for operators, shipyards, equipment OEM's and, of course, the customers, too.
This article first appeared in the JAN/FEB 2019 print edition of Maritime Logistics Professional magazine.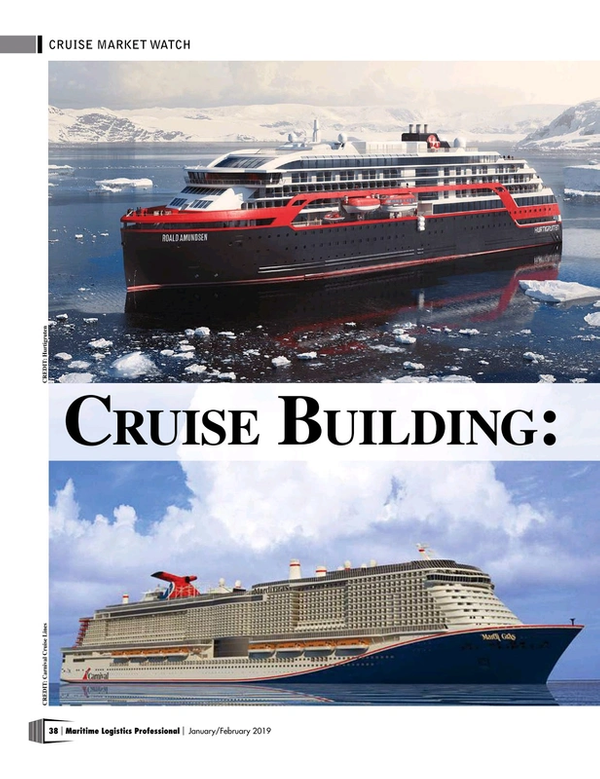 Read Cruise Building: Growing, Cleaner and Not Always Bigger in Pdf, Flash or Html5 edition of Jan/Feb 2019 Maritime Logistics Professional
Other stories from Jan/Feb 2019 issue
Content