Inland Port Development: Take the train
By Rick Eyerdam
The intermodal equation for any deep draft port is incomplete without its inland component.

It's definitely a work in progress.There are inland ports in the truest sense: major lakefront and riverfront cities such as Chicago and St. Louis, including even Duluth and Tulsa, with vast distribution areas, wildly varying cargo, roads, trains and waterways to serve them.
And, then, there are inland ports, dry ports that have vast distribution areas, containerized cargo delivered from true oceanfront ports, a network of highways and, most importantly, at least one Tier 1 railroad that directly links them to the rest of the nation. It is here where the nation's intermodal equation and the infrastructure to more efficiently move freight is coming together. And, not a moment too soon.

North Florida Mega Port, almost
Allison Magrath is the Senior Land Planner at Kimley-Horn in Gainesville, Florida. She was Industrial Development Manager - Real Estate for Plum Creek Paper Company from 2011 to 2016 that owned hundreds of acres of the forest on US 90 east of Lake City Florida. With nothing in place beyond a marketing campaign, Magrath spent six years negotiating land swaps with the state and federal government and securing, finally, state funds to pay for a railroad crossing of Highway 90.
While she struggled, the property was marketed as the Plum Creek Inland Port, which turned into the Plum Creek Intermodal Site. Three years ago the woodland was sold to Weyerhaeuser, which made it the Weyerhaeuser North Florida Mega Industrial Park.
The Mega Industrial Park in November received $3.1 million for the long sought rail spur through the forest and into the Weyerhaeuser land. With the sale from Plum Creek to Weyerhaeuser, Magrath was terminated. She now works with the Appalachian Regional Port, which has a CSX rail connection and is developed by the Georgia Ports Authority connected with the Port of Savannah, she said.
"There is less competing and a more united front in states such as Georgia," as compared to Florida, Magrath said. Weyerhaeuser/ Plum Creek "was such a massive piece of property, 2600 acres, that needed a lot of due diligence to get it going," she said. "And you can't really get it going, effectively establish a true inland port that's moving cargo until you have the rail access. Getting the rail spur though the forest was a challenge in itself. And then working through the process with DOT and CSX to get an at-grade rail crossing was very time consuming process. And them finding funding to get the rail spur in the ground before you have an end user that wants to actually operate a business out of there has been a challenge. Now all of those pieces are falling into place and it just takes time."
Asked for her insight about the development of inland ports she said, "Access to rail and proximity to an interstate, those things are really the number one factors in my mind for an inland port. Without having those pieces in place you are going to have these kinds of time delays Weyerhaeuser has seen with this project. And building a relationship with your surrounding ports is critical."
She added, "I believe in the project or I would not have spent so much time on it myself … It is a little bit of a challenge to convince somebody to be the first person to locate out there. But once they get the rail over there, I think it starts to be a completely different conversation."

America's Gateway, Sort of …
Tracy Whirls is the executive director of the Glades County Economic Development Council, Inc. and she has followed the development of the South Florida Inland site back even to when she was a reporter for the local paper. She has seen the site, along US 27 just west of Moore Haven, Florida go from the South Florida Inland Port to Americas Gateway, which promises "1.2 million square feet of shovel ready available property."
The Duda family donated 15 acres to Glades County to create the easements for the infrastructure; the Florida Department of Transportation funded more than $700,000 in improvements to U.S. 27; and Glades County secured nearly $1.5 million in state infrastructure grants to tie surrounding parcels together.
"This has been a pioneering public-private partnership between local, state and private property owners ending a stalemate in economic development in Florida," said Whirls. "Private property owners and developers are reluctant to invest millions of dollars in infrastructure on a greenfield site in advance of proven market demand, and companies won't consider greenfield sites unless they are shovel ready."
But Americas Gateway has two problems. It has no buildings except the recently built Loves Truck stop. And it has no connection to a Tier 1 railroad. It does have the short line railroad, the South Central Express that runs near by and connects to CSX in Sebring, Florida. She says that the rail line belongs to U.S. Sugar Company while Americas Gateway is developed in a large part by a rival regional landowner, the Duda Brothers. But she says that as soon as Americas Gateway secures a tenant, she can convince the sugar company to let her company use the rail line to connect with CSX. Will it work? "The odds of US Sugar building a rail line for a major competitor is anybody's guess, she said.
But Whirls added, "We have had many conversations with CSX and they continue to be interested in the project. But the actual railroad that serves the site and continues around Lake Okeechobee is a short line railroad called the South Central Florida Express, which is wholly owned subsidiary of U. S. Sugar Corporation.

"We haven't been pushing the inland port in the last couple of years," Whirls said. "But the Cushmen and Wakefield broker (for the property) out of Orlando has been marketing it more just as an industrial park."

Florida's Gateway Inland Park, empty
A few miles to the north is the Central Florida Intermodal Logistics Center in Winter Haven, Florida that is marketed "as a state-of-the-art centralized transportation and distribution hub for Tampa, Orlando, and South Florida." The 318-acre CSX-affiliate Evansville Western Railway terminal near by is able to process up to 300,000 shipping containers per year. Connected to the facility is 930 acres that will house warehouse distribution centers, light industrial facilities, and offices.
One warehouse has been constructed for years. It contains 407,400 square feet of empty space. The CSX intermodal yard is booming, just down the road. But there is not one tenant, despite this assertion from the marketer. "It is a State-of-the-art inland port providing full intermodal capabilities for both domestic and international import and export of goods to Florida, the United States, Central and South America that is located in the heart of Florida' s I-4, Highway 27 and SR 60 corridor between Orlando and Tampa."
To improve the marketing effort, the inland park was recently renamed Florida's Gateway. And according to the marketers, "it has unmatched access to CSX Winter Haven Intermodal and connectivity to 18 million people within a half day's drive. Its high-tech, clean, environmentally-friendly design makes Florida's Gateway one of the nation's Top 10 Inland Ports and one of the most technologically advanced facilities of its kind in the country.

The missing factor
Three huge properties with decades of time and effort expended in their development and they still lack that one critical component. Florida's Gateway in Winter Haven has a direct link to the CSX rail line but it lacks a tenant. Americas Gateway, one county over in More Haven has a truck stop of some size but also has no commercial tenants, and no connection to a Tier 1 railroad. Weyerhaeuser North Florida Mega Industrial Park has a rail connection coming, but remains a vast untapped wilderness.
Beyond the inevitable reach of state wide port authorities, proposed inland ports are often adrift in a sea cluttered with regional politics, competing financial interests, and lacking one key factor; be it lack for a rail line, lack of a port partner, or lack of an anchor tenant.

Take the train
In North America each of the seven Class I railroads have a development, real estate and land division. Norfolk Southern offers detailed specifications, supply-chain analysis, industrial park planning and prospective design work for the 2,000 industrial sites along its network. Last year, according to Norfolk Southern the line helped 75 companies in locating or expanding in 17 states, representing an investment of $1.1 billion, the creation of nearly 2,000 new jobs and the generation of more than 147,000 carloads annually.
Only two of the seven Class I railroads, have developed their own shovel-ready site certification programs. Most of the sites have some railroad ownership, which eliminates one of the major hurdles.
Other relatively new and notable inland ports must include the ports operated by the Georgia Ports Authority (GPA), the latest of which, Appalachian Regional Port (ARP), is situated in northwest Georgia near I-75 and U.S. 411. ARP is served by CSX, which provides a direct, 388-mile route to and from the Port of Savannah's Garden City Terminal. GPA said ARP is expected to remove 50,000 trucks and 15 million truck miles from local highways each year.
The South Carolina Ports Authority (SCPA) owns and operates Inland Port Greer, which opened in October 2013, and Inland Port Dillon, which opened this April. Situated in Greer, SC, along I-85, Inland Port Greer is 212 miles inland from Charleston and about halfway between Atlanta and Charlotte, NC. For its part, the port of Wilmington, NC has rail access to charlotte, dubbed appropriately enough, "The Queen City Express." Norfolk Southern provides rail service between the Port of Charleston and Inland Port Greer in both directions.
In Dillon, SC, at Inland Port Dillon, which is in close proximity to I-95 and U.S. 501, CSX, provides rail service in both directions between the inland port and the Port of Charleston. SCPA said in April that Inland Port Dillon was expected to convert 45,000 container movements from truck to rail in the first year of operation.
Although many inland ports exist within a couple of hundred miles of prominent seaports, some inland ports exist in areas farther away from the coast. The Midwest Inland Port, which is about 160 miles southwest of Chicago in Decatur, Ill., allows shippers to avoid Chicago's congestion and tolls. Midwest Inland Port features an intermodal ramp; direct access to CSX, Canadian National and Norfolk Southern; toll-free access to Interstates 72, 55, 74 and 57 and U.S. 51; and an airport.
These ports have several things in common, they have strong local and statewide support, and they are, in most cases, inland ports located in states where all inland ports and seaports are under statewide control. Georgia, South Carolina and Virginia are prime and current examples.
Last November, BNSF announced that three new properties had been awarded the company's Certified Site designation. The sites, located in Minot, North Dakota; Avard, Oklahoma; and Sioux Falls, South Dakota, "have already been scouted by BNSF and evaluated for their shovel-readiness," said the railroad, noting that the analysis (including an evaluation of environmental and geotechnical standards, available utilities, site availability and existing and projected infrastructure) could save an end user six to nine months of construction time.
The International Inland Port of Dallas (IIPOD) is an intermodal and logistics district that encompasses 7,500 acres and five municipalities. The City of Dallas Office of Economic Development noted that the Dallas-Fort Worth area is at the confluence of three major Class I railroad networks — Union Pacific, BNSF and Kansas City Southern — and that the Dallas-Fort Worth International Airport is the nation's ninth-largest cargo airport and the only airport with the capacity to double operations in its existing footprint. IIPOD is served by thee major interstates (I-35 E, I-20 and I-45) and a Union Pacific intermodal terminal. Major manufacturing tenants at IIPOD include American Textile, Pioneer Frozen Foods, Niagara Bottling and Serta Dormae.
All 13 BNSF Certified Sites are a part of BNSF's Premier Parks, Sites and Transload program, which addresses increasing demand for customer sites by developing various types of facilities across BNSF's network. That network includes a family of logistics parks such as Logistics Park Kansas City, in Edgerton, Kansas, where last year Spectrum Brands consolidated its operations from two distribution centers to one center that brought 300 additional jobs to the park. The project was part of $7.7 billion in investments by BNSF customers in 2017, expected to generate 3,500 new jobs in all.
Other BNSF Certified Sites include Ardmore, Oklahoma; Avard, Oklahoma; Gallup, New Mexico, Great Falls, Montana; Greenville, Illinois; Los Lunas, New Mexico; Middletown, Iowa; Minot, North Dakota; Newton, Kansas; Shafter, California; Shelby, Montana; Sioux Falls, South Dakota and Temple, Texas.
The other Class I shovel-ready certification program belongs to CSX. To receive a CSX Select Site designation, the location must meet a rigorous list of criteria, including infrastructure and utility availability, environmental reviews, appropriate zoning and entitlement, rail serviceability and proximity to highways or interstates.
The portfolio of Select Sites includes the 723-acre Cecil Commerce Center Mega Site in CSX's hometown of Jacksonville, Florida; the 1,551-acre Glendale Mega Site in Kentucky; the 1,354-acre Kingsboro Industrial Sites in Rocky Mount, North Carolina; the 1,175-acre White Hawk Commerce Park in Florence, South Carolina; and the 2,055-acre I-26 Mega Site in Newberry, South Carolina.
The South Alabama Mega Site is certified by the Economic Development Partnership of Alabama's Advantage Site program and is the third site in the state to be designated a CSX Select Site.

"This site is strategically located between Mobile and Pensacola on CSX's main line, connecting the site to major consumer markets from the Gulf to the Midwest, and even international markets through the Port of Mobile," said Clark Robertson, vice president of business development and e-business for CSX. "Earning Select Site status means this site will be pivotal in the region's growth, as companies seize the opportunity to swiftly set up operations and leverage the efficiency of freight rail.
CSX select sites include Belfast Commerce Centre in Richmond Hill, Georgia; Callaway South Industrial Park in LaGrange, Georgia; Cecil Commerce Center Mega Site in Jacksonville, Florida; Eastwood Commerce Center, in Lemoyne, Ohio; Glendale Mega Site, in Glendale, Kentucky; the I-26 Mega Site, in Newberry, South Carolina; Inland Logistics Port @ Kingsbury, in Kingsbury, Indiana; John Kelsey Business and Technology Park, in Greenville, Illinois; Kentucky Transpark - Lot 6 in Bowling Green, Kentucky; Kingsboro Industrial Sites, in Rocky Mount, North Carolina.

Intermodal Logistics 101
At a recent Hong Kong maritime logistics event, a delegation from Canada gave a detailed, joint presentation on how to build the most efficient supply chain possible. One by one, subject matter experts from rail, ocean shipping, trucking, terminal operations and port authorities, got up to speak – all with one collective voice. The message was a simple one: "Any and all transport modes are only as good as the mode immediately behind and/or in front of mode now in use."
That's good advice; for any port stakeholder – inland, deep draft or anything in between. With gathering momentum, U.S.-based ports, shippers and ocean liners are all beginning to come on board. When they do, of course, they'll need to first "take the train."
Rick Eyerdam is an award winning journalist and editor. Formerly, he was Editor of Florida Shipper Magazine. Additionally, he was Executive Director of the Miami River Marine Group and Captain of the Port of the Miami River. He is a graduate of Florida State University with majors in English and Government. His articles have appeared in myriad shipping magazines and newspapers since 1970.
This article first appeared in the JAN/FEB print edition of Maritime Logistics Professional magazine.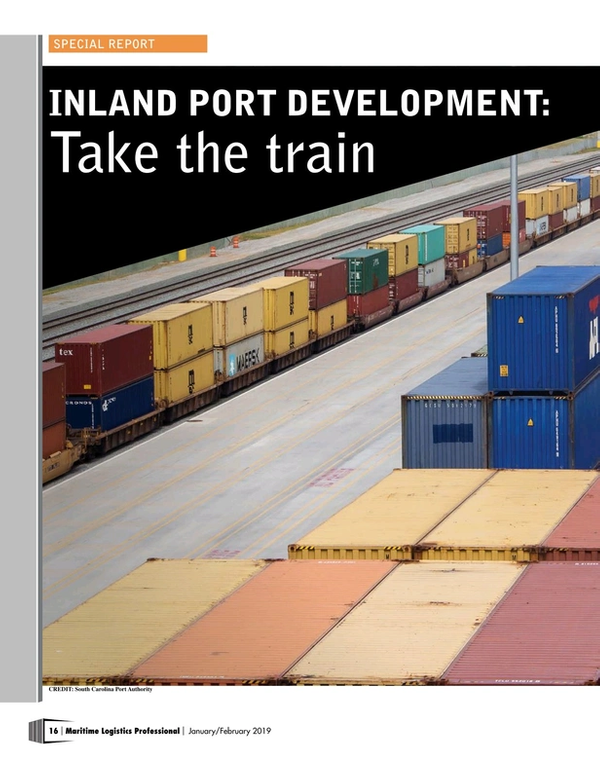 Read Inland Port Development: Take the train in Pdf, Flash or Html5 edition of Jan/Feb 2019 Maritime Logistics Professional
Other stories from Jan/Feb 2019 issue
Content