Inside Cruising's LNG Plunge
By Greg Miller
Back when most owners were still debating how to handle the 2020 sulfur cap, or whether the deadline would even stick, Carnival forged ahead with a massive bet on LNG for cruise-ship propulsion. That early move is now starting to pay off.

AIDAnova, the first cruise ship to ever be powered at sea by LNG, set sail on its maiden voyage from Tenerife in the Canary Islands on December 19, 2018. Speaking with Maritime Logistics Professional six weeks later, Carnival Corporation senior vice-president of maritime affairs Tom Strang gave his early verdict: LNG works.
"It's good news. From the LNG perspective and a bunkering perspective, it has gone really well. The LNG plant is behaving at least as well as expected, if not better," he reported.
The ship's four 16-cylinder MaK M46 dual-fuel engines can run on either LNG or marine gas oil (MGO). "We decided to go down the dual-fuel approach so that in the event there was unavailability of LNG or an issue with the gas plant or any other reason, we could switch over to MGO, but the intention is to always stick to LNG," he said. "I've heard back from the chief engineer and so far, we've had no significant operational time on MGO. There may be times when the engine switches over momentarily to MGO for different reasons, but it's not something that's happening on a regular basis."

Dipping a Toe in the Water
Carnival Corporation first dipped its toes into the LNG power pool in 2016-17, with the debuts of the AIDAprima and AIDAperla, built by Japan's Mitsubishi. Only one of the four engines on each of these vessels is a MaK M46 dual-fuel engine, and LNG is only used as a power source when the ships are moored at the pier.
The use of LNG for power at sea was pioneered via a multi-brand platform order for 84,000 gross-ton (gt) sister ships, known internally as 'Project XL'. The initial agreement was announced in March 2015 with builder Meyer Werft. Nine orders were ultimately placed at that yard and its Finnish sibling, Meyer Turku: three for Germany's AIDA (the AIDAnova, plus newbuilds for deliveries in 2021 and 2023); two for Italy's Costa Crociere (Costa Smeralda later this year and another newbuild in 2021); two for UK-based P&O Cruises (Iona in 2020 and another in 2022); and two for America's Carnival Cruise Lines (Mardi Gras in 2020 and another in 2022).
Last July, Carnival Corporation topped off its LNG-powered orders at another shipyard; inking deals with Italy's Fincantieri for two 175,000 gt newbuildings for US brand Princess Cruises, set for deliveries in 2023 and 2025.
Strang confirmed that all Project XL ships will feature the same MaK engines and LNG equipment configuration installed aboard AIDAnova. "It's a platform design, where everything in the technical spaces will be essentially the same [across all brands]. The basic system of the four-engine layout, the size of the engines, the gas tank arrangements – that's all going to be the same – although obviously, if we see opportunities to improve systems and run them more efficiently, we'll make changes."
Asked about the more recent Princess orders at Fincantieri, he said that those ships could use a different LNG system and implied that they probably would. "We very rarely put all our eggs in one basket and in that regard, it makes sense to have capabilities from other manufacturers and system designers," he said.
Carnival Corporation does have a number of existing orders for non-LNG-powered newbuildings, for brands Costa, Princess, Carnival Cruise Lines, Seabourn, Holland America, and Cunard. Strang pointed out that in many of these cases, orders arose from multi-brand platform contracts at Fincantieri that preceded Project XL. "It would be very difficult to introduce LNG on an existing platform," he noted. Other existing orders, such as those for Seabourn, are non-LNG due to their itineraries. "On some itineraries for smaller ships and more bespoke destinations, it would be very challenging to ensure a robust, reliable, and adequate LNG supply," he explained.
Strang conceded that an LNG system does take up more space than a non-LNG system, but he maintained that the issue is manageable on larger cruise vessels. "On a purely technical basis, yes, it takes more space. It depends on what type of tank system you employ. We use C-type tanks that take roughly 1.8 times the volume for an equivalent amount of heavy fuel oil [HFO] or MGO to propel you the same distance with the same energy content. But with these very large ships that we're building of 180,000 gt or more, you can be very clever and work together with the shipyards, which are very good at coming up with an optimum design that allows for the impact on the carrying capacity to be minimized." He added that ships using LNG and MGO do not need a bulky scrubber system installed to meet emissions standards, allowing for that space to be saved.

Bunkering: the final hurdle conquered
The largest challenge to the use of LNG for cruise propulsion is refueling: can sufficient bunkering services be created in the necessary locations? The good news is that Carnival Corporation's LNG plunge has spurred other cruise lines to dive in as well. The more cruise companies that use LNG, the higher the guaranteed future demand, and the easier it is to finance the necessary investments in bunkering and related supply chains.
Other cruise lines placing orders for LNG-powered cruise vessels include Royal Caribbean (two 200,000 gt ships for deliveries in 2022 and 2024 from Meyer Turku); Disney (four 140,000 gt vessels for deliveries in 2021-23 from Meyer Werft); TUI Cruises (two 161,000 gt ships at Fincantieri, for deliveries in 2024 and 2026); Ponant (one 30,000 gt ship from Romania's VARD for delivery in 2021); and MSC (one 183,500 gt newbuild at France's Chantiers de l'Atlantique for delivery in 2023, plus two 205,700 gt ships from the same yard for deliveries in 2022 and 2024, and options for two additional 205,700 gt ships for deliveries in 2025 and 2026). Altogether, LNG-powered ships now account for around 25% of all cruise newbuildings on order, measured by capacity.
Asked how beneficial it is for Carnival from a bunkering perspective that LNG is being widely embraced across the cruise industry, Strang said, "It clearly does help us enormously, because you can see the demand profile [for LNG] beginning to build. In my mind, the tipping point has been reached. We at Carnival have been at the leading edge of this, and we've done a lot of the heavy lifting, but we expect there to be further benefits, particularly around 2022-23 when most of these other [cruise lines'] vessels will begin to enter service and you'll see the demand requirement increasing significantly."
Carnival Corporation has a strategic partnership with Shell for its own LNG supply needs and is continuing to expand its global bunkering footprint. "We now have ship-to-ship bunkering in Eemshaven, Rotterdam, and Tenerife," said Strang. "We're awaiting final approvals from Barcelona, and we're working with Port Canaveral and Port Miami to get approvals there. AIDAnova operates in the Canary Islands in the winter and shifts to the Western Mediterranean in April. Costa Smeralda will be delivered in October and will operate year-round in the Western Mediterranean, bunkering in Barcelona, and we also have approval to bunker in Marseille if we need to. Before P&O's Iona delivers, we're working with the port of Southampton to develop their LNG bunkering capability. And when the Carnival Cruise Lines ships deliver, starting with the Mardi Gras in 2020, we'll be ready with LNG supply in Port Canaveral."
Refueling of cruise ships with LNG differs from refueling with HFO or MGO, for several reasons. First, it requires a fixed location for each itinerary. "Typically, we may bunker LNG every 10 days," said Strang. "With conventional fuels you can bunker in many, many ports. With LNG you have to develop a supply chain and get specific approvals, so must you bunker in fixed locations. And because everything has to come together at the right time at the right date [at these fixed locations], it's very important that you choose your partners very carefully and partner with people you can work closely with who are very reliable and who really understand their side of the business."
Another difference: more time is needed to fill the tanks. "It is taking longer. We envisage that over time we'll be able to condense that down a bit, but even so, it would still take longer than bunkering with traditional HFO because of the nature of these vessels and the volume of LNG you have going onboard."
Compared to HFO and MGO refueling, there are also differences in terms of the location of bunkering operations and by extension, safety concerns of port authorities. "One of the unique challenges within the cruise industry is that you're often going into port right in the center of cities. You're doing bunkering in locations where perhaps they have not done it previously. So, safety is always the first priority at all times.
"Let's be clear: LNG is very safe," Strang underscored. "LNG-fueled vessels have been operating for 50-plus years and have an excellent safety record, and you could argue that LNG is safer than conventional fuels, which could be considered more volatile. There have been port authorities that have had an initial reaction to LNG bunkering of: 'Oh, not in my port'. But after we've explained it to them and brought in the professionals and demonstrated the level of safety and care that's being taken, we have not had any issues [with port authorities refusing LNG bunkering]. And clearly, with the environmental advantages you have from clean emissions in the port, it's a win-win for both sides."

Considering Cost
In any debate on the pros and cons of LNG power for the maritime sector, another key variable, beyond bunkering availability, is cost. When the International Maritime Organization's 0.5% sulfur fuel cap enters force on January 1, 2020, how will bunkering with LNG compare price-wise to other options such as MGO or ultra-low sulfur fuel, or HFO and scrubbers?
Carnival's choice of LNG power in early 2015 significantly pre-dates many of the decisions to do so in commercial shipping. Belief that the IMO 2020 date would be pushed back was rampant within shipping circles well beyond 2015. Consequently, many non-passenger-ship owners held off on decisions.
According to Strang, "When we made the decision to go this route – and I was part of the group that made the decision – we were very active in looking at what the fuel of the future would be that would meet or exceed the environmental challenges we saw coming down the turnpike, and that would ensure our goals around sustainability and our reputation. LNG was clearly the best fuel that ticked all the boxes.
"At that time, I don't think we were looking at it on a price basis," he recalled. "We were looking at it much more in terms of: How is this going to future-proof our vessels?" He agreed that there was general skepticism about whether the 2020 deadline would stick, noting, "There were people back then who were talking about a 2025 scenario, but I think many of us in the industry recognized that 2020 was going to be more likely. At Carnival, we took the decision to prepare for that.
"The cost components [in 2015] were completely different than they are today, but I would say that LNG has remained much less volatile than some of the other fuels. I'm not making any cost projections, particularly with 2020 coming up, but I do believe LNG is going to be competitive with other compliant fuels, that it will give us a hedge against a fluctuation in fuel costs over time, and that we're also going to have advantages with LNG when it comes to maintenance intervals, cleanliness, and other aspects."
And when additional orders are placed for the next generations of larger ships for Carnival Corporation, LNG appears to be in pole position for the power supply. "We're always looking at alternatives, but LNG seems the best solution," Strang affirmed.
Greg Miller is an award-winning journalist and editor. Most recently, he served as the managing editor of Fairplay magazine. Prior to his 14 years at Fairplay, he was the senior editor of Cruise Industry News and the editor in chief of the Virgin Islands Business Journal. He is a graduate of Cornell University.
This article first appeared in the JAN/FEB print edition of Maritime Logistics Professional magazine. All images courtesy Carnival.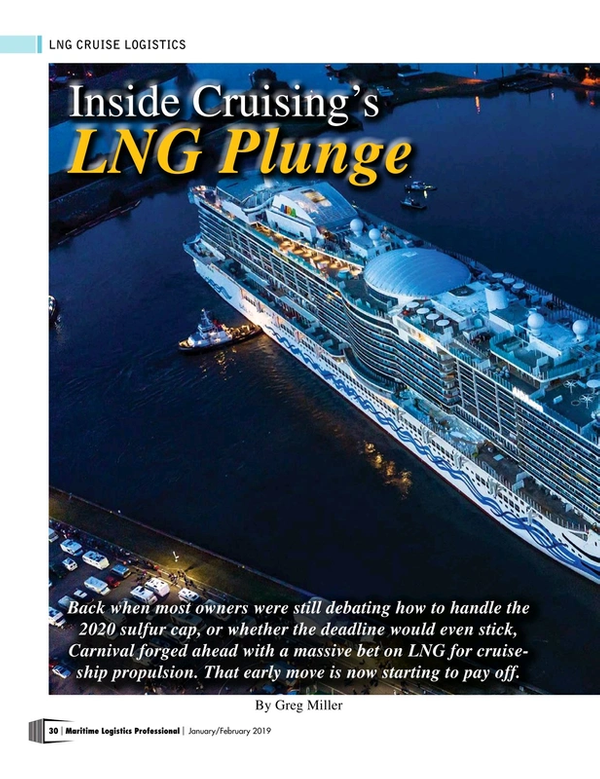 Read Inside Cruising's LNG Plunge in Pdf, Flash or Html5 edition of Jan/Feb 2019 Maritime Logistics Professional
Other stories from Jan/Feb 2019 issue
Content