Cruising: Small is Beautiful
By Barry Parker
Cruise shipping, at the intersection of maritime and hospitality industries, continues to be vibrant. The Cruise Lines International Association (CLIA), the industry's major trade association, forecasts that the ocean cruise segment will draw 30 million passengers in 2019, up from 28.2 million in 2018. At the start of the decade, in 2010, the comparable count was 19.1 million passengers. CLIA members will have 272 vessels operating in 2019- with 18 ocean going vessels set to begin service. The new ships run the gamut from giant behemoths like MSC Grandiosa (the first of the Meraviglia Plus class, 6,200 passengers, under construction at Fincantieri), Royal Caribbean's Spectrum of the Seas (a 4,200 passenger vessel being built at Meyer Werft, for the Asian market) down to smaller expedition vessels like Ponant's Le Bougainville (capacity of just 184 passengers).

Bigger is not always Better
CLIA, which works closely with travel agents and member company marketing teams, has identified some key trends, one of which suggests that bigger is not always better. Among their findings: "Travelers are setting sights on destinations that were previously out of reach some only accessible now by cruise ship from the Galapagos Islands to Antarctica." They also note that: "Travelers want to see the world in a conscious, mindful way. The cruise industry is more conscientious than ever, working to local destinations to local cultures, landmarks and minimize environmental footprints."
Beyond the environmental footprint, the placement of larger cruise vessels in markets such as the Galapagos, actually can do passengers a disservice. Maritime Logistics Professional magazine Editor Joe Keefe, while not necessarily an experienced cruise veteran, nevertheless took such a trip in the not too distant past. What he had to say was illuminating.
"You need a smaller, nimble platform in the Galapagos. Our vessel had berths for just 49 passengers, supported by maybe 35 crew. About 225 feet long, it was a stable platform, fast enough to get us where we needed to go, typically at night while everyone was sleeping. Once on site at the next day's adventure, four 'pangas' could quickly load and disembark all the passengers and guides – sometimes in as little as ten minutes. That's something the bigger platforms struggled with. Beyond this, the shallow draft hull could go places that the larger cruise ships could not. We saw a lot; more than a bigger ship could have afforded and in a quicker time frame. It wasn't necessarily luxurious, but it was everything they promised us, and more."
Professor Andrew Coggins, a Marketing Professor at Pace University, agrees. "The Expedition Market is a mix of owner/operators and tour operators who charter their ships. The ships range from 30 years plus to brand new in age. They can be relatively spartan to very luxurious. They can be yacht-like small ships or former-Russian icebreakers. Passenger capacity is in the 100 to 200 passenger range." He adds quickly, "Another way of defining the market is that they offer unique experiences, with emphasis on unique, focusing on the natural and cultural environments by visiting environmentally sensitive areas. They capitalize on their small size and shallow draft and low passenger numbers to go where the big ships can't."

Expedition Cruising: leading edge technologies
Not surprisingly, "expedition cruising" in smaller ships, with destinations such as Antarctica, the Fjords of Norway, and islands in the Pacific, is a sector attracting travelers, but is at the same time, also showcasing the leading edge of technological innovation for passenger vessels. The expedition sector, where the vessels are described as "yachts", speaks to the identified trends, and has seen tremendous growth. Lin Humphrey, Ph.D. a Professor of Marketing at Florida International University (FIU) whose career has included a stint at Carnival Corp, told MLPro, "I am bullish on this segment of the market," pointing to earlier forays into the marketplace by Celebrity Cruises (founded by the Greek Chandris family, and part of Royal Caribbean since the late 1990s) with its Xpedition offerings. He added, "They were willing to take a risk with their audience and offer a unique product to a more discerning traveler." These early efforts paved the way for today's entrants.
The French operator Ponant, a powerhouse in this segment mentioned by Dr. Humphrey , is vying for the lead in Polar expedition vessels. Its Polar Code 2 (or "PC2" with ice breaking capabilities) designated Le Commandant Charcot, to be delivered from Vard's Tulcea yard in 2021, will feature LNG propulsion with the ability to switch over to battery power. In discussing this vessel, Mrs. Edie Rodriguez, Ponant's Americas Brand Chairman, explained to MLPro, "… when we launch the world's first luxury exploration yacht going to the North Pole and utilizing eco friendly LNG, we will bunker in Kirkenes, Norway. It all comes down to proper and prudent planning and communications in advance."

Sustainability: the new normal
Passengers are increasingly sensitive to cruise operators' sustainability practices. Edie Rodriguez told MLPro, "At Ponant we vet each location that we go to prior, during and after our visits. Our goal is to always be as eco friendly on and off of our vessels, to our oceans, and respectful to the places that we visit. Hopefully, we leave each place just as it was before we arrived, yet better via contributing to their economic and environmental state in a myriad of positive ways."
Though new rules restricting the sulfur content in fuels don't kick in until January 1, 2020, Ponant's transition to low sulfur gasoil (marine diesel) has begun a year earlier, in January 2019. Such actions do not go unnoticed by demanding customers. Ms. Rodriquez explained: "I think that sustainability is important for most of today's global wanderlust travelers and some make decisions based on a company's initiatives as to doing business with those companies, not just regarding travel companies. At Ponant and our parent company and sister companies we take sustainability as a priority and an important issue. We all are very proud of our records regarding Sustainability and Corporate Social Responsibility (CSR) in general."
Dr. Humphrey, from FIU, acknowledged that the cruise industry has sometimes come under fire from environmental groups. But he stressed that: "…we've also seen positive press with proactive communication around on-board efforts, like Royal Caribbean's Save the Waves and Virgin Voyages' commitment to eliminating single use plastics on the ships. Many consumers may only hear about these initiatives when stories run on the news, and the industry can continue to improve their communication on environmental protection." Pointing to fueling alternative, a hot topic across the maritime universe, he suggested: "There is an opportunity to tell a compelling story with the scrubbers and LNG-powered vessels, which overcomes many of the objections some may have about industry impact on the environment."
A niche player in the small vessel luxury segment, Crystal Cruises (owned by Genting Hong Kong – which also has an ownership stake in Asia-specialist Star Cruises, and recently sold out its shares in the holding company for Norwegian Cruise Lines), is entering the expedition segment, building on the success of its Crystal Esprit, marketed as a yacht- with 62 passenger capacity. Crystal, originally a subsidiary of the Japanese giant NYK (where it operated in the smaller luxury ship segment), will be launching its 20,000 gt ultra luxe Crystal Endeavor, a 200 passenger vessel, with a PC 6 ice class designation (Polar Code, Category "B") now under construction at MV Werften.
Along the coast of Norway (and niches such as Iceland), Hurtigruten is a market leader. The operator has been at the forefront of technological innovations; its hybrid powered Roald Amundsen, with a passenger count of 530, is set to deliver from the Kleven yard- Ulsteinvik, early in 2019. A sister vessel, Fridtjof Nansen, is expected to come online later in 2019; in January, 2019, a third vessel- with 2021 deliver, was ordered. According to the operator, "The new ships are designed by Rolls-Royce, in collaboration with the recognized Norwegian yacht designer Espen Øino." The ice strengthened vessels are able to run in fully electric mode, on state of the art battery power, for short periods of time.

The Logistics of Cargo and Cruising
Unlike vessels in the fleets of Crystal and Ponant, the Hurtigruten vessels are not positioned for luxury travelers. If there is an intersection between cruise shipping and cargo logistics, it could likely be found along Norway's coast, between Bergen and Kirkenes. As described by travel site Cruise Critic, reviewing the vessel Richard With ( 11,205 gt, with capacity for 590 passengers, built 1993 and refurbished 2018 , named after Hurtigruten's founder), "…Like the rest of the fleet, it is a working ship which makes port calls around the clock, picking up and delivering short-hop passengers – often plus their car or bikes – and loading and unloading goods." The site review of the Midnatsol (capacity of 1000 passengers, built 2003), offered that: "Hurtigruten ships also carry cargo, calling at villages large and small, docking only as long as necessary to load and offload passengers and cargo, sometimes in as little as 15 minutes. And, unlike the long, drawn out docking procedure we're used to on conventional ships, the Midnatsol zips in and out of port in a flash, aided by triple bow thrusters and a state-of-the-art pod." Notably, six of its existing vessels are being retrofitted to run on LNG, battery power, and biogas (derived from fish oil).
Logistics is of paramount importance throughout cruise ship operations. At Ponant, top management is heavily involved. Edie Rodriguez (who held a senior position at Crystal previously), explained, "We source in a proactive manner for fuel, food and wine, etc., as well. Logistically we do the best possible by providing the best that is available around the world to provide freshness as frequently as possible. Having stated this, while there are minor challenges in some very remote destinations, we don't really get complaints about this and it is not an issue for us." When asked about situations where itineraries must be changed- because of extreme weather, for example, she answered: "Our ships are small so there is not a lot of storage space available, but we do keep as much as possible on board for these types of scenarios. We also have relationships around the world so that many variations of back ups are available as expeditiously as possible." FIU's Dr. Humphrey added, "Logistics for the cruise lines depends on the offering and the scale of the operations. Visit any major US cruise port on a weekend and you see the stevedores loading in supplies for the week, and this is the ship's only supply efforts for the week. When you get into some of the more unique and upscale offerings (think: small), then you see sourcing locally during the voyage."
Smaller is clearly beautiful. Ponant's Rodriguez, reviewing the sector overall, told MLPro, "The world is bullish on the luxury travel spending sector, as am I. At a recent luxury travel conference, The Agency Group cited that their businesses grew in the luxury cruise sector the most of any other travel sector, at 18% YOY increases." In the realm of smaller cruise ships, two new entrants- decidedly in the luxury domain, have attracted considerable attention. Ritz Carlton Yacht Collection, funded by Oaktree Capital (an investor in other shipping sectors), will begin operations in 2020 after the first of three luxury yachts -Ritz Carlton Azora, with 298 passenger capacity, is delivered from Barreras Yard (in Spain). Another new entrant, Virgin Voyages (also with Private Equity backing from Bain Capital) is building three ships, will also begin sailing in 2020 when its Scarlet Lady (currently under construction in Genoa, at Fincantieri) debuts. Two other vessels are set to join the trio (all with passenger capacity of 2,700) in the following years.
Closer to home in the United States, American River Cruises is a leader in the domestic marketplace, with itineraries up and down the Mississippi River and its tributaries, New England and the Pacific Northwest. This Connecticut based operator's American Song was delivered in late 2018, with its American Harmony due to come into service in summer, 2019. These Modern Riverboats, built at sister company Chesapeake Shipbuilding (well known for its Vane Brothers tugboat newbuilds) feature a patent-pending bow ramp for loading and unloading passengers.
The river cruising sector is a close cousin to the expedition sector. Prominent names in this part of the market include AMA Waterways, Viking River Cruises Avalon and also the newest entrant; Crystal Cruises. Viking, with its "longships" a mainstay on European (and Asian) rivers, has transitioned into the luxury cruise segment with six recent newbuilds of 930 passenger capacity, as well as ambitious plans to build as many as 10 additional sisters at Fincantieri. Crystal's new fleet of five river boats are frequently sighted on European waterways.
The logistics of supplying fresh food and the desire for custom travel experience comes full circle here. FIU's Dr. Humphrey notes, "With offerings like Crystal's River Cruises, that port-to-table fresh offering becomes an integrated part of the local experience."
Indeed, this is a fast growing segment with 26 ships due for delivery through 2021, ranging in passenger capacity from 100 to 300 with the majority 180-200 lower berths. In spite of the large number of ships, their total capacity is less than just one of the new mega-ships. And, the ultimate impact of this aspect of cruise travel has yet to be fully realized.
This article first appeared in the JAN/FEB print edition of Maritime Logistics Professional magazine.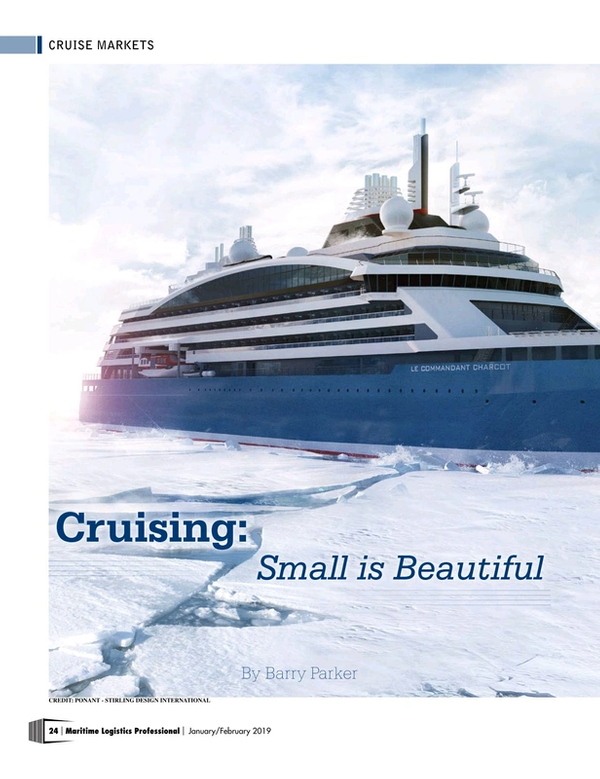 Read Cruising: Small is Beautiful in Pdf, Flash or Html5 edition of Jan/Feb 2019 Maritime Logistics Professional
Other stories from Jan/Feb 2019 issue
Content