INSIGHTS: Kristen DeMarco, JAXPORT Chief Commercial Officer
Kristen DeMarco is JAXPORT's Chief Commercial Officer. She is responsible for leading JAXPORT's international cargo sales and marketing initiatives as well as tracking trends and issues related to maximizing the port's business potential. DeMarco has nearly two decades of business development experience in the logistics industry, with a track record of successfully negotiating multi-million dollar deals and building relationships with decision-makers from some of the world's largest companies. Prior to joining JAXPORT, she served as Vice President of Ocean Business Development –North America for CEVA Logistics, leading the division's ocean product sales efforts during a time of double-digit revenue growth. She has also served in business development roles of increasing responsibility for shipping lines owned by A.P. Moller – Maersk. DeMarco holds a Bachelor of Science degree in Business Administration from Kennesaw State University. This month, we caught up to her in Jacksonville, Florida to find out what's happening in one of the nation's fastest growing ports. It turns out there's plenty to talk about.

You joined JAXPORT in July 2018 as Chief Commercial Officer. Tell us a bit about yourself and what you've accomplished in the approximately six months that you've been on board.
I am someone who moves with intention and thrives on seeing those around me lifted up. I have the foundation of 17 years of successful carrier experience and the support of some amazing colleagues and mentors, all of which has lead me to this great opportunity at JAXPORT. I felt it was critical to come into my new position at JAXPORT with an open mind and to listen to my team and to our customers. To find out from them what is already working well and what needs immediate attention. After that, it is about ensuring we have the foundation of our Commercial team in place, ready to execute our strategy and grow our global presence.

Give us the 10,000 foot view of the port today. What is your vision for the future – what's the one thing that you absolutely have to get done in the next 18 months?
JAXPORT can access the world and we want the world to know it. Within the next 18 months, I want to ensure that all of our current and potential business partners have a crisp, clear understanding of JAXPORT's outstanding intermodal connectivity. That they understand the opportunity presented by the scale of population growth, in the region, in the state and here in Northeast Florida. That there is room to grow here with 6 million square feet of spec warehousing space projected for the next 5 years. That all of the pieces of the efficiency puzzle are already in place – superior highway and rail connections, updated infrastructure, deep and experienced labor – and ready for the completion of our 47 foot harbor deepening project.

You are responsible for leading JAXPORT's international cargo sales and marketing initiatives as well as tracking trends and issues related to maximizing the port's business potential. Give us a synopsis of that international footprint and then, the upside potential for the port to achieve its ultimate potential.
We currently touch 140 ports globally through ro-ro, container or breakbulk services. This is just the start. The potential here is extraordinary. JAXPORT is a tremendous success story and on the cusp of continued, incredible growth both for the port and for our business partners. However, we cannot simply tell the story of what is working here; we must also explain and validate the reasons behind our success. It is about instilling confidence in our very real ability to help our customers and their customers reach business goals.

You have served in business development roles of increasing responsibility for shipping lines owned by A.P. Moller – Maersk. In theory, ports and liners all want the same thing: robust profits, quick turnarounds and safe operations. Does your previous experience help you market the port today? How so?
It is the perspective I bring. My prior experience allows me to understand the carrier decision base for a deployment schedule and that understanding helps our team build a meaningful value proposition for choosing JAXPORT.

Jacksonville remains at the epicenter of Post-hurricane Puerto Rico recovery efforts. Much of that effort stems from Tote and Crowley, of course, but the port also has to play a role. Where has Jacksonville been helpful?
JAXPORT serves two fundamental roles. First, we offer operational flexibility. This gives us the ability to flex on schedules, labor fluidity and round the clock accessibility, which leads to nimbleness. Second, we help coordinate with entities within the community. This allowed us to capture the charitable energy of the greater Jacksonville area for the benefit of the hurricane victims and assist with all of the logistics services that keep the supply chain fluid with Puerto Rico. We also serve Puerto Rico through Trailer Bridge.

You saw rapid growth in box shipping in the past year. But, then, most ports did. This is a function of a then red hot economy, and, in part, the rush to 'beat the tariffs.' What's your projection for 2019's JAXPORT box traffic, why and what role will U.S. trade policy play in that outcome?
One of the cornerstones of strength in JAXPORT is our diversification. We have built a business model that allows us to best weather the storm when the economy throws us a curve ball. We cannot predict the future, but we have a business model that considers contingency planning to offset disruptions.

Your harbor deepening project is well underway. Tell us where we are on that journey, how much more work needs to be done, and what it will mean for the port once completed. Will you be able to receive 'full and down' 20K+ TEU boxships when done?
Congress authorized a 13-mile deepening project for Jacksonville, which we have always supported. We have divided this into four phases. Currently we are focused on funding the initial three phases to 11 miles so we can expedite the acceptance of more cargo aboard the larger container ships. It is not entirely accurate to put forth exact sizes as weight and air draft certainly play a factor. Once the deepening project is complete and we are at 47 feet, we will be able to handle 13,000 plus TEU vessels.

LNG powered vessels have arrived. And, for East Coast operations at least, JAXPORT is at the heart of that conversation, especially considering that you have two port customers employing two separate means of bunkering. That implies flexibility for the next LNG adopter. How important is the LNG bunker variable and where do you go from here?
We are watching this closely. We have much to positively capitalize on with the success of LNG in Jacksonville. As an organization, we are further assessing what this means for our region and for JAXPORT. Certainly, I believe Jacksonville's maritime community has positioned itself as innovative and willing to use advances in technology to everyone's benefit and I expect to see more of this kind of creative thinking in the future.

JAXPORT is known for many things; among them, the robust RO/RO trade in this port. What's fueling that, what's next and are there plans to expand that footprint?
As one of the nation's busiest vehicle handling ports, Ro-Ro helps define us. Our reputation, our location and connections plus the depth and skill of our labor continue to fuel our growth in this area. We recognize the need for additional space. To offer this to the industry properly, we are carefully assessing what optimal expansion plans look like. We are doing this with feedback from our tenants and customers, with support from a robust business model that can drive growth and prosperity.

You recently welcomed the first port call from a ZIM Integrated Shipping Services Ltd. (ZIM) vessel. The 10,070-TEU (container) Tianjin vessel made its maiden call to the port's Blount Island Marine Terminal in mid-October. This is a new liner port call, yes? What will be the frequency going forward?
This is weekly service for our 2M partners, by which ZIM is the vessel operator. We look to further build the frequency of transpacific services with all of our partners.

Jacksonville as a cruise port and a tourism destination is growing. You compete with the world's third busiest cruise port right up the highway – Port Canaveral. What is your best selling point and what's the "cruise Business" plan for the next five years?
People love Jacksonville for cruise because of ease of accessibility. We are a "drive-to" market (4 to 6 hours) which creates an easy and cost effective environment for families to vacation. We believe in our business model of diversification and we are always exploring new opportunities to expand our cruise business.

Your web site says (briefly) "95 percent of passengers surveyed said they would choose Jacksonville for their next cruise departure." What are the most compelling reasons for that?
To name just a few: the accessibility of our JAXPORT Cruise Terminal, the ease of getting in and out of the area, the great customer service offered by our embarkation team and the fun they have aboard our homeported Carnival Cruise Line vessel.

JAXPORT is one of only 17 US Strategic Ports on-call to move military cargo for national defense (and the only one in Florida). What's the criteria for that? In other words, why JAXPORT?
This is a combination of the military presence in Jacksonville and our commercial footprint. Because of the size of our commercial operations, we have the scale and bandwidth to handle the needs of military cargo moves. Additionally our 14 Ro-Ro services also contribute to the ease of military moves.

What is the export / import mix for cargo right now at the port? Do you import more than you export at this time? How much of your TOTAL trade is with Puerto Rico? What's the ultimate goal for that split?
In total tonnage, we are nearly 50/50 with 52% exports and 48% imports. Puerto Rico accounted for 58 percent of our overall business last year. We are pleased with such a healthy balance.

Jacksonville is the No. 1 container port complex in Florida moving more than one million containers last year. That's not surprising given the projections for growth in commerce, that it is the epicenter of U.S. mainland / Puerto Rico trade, and the expected explosion general population in the Southeast USA over the next decade? What's the long term goal?
To demonstrate our accessibility globally and within the southeast region through our growing intermodal infrastructure and ease of operations dockside.

Tell us one thing about JAXPORT that we should know, but isn't necessarily well known outside the gates of the port?
We access the world with connectivity to 140 ports. We are diversified and serve breakbulk, containers and ro-ro. We have two class 1 railway services and three interstates that can take you anywhere north, west or south. We are an economic engine for Florida and we are very proud to contribute to the vibrancy of our community.
This article first appeared in JAN/FEB print edition of Maritime Logistics Professional magazine.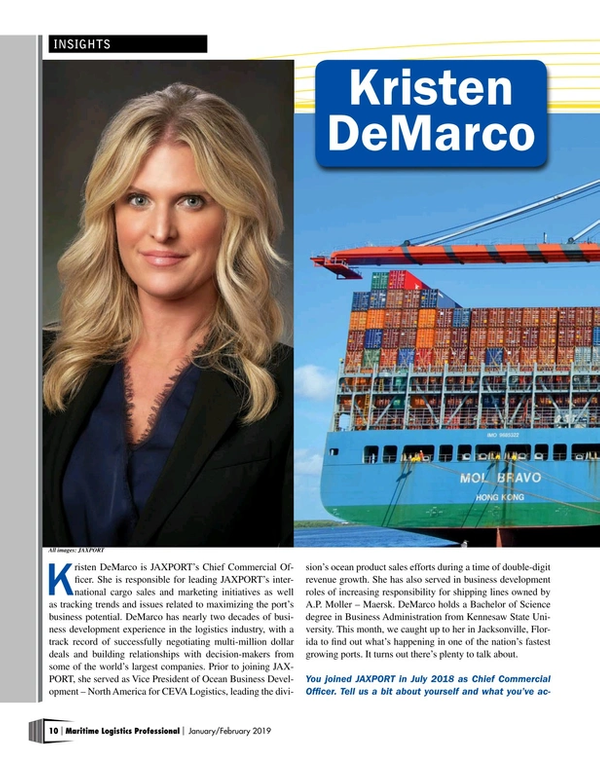 Read INSIGHTS: Kristen DeMarco, JAXPORT Chief Commercial Officer in Pdf, Flash or Html5 edition of Jan/Feb 2019 Maritime Logistics Professional
Other stories from Jan/Feb 2019 issue
Content