N.Y. SNAME To Hold Tanker Symposium At Kings Pt. April 23
The New York Metropolitan Section of The Society of Naval Architects and Marine Engineers (SNAME) will hold an all-day Tanker Symposium at the U.S.
Merchant Marine Academy at Kings Point, Long Island, N.Y., April 23, 1976.
The highlights of the symposium will be a dinner address by Robert J. BlackwelJ, Assistant Secretary for Maritime Affairs, U.S. Department of Commerce, and preview tours of the Computer Aided Operation Research Facility (CAORF) at Kings Point, which is to be dedicated in May of this year.
The theme of the symposium is "Future Considerations for Tankers." This was prompted after considering the number of years that large tanker construction programs have been underway.
It is now appropriate to consider what problems have arisen due to these ships. In addition, the current depression in the tanker market has raised the question of using tankers for other than their originally intended mission.
The agenda will include four papers: "Naval Use of Commercial Tankers" by T.G. Connors, Office of Ship Construction, Maritime Administration (9:30 a.m.) ; "Tanker Safety" by Rear Adm.
L.S. McCready, USMS (ret.), L.S.
McCready Engineering Enterprises, and Capt. H.M. Stephens, Certified Safety P r o f e s s i o n a l , p r e s i d e n t , Ships' Operational Safety, Inc. (10:30 a.m.); "An Introduction to the Cutaway Hull" by S.J. Dwyer and M.D.
Comens, Gulf Oil Corp., Marine Department (11:30 a.m.), and "Port Issues" by Comdr. C.F.
Viveiros Jr., Deep Water Project, United States Coast Guard (2:30 p.m.). F o l l o w i n g the papers, there will be a panel discussion (3:30 p.m.) with various representatives from the maritime community participating. The moderator of the panel will be Arthur McKenzie, director, Tanker Advisory Center.
Luncheon and dinner will be served in the Officers Club. Dinner will include a sponsored cocktail hour.
The cost of the symposium is $12 per person, which includes luncheon and dinner. Nonmembers of the Society are welcome. For more information, contact Eric E.
Lithen (212) 466-2393.
The Computer Aided Operation Research Facility (CAORF) at Kings Point is a large maritime research simulator consisting of a full ship's bridge outfitted with appropriate control and display equipment connected to a computer.
With this system, responses to bridge commands can be generated and converted to instrument display and an out-ofthe- window visual picture that extends over 240 degrees.
The four papers span several different subjects. The paper "Naval Use of Commercial Tankers" by T.G. Connors looks at characteristics of commercial tankers and the corresponding characteristics of Navy fleet oilers f o r their similarities and differences and how and to what extent commercial ships can perform as fleet oilers for fueling at sea operations and underway replenishment.
The subject of National Defense Features (NDF), speeds and vessel conversion times in the event that subsidized vessels must be utilized by the Navy are addressed for both conventional tankers and LNG carriers. Successful fueling at sea exercises involving merchant tankers with civilian crews will also be described.
"Tanker Safety" by Rear Adm.
L.S. McCready and Capt. H.M.
Stephens describes the formal structure and operation of a Professional Safety Program as related to the operation of tankers.
The elaborate and growing structure of legal and administrative safety rules and regulations is described, along with the workings of the laws and courts.
Emerging from a sometimes perfunctory or hidden status, marine safety is shown as a factor of truly compelling importance from the standpoints of: The public interest in safer tanker operations, and increasing monetary impact of accidents via benefit/cost relationship.
An "Introduction to The Cutaway Hull" by S.J. Dwyer and M.D. Comens describes the Cutaway Hull Form which could be used for tankers that are required to operate about half of the time in a ballast condition.
The principle is defined in terms of decrease in hull volume below the ballast draft that is replaced between the ballast draft and load draft, by an increase in either draft, beam or length, or by a combination increase of any of these dimensions. The results of this shift of buoyancy is looked at from the standpoint of change in speed and in both ballast and loaded condition. An economic analysis addresses operational costs and building costs.
"Port Issues" by Comdr. C.F.
Viveiros Jr. reviews the events that occurred necessitating Congress to enact legislation authorizing the construction and operation of facilities which could handle supertankers. The various design alternatives and their advantages for deepwater ports is reviewed, along with the major problems and unknowns associated with the design and operation of deepwater ports. The two applications for a license to construct and operate deepwater ports that have been submitted to the Coast Guard will be briefly summarized. The primary features of the Deepwater Port Act of 1974, the regulations and the role of the Coast Guard in connection with deepwater ports will be presented.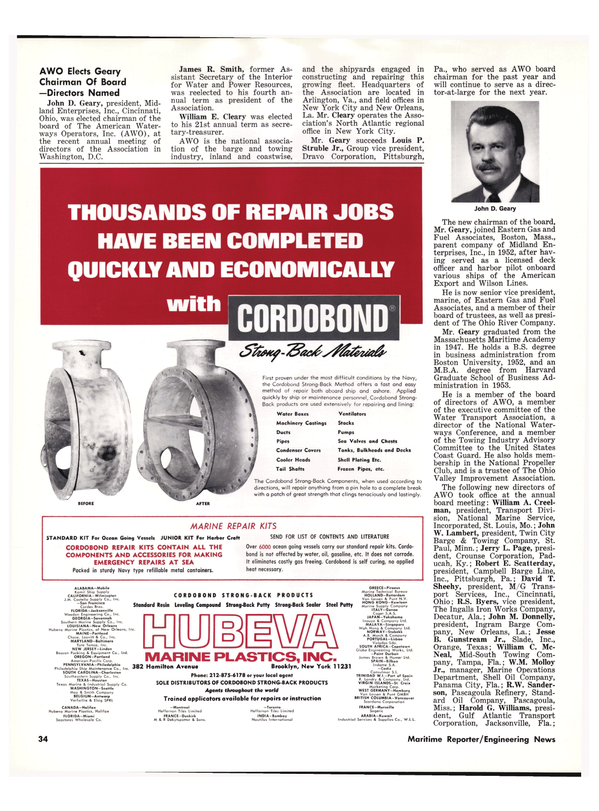 Read N.Y. SNAME To Hold Tanker Symposium At Kings Pt. April 23 in Pdf, Flash or Html5 edition of April 1976 Maritime Reporter
Other stories from April 1976 issue
Content