Cummins Introduces First Of Its B And C Series Marine Models
Cummins Engine Company recently introduced the first Marine models of its new B and C Series of lower horsepower diesels, which will expand Cummins Marine product line to 61 horsepower on the low end.
The B Series propulsion engines will consist of four and six-cylinder models with displacement of 3.9 and 5.9 liters, covering 76 to 152 horsepower, rated 2,500 rpm for intermittent duty and at 2,800 rpm for maximum duty. These engines are capable of providing main propulsion power in a wide variety of marine applications. Cummins has the 2,500-rpm B Series available now.
The C Series propulsion engines, available in the second half of 1986, consists of six-cylinder engines with a displacement of 3.8 liters, ranging from 158 to 204 horsepower.
Cummins is also introducing a completely new line of Marine auxiliary generator drive engines. Initially, B Series products rated at 61, 82 and 97 brake horsepower at 1,800 rpm will be available. Higher and lower horsepower ratings will be made available in the near future.
Design Objective Cummins reports when they originally began the design of these engines, ambitious goals were set for durability, reliability and fuel efficiency.
Furthermore, these engines had to be as compact and lightweight as possible so they could be easily adapted to a wide variety of applications and could be manufactured at lowest possible cost. This had to be achieved without sacrifice in strength and durability.
Since the market is so varied in this horsepower range, the engine design had to be flexible in order to meet the variety of requirements in the marketplace. The design also had to be easily serviceable since the engines would be used in diverse areas throughout the world.
Finally, the design had to meet the requirements of a high volume manufacturing facility with emphasis on keeping unit costs as low as possible.
The cast iron cylinder block has deep, ribbed skirts and main bearing supports between each cylinder for maximum strength and rigidity.
The single piece cylinder head is made of cast iron and is attached to the block with six capscrews surrounding each cylinder to provide maximum structural stiffness of the block/head assembly and to minimize bore distortion. The single piece design allows relatively close cylinder spacing to minimize the overall engine length. The head is a cross-flow design, exhaust and intake on opposite sides, with high swirl inlet ports to provide efficient air flow through the head, reduce pumping losses and provide thorough mixing of fuel and air for low fuel consumption.
The I-beam cross-section connecting rods are made from forged steel and are relatively short compared to the stroke of the engine to provide maximum structural strength while minimizing the overall height of the engine. The capto- rod interface is angle split with capscrew attachment for easy serviceability.
The crankshaft is a steel forging with integral counterweights. The crankshaft has large diameter main and rod journals (83-mm-diameter main and 60-mm-diameter rod) to maximize crankshaft stiffness and minimize bearing wear.
The bottom end of the engine was designed to withstand the high loads of turbocharging without sacrificing durability.
All B Series engines will use a direct injection fuel system with a distributor-type fuel pump.
One of the key design criteria for the B Series engines was simplicity so that the engines could be easily serviced with simple tools. One of the ways this was accomplished was by minimizing the total number of parts in the engine. Combining parts to minimize external plumbing and fasteners has greatly reduced the number of parts in the engines. For instance, the water pump inlet and volute, the lube pump housing, the lube oil cooler housing, and the water bypass line are part of the cylinder block casting.
The thermostat housing, intake manifold, the fuel filter head are cast integral with the cylinder head.
The Cummins water pump has up to 60 percent fewer parts than many other water pumps.
Cummins reports the unitized design concept means that the B Series engines have up to 40 percent fewer parts than other engines in the same power range.
"An engine that requires fewer parts offers several benefits to the user," said Philip Jones, Cummins Engine Company's vice president of engine projects. "For one, a reduced number of parts decreases the probability of component failure, thus increasing engine reliability. Fewer parts also mean lower service parts inventories to the dealer and the customer." Great care was taken in the design to assure that the engine could be easily serviced and be completely disassembled and assembled using only simple hand tools. No special service tools are required. Mechanics will not require extensive training, and maintenance and repairs can be accomplished in less time at a lower cost.
Cummins has developed procedures for reconditioning the head, cylinder block and crankshaft in local machine shops. As an example, induction-hardened bearing surfaces and fillets allow the crankshaft to be reground up to .040 in. (1 mm) undersize and fitted with oversized bearings.
Cummins believes its B Series design combines simplicity, compactness and light weight without sacrificing strength. The company used three dimensional finite element stress analysis and other sophisticated techniques to design engines that would reliably withstand the added stress of turbocharging.
The Cummins worldwide parts and service network offers a wide range of repair options to keep equipment running and minimize repair cost. Genuine Cummins parts were available worldwide at the product's introduction. Cummins remanufacturing subsidiary, Diesel ReCon, will offer a full line of competitively priced B Series ReCon components and engines.
Complete detailed brochures and literature are available, at no cost, which provide full technical data as well as service and warantee information.
For free literature describing Cummins B engines, Circle 47 on Reader Service Card For a brochure describing the complete line of Cummins diesel engines, Circle 49 on Reader Service Card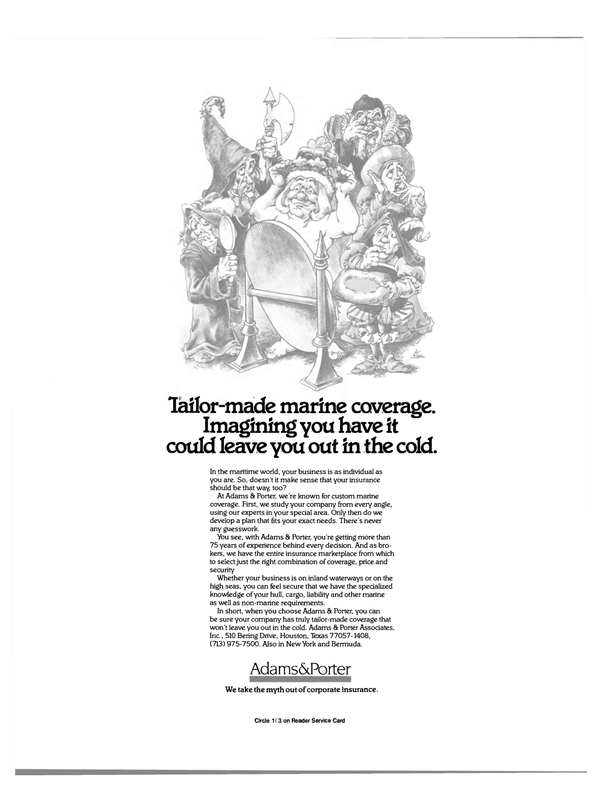 Read Cummins Introduces First Of Its B And C Series Marine Models in Pdf, Flash or Html5 edition of March 15, 1985 Maritime Reporter
Other stories from March 15, 1985 issue
Content