Double Trouble? Double Trouble?
The U.S. was instrumental in the introduction on a large scale of double-hulled tankers. Born out of a desire to make tanker vessels safer by making them more resilient in the event of a grounding or collision, double-hull designs nonetheless have corrosion properties that legislators did not foresee. Double-hulled carriers quickly proved themselves far more susceptible to internal corrosion than their single-hulled predecessors.
Coatings manufacturers are now working hard towards a solution, according to one leading coatings specialist.
"When the first generation of double-hulled tankers were taken into service, their owners were startled to find that their state-of-the-art ships were rotting away almost twice as quickly as single- hulled tankers. Pitting corrosion in the inner tank top plating was taking place at an annual rate of between 1 mm and 2 mm. In some instances, pits developed as deep as 7 mm to 9 mm within five years. That's 40 percent of the original plating thickness," says Ed Jansen of Antwerp-based Expertise- en Ingenieursbureau Touw-Jansen, a specialist marine consultancy firm.
This came as a shock to the system to an industry that had been used to doing major corrosion repair work around the time of the second special survey.
Suddenly, owners found that they were footing hefty repair bills on very young ships. But why were double-hulled tankers rusting away so quickly?
The answer was provided only recently, thanks to work done by Sigma Coatings, for whom Jansen acts as a consultant.
"Research done by Rodney Towers at Sigma suggests that the corrosion problems caused on board double-hulled tankers can be attributed to the thermos- flask effect of the design. Crude oil is usually loaded in locations where temperatures can reach as high as 45 to 50 degrees Celsius. It is then shipped to locations that are much cooler. If it is carried on board single-hulled ships, the oil cools down comparatively quickly under the influence of the ambient sea temperature, reaching sea temperature between 36 and 48 hours after being loaded, depending on the volume of oil and other factors.
On board double-hulled vessels, cooling down times are much longer, taking days rather than hours," Jansen explains. Oil in double-hulled tanks takes an average of 20 days to reach sea temperature, he adds.
The significance of the longer cooling down period is found in the lifecycle of corrosion inducing bacteria. The bacteria survive longer in the warmer oil in double-hulled ships, lengthening the electrochemical corrosion process that naturally occurs at the bottom of cargo tanks on board oil carriers.
Not only do the bottom of tanks on board doublehulled vessels rust more rapidly, under-deck plating and ullage areas are more prone to corrosion as well. The reason for this is a different one, however.
Here, it is the choice of construction material that is significant. To offset the increase in weight due to the extra steel required for double-hulled newbuilds, shipyards incorporated higher levels of high-tensile steel into their designs. "High-tensile steel ships are subject to greater degrees of hull flexing at sea. This is important when you consider the corrosive processes in under-deck and ullage spaces," Jansen says. During ballast voyages, inert gas is pumped into the cargo tanks of tankers to prevent the build up of flammable gases from cargo residues. Inert gas is also used to fill up the ullage space left after a cargo has been loaded. The gas used is generally pumped in at a temperature of roughly 45 degrees Celsius.
At night, the natural drop in temperature will cause the gas to cool to around 20 degrees Celsius.
Even the thermos-flask characteristics of a doublehulled ship cannot prevent this. As a result, the walls lining the spaces filled with gas are covered in condensation.
Rodney Towers' study suggests that in an inerted VLCC as much as 12 tons of condensation can be created each night. "The condensation dissolves solubles in the inert gas mixture that trigger the corrosion process," Jansen explains.
This is particularly damaging for ships with high levels of high-tensile steel. Their increased flexing during voyages leads to higher levels of flaking. Flaking exposes fresh areas of steel for the corrosive solubles to do their damage. According to Jansen, "By encouraging flaking, high-tensile steel is its own worst enemy." The good news for owners is that coatings manufacturers have been hard at work to develop products that will help prevent excessive corrosion. Rodney Towers' work has been very significant and Sigma Coatings is addressing the issues raised by his research. Jansen will be helping the company better understand the requirements of modern tanker shipping. "Improved coatings, a clearer understanding of coatings on the part of crews, and investment in coatings by owners at the newbuild stage will help prevent double-hulled tankers from causing more problems than they solve," he says.
Wheelabrator Elects N e w Sales Manager Wheelabrator Abrasives, Atlanta, Ga., has named Christopher Pawlicki as the regional sales manager for Ohio, the Northeastern U.S. and Ontario, Canada.
Pawlicki, who has an extensive background in industrial sales, most recently served as a manufacturer's representative for various quality products.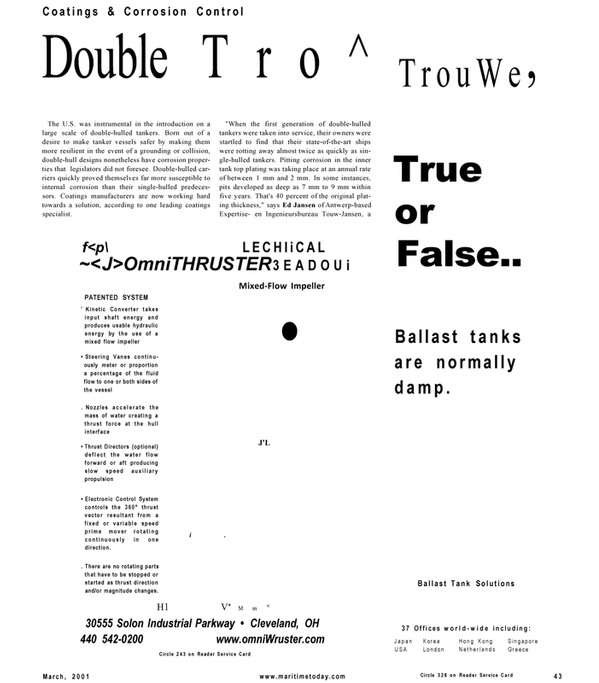 Read Double Trouble? Double Trouble? in Pdf, Flash or Html5 edition of March 2001 Maritime Reporter
Other stories from March 2001 issue
Content