B2B for International Trade and Transport
by George F. Chandler III, Hill Rivkins & Hayden LLP
Notwithstanding the hysteria surrounding it, Y2K turned out to be a non-event, but it did produce an unintended consequence. Business-to-Business (B2B) ventures that would have been introduced in the second-half of 1999 were postponed until the effects of Y2K could be determined. Thus, there was a flood of introductions of B2B's in the first quarter of 2000 that created a stampede of announcements by companies that were reluctant to be left behind. Many announcements were mere hype with empty websites or no website at all.
However, there are enough operable websites to give sustenance to the expectation that the longawaited electronic commerce revolution in international trade and transport may be at hand.
Throughout the 1990's Electronic Data Interchange (EDI) promised to capture the business world and lend it to the promise-land of paper-free transactions. While EDI was the solution for large enterprises, particularly in the automotive, chemical and retail industries, small and medium sized enterprises did not take to EDI due to the high entry cost for software, training, and steep learning curves. B2B sidesteps these hurdles and permits access with relatively inexpensive desktop computers and an Internet connection. A typical B2B website is user friendly, and requires no additional software for training. Colorful graphics and well mapped out pages, lead the user to cheap and easy transactions.
As the Internet is currently used, a website is accessed, a transaction made and a printout is obtained. This is fine for one-time or occasional transactions, but the multiple transaction of business requires integration between the systems of the parties making the transactions to retrieve and send data between them, then record it or reuse it. The advantage of EDI was, and is, that a data field, such the description of goods being purchased, could be captured and re-used over and over again in bills of lading, insurance certificates, customs documents, etc. Unless the parties are both using EDI, or happen to have the same computer business systems, a B2B website is a one-way street for the flow of information, leaving the user unable to capture any data. However, XML (Extensible Markup Language), a variation of HTML (Hypertext Markup Language) — without which websites would not have been so easy to put together, provides the ability to integrate systems, thus allowing a user to capture data. Already in use, XML is providing such integration to many systems, and as XML standards are created, data can be downloaded and exchanged between any systems. The beauty of this solution is that companies would not have to discard their EDI systems to participate in B2B as long as they add XML to it, and users of such a Web site would not have to have EDI in order to capture data to record and reuse in their own systems. Many B2B websites for international trade and transport are online in one stage of development or another as has been reported in this magazine. The advantages of B2B to such a fragmented sector as international trade and transport are many: access to a more diverse customer base, fewer barriers to trade, faster and cheaper transactions, avoiding expensive private networks, the ability to partner with complementary services, and a "no-tech" business solution that is affordable.
While there are far too many websites for some areas such as trading chemicals or freight auctions, natural selection has begun to whittle them down to a select few. The successful B2B websites will be those that can provide the means to obtain all needed services through links or other means to complete a transaction.
Transportation websites, which are numerous, have been slow to partner with trading websites.
One of the largest chemical trading Web sites, Chem- Match (which has financing and other links), has linked with the chemical shipping website, ChemLink (affiliated with Stolt Tankers), in the first of such linkages.
The natural advantages of such linkages will, no doubt, lead to other arrangements.
Unlike the other computing hypes of the past, the revolution in electronic commerce through B2B's will take place, and, in fact, is taking place. However, computing rarely delivers on time, so it is going to take a while to sort out all the websites, get all the ancillary services up and linked, and have all the bugs worked out of XML, before electronic commerce for international trade and transport can be said to be an established business practice. But, at least, it has found a direction.
Recently, the U.S. and the U.K. took important steps to recognize digital signatures by enacting laws permitting their use, and putting electronic commerce on the same footing as other methods of doing business. These laws are neutral as to the technology and techniques to be used, even though many sought to lock in the technology and have firm rules for techniques. At least electronic commerce and digital signatures have a legal basis in the U.S. and the U.K., and most developed countries will soon follow, such that the main uncertainty in using electronic commerce, in general, and digital signatures, specifically, has been removed.
The dawning of B2B has removed the excuses for resisting the extension of computer systems into all aspects of trade and transport. Cost and training are no longer an impediment to participating in B2B.
Legal impediments are being removed as well. Those involved in trade and transport that fail to include this new business technique into their business procedures, run the risk of losing out to competition that will become more effective and efficient through the use of B2B.
George Chandler is a partner in Hill Rivkins & Hayden LLP in Houston, Texas. A more detailed paper on this subject is available upon request at [email protected]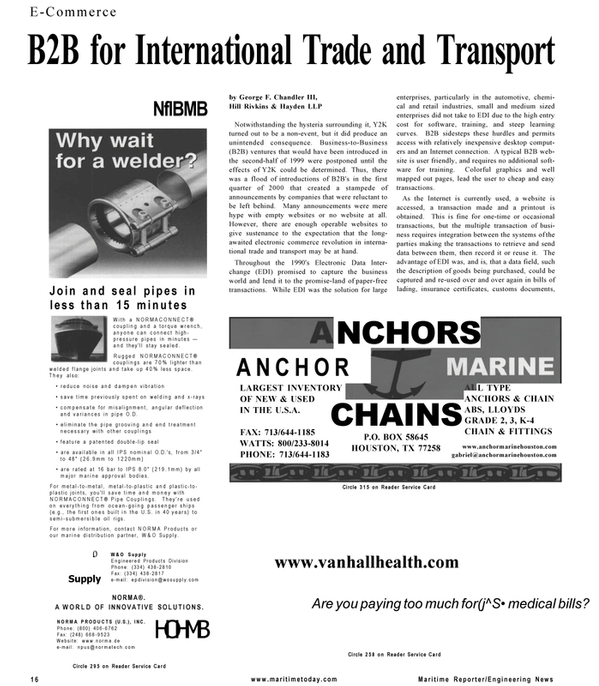 Read B2B for International Trade and Transport in Pdf, Flash or Html5 edition of March 2001 Maritime Reporter
Other stories from March 2001 issue
Content