IZAR: Hoisting More Than a New Image
By Greg Trauthwein
With a combined sum of two and half centuries of shipbuilding experience, the new Spanish shipbuilding conglomerate, IZAR — billed as shipbuilding's new one-stop shop — is hardly a neophyte entering the highly competitive world of international shipbuilding.
Comprised of the assets of the former Bazan and Astilleros Espanoles, IZAR (which, in Spanish, means "to hoist") immediately becomes the world's ninth largest shipbuilding group, with a cumulative orderbook approaching four billion Euros. A toned behemoth intent on recapturing market share across a broad spectrum and led by Jose A.
Casanova, chairman & CEO, the company is embarked on a plan of prudent investment in technology; technology aimed at enabling its facilities to competitively compete in the building of high-value ships with any yard of its stature, located anyplace in the world.
A History with a Future The Spanish shipbuilding presence began more than 250 years ago, with the construction of shipyards in Ferrol and Cadiz, among other locales, in support of its burgeoning naval operations. In the early 1900s the company expanded its repertoire with an entrance in the commercial business, with new yards built and re-built around Spain. Eventually, the military business was spun off into Bazan, and the recent move — the culmination of a plan by SEPI — is simply putting the company back together.
While there ultimately is a plan to take the company private — the Spanish government and SEPI having published this intention — Casanova admits "we are on the list, but we are far down on the list." In a time when gargantuan corporate consolidations are the norm rather than the exception, the reformation of Spanish shipbuilding prowess under one flag should hardly come as a shock. But the new entity — well-endowed with a highly-skilled and flexible worker base, a proven performance in building highvalue, quality ships, and a diversity of facilities to handle any marine need - will be challenged tomorrow as yesterday, by an oversupply of shipbuilding capacity and the political whims which lead to subsidized shipbuilding in many countries.
A cornerstone of IZAR's plan to make the organization efficient, competitive and profitable is investment in technological upgrades throughout its 12 facilities, upgrades that will foster creativity and new marine solutions, helping it to not only fulfill but to keep a step ahead of customer needs and market trends. In total, there is currently in excess of 700 million Euros earmarked for investment in "Process and Innovation" projects, including development of new fast transport ship types, cruise vessels and naval ships.
The philosophy come from the new management's intent to prioritize innovation, specifically by developing and perfecting a portfolio of innovative products, increasing productivity, and offering added-value products with high-tech content.
Providing the glue for this plan, according to Casanova, is the synergy that is inherent in the coupling of a commercial and naval shipyard, and he classifies this synergy as the primary strength of the new organization. For example, the naval side of the business will lend an invaluable access to a level of high technology uncommon in most commercial marine sectors. As shipowners — driven by international, national and regional regulations, as well as the constant push for increased lifecycle performance and increased cost efficiency — are demanding and receiving unprecedented levels of technological product and system development.
Similarly, the military side of the business can benefit from streamlining of process and materials procurement inherent on the commercial side.
While today's orderbook is more heavily skewed toward naval business, the new company optimally will enjoy a 40 percent military, 40 to 50 percent commercial and 10 percent "other" split of business.
More than a Manufacturer While the synergy of the naval and commercial businesses is a key to IZAR's long-term success, another cornerstone of the new operation is embodied in the one-stop-shop philosophy.
More than a simple slogan, Casanova notes that prior to the merger, the main product offering was the manufacture of ships. Now, the combined organization employs 10 times more naval architects and marine engineers — 600 v. 60 — and offer owners full service from design through manufacture, as well as a larger engineering capacity and valuables services for large fleets. The combined company today employs 11,000, and while the trend in big business inside and out of the marine industry has been to slim forces in the face of economic slowdown, Casanova is adamant to retain a highly trained workforce.
Market Opportunities IZAR is truly looking to leverage its combined engineering and financial base to help not only fulfill market needs, but define them. While the company lost an estimated 100 million Euros in 2000, it is anticipated that the company will break even by 2003. This prospect may seem unlikely to some outsiders, given the tight margin nature of the shipbuilding business and the precarious nature of subsidy reduction pro- grams, but Casanova and his executive team feel confident that this renewed focus on providing technologically superior, diverse products will make the difference.
In particular, the company sees vast opportunities in the business of transporting oil and gas products, given the current level of sustained high freight rates, the pressure from international and national authorities to provide transportation of such products in a manner that maximizes environmental protection, which of course include a strong demand for double hull units. Several recent cases, from the Erika to the Castor, lend credence to this assertion.
Much of the investment of the next four years will be spent on producing the capability to design and build vessels that are more automated and fuel efficient, which is where the company's Systems Division will play a key role.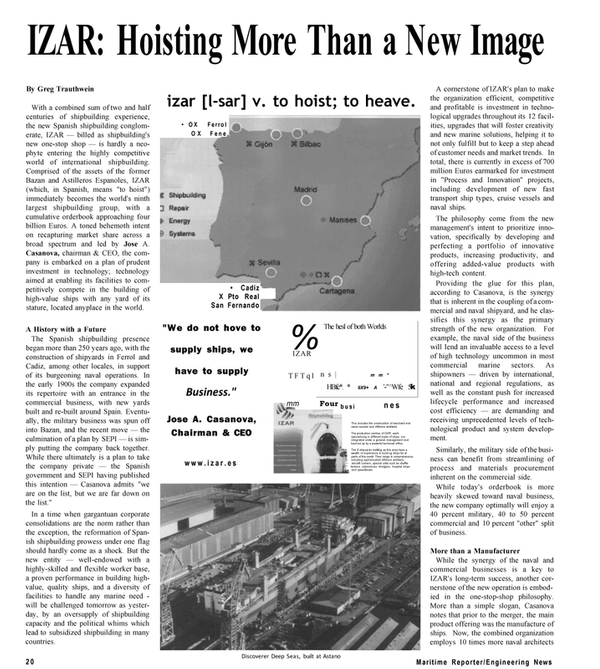 Read IZAR: Hoisting More Than a New Image in Pdf, Flash or Html5 edition of March 2001 Maritime Reporter
Other stories from March 2001 issue
Content