A 3D Virtual Interface to Access Ship Data
By Stephen J. Baum and Ted L. Briggs
Individuals across the shipbuilding enterprise depend on Web access and availability of digital ship data to perform their daily duties. As increasingly larger quantities of ship data become available digitally, the end user often finds it difficult to locate the required data for several reasons. First, it is difficult for the causal user to quickly and easily navigate through volumes of data to find what is of importance. Simple keyword searches based on textual queries are often frustrating and are regularly unsuccessful due to the lack of data standardization.
Second, data tends to be distributed across a number of disparate data systems that typically do not communicate or intemperate and are often "out of sync." The user must then log into each data system individually, retrieve the data, and then manually integrate and validate the data. A 3-D graphical interface can provide a simple, intuitive method to assimilate and access data.
This is particularly true for an interface based upon a first-person perspective (FPP). in which the user can virtually navigate throughout a ship and retrieve information about equipment and components from multiple data systems.
This type of interface is called a virtual interface. This 3D virtual interface is intuitive and easy to use. especially for a generation of users already familiar with gaming interfaces.
myShipVI Intergraph has developed a generalpurpose.
Web-based 3D interactive virtual interface for ship data called myShipVI™, which is based on a FPP and runs on off-the-shelf hardware and software. It is built on a graphic-rendering engine designed to support simulation and gaming. The 3D graphic inter- face enables a user to tour a virtual ship while providing access to the latest data from a variety of sources.
mvShipVI is different than traditional modeling and simulation tools in that it is optimized to execute on a standard desktop or laptop, running well on a minimum of a single 700 MHz processor and 512 MB RAM.
The original concept for a 3D virtual interface was an application that would allow users to be virtually placed in a 3D ship environment where all of the significant equipment is loaded and easily identifiable, just as they are on a physical ship. The display engine needed to offer simple navigation skills and allow the user to interactively touch items to retrieve pertinent related information.
The primary overall objective of the initial 3D virtual interface was to make the shipboard data more accessible, intuitive.
functional, and easier to use.
Moreover, in addition to the realism, users benefit from a tool that provides familiarization training and aids in the personnel certification process. This application can familiarize users with the vessel before it is built.
Technical Challenges Performance is vital to the success of a 3D virtual interface. The user must be able to walk smoothly throughout the ship. However, the size of the data associated with a ship, both graphics and static data, cannot be held in memory.
Hence, myShipVI adopted a strategy to load/unload models and product tree data as a user moves throughout the ship. The result is minimal waiting time as the interface loads new graphics and product trees.
Other technical challenges myShipVI faced was developing an automated process to extract and validate graphics and attributes from CAD models. Errors are often a result of the translation process, such as equipment with the wrong orientation. However, the translation process also uncovers errors in the original CAD model. Intergraph used three key automation improvements - automatic thinning, surface processing, and automated CAD model updates - to greatly improve translation efficiency.
Also challenging was the difference in the level of detail between CAD files and walkthroughs. Walkthroughs may require greater detail than what is modeled in the CAD file. A piece of equipment may be modeled with minimal detail in the CAD system since the CAD user is concerned primarily with size, shape, and connectivity to electrical, HVAC. and piping systems. Bitmaps can be added to a piece of equipment to add realism and show aspects not included in a CAD model.
Functionality Upon entering myShipVI, users view the ship from a distance. Bitmaps are used for the sky and water to enhance the realism. The 3D virtual ship model is geometrically accurate, having been extracted from the 3D CAD models used to design the ship.
The myShipVI user interface was designed to give the user multiple alternative methods to locate compartments, select a piece of equipment or component.
and retrieve data. The user can nav igate with a tree v iew located in the left hand user access area and obtain a logical breakdown of the ship/deck/compartment/part structure.
Using the ribbon bar. users can go directly to a specific compartment or graphically navigate using an overlay method to drill down to a specific deck, compartment, system, or component.
The Info Pane at the bottom of the interface gives feedback on the user's loca- tion and displays data about a selected component. Once in a compartment, all equipment and components are visible as the user walks around. Each functionally significant part is visible and selectable for retrieving pertinent data. Users can selectively hide or make transparent classes of objects, including structure, ship plating, piping. HVAC. wireways, and equipment. This feature allows users to see objects that otherwise are hidden to the user.
Implementation Users implement myShipVI using Intergraph core software. Virtual Interface™ (myVI™) and Interoperability Framework™ (myl/F™). which has widespread applicability to many different domains, including ships, buildings, and airframes.
myVI is built on a real-time graphic-rendering engine that utilizes texture-mapped polygons for performance.
myl/F provides user and application clients, such as myShipVI. a single point of access to integrated data from multiple data and information systems and repositories. It provides a scalable, extensible architecture in which applications intemperate using a common conceptual data schema. It also exposes legacy systems as Web applications and provides an integrated view of data from multiple systems using a Web browser.
The Intergraph family of 3D virtual interfaces is built on 3DLinXii. a realtime graphic rendering engine and development tool from Global Majic.
This rendering engine is designed for use with off-the-shelf PCs running MS Windows. 3DLinX utilizes OpenGL graphics acceleration and supports the importing of several graphics file formats - Wavefront OBJ. OpenFlight, 3D Studio, and Centric DWB.
Circle 91 on Reader Service Card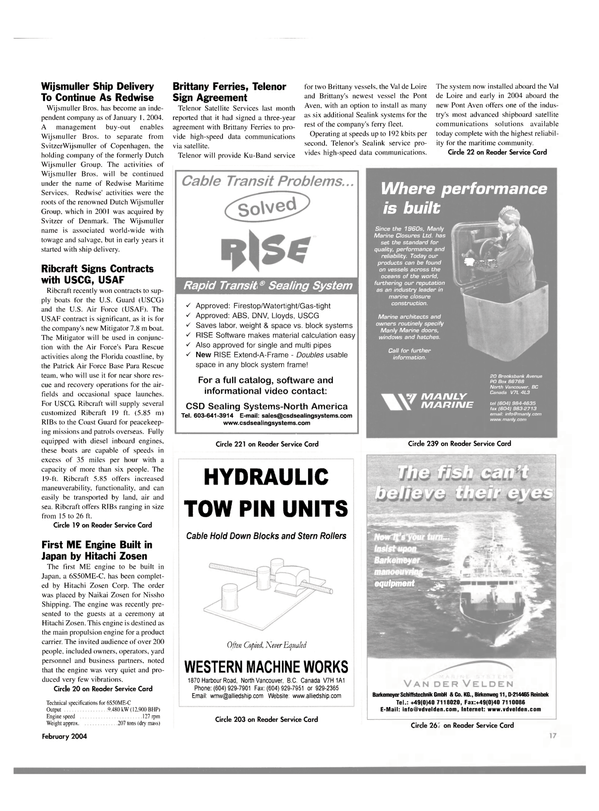 Read A 3D Virtual Interface to Access Ship Data in Pdf, Flash or Html5 edition of February 2004 Maritime Reporter
Other stories from February 2004 issue
Content