Asleep at the Wheel
On the morning of June 29, 2003. the general cargo vessel JAMBO grounded off the Summer Islands on the west coast of Scotland. The primary cause of the grounding and subsequent total loss of the ship was that the chief officer on watch fell asleep and missed his intended change of course. He was awakened by the grounding. The root cause of the casualty was extreme fatigue - the result of a long period of standing six-on, six-off watches combined with cargo loading/ unloading duties when the ship was in port.
Unfortunately, this type casualty is not rare.
Marine casualties in U.S. waters in which seafarer fatigue was cited as a major casual factor include, but are not limited to: a) Grounding of the passenger car-ferry A.
REGINAon Mona Island, Puerto Rico on February 15, 1985; b) Collision between the USS RICHARD L.
PAGE (FFG-5) and the fishing vessel CHICKADEE in the Atlantic Ocean on April 21, 1987; c) Collision between the ferries NORTH STAR and CAPE HENLOPEN at Orient Point, Long Island on July 9. 1987; d) Grounding of the tankship WORLD PRODIGY off the coast of Rhode Island on June 23, 1989; and e) Grounding of the passenger ship STAR PRINCESS on Poundstone Rock, Lynn Canal, Alaska on June 23. 1995.
The marine industry and its regulatory bodies have recognized for some time the dangers posed by fatigue.
Little has been done, though, to remedy the problem.
The UK Marine Accident Investigation Branch (MAIB) in each of its Annual Reports since at least 1998 has cited fatigue among seafarers as a significant risk factor. The U.S. Coast Guard and the New Zealand Maritime Safety Authority have also recognized the danger to marine safety caused by fatigue and sleep deprivation.
The Annex to the International Convention for the Safety of Life at Sea (SOLAS Convention) provides, at Regulation 14 of Chapter V, that contracting governments "undertake, each for its national ships, to maintain, or, if it is necessary, to adopt, measures for the purpose of ensuring that, from the point of view of safety of life at sea, all ships shall be sufficiently and efficiently manned." Expanding on this general injunction.
the Assembly of the International Maritime Organization (IMO) adopted Principles of Safe Manning. These Principles provide, in part, that, in determining the minimum safe manning level of a ship, the ability to maintain safe watches and operations and respond to various emergency situations shall be considered. Administrations should also take proper account of requirements dealing with, among other things, hours of work or rest. Every company is obligated by the Principles to ensure that shipboard personnel do not work more hours than is safe in relation to the performance of their duties and the safety of the ship. The International Safety Management (ISM) Code states that the company operating the ship is responsible for ensuring that adequate resources are provided to meet the requirements of the ship's safety management program.
The International Convention on Standards of Training, Certification and Watchkeeping for Seafarers (STCW Convention) provides more specific guidance in this regard. It states, in section A-VIII/1 of the Code, that all persons who are assigned duty as watchstanders "shall be provided a minimum of 10 hours of rest in any 24-hour period." Part B of the STCW Code, forming recommended guidance, includes a section of prevention of fatigue and notes that excessive or unreasonable overall working hours are not to be undertaken.
It is also suggested that Administrations adopt requirements for recording hours of work and hours of rest for seafarers and review their provisions on prevention of fatigue. In 2001, the IMO Maritime Safety Committee issued a Circular providing detailed guidance on fatigue mitigation and management.
U.S. law previously prohibited owners from requiring seafarers to work more than a certain number of hours each day, but did not prevent a seafarer from 'volunteering' to work additional hours. In recent years, provisions have been added to prohibit owners of many ships from permitting seafarers from work more than a certain number of hours (e.g., 15 hours in any 24-hour period or more than 36 hours in any 72-hour period) except in an emergency when life or property are endangered. The officer in charge of a deck watch on a U.S. vessel when leaving port must have been off duty for at least 6 hours within the immediately preceding 12 hours.
For a variety of reasons, including competitive pressures among carriers and among seafarers, these injunctions have not proven fully effective. Marine casualties continue to be caused by seafarer fatigue.
The National Transportation Safety Board (NTSB), among others, has evaluated the problem and made various recommendations.
It has recommended that a coordinated research program be undertaken on the effects of fatigue, sleepiness, sleep disorders, and circadian factors on transportation system safety.
It recommended that educational material for transportation industry personnel and management be developed regarding shift work, work and rest schedules, and proper regimens of health, diet, and rest. The NTSB also recommended that a review be undertaken of regulations governing hours of service for transportation industry personnel and that they incorporate the lat- est research on fatigue and sleep issues.
The U.S. Coast Guard is moving ahead on the second of these three recommendations.
It has established a Crew Endurance Management program.
The mission of this program is to develop and disseminate a system for managing the risk factors that can lead to human error and performance degrada- tion in maritime work environments.
Crew Endurance Management practices involve using specific assessment techniques to identify endurance factors in specific operations; using light-manage - ment techniques to adapt seafarers to varying work and watch schedules; and using a host of practical techniques to control such operational risk factors as Circle 262 on Reader Service Card Circle 263 on Reader Service Card stress, temperature extremes, caffeine use. and over-the-counter (OTC) drug use. It differs from fatigue management in that it attempts to address the full gamut of environmental, organizational, physiological, and psychological factors that affect seafarer stamina and alertness.
The Crew Endurance Management program is in its early stages and only time will tell how effective it is in reducing marine casualties caused by fatigue and related human factors. But, it is clearly a step in the right direction. The New Zealand Maritime Safety Authority is undertaking a similar campaign. All reasonable measures for addressing this important problem must be explored and implemented as appropriate. Otherwise, we will continue to have seafarers asleep at the wheel.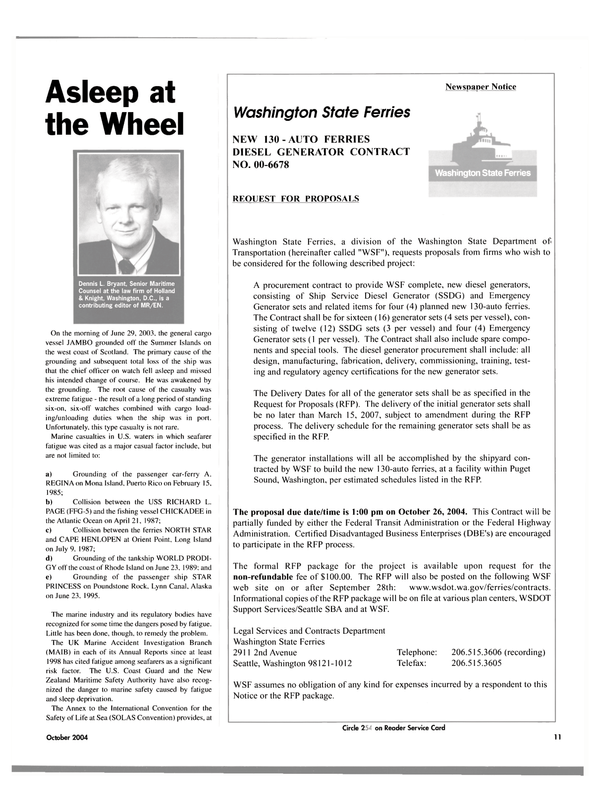 Read Asleep at the Wheel in Pdf, Flash or Html5 edition of October 2004 Maritime Reporter
Other stories from October 2004 issue
Content