Security Concerns And Superyacht Managment
by Erika Carver
Running a superyacht in 2004 is just not as easy as it used to be - if it ever was. Classification society regulations, crew qualifications, port and flag state rules, safety and security issues are a few of the newest responsibilities owners, or more likely, captains have to manage.
These additional procedures have brought about a new trend in the yacht managemenet industry with the creation of more shore-based yacht support teams geared towards facilitating the ease of a superyachts' operational concerns.
The new regulations in ISPS security and ISM safety, in particular, have sent luxury yachts in search of shore-based support because of the requirement for a "Desiginated Person Ashore" and "Company Security Officer" for commercial yachts over 500 Goss Tons.
"Non-compliance with ISPS can be very awkward for a commercial yacht because it can restrict the vessels' movements or delay her. All U.S. ports and various other countries are becoming increasingly vigilant in respect to ISPS." said Graham Thompson. Senior Project Manager of Superyacht Technologies, a Technical Management company based in Fort Lauderdale, which specializes in technical solutions for superyachts, such as class registration, ISPS and ISM Management, new construction and refit consulting.
Yacht management companies aim to provide shore-based support ranging from financial accounting administration to ISM code compliance.
Delegating some of the more awkward tasks and tedious paperwork to a specialist company can provide much needed assistance to over-burdened captains.
"As a Management Company, we view hundreds of documents per month relating to legislation, safety and security issues, commercial yacht regulations and endless government warnings. We disseminate the relevant information to our fleet Captains, ensuring that they are informed and in compliance. This leaves them the time to get on with the job of running their boats," said Peter Baker, Managing Director of Superyacht Technologies.
The trend in management companies seems to be twofold. Large parent companies acquire or enter alliances with brokerage houses, builders and management companies thereby creating a conglomerate of services like charter marketing, brokerage sales, yacht builds, technical management, and crew placement.
Some examples are CamperNicholson International/Rodrigues Group, which acquired Bob Saxons and Associates, and the latest merger between Benetii, Frasers and VYachts.
On the other end are the small, independent firms with no brokerage ties like Superyacht Technologies and Hill Robinson Yacht Management Consultants in Antibes that focus only on technical assistance like ISM. ISPS, budgeting and account management for a set fee.
A tricky area for these companies is the word "management." Most Captains don't like the idea of having a shore side company tell them how to manage their yacht.
But according to Baker, the company plays more of a consultant role in the yacht's affairs. "We advise the Captain on how best to achieve the standards of excellence required of him and his team, but of course the final decisions on operational matters rest with him. However, we do review procedures onboard the yacht and advise immediately if there are areas that could be improved," he said.
As yacht operation becomes more complex, it's evident that the role of Yacht Management Companies is set to increase.
The new MCA Large Yacht Code is likely to have a requirement for a Safety Management System for all commercial yachts under 500 tons. With a majority of luxury yachts registered under a red ensign flag, new regulations could guarantee continued work for companies providing technical assistance.
Circle 15 on Reader Service Card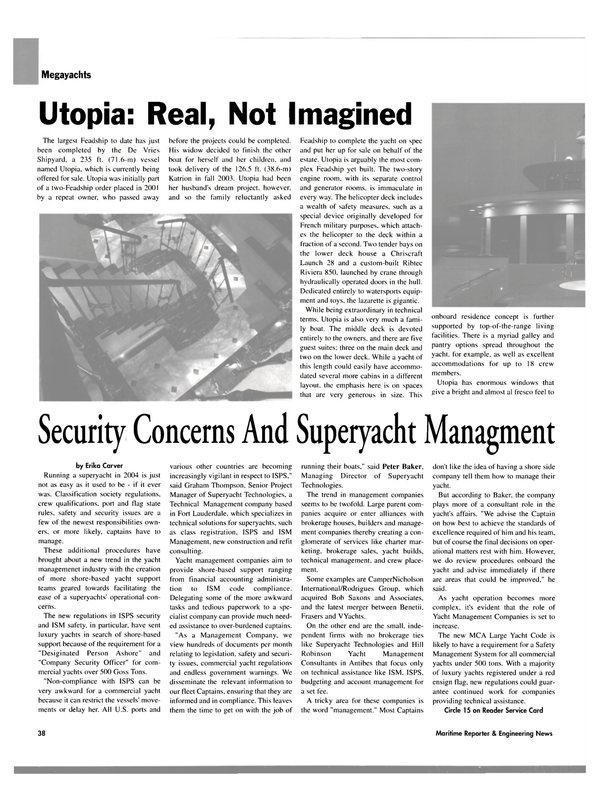 Read Security Concerns And Superyacht Managment in Pdf, Flash or Html5 edition of October 2004 Maritime Reporter
Other stories from October 2004 issue
Content