The New Name of Finnish Shipbuilding
The announced merger of Kvaerner Masa-Yards and Aker Finyards — both members of the Aker Yards Groups — draws to a conclusion nearly a decade of change within the Finnish shipbuilding community, while providing the technically talented and market capable company with a clear vision for the future.
Long an elite member of the world's select fraternity of "high value ship" builders, the Finnish maritime community has built and maintained a leadership in several technically demanding categories — cruise shipping, LNG carriers and ice ship technology, to name but a few — despite the country's relatively small size, environmental challenges and fierce competition from lower cost competitors in the Far East Aker Yards Group recently announced the merger of Kvaerner Masa-Yards Inc.
and Aker Finnyards Inc.; the new company to be named Aker Finnyards, with effect January 1, 2005.
The Deal Masa-Yards will acquire Aker Finnyards share capital and change its name into Aker Finnyards. In connection with the acquisition, the present Aker Finnyards will change its name into Aker Finnyards Rauma and function as a subsidiary to Aker Finnyards until next year, when the subsidiary will be merged with Aker Finnyards.
"Combining our two cruise- and ferry specialized shipyards bring valuable synergies and strengthens their competitive position in the global cruise- and ferry markets. It is also a natural continuation to our efforts in streamlining our operations," said Karl Erik Kjelstad.
CEO and President of Aker Yards. "We can easily draw parallels with this merger to the earlier mergers between our German shipyards in Wismar and Rostock-Warnemiinde and the ongoing merger between our Norwegian shipyards, Aker Brattvaag and Aker Langsten." The integration process will be lead by Yrjd Julin, who will continue as President for Aker Finnyards, (the previous Kvaerner Masa-Yards). The management team will consist of Senior Vice President, Business Development and Shipbuilding Projects Bo-Erik Blomqvist; Senior Vice President, Finance Jyrki Heinimaa: Senior Vice President, Design Sauli Eloranta; Senior Vice President, Purchasing Jussi Voima, Senior Vice President, Production Erik Skogstrdm, and Senior Vice President, Human Resources Marko Konu. Mr. Blomqvist will also function as Deputy to the President. He will also be responsible for Marketing and Sales.
"Kvaerner Masa-Yards and Aker Finnyards strategies complete each other. The merger gives us a firm foundation to further develop our strategy to be the global market leader in the cruise- , ferry- and technically complex vessel business. After the merger we can con- centrate on further improving our products and services for our customers," said Julin.
The new company will employ 4,500: 1,000 at the Rauma shipyard: 2000 at the Turku shipyard; 1250 at the Helsinki shipyard; and 250 at the cabin manufacturer in Piikkio and Paimio. The combined revenues of Kvaerner Masa-Yards and Aker Finnyards for 2003 was roughly EUR 1 billion.
Currently, Aker Finnyards shipyard in Rauma is building a cruise ship for Birka Line and a third Hamina-class fast surface combatant for the Finnish Navy.
Kvaerner Masa-Yards shipyard in Turku is building the world's largest cruise ferry for Color Line as well as the world's two largest cruise ships. Ultra Voyager, for Royal Caribbean International, and the shipyard in Helsinki is working on two orders from Russia, one ice breaking supply and stand-by vessel as well as an arctic container vessel. In addition to the two shipyards, Kvaerner Masa-Yards has an arc- tic technology research center and a sister company, Piikkio Works Oy, is a manufacturer of prefabricated cabins.
Second Ultra Voyager Booked In early September Royal Caribbean confirmed the order of a second Ultra Voyager — the world's largest cruise ship. Valued at approximately $711 million (€580 million), it is the world's largest cruise ship order in year 2004.
Kvaerner Masa-Yards Inc.'s Turku Shipyard, which is a part of Aker Yards, will build both of these ship, with the first to be delivered in May 2006 and the second ship in Spring 2007. These new ships are approximately 15 percent larger in space and passenger capacity than the earlier Voyager-class vessels. "We are satisfied that we together with Royal Caribbean International and the subcontractors have been able to make this an attractive project considering the challenging euro-dollar conditions," said Julin.
"Additionally, we are extremely proud of building these two giants for the cruise market." "We are delighted to continue to make cruise-ship history with Kvaerner Masa- Yards," said Royal Caribbean International Chairman and CEO Richard D. Fain. "They are truly masters at their craft and are worthy partners." The new Ultra Voyager's will measure 1,112 x 126 ft. by (339 x 38.6 m) and will stand 18 decks high. Their gross tonnage is around 160,000, which make them 6 percent larger than today's largest cruise ship. The ships will carry 3.600 guests, 500 more than its predecessors in the Voyager-series, and 1.400 crewmembers.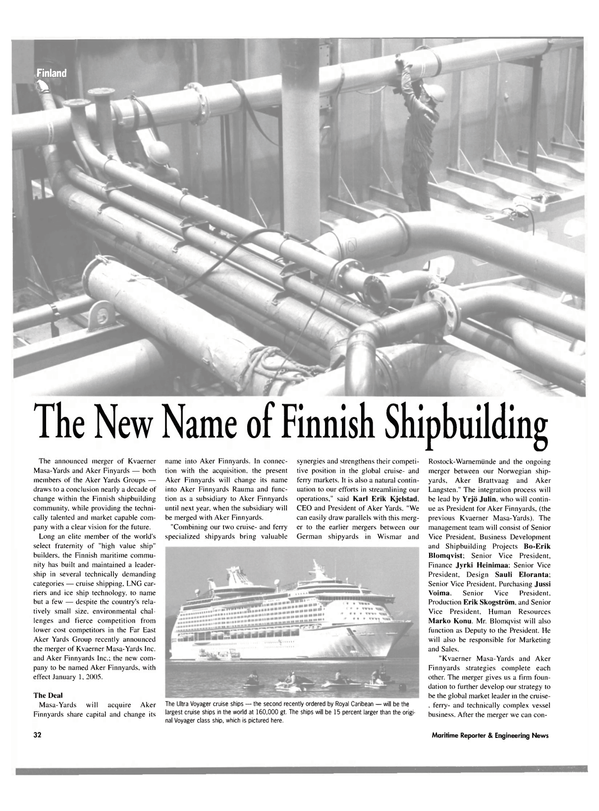 Read The New Name of Finnish Shipbuilding in Pdf, Flash or Html5 edition of October 2004 Maritime Reporter
Other stories from October 2004 issue
Content