Driving Innovation: the Unmanned FLNG
Compiled by MR Staff & Edward Lundquist
The Unmanned FLNG
DNV GL developed a new unmanned floating LNG concept that it claims overcomes many of the challenges faced by operators looking to unlock the potential of remote offshore gas fields. Called Solitude, DNV GL said the concept demonstrates how technological advances can be combined into a solution that offers an estimated 20% reduction in annual OPEX, only adding a few percent increase in CAPEX and at the same time increasing overall safety. Foreseeing the need for more remote projects to be able to overcome even more challenging cost barriers, while still meeting increasingly stringent safety and environmental standards, DNV GL embarked on an Extraordinary Innovation Project to explore the future of LNG technology.

"Solitude has been developed with maintainability foremost in mind," said Elisabeth Tørstad, DNV GL CEO Oil & Gas. "By changing the focus from maximum efficiency to maximum reliability, and selecting robust processing options with built-in redundancy, we were able to develop a solution that ensures production levels and boosts the economic viability of FLNG projects."

DNV GL maintains that the concept leverages advanced but proven technologies including fuel cells, shore to ship monitoring as well as self-programming autonomous inspection and maintenance robots via a topside that has a system of rails that run along each process train, providing these robots with access to all the equipment.

Wireless sensor networks act as eyes, ears and noses, feeding information to a condition monitoring system that overseas fault detection, proactive maintenance and repair planning.
As there will be no one living on board or working on the topside during normal operation, the associated personal safety risks are eliminated.

Single Controller, Multiple Unmanned Systems
Unmanned air and ground systems work together from single controller in flight demo; UCS architecture enables collaboration between big and small business. A flight demonstration using a hand-held tablet has shown how unmanned air and ground vehicles can be supervised together by a single operator, and how big and small businesses can work together. The demonstration was conducted on March 26, 2014, at Kaman Aerospace in Bloomfield, Conn., involving a Kaman K-MAX helicopter equipped with Lockheed Martin's mission management system operating in the unmanned mode, and a Neya Systems UxInterceptor unmanned all-terrain vehicle. During the medical casualty response and resupply scenario, the two vehicles were given instructions by a single operator using a VTOL Evacuation and Resupply Tactical Interface (VERTI) Medic Interface and UxFleet / Collaborative Mission Planning system from Neya Systems.

The flight test showed how the UCS Architecture can integrate a handheld ground control station with the aircraft and ground vehicle and enable collaborative activities between multiple autonomous platforms. Neya Systems, a small business located in Wexford, Pa., near Pittsburg, developed the rapid prototype and demonstration effort leveraging several different small business innovation research (SBIR) grants and follow-on DoD funding. The company was partnered with the Lockheed Martin and Kaman team to deliver the innovative technology to existing systems.

The UCS architecture enabled the seamless integration of the K-MAX helicopter with the Lockheed Martin UCS-compliant ground control station; the UxInterceptor UGV and the Neya VERTI android tablet. Using the UCS-compliant VERTI system, there was no redesign of the UAS or UGV system required. The user interface on the tablet is simple to use.

The Offshore Wind 'Game Changer'
With the engineering of Temporary Works Design (TWD) and Barge Master, Conquest Offshore (and deugro) present the efficient installation system for Monopiles (MPs), Transition Pieces (TPs) and Pre-piling of Jackets. The 136 x 36m Conquest MB1 barge is a tool designed to execute this kind of work. Three monopiles, or up to 16 transition pieces, can be stored on deck by the effective skidding system. Upending can be done on deck or floating. The challenge is the floating installation of the MPs. The specially designed motion compensated pile gripper (MCPG) is the key to the success. While hammering the pile, hydraulic cylinders actively compensate the surge, sway and heave motions of the barge to ensure the verticality within limits. The gripper and the relative good workability of the Conquest MB1 barge with its anti-heeling system (8,000 cu. m. per hour), creates a game changer in offshore wind industry.

(As published in the June 2015 edition of Maritime Reporter & Engineering News - http://magazines.marinelink.com/Magazines/MaritimeReporter)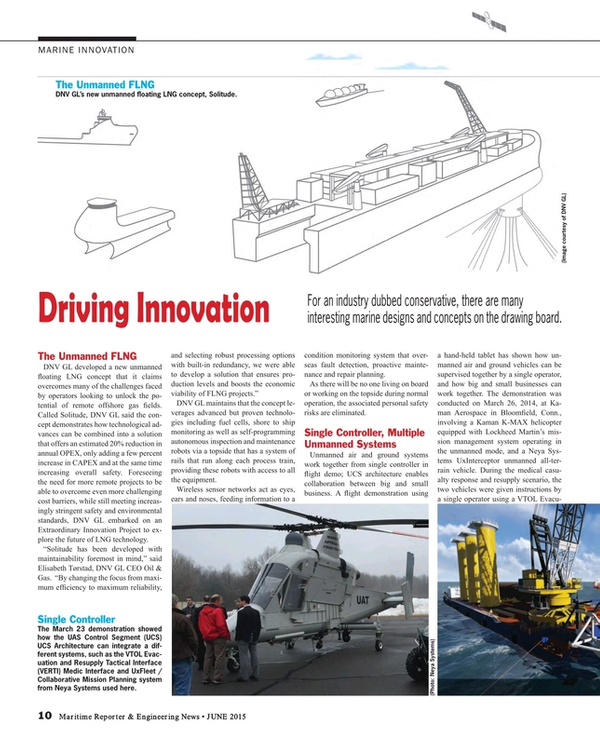 Read Driving Innovation: the Unmanned FLNG in Pdf, Flash or Html5 edition of June 2015 Maritime Reporter
Other stories from June 2015 issue
Content