Maritime Ireland Comes of Age
By Joseph R. Fonseca
Even though the struggle for independence from Britain finally resulted in Ireland being declared "a sovereign, independent, democratic state" in 1937 there was little interest being shown in the maritime affairs of the country. This, despite Ireland being seen as having opportunities to derive added value from its vast marine resources.
Up until a few years ago, sporadic endeavors failed to achieve optimum economic benefits. Ireland's ambition to create a maritime cluster gathered momentum only during the last few years. It began with the introduction of the tonnage tax regime in 2003. This made Ireland an attractive destination for shipping. The immediate effect was that it reversed the trend of Irish shipping companies flagging out to foreign registries. Most banks started to provide ship finance readily, thus drawing renowned ship owners from Norway, Canada and other European countries to invest in Ireland's shipping sector.
Today, the maritime industry is diversified and operates in a globally competitive marketplace, while providing jobs and benefits for both skilled and entry level employees. The most important categories of economic activity in the Irish marine sector can be classified under three heads:

Water-based Tourism and Leisure:
a. This includes leisure activities such as sea angling (boat and shore); Water sports (sailing, boating, water skiing, jet skiing, surfing, kayaking, scuba diving etc); Seaside resorts/trips (Swimming, bird watching, whale/dolphin watching, nature reserves, eco tourism etc).

Shipping and Maritime Transport:
a. There are several large well-established firms in this area, that are involved in freight services only, or in both freight and passenger services (e.g Stenaline. P&O Ferries, Irish Ferries). Besides, private ship owners also operate in this sector. The cruise industry is probably offers the most exotic career in this sector. Although no cruise liners embark from Irish Ports, more than 150 dock regularly at the larger Irish ports every year, and they are becoming increasingly magnificent in size and scale.
Seafood:
a. An extensive sector, it involves fishing & aquaculture, seafood processing, seafood marketing, etc.

All three are well established or 'traditional' segments of this sector. Associated marine related career areas include the cruise industry, boat building, marine construction, engineering & manufacturing activities, offshore E&P activity.
The government vision is to aim to target these opportunities, by becoming a research and commercial cluster of world standing; and by realizing Ireland's potential in the global, maritime and energy markets of tomorrow. The Maritime Market Opportunity Ireland's maritime economy comprises of a large number of companies operating in sub sectors such as shipping and transport, seafood production, hydrocarbon exploration, boat building, bio-discovery and technology. Ireland's share of the global maritime industries market is small. However, opportunities exist if Irish companies can capitalize on research to target niche, high value growth areas.

Oil & Gas Exploration
Ireland has been a producer of gas since the first Irish offshore well was drilled in the Celtic Sea in 1970. Activities in this area include exploration for oil and gas, and the extraction and production of gas. The State has opened new areas for exploration licensing off the West Coast, and the oil and gas industry is again turning its attention to Ireland with greater vigor. In addition, recent discoveries of both oil and gas in the Celtic Sea, while not yet declared commercial, have underscored the potential of this area.

The Marine Renewable Energy
A major opportunity for Ireland lies in the marine renewable energy sector, including wave, offshore wind and tide. For example, Ireland has one of the best wind and wave resources in the world, as well as significant hotspots for tidal energy on the east coast. It is expected that the ocean energy sector (wave and tides) will potentially yield 52,000 new jobs by 2030 as well as contribute to the future security of energy supply.
The government has set a target of 500 MW of wave and tidal derived energy by 2020, while the recent Ocean Renewable Energy Development Plan has identified the feasibility of at least 1,500 MW from wave and tide, and 4,500 MW from offshore wind sources by 2030. Technological advances are required to adapt onshore designs for wind turbines to deeper and more challenging marine environments. There is also a need for research into areas such as modeling and control of wind microgrids, forecasting, and storage.
At the same time, the largest market in the world for offshore wind is currently in the UK. As a result, there are huge opportunities for Irish companies to target this sector. IMERC is perfectly positioned to help with the challenge of training and capacity building, for example by providing conversion courses and innovative products and services into the UK marketplace.
In comparison to wind, wave and tidal technology is at a nascent stage of development. However, deployment targets indicate that the growth in the sector will accelerate rapidly over the coming decade. A number of Irish wave convertor device developers have undertaken prototype demonstration (e.g. Ocean Energy Ltd, Wave Bob Ltd) and are in transition towards early commercial array demonstration. It is imperative that this early mover advantage be maintained to ensure Ireland's place as a global centre of excellence in this area. To this effect, the Westwave project, under development by the ESBI, will be supported by IMERC as an associate partner.
Significant potential also exists in the offshore hydrocarbon industry. Studies by the Department of Communications, Energy and Natural Resources indicate that a substantial gas yield located in the South Porcupine basin off the West Coast of Ireland could yield €5 billion over its lifetime in taxes. According to the Irish Offshore Operators Association (IOOA) such discoveries would improve the international markets' view of Ireland's economic prospects, while resulting in significant job creation, and the establishment of spin-off industries. Furthermore, the potential to transfer knowledge from the offshore hydrocarbon sector to the marine renewable energy sector is not to be underestimated.

(As published in the June 2015 edition of Maritime Reporter & Engineering News - http://magazines.marinelink.com/Magazines/MaritimeReporter)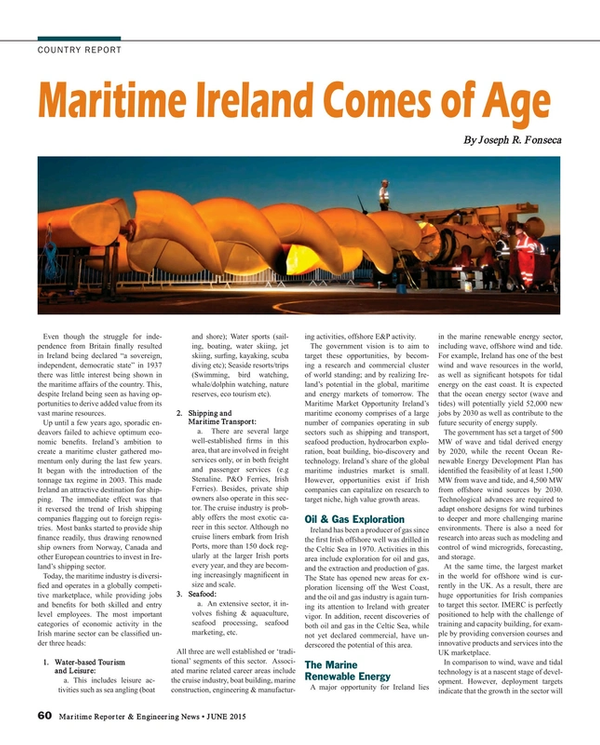 Read Maritime Ireland Comes of Age in Pdf, Flash or Html5 edition of June 2015 Maritime Reporter
Other stories from June 2015 issue
Content