Ballast Water Treatment: Are You on Course for Compliance?
By Geoff Taylor PSM Instrumentation & Katie Davage Chelsea Technologies Group
Joined up thinking from two marine technology suppliers addresses impending legislation for Ballast Water Treatment and offers a practical solution for monitoring and recording the correct discharge of ballast water, in real-time.
The International Maritime Organizations 2004 Ballast Water Management Convention lays down strict guidelines for the treatment and discharge of ballast water. Already in force as of January 1, 2015 in U.S. waters, universal ratification is expected to occur during the next six months. The new legislation, which will require tens of thousands of ships to be retrofitted with new systems for Ballast Water Treatment, has caused much debate within the marine industry.
To date, discussion has largely centered around which type of treatment technology is most suited to the task. However, this has overshadowed two very important aspects of the new regulations which must form part of the overall treatment regime in order to be effective in ensuring environmental compliance: point of discharge measurement and recording and reporting of treatment activities.
The new rules are governed by strict liability laws, meaning that operators or owners can be considered guilty without finding of fault. The authorities need only prove that the event occurred, with vessel owners being held responsible for the discharge. Consequently there is a very real need for a measurement and recording system that quickly and reliably reports on the efficacy of the ballast water treatment plant.
A new joint development between PSM Instrumentation and Chelsea Technologies Group aims to address these important issues and to provide clear evidence of compliance when required to do so.

Point of Discharge Measurement
A key requirement for any treatment system installed is to provide analysis of the ballast water at the point of discharge to prove correct treatment. Using the inherent high sensitivity of the FastBallast Compliance Monitor, the variable fluorescence of live viable phytoplankton cells in moving ballast water can be monitored to the levels required by the IMO D2 standard (10 to 50um category).
Developed by Chelsea Technologies Group and based on established marine technology, the FastBallast Compliance Monitor has been specifically developed for working with phytoplankton within the aqueous phase at low optical density, exactly the conditions encountered in ballast water. FastBallast interrogates the photosynthesis process taking place within phytoplankton to distinguish between which cells are alive or dead. Using complex algorithms, FastBallast can rapidly determine if your ballast water discharge is compliant.
To ensure that all phytoplankton present within the 10 to 50um range are detected, FastBallast uses multiple LED excitation channels. A highly sensitive photon multiplier tube is used to detect the variable fluorescence of live phytoplankton. Each measurement takes only 200 µs, which means that data can be collected from fast moving water (up to two metres of linear flow per second), typically encountered within ballast tanks or water treatment system piping.
FastBallast is available as a portable or integrated system. Capable of operating in flow through and static sampling mode, the portable version of FastBallast is designed for carrying out spot check measurements, reassuring port state control and shipboard engineers that their BWTS is operating as it should. The touch screen displays a RAG (red-amber-green) system used to indicate whether the ballast water discharge is compliant with regards to current regulations. Data can be downloaded via USB or ethernet for a more detailed assessment of the treated ballast water..
The integrated variant of FastBallast is designed for permanent installation within a BWTS, where it will operate in flow through mode providing a continuous update on discharge compliance. This version of FastBallast can interface with PSM Instrumentation's BallastView, a system for logging compliance data onboard a vessel which can also transmit data ashore, if required.
Using FastBallast will improve the ballast water management regime of vessels in time for ratification and will assure the end user whether that be a ship operator, BWTS manufacturer or port state control officer that a given Ballast Water Treatment System is discharging ballast water in.

Recording and Reporting of Treatment Activities
An equally critical stipulation of the new regulations is Requirement B-2, which calls for vessels to hold data in a ballast water record book. This can be in an electronic format, either standalone or integrated into another system. The recorded data must include the following key information to prove correct operation:
When ballast is taken onboard, volume, date, time and geographical location
Movement of ballast water for onboard ballast water management purposes
When ballast is discharged to sea, volume, date, time and geographical location
When ballast is discharged to a reception facility, volume, date, time and location
Accidental or other exceptional uptake or discharges of ballast water
Entries into the ballast water record book must be maintained onboard for a period of two years after the date of entry and thereafter kept in the company's control for a further three years.
Marine systems specialists PSM Instrumentation undertake continuous research and development aimed at providing operators with improved control and visibility onboard vessels. The latest BallastView system from PSM Instrumentation, for example, is a modular solution comprising a suite of onboard and shoreside hardware and software elements, developed to ensure vessels are operated efficiently, safely and in an environmentally responsible manner. Integral to the system's functionality are secure data recording capabilities which more than meet the stipulations set out for the new reporting requirements.
The system's Ballast Water Treat­ment module allows shipping vessel operators and onshore personnel to monitor the operation of ballast water treatment equipment continuously without the need for intervention by the ships crew. An encrypted recording capability electronically captures all key data and provides secure archive storage onboard or onshore, offering proof of correct operation and legal compliance during the three year period required.
The Authors
Geoff Taylor has spent a large part of his career in marine engineering and is the founder of PSM, as a company dedicated to developing innovative technological solutions to improve operations and safety on board merchant and navy ships.
Katie Davage is the Sales Manager at CTG responsible for developing and promoting Chelsea's ballast water monitoring capabilities. Katie is a member of the Ballast Water Expert Group and IMarEST.

(As published in the August 2015 edition of Maritime Reporter & Engineering News - http://magazines.marinelink.com/Magazines/MaritimeReporter)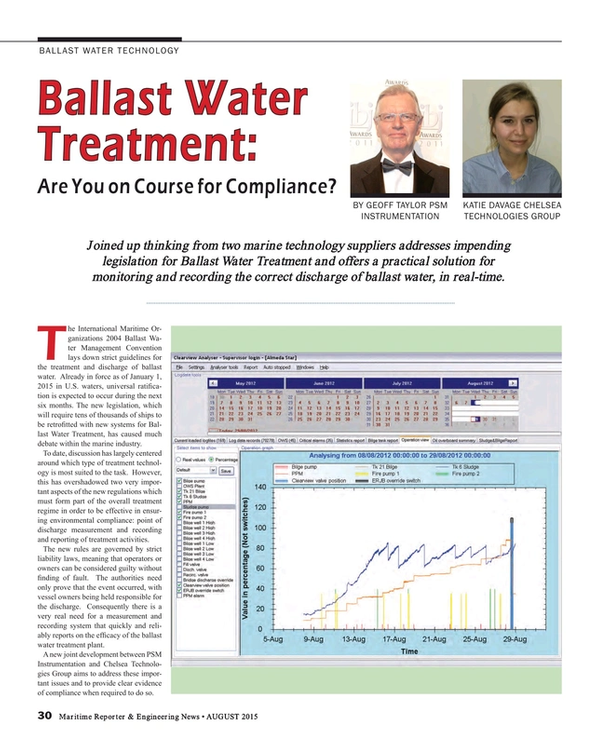 Read Ballast Water Treatment: Are You on Course for Compliance? in Pdf, Flash or Html5 edition of August 2015 Maritime Reporter
Other stories from August 2015 issue
Content