Standing on Guard(eon): Preventing the 'Arc Flash' Casualty
By Joseph Keefe
As GE celebrates the grand opening of its Mebane Customer Experience Center and a multimillion dollar manufacturing facility renovation, Maritime Reporter & Engineering News gets an advance look at a new product line that could save marine and oil and gas customers millions of dollars in lost time and equipment damage.

GE Industrial Solutions CEO Bob Gilligan told GE employees, distributors, and state and local politicians that ultimately, the firm's energy management business would more than double to $13 billion annually as GE moves to recapture the lead in that market space.

Gilligan also predicts that once this sea change has been completed, GE will then be earning as much as 90 percent of its revenues from the industrial side of the ledger. No doubt he likes what he sees in the marine market, a pool of more than 100,000 vessels of all types that all need first rate energy management solutions.

At GE Industrial Solutions' Cary, N.C., offices and at its newly renovated Mebane, N.C., production facilities, the firm served notice that it is ramping up both its manufacturing capabilities as well as the speed at which will respond to market requirements. With its build and design groups now under one roof and collaborating on the production floor, the utilization of GE's FastWorks methodology can – according to GE – reduce the time from idea to market product rollout by half. According to Gilligan, FastWorks eliminates "the silos" that can slow product development. As that evolves, its Mebane, N.C. facility will be at the spearhead of that effort.

At the heart of the $6 million Mebane facility renovation is GE's Customer Experience Center, and the grand opening of that facility underscores GE's commitment to the marine and oil and gas industries. Beyond that, said Gilligan, the Mebane facility will serve as a place for GE customers to meet and collaborate on future products and industry needs.

1984 & Today
In 1984, some of the things that George Orwell foretold about that mystical year simply did not come true. Sure, we had some cool technology, but the PC in every home was still a few years away and much of the technology we take for granted today couldn't be envisioned – even by Mr. Orwell himself. Nevertheless, in 2015, the grand opening of GE's Mebane Customer Experience Center promises improved technologies, safer and more efficient ships, and the advent of predictive diagnostics; all brought to market at twice the speed of typical innovation – something GE bills as FastWorks – where the 'design' and 'build' functions come together as one.

In today's high tech world of multi-billion dollar equipment, sophisticated electronics and the legal and financial ramifications of a business interruption, the failure of a simple circuit breaker to perform its intended task – what GE describes as an 'arc-flash' event – can be devastating. Also according to GE, it can also cost you as much as $15 million, once all the variables of lost time at sea, ruined downstream equipment and all the rest of it are factored. In response, GE has expedited the development of a new, predictive Low-Voltage Molded Case Circuit Breaker (MCCB) Line.

GuardEon
GuardEon MCCB performs calculations to determine the health of the breaker, particularly how much contact wear has occurred. Every time a circuit is opened or closed, part of the breaker's contacts are burned away. This can cause a breaker to overheat and fail unexpectedly – and a failed breaker can lead to an array of problems in heavy industrial applications. In addition, GE's GuardEon MCCBs feature on-board timing functionality which is used to measure the breaker's fault reaction time. This enables testing to be done on the unit without having to remove it. GE calls this "predictive maintenance."

According to GE, in marine applications, for example, an arc-flash event that takes place in the middle of the ocean can result in severe ship fires. An arc flash produces temperatures as high as 35,000 degrees. Isolated at sea, there is no fire department nearby to help contain and reduce the damage caused by an arc-flash event. If it is not mitigated quickly and effectively, or prevented all together, the results can be catastrophic.

Norm Sowards is the General Manager of the Power Components Business Unit (BU) for GE's Industrial Solutions business, which is leading the future of electrification with advanced technologies that protect and control the distribution of electricity throughout a facility's – or a marine vessel's – infrastructure.

In his role, Sowards drives key product line initiatives such as product line profitability, strategic investment decisions and product line vitality. The crux of Sowards' push to more fully penetrate the commercial marine space is the effort to reduce unplanned downtime with predictive maintenance.

Sowards describes GuardEon as a high performance circuit breaker focused on industrial type applications. It meets global applications and standards. It has predictive maintenance features in the product including the ability to understand internal contact-ware, and the ability to understand the operating time in an event log. It takes all of that information and is able to coordinate it and provide it in a usable way to the operator."

But, of all the things that GE could be focusing on in this space – and there are many – the 'arc flash' is arguably a curious problem to be solving. Not so, says Sowards.

"It's less about breakers tripping than it is about the predictive maintenance that we talked about. Whether its marine customers or oil & gas customers or data center customers, what they care about is being able to predict if a breaker is going to trip in the future and take action in advance of that. So it wasn't a customer that came to us, but instead it's a problem that keeps coming up in heavy process industries. This is the solution to that problem."

Slated for rollout by midyear 2016 and suitable for retrofit on existing vessels, the GuardEon MCCB is already being testing in at least 100 industrial venues – although not yet at sea. Nevertheless, the innovative GE device already has ABS and DNV-GL class approvals. The number of GE GuardEon breakers needed aboard any particular ship would, says Sowards, depend on the size of a vessel. He explained, "Every AC low voltage circuit breaker on the ship, whether it is a previous vintage of our breaker or someone else's, then this would be a replacement in that application. The load determines the number of breakers that you use. In order to get the reliability and predictability that we've discussed, these work together as a network. GE has a team that can go out and determine what the needs are – performing a risk assessment."

Real Hazards, Real Costs
According to an Electric Power Research Institute (EPRI) study in the U.S., a single arc-flash incident can cost operators up to $15 million once healthcare costs, workers compensation, replacing equipment, increased insurance premium and lost production time are factored.

And that's just on shore.

Imagine the costs associated with your $120 million, 18,000 TEU ship rolling around in rough seas without power. With predictive maintenance, the ability to anticipate and schedule shutdowns can mean avoiding untimely, costly outages and downtime.

"Whether you are running a hospital, a steel mill, a ship or whatever, if you have an arc-flash event, the equipment gets damaged, and the revenue stream stops for some period of time," said Sowards. "The second part of that is the replacement of the equipment itself. And that could be the breaker itself or more likely, downstream equipment like a motor, etc. Summing up, we're providing a fairly inexpensive solution to the potential downstream catastrophe."

In the real world, there are plenty of other circuit breakers in the market today and what people are doing is, rather than predicting the arc flash event, they are controlling the event to minimize the damage. And whereas in a shoreside industrial situation this is a little easier, on board the vessel there are typically four or less engineers to do the same thing in the power plant at sea. "What you care about with something like GuardEon is that you never notice that it is there," said Sowards. "The added benefit is the predictive maintenance. What we care about is having enough data points to see in advance to stop something in advance from happening that we didn't want to happen."

Sharp Focus into the Marine World
GE and Sowards will next arrive into a marine marketplace that they already understand. That's because GE has, for decades, been providing propulsion solutions to the world's Navies. More recently, GE Transportation's newest marine engine offering – one which meets EPA Tier 4i and IMO Tier III Emissions standards – all without the need for a Selective Catalytic Reduction system (SCR) exhaust gas after-treatment, could change the way marine operators go about selecting their next set of engines for retrofit or new build. The GE Marine 12V250 Marine diesel engines reduce NOx emissions by 70 percent when compared to EPA Tier 2 or IMO Tier II. Beyond this, GE Marine's self-described 'breakthrough' engine technology not only eliminates the need for a Selective Catalytic Reduction system (SCR) exhaust gas after-treatment, but also the requirement to store or use urea aboard a vessel, thereby preserving cargo and tank space – not to mention all of the extra costs associated with that extraneous equipment.

Norm Sowards has no intention of letting that experience and GE relationships already developed on the water go to waste. "Part of the synergy we'll have with industry is though GE Power Conversion business because they deal directly with the end user in that space. We get intel and understand the real needs are through that sector. And the lines between oil & gas and marine sectors are becoming blurred. There's plenty of concern about this issue today industry, but they are dealing with it in a different way. They are spending money on it – but they are not spending money on the one's that have predictive diagnostics. That's what we have to sell – explaining why predictive diagnostics is more important than a local breaker with real time information on it." All of that said; GE has no GuardEon units in the marine space at the moment. Sowards is looking ahead to the moment they do. "The product launches in the middle part of 2016. We are working with the GE propulsion division on this concept, actually. This product will go into the control panels that control those engines. One of the ways that we get this product there is through the product conversion business."

When that happens, many key features laid out by customers and determined through collaboration with GE's Power Conversion and Oil & Gas businesses have already been incorporated into the new GuardEon MCCB. These include the 200-kiloampere short-circuit rating typically required in marine applications, high shock and vibration ratings, a rotating face plate for versatile installation configurations and clear, brightly colored labels.

The new circuit breaker also was designed with 25 percent fewer internal parts than previous versions, reducing the number of potential fail points, improving unit reliability and driving long-term sustainability."

In a perfect operating scenario, a circuit breaker will never have to trip or respond to an electrical problem. In the real world, this is often not the case. Many circuit breakers may sit for months, years, even decades without any action, but must remain able to switch the power off in an instant if a system-damaging event (like an arc flash) occurs. 1984 has come and gone. But even George Orwell might admit that what is happening today in the world of energy management is truly amazing. The best may be yet to come.

(As published in the August 2015 edition of Maritime Reporter & Engineering News - http://magazines.marinelink.com/Magazines/MaritimeReporter)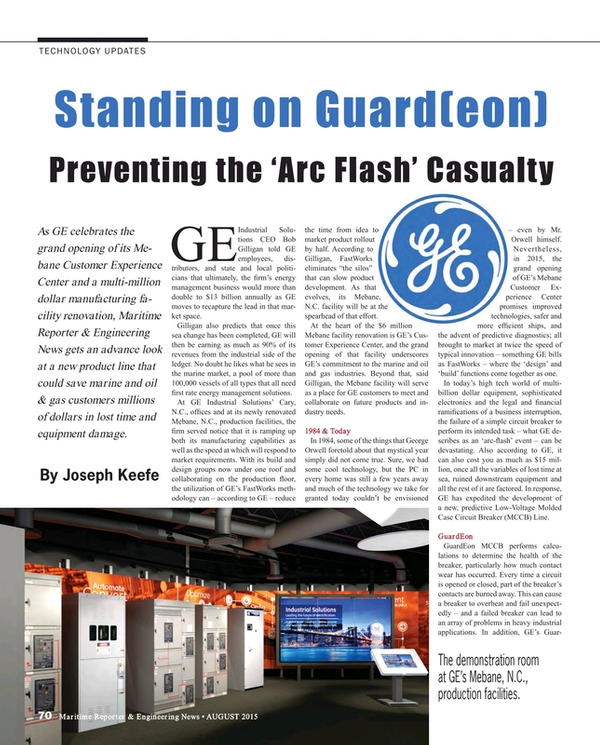 Read Standing on Guard(eon): Preventing the 'Arc Flash' Casualty in Pdf, Flash or Html5 edition of August 2015 Maritime Reporter
Other stories from August 2015 issue
Content