Five Minutes with Roy S. Strand, COO, Goltens Worldwide
By Greg Trauthwein
As Goltens celebrates 75 years serving the maritime industry, Roy Strand discusses the iconic company's historic market strengths and its big push into the Ballast Water Treatment sector.
Your company is celebrating its 75th anniversary this year. For readers who may not be familiar with the details of the company, can you provide a brief on its founding?
The company was founded by Sigurd Golten in 1940. Golten was born in Western Norway and sailed as a merchant engineer from the age of 14. While sailing, he saw first-hand the importance of top-quality machine shops and repair providers. He wanted to be able to service customers wherever they may be and had a vision to create a global company known for high quality and responsive service. Golten landed in New York and started a marine repair workshop in Brooklyn, N.Y. The company secured a good amount of work related to the war effort in the years that followed and he expanded his shop with other qualified engineers and machinists. After World War II ended he established Goltens Oslo with his brothers Konrad and Knut. This expansion was the beginning of Goltens becoming a brand with a global recognition and presence.
So how does Goltens contribute to the maritime industry today?
For 75 years Goltens has been a preferred alternative, and oftentimes partner, to many of the original equipment manufacturers. Goltens is a global service organization employing more than 1,200 highly capable resources operating in more than 25 locations in 15 countries. We operate in three core service lines, all focused on helping ship owners and power plant operators minimize asset downtime:
■ Diesel Engine Services,
■ In-Situ Machining, and
■ Green Technologies
As an engine specialist we service and repair a wide range of diesel engines and related equipment providing routine and emergency field and workshop repair and reconditioning services on all major 2 and 4 stroke main and auxiliary engines.
In our In-Situ machining business we provide a full range of highly specialized in-place machining inclusive of crankshaft machining, crankshaft annealing, engine line boring, metal stitching of damaged blocks and bedplates as well as surface machining of upper and lower landing surfaces. Beyond that, we provide a full range of larger scale boring and surface milling and machining in support of new build and repair activities in shipyards all over the world.
Our newest business line, Goltens Green Technologies, was started in 2011 to provide vessel owners with a cost efficient and non-invasive process to comply with pending environmental ballast water and emission control legislation.

Looking back, what do you count as your company's biggest contribution to this market?
Goltens' in-situ crankshaft grinding tooling and repair process are really what drove the global brand recognition and early growth of the company and is still one of the factors that differentiates us from other engine repair companies and makes us a "go to" partner for major engine casualties.
Goltens was the first company to grind a diesel engine crankshaft in-situ in the early 1950's. This revolutionized the repair of crankshaft casualties dramatically increasing the speed of repair and reducing the expense of crankshaft failures. The repair averted the enormous costs of full disassembly, crankshaft purchase or repair ashore, transportation and significant loss of hire for that extended period.
Since the 50's, we have made major improvements on our tooling and process in terms of efficiency and accuracy and have moved away from grinding to machining the crankshafts. We have also invested heavily in other ways to limit cost and downtime for vessels like our class approved crankshaft annealing process which has resulted in Goltens salvaging a large number of otherwise condemned shafts.

Looking at the past year in maritime, do you see positive or negative, and why?
The merchant sector is still in a depressed state. Overcapacity, low hire rates and a volatile global economy continue to plague operators and challenge all players in the industry. The dramatic and sudden drop in oil prices also sent an unneeded shock through the offshore marine market. That said, we are fortunate to operate globally and we have seen some uptick in activity levels in certain regions but the maritime markets remain volatile and we see them staying this way for the foreseeable future.

Looking ahead to 2016, what do you see?
Diesel Services and In-Situ Machining will always be a core part of our business but we see the legislation related to ballast water treatment and sulfur emissions driving significant growth in the coming years. We started Goltens Green Technology as a business line to offer services to retrofit vessels for compliance. We recognized that these projects were almost completely non-payback and we developed process to assist owners comply in the most efficient and least operationally intrusive manner.
We have invested heavily in capital and technical resources to support this and are now fully capable in six locations spanning all regions. We leverage a proven process to minimize costs and time using 3D laser scanning as the foundation for modeling and design and then, due to the accuracy of the scans, can prefabricate all of the parts required for a full turnkey retrofit. We now have more than 150 ballast water and emissions compliance projects completed or in process and feel that we are positioned extremely well in the market.

Are there any new products or services the market will see from Goltens in the coming year?
Our focus is on continuing to expand our specialized services range in addition to continued investments in growing our Green Technologies business. We plan to roll out our next generation of in-situ crankshaft machining tooling to enable us to cut a broader range of journals, expand our specialized laser alignment capabilities and work with some of our key principals to push dual fuel engine and common rail retrofits to market.

Briefly describe the overall importance of the maritime industry to the whole of your company.
Goltens was created to service the maritime markets and this has always been the backbone of our client base. The maritime community is the ideal customer base for Goltens as we are focused on responding to casualties and repairs in an immediate fashion. The maritime sector demands fast response, high quality and a fair price. Given the continued financial pressure in the market, owners and operators simply cannot afford any avoidable downtime for their vessels.

As the business world grows increasingly complex and competitive, what do you count as the primary strengths of your company that make it stand out?
It really boils down to our capability to respond to major casualties anywhere in the world with highly capable technical resources with a full range of services. We are the largest global independent repair company in our space and we have located ourselves strategically around the globe to serve our customers. There are many local companies in the market that do pieces of what we do but there are very few, if any, that offer the full range of specialized services we offer on a global basis. That said, the market is competitive and we need to constantly earn our customers' trust and business. We will continue to focus on advancing our service capabilities to minimize downtime and keep our customers sailing.

Lastly, and perhaps most importantly, what's the plan to celebrate '75'?
Given our global footprint, having a large party is not really economical for us so we are being fairly low key with our plans. We had a small celebration at Norshipping in Oslo in June with employees, ownership, customers and partners and we will be marking the anniversary with smaller celebrations with our employees at the stations around the world.

(As published in the August 2015 edition of Maritime Reporter & Engineering News - http://magazines.marinelink.com/Magazines/MaritimeReporter)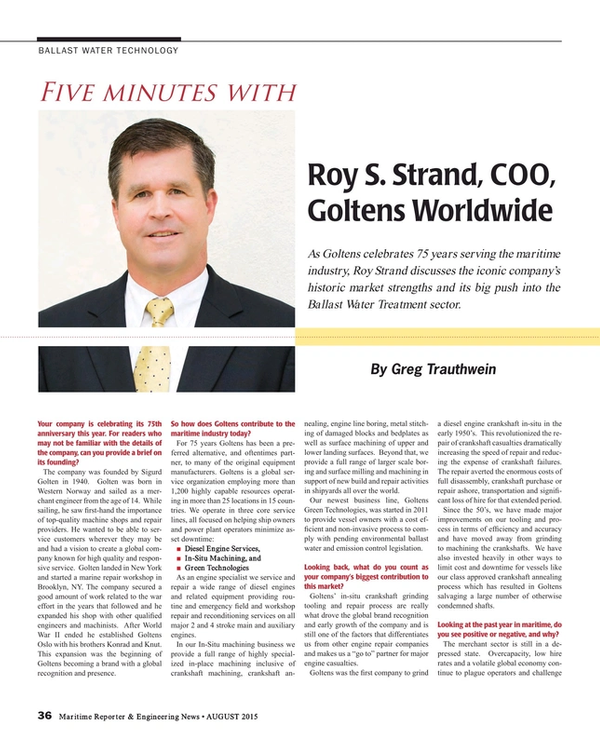 Read Five Minutes with Roy S. Strand, COO, Goltens Worldwide in Pdf, Flash or Html5 edition of August 2015 Maritime Reporter
Other stories from August 2015 issue
Content