Maritime Turkey Set for a Tailwind
By Joseph Fonseca
Turkey is strategically located, straddling both Europe and Asia with substantial number of Black Sea and Mediterranean Sea ports, thus making maritime trade and shipping of great importance to the country's economy. Its extensive coastline running for 8,483 km, (1,067 km of which is island shores) has greatly contributed to the growth of Turkey's maritime sector.
Turkish shipyards have a tradition spanning eight centuries. At the time of the Ottoman Empire, shipyards were able to build large, powerful naval vessels, and yards continued their modernization following the foundation of the Republic of Turkey. Today, the industry boasts modern quality certified shipyards that build ships, yachts, megayachts, and sailing boats, as well as undertake extensive repairs and conversion works.
Turkey's shipyards are mainly located in the Marmara Region, namely Tuzla, Yalova, and İzmit, which have developed into dynamic shipbuilding centers, besides in recent years the emerging Black Sea and Mediterranean regions have increasingly attracted shipyard investments.
The 37 shipyards that were under operation in 2002 increased steadily to 72 as of January 2015. It brought about a transformation as progress in this sub-sector helped generate employment also in the neighborhood, raising the standards of quality of the sub-sector, increasing skilled manpower, ensuring growth and strength of the regional trade and helping to raise not only the standard of living but also the cultural level of labor.
On tonnage basis in CGT, Turkish yards rank 16th in the world's order book. Since they have a good reputation in the building of small and medium tonnage chemical tankers, as a result in March 2015, Turkey climbed up to the 7th place among countries which take tanker orders. Turkish Shipyards delivered 166 ships, DWT of 836,000 between 1995 and 2001. Also, between the years 2002 and 2007, 443 ships with total DWT of 3,051,000 have been delivered. In 2014, 17 ships DWT of 139,073 tons were delivered.
Yacht and Boat Building Industry
Yacht and boat building is one of the most important sectors with its high accretion value and high export ratio. This industry is a combination of sectors in yards which deal with ironing, painting, electric, electronic, textile, decoration etc. Yacht and boat building industry is quite different from shipbuilding because of its concept, scope and technology. Unlike in the shipbuilding industry where long term investments and big coastal areas are needed, boat and yacht building require relatively less investments, areas and production time.
The effects of the decline in shipbuilding activity are quite significant since this is responsible for making a very significant contribution to the Turkish economy.
Ship Recycling
The ship recycling activities is fast gaining ground. It fits in well with the Turkish steel industry, being a comparatively heavy user of scrap steel, which is re-melted in electric arc furnaces and re-used for construction and other purposes (including the building of new ships). It was estimated that Turkey consumes around 24.5 million tons of ferrous scrap, of which 18 million tons is imported, and 6.5 million tons produced domestically
Turkey's 21 ship recycling facilities (located largely in the Aliaga area, near Izmir) could be an alternative to the facilities in South Asia and China, especially if they can offer a more environmentally acceptable way of disposing of vessels at the end of their working lives.
Turkish National Ship Registry was established and is regulated by article 839 and various articles under the Turkish Trade Law whereas the Turkish International Ship Registry was set up later on December 12, 1999. Of the 591 ships owned by Turkish vessel owners, only about 15.44 % (by GRT) of the fleet is registered in National Ship Registry and the remaining 84.56 % with the International Ship Registry. The average age of these ships is 24 as of December 31,2014. The country's registered total tonnage both under Turkish flag and foreign flags is 27.5 million DWT globally ranking it at the 23rd place.
Turkish ship owners clearly prefer to flag out using offshore registries for the benefit of low taxation and crew costs. The flagged out vessels operated by Turkish operators is significant. Ship owners prefer flagging their ships under Malta, Panama, Liberia, the Bahamas or St Vincent and the Grenadines flag.
Port Development
Turkey has around 172 ports along its vast coastline of 8483 km. six ports are operated by Turkish Maritime Administrations and two out of seven railway connected ports are operated by Turkish State Railways.
Turkish ports hold a strategic position within the Eastern Mediterranean and Black Sea shipping lines and at the intersection point of East-West and North-South directional International transport corridors. They are in an advantageous position to attract Transshipment / transit cargoes. Ports in all regions of Turkey are so located that they can serve different transportation networks.
The Mediterranean and Aegean Sea ports are located with little miss distance and have an ability to attract Asian-European main shipping lines' cargoes passing through the Mediterranean. Specifically, the Mediterranean ports are in a position to operate as transshipment/transit ports for delivering cargoes coming from main shipping lines to Middle East and Central Asian countries. Meanwhile, ports in the Marmara Region are important in terms of Turkish connection of Trans-European and Pan-European transport corridors formed by EU and extending those corridors to East. As a result of growing trade and transport volume in Black Sea which is the most important means of access for trading among the landlocked Central Asian countries with Europe, the importance of these ports in the area has increased.
Marine Tourism
Marine tourism has gained in popularity in the past few years with yachting, marina administration, cruise tourism and ferryboat administration, underwater diving and water sports bringing in significant revenue for the country. Marine tourism revenue is 25% of the general tourism which comes to over $ 7 billion. Because of Turkey's vast coastline along the four seas, Turkey is a treasure trove of coves, inlets, bays and beaches at which yachtsmen can choose a different and private anchorage each night. The sailing paradise of Turkey is also home to the Blue Voyage. This idyllic cruise means sailing with the winds, into coves and over the seas and becoming one with nature. For lovers of the active life, sailing in clear waters provides great opportunities for swimming, fishing, skiing, surfing and diving. Sailing in Turkey also allows tourists to experience a truly enriching cultural exchange with the hospitable and gracious people of the coastal villages and towns. The tempered winds which generally blow from the west and northwest make the long summers ideal for yachting, and seem to encourage an appreciation of nature. From some of the turquoise coast's un-spoilt and sheltered bays one can see mountain peaks rising to almost 3,000 meters above sea level.
Turkey By The Numbers (Source: https://www.cia.gov)
Population: 79,414,269 (July 2015 est.)
Merchant marine:
Total: 629
Bulk carrier: 102
Cargo: 281
Chemical tanker: 80
Container: 42
Liquefied gas: 6
Passenger: 2
Passenger/cargo: 60
Petroleum tanker: 25
Refrigerated cargo: 1
RoRo: 29
Specialized tanker: 1
Foreign-owned: 1 (Italy)

Registered in other countries: 645
(Albania 1, Antigua and Barbuda 7, Azerbaijan 1, Bahamas 3, Barbados 1, Belize 16, Brazil 1, Cambodia 15, Comoros 8, Cook Islands 4, Curacao 5, Cyprus 1, Dominica 1, Georgia 14, Italy 4, Kazakhstan 1, Liberia 16, Malta 233, Marshall Islands 70, Moldova 18, Panama 62, Russia 101, Saint Kitts and Nevis 18, Saint Vincent and the Grenadines 13, Sierra Leone 9, Slovakia 1, Tanzania 13, Togo 4, Tuvalu 1, unknown 3) (2010)
World Rank: 18
Ports and terminals:
Major seaports: Aliaga, Ambarli, Diliskelesi, Eregli, Izmir, Kocaeli (Izmit), Mersin (Icel), Limani, Yarimca
Container ports (TEUs): Ambarli (2,121,549), Mersin (Icel) (1,126,866)
LNG terminal (import): Izmir Aliaga, Marmara Ereglisi.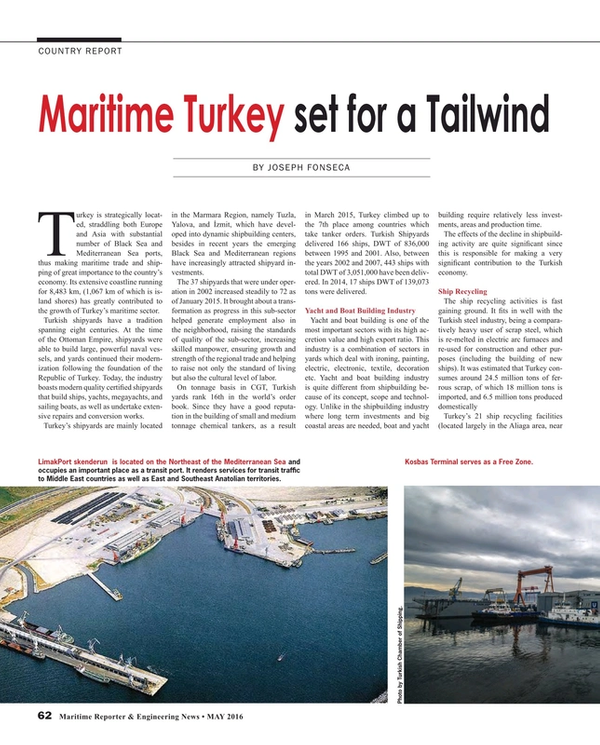 Read Maritime Turkey Set for a Tailwind in Pdf, Flash or Html5 edition of May 2016 Maritime Reporter
Other stories from May 2016 issue
Content