Navico Makes its Commercial Push
By Greg Trauthwein
Marine electronics group Navico, a literal 'house of brands' for the recreational, sail, power and commercial marine markets, is making a strong push in the commercial sector with its Simrad brand. Armed with a stockpile of new technology and a global network of sales and support, Christian Olsson, VP Commerical Marine, Americas, and Mike Fargo, Global Product Line Director, explain how this 'David' aims to take on the commercial marine electronic 'Goliaths.'
The ascension of Navico in recreational marine electronics business – an estimated $1 billion market globally – was fast and furious, growing from roughly 7% of the global market in 2005 to nearly 30% in 2007, standing steady at about 35% today, fueled by a strategy built on the acquisition of strong brands mixed with organic growth. While today roughly 70% of its $400m in annual revenue still comes from its recreational business, Navico is doubling down on its efforts to the commercial marine electronics market, which on the hardware side is measurably larger at an estimated $2.5 billion annually, not to mention the value of the fast-growing 'digital marine' services sector which, in the end, could dwarf the hardware side of the business.
The Commercial Push
"The owners of our company realized that there was room for growth (in the recreation side), but growth from a leading position is a particular challenge, and it takes a lot of money," said Mike Fargo, Global Product Line Director – responsible for commercial product line. "Looking at the commercial space three years ago, it was realized that we have room for growth. So the challenge to the management team was to double (the size of our business) in five years time," and commercial was the natural space.
An initial glance into the commercial marine electronic business and Navico saw a fragmented market with many vendors. So it set about its business of consolidation, with the realization that it needed to add several core competencies to be considered a serious contender in the commercial space. It's acquisition of Consilium was arguably its first major move toward the commercial sector, as its customers were saying "you need to be serious about radar in the commercial market," said Fargo. "With The Argus Radars, Category 1 and Category 2 radars, the biggest segment (served) are merchant and IMO classed vessels. So it was a product acquisition, it was a market acquisition, and it was a relevance to customers."
Next on the 'to do' list was ECDIS, particularly with the looming requirement regarding the installation of of ECDIS aboard commercial ships. "The MARIS acquisition was a strategic one in terms of taking on an innovative supplier with an installation base of about 8,000 ships," said Fargo. "Again, with the MARIS acquisition we achieved product growth, market growth (into bigger ships); and relevance growth."
But ECDIS in and of itself was not the only end-game with the MARIS acquisition, as the technology came with the ability to distribute charts, which tied in neatly with Navico's Digital Marine Division strategy, said Olsson. "Digital Marine could be so many things, a total market that could be tens of billions of dollars." The Chart side of the ECDIS business fit into this well and immediately, as the company became a direct UKHO distributor of new charts and updated charts.
While the "House of Brands" strategy offers many strengths in diversity of technology, talent and share of market, it also comes with challenges in the form of customer confusion, product and service overlap, and generally the ability to concisely explain the depth, breadth and capability of the company. "Simrad is our heritage, as it is the oldest of our brands, but it is also our future on the commercial side," Olsson said.
The Simrad Brand
While the commercial side of its business is small when compared to the recreational business, one of its strongest brands – Simrad – has a long, storied history. Beginning in 1946 with Thorleif Robertson, the founder of auto-steering in Egersund, and in 1947 with Willy Simonsen in Oslo, the founder of Simonsen Radio. The two companies later became Simrad. Simrad is the union of a number of companies that in their time were ground-breakers in their areas of technology. That legacy is carried forward today, as Navico introduces several new innovative product lines … from the Simrad ECDIS E5024 to the Simrad HALO Pulse Compression Radar … all geared toward earning Navico a top-three spot in the fraternity of commercial marine electronics suppliers in the coming few years. In early March 2016 the quest for a stronger commercial entity made another significant stride when it was announced that Jeppesen, a part of Boeing Commercial Aviation Services, had reached an agreement to sell its marine business to Digital Marine Solutions, which is owned by the Altor 2003 Fund, which is part of the Nordic based Altor family of private equity funds which owns Navico. As anyone in the maritime business can attest, proclaiming yourself a market leader is one thing; become a market leader another. Though its formula for success is undeniable on the recreational side of the marine electronics business, it realized that achieving its goal of doubling its business and cracking the 'top 3' of commercial marine electronics suppliers required fresh thinking. "The recreational market was a fragmented market with a variety of profitability levels, and overall not a whole lot of profitability in the market," said Fargo. Altor came in with the mind-set to invest in the back-end infrastructure, to invest heavily in R&D and to compete with a 'nimble' product development strategy. "Our ambition is to be at least in the number two position (in terms of commercial marine electronics) by 2018," said Olsson.
The core tenants of the strategy includes highlighting that Navico as a whole is an adaptable and nimble company, courtesy of its recreational roots adept at identifying emerging technologies and delivering new product streams quickly and cost effectively given its volume and subsequent buying power. While new products targeting larger vessels is the core, the plan is to become a more relevant supplier that transcends simply selling a product, rather evolving to a whole systems package supplier including digital services.
ECDIS: A Strong Core
Delivering advanced ECDIS is central to the Navico commercial maritime strategy, and at its core is ECDIS, specifically the Simrad E5024 ECDIS system which was launched a year ago and the Simrad MARIS ECDIS9000, which was recently upgraded. The Simrad E5024 ECDIS is an IMO compliant ECDIS, a modular system offering that is designed to be intuitive and easy-to-use, with simple installation in either single, dual, or triple ECDIS configurations. Designed for NAVTOR ENCs including UKHO (for AVCS), Primar, IC-ENC, and NOAA, additional benefits of the E5024 include its compatibility with Radar, AIS & ARPA overlay (Simrad Argus Radar). The E5024 ECDIS system also includes support for an optional secondary display station, delivering complete control of Ethernet-connected Simrad performance modules including radar, conventional echosounders, ForwardScan sonar, and Structure Scan Imaging.
The Simrad MARIS ECDIS900 was upgraded to a new high-performance hardware platform with updated software. This system offers a feature rich solution that includes universal Radar overlay, multiple layers display, additional route planning functions, precise navigation tools and multiples add-on functions. The system has its own integrated chart management solution which includes PAYS and is distributed and managed via email or Internet, through MBA (MARIS Bridge Assistant) for ship chart management, and MCP, Maris Customer Portal, for ship and fleet monitoring.
Halo Radar
The Simrad Halo Radar is a pinnacle achievement for its maker, touted as revolutionary and endorsed with several international awards. The Simrad HALO Pulse Compression Radar is touted as the world's first high-performance recreational solid-state, open-array radar system with pulse compression technology. The HALO Radar combines the advantages of Broadband Radar and traditional pulse radar systems – providing navigational visibility and awareness as close as 20 ft. (6 m) within the pulse radar's short-range "blind spot," where once only Broadband Radar could operate – all while offering exceptional long-range performance up to 72 nautical miles.
With Beam Sharpening for enhanced target separation control, HALO Radar provides top target resolution. Using its Dual Range mode, HALO can also function as two radars in one with no signal loss, monitoring two distance ranges simultaneously with independent display controls. Designed to be simple to use custom Harbor, Offshore, Weather and Bird (to help locate feeding game fish) modes, tune HALO Radar's advanced signal processing to ensure targets are seen vividly, even in the toughest environments. Dual Range mode also allows dual MARPA target tracking where up to 20 targets are displayed, indicating the closest point of approach and time to closest point of approach.
HALO's solid-state technology is designed to produce a crystal-clear, accurate radar image instantly from standby or in 16 to 25 seconds from power-up. HALO Radar is safe to use and already meets upcoming low emission standards and with its low power consumption, support for 12/24-volt systems and availability in 3-, 4- and 6-ft. open arrays.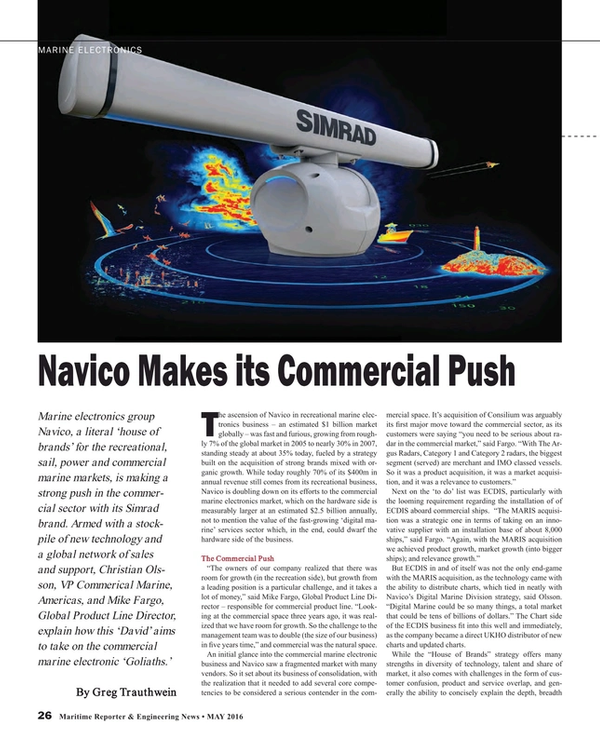 Read Navico Makes its Commercial Push in Pdf, Flash or Html5 edition of May 2016 Maritime Reporter
Other stories from May 2016 issue
Content