Astican & Astander Continue to Invest
Maritime Reporter & Engineering News
Astican & Astander: pair of privately owned Spanish yards continue to invest in facilities and equipment
Astander and Astican are the two busiest privately owned shipyards in Spain carrying out heavy repairs and special conversion projects with a boutique style attitude towards customers. As part of Lavinia Group, which runs a fleet of more than 70 vessels, the shipyard understand the owner´s needs.
Astander, in the port of Santander, has more than 140 years' presence in the international market and has continually modernized and updatd its facilities.
The latest investment program at Astander includes civil construction works to widen the largest dry dock at the yard in order to dry dock panamax vessels, widening as well the target market of the yard. However, this will not be complete until the middle of 2017, as the yard balances a busy workload.
There have been many recent significant projects completed at Astander, according to Germán C. Suárez, CEO Astander & Astican Shipyards, including:
•
French Passenger/RoRo ferries were serviced during 2015 and 2016, with the main scope of working being the installation of scrubbers to reduce SOx emissions to European standards. In total it was five projects on five different vessels and included two different scrubber types, a project which involved complex engineering tailor-made for each vessel to make everything fit in the tight available spaces. Pipes had to be rerouted and additional pipe lines layed, as well as the creation of new pump rooms, installing the scrubbers (up to seven in each of the first three vessels), structural modifications, new insulation, new electrical and control systems and new funnel casings.
Together with the scrubber's fitting, extensive maintenance jobs were carried out simultaneously, including accommodation upgrades, overhauling of all main and auxiliary engines and other 'usual' work.
•
Another 'special' project for this current year was the renewal of one propulsion electric motor and two economizers on a 36,876 dwt chemical tanker. The solution minimized the completion time and reduced significantly the idle time of the vessel compared with other shipyards.
The Astican Shipyard in Las Palmas carries out the most specialized and specific repairs projects in West Africa thanks to our the company's high end project management in-house, which allow it to manage a team more than 1,000 skilled workers. To increase the services at its Canary Islands location, it invested efforts in Las Palmas in an additional deep water repair berth (21m draft) including logistics and technical services assistance building in a new exclusively leased land extension accounting for 10,000 sq. m. Moreover, it also has a 6,000 sq. m. Free Trade Zone land extension for assistance in terms of logistics and customs arrangements to key OEMs for ship owners. The company has in Port of Las Palmas more than 180,000 sq. m. of shipyard facilities besides a joint office with Rolls Royce Marine in Port of Tenerife, which is already opened. Dredgers, tankers, supply ships, ferries, cruises, fishing vessels, LNG, rigs or cable layers are part of our portfolio of vessels that the yard typically assist from ship owners, The yard combines excellent location; well-equipped facilities and an exceptional lifting platform dry-docking system; as well as more than 900 linear meters of deep water repair berth.
Astican is not just a steel, blasting and painting yard, but a yard capable and used to handling the most complex and challenging projects. Prime examples of these include several heavy offshore projects carried out in recent years, as well as ship owners looking to improve environment protective measures on their ships. It recently finished a project covering manufacturing and installations of a spill recovery system equipment on a tanker which consisted of two new cranes, a complete hydraulic system including an electric power pack, FO heating system renewal and HFO recovery equipment: two boom reels, a skimmer, two barriers, a dispersant tank and two dispersant arms with sprinklers and pumps on a Spanish owner´s ship.
Last (but certainly not least), the passenger and cruise vessels market remains top priority to Astander and Astican, as it has a list of repeat customers. This year, companies like Cruise Management International, Silversea Cruises, Fred Olsen Express, Naviera Armas or Britanny Ferries have brought part of their fleet in for service.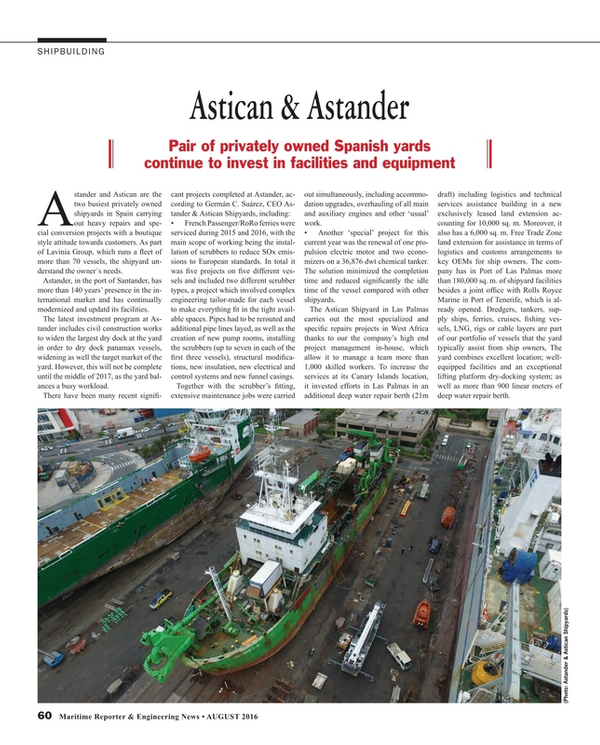 Read Astican & Astander Continue to Invest in Pdf, Flash or Html5 edition of August 2016 Maritime Reporter
Other stories from August 2016 issue
Content