Five Minutes with Paul Switzer
Maritime Reporter & Engineering News
Five minutes with Paul Switzer - Manager, Shipbuilding & Offshore, Viega
For readers not familiar with Viega, please give a 'birds eye' view, putting the company in perspective in terms of the products and services you provide, global reach, etc.
The Viega Group, with a tradition of innovation for more than 115 years, has more than 4,000 employees worldwide and is a leading manufacturers of pipe fitting installation technology for shipbuilding, industrial, commercial and residential projects. In the U.S., Viega LLC employs nearly 500 people and offers more than 3,000 products. These include Viega ProPress for copper and stainless, Viega MegaPress for black iron pipe and Viega PEX Press systems in Zero Lead bronze and high-performance polymer.
In a world where many may consider pipes and fittings 'standard' fare, please discuss points of differentiation in the Viega process.
There is nothing "standard" about Viega. Press technology is an alternative method to installing piping instead of traditional methods like welding or threading. Viega offers a quick, reliable and safe way to install piping, while allowing the completion of complex projects within strict deadlines and budgets. Installers are mobile, which allows them to easily install fittings using a battery tool and move from deck-to-deck without bulky equipment. When considering the Viega advantage, press technology is only part of the picture. We maintain five strategically located manufacturing and distribution centers across the U.S., which means we deliver faster than our competition. We also offer industry-focused training opportunities onsite and at our educational facilities in Nashua and Denver. With the most innovative tooling and the most comprehensive line of fittings and materials, Viega is a good match for shipbuilding, from new construction to repairs.
Please put in perspective the different markets you serve. Specifically, our readership is most interested in maritime and offshore oil and gas; what percent of your annual sales is to these markets?
Military, commercial, oil and gas offshore, cruise and mega yacht are the key marine markets for Viega. Because we are diverse and don't rely on one market segment, we have a semi-balanced sales ratio between markets. Military represents 30 percent of our sales, with commercial a close second with 23 percent, O&G offshore at 20 percent, 17 percent for cruise (repair only) and mega yacht new construction and repair at roughly 10 percent. We predict a change in these percentages in relation to our plans to introduce new systems into the maritime market through 2020.
Maritime and offshore markets are obviously cyclical; what is your company's philosophy to successfully navigate various and unpredictable peaks and troughs?
Our philosophy is simple: you can do more with less. Press technology helps complete projects with less time, budget and manpower. This is ever-important in a maritime market searching for the best practices in today's environment. We are continually evolving our press solutions, which offer new systems and products to our customers. This offers a unique opportunity to always be an educator and innovator and experience growth even in downturns in the maritime market. Currently we are adding talented individuals to our technical marine team. We also are fortunate to be the leader in the industrial, commercial and plumbing markets where the same products are integrated into new construction projects and MRO solutions.
Please discuss a recent case where Viega products have been used.
It is unfortunate and unsafe when a ship finds problems with the fire main. In one case we were asked to assist a large customer with a series of ships that were built with welded stainless pipe and fittings in the fire main. After three years in service the pipes were failing, and they needed to find a solution to repair them. Viega proposed changing the material to copper nickel (CUNI) and pressing in our SeaPress system as a permanent solution. After some consideration they agreed to try our idea. We planned to remove and replace a 160-ft. section of the fire main and all the branches and drops that started on the stern and ran into the house and through each stateroom to a flange. The existing system was drained, cut apart and removed. At this point, the chief engineer got nervous because the ship had to be back in service in two weeks. Seeing all this pipe and fittings gutted from the ship made him a bit uneasy that they would be stuck when it was time to sail. The new CUNI pipe and SeaPress fittings were fitted into place where the existing lines had been. We were even able to reuse the hangers and run through existing penetrations. Some areas were located in very tight areas, so the pipes had to be cut and placed above the ceiling in sections sometimes as small as three feet long. Viega manufactures all types of fittings to accommodate challenging installations. Where the pipes had to be cut into small pieces, the installer used repair couplings that slid down the pipe and back to easily fit the pieces together. After the fire main was replaced and fitted properly, the installer went back and pressed the SeaPress connections with a battery tool. During this time he was able to work in tight areas and not disturb cables, insulation and finished areas. After two days of removing and replacing, the system was ready for hydro test. The SeaPress system passed hydro on the first attempt. In conclusion, we had a very happy contractor and crew.
That's a good one for when a ship is at dock. Are there applications for your solutions in an emergency at sea?
Emergency piping repairs are never easy to prepare for or complete while the ship is underway. A military support ship was underway during the Iraq war when they had a two-inch cooling pipe burst. The crew had been trained in Guam by Viega on how to install Viega fittings and responded with urgency. They were able to repair the pipe without the need to "go dark." They built a SeaPress spool with a valve. They installed half of the spool by bolting on a flange and then incorporating a shut off the valve to isolate the leak. The next step was to install the remaining spool piece and press into place. When you get an email from a military ship that says "Thank you, SeaPress was a lifesaver," there is nothing more satisfying than to have helped them out of a critical situation.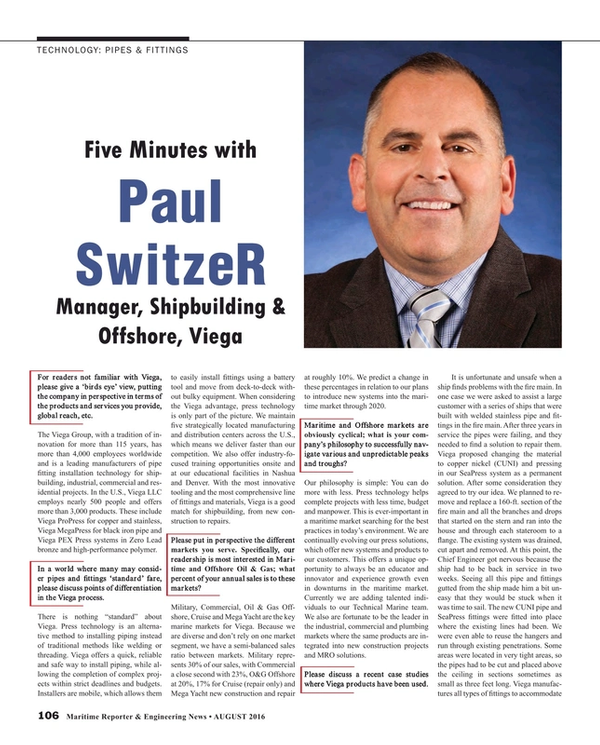 Read Five Minutes with Paul Switzer in Pdf, Flash or Html5 edition of August 2016 Maritime Reporter
Other stories from August 2016 issue
Content