The Economics of Ship Breaking & Scrapping
By Andreas Bargfried
Sometimes being an industry supplier offers interesting insights – your business is touched by the ups and downs of the charter market, but you are never so involved in it that you lose sight of the big picture. Some of our clients have been hit hard by the market's general downturn; one client I visited last month began 2008 with 41 maritime software licenses for their vessels – just seven remain today.
"We just sold another ship yesterday," he said, and then after a pause: "Please spare me the update costs for this one, it won't receive any." Of course, I nodded. It might be unpleasant to see another piece of your development finance blow off, but it might be even more unpleasant to see your ship management company being dismantled piece by piece. "So what will they do with the vessel?" I asked, he shrugged and said: "I would put my two cents on a beaching."
Beaching is an ugly word in the maritime industry. As we know, it holds the silent threat of working men's death and environmental pollution. Greenpeace will chase you and widows will curse you, but what choice did he have? After all, the countries involved could simply forbid the practice or release new regulations. Well, they could - but they won't, and here is why:
The Economy of the Ship Breaking and Recycling Industry (SBRI)
What started in 1965 with the stranded vessel M D Alpine in Chittagong became the most important part of Bangladesh's national steel production, satisfying up to 35% of the current demand of five million tons (2015). The scrap metal industry feeds over 350 steel re-rolling mills and 22,000 workers in approximately 40 yards – dragging with it a long tail of 200,000 indirectly employed workers (e.g. supply chain and downstream market). If extended families are taken into account, the numbers double.
The picture in India and Pakistan is very similar. India hosts the world biggest beaching facility in Alang, accommodating 66,000 yard workers.
These statistics support the fact that this industry involves thousands of companies and influences the shape of the local area, government and society for a considerable distance inland. The SBRI plays a vital role in the national budget and development plans of Bangladesh. For example, 40% of the national steel demand is driven by public construction projects and so 35% of steel demand is covered by recycled re-rollable scrap and melting scrap, which is used especially in construction.
The operators involved (e.g. steel mills, suppliers and local authorities) resist changes that could endanger their business; environmental protection laws and wage rises are major threats. This is the main reason why neither India nor Pakistan nor Bangladesh would ratify the "Hong Kong International Convention for the Safe and Environmentally Sound Recycling of Ships" of 2009 – a currently inactive IMO attempt to regulate ship breaking.
History shows that it is a volatile business, taking place only in Europe and the USA up to the end of the second world war. Due to rising demands for steel in Asia and the availability of a cheap workforce the industry began to relocate there. By 1977 more than 50% of all recycled ships had been beached in Taiwan (3,391 vessels). A decade later in 1990 it was only two ships!
How much do they make?
The yards have a good standing in Bangladesh. In mid 2009 Maria Sarraf's team estimated in their report "Ship Breaking and Recycling Industry in Bangladesh and Pakistan" (Report No 58275-SAS) that the average profit from a Panamax oil tanker with 80,000 DWT is approx. $920,000. (See Chart 1)
The vessel is often bought via middle men who establish contact between the international owner and a local yard. Such agents are usually brokers based in London, Hamburg, Dubai or Singapore specializing in buying scrap ships from shipping companies in order to resell them. They also might change to a favorable flag and/or class.
The yard will receive a loan from a local bank with the obligation to pay it back within six months – the time required in order for the vessel to be stripped. Owners should be aware that the price might be re-negotiated when the vessel arrives at Chittagong if scrap prices have decreased.
Multiple administrative processes are set in motion as soon as the ship arrives in the international waters off Chittagong. The industry is supervised by the Ministry of Port and Shipping and the Ministry of Industry, whereas the Explosive Department is responsible for checking the vessel and declaring it gas-free (merely nominal). Import tax must be paid and valuable items such as the radar system will be distributed to the navy. Further checks and certificates must be effected before the Chittagong Port Authority allows beaching.
The beached vessels are then handled by yard workers. The yards attract mainly people from poor districts – in Chittagong 95% are migrant laborers. Of course, they enroll because it is their only option if they want to feed their families; the daily wage is approximately $3 - $7 with a working time of eight hours per day and an expected extra four paid hours. In comparison, a rickshaw puller would have to work more than a week to earn this, but he does not risk his life doing it.
Hidden Costs
However, the almost one million dollar profit per beached ship comes at a high price. Bangladesh and other beaching facilities in Asia have been polluted for decades with hazardous chemicals. PCB, asbestos, TBT and lube oils are often just dumped inland, burned during the recycling process or sold to local markets, they also contaminate the yards themselves. This might raise concern soon to a number of countries due to rising sea levels.
The sea level at Chittagong beach might not rise more than 0.4 meters in the future, but it would still influence high tides which regularly surge 3 to 10 meters above sea level and would cause an additional 11,000 to 25,000 sq. m. of polluted sand to be washed into the ocean. Mrs. Sarraf suggests in her study that this could submerge up to 12,000 kg of lead, 60 kg of cadmium, 6,000 kg of chromium and 7 kg of mercury at Chittagong beach alone. Effects on the health of local residents and workers can be observed easily. Rising cancer rates and intoxications from chemicals like lead and asbestos, and injured workers (88% of all workers) are a big social problem. Furthermore, Greenpeace claims in its report "End of Life Ships" that between 60 and 100 people per year die at Chittagong, based on local media news.
Improvements
Although the business has existed for 50 years in Bangladesh, improvements have only recently been made. Public awareness raised by investigative reports such as "Working Man's Death" by Michael Glawogger has ramped up international pressure. This might be part of the reason for the improvements, which include more workers wearing protective equipment like welding goggles and gloves, enhanced worker training and more local authorities fighting for better working conditions and healthcare.
In Alang, India the first workers union has been formed, stepping in when compensation for widows or injured workers is not paid. Despite this, little has been achieved. It is possible to do a lot for the local yard workers, residents and the supply chain. Receiving a couple of hundred thousand dollars in tax and duties per ship, Bangladesh's authorities have the means to improve yard supervision and streets, or to invest in waste recycling. All the reports cited in this article make numerous suggestions about what could be done – ranging from MARPOL reception facilities for operational waste (e.g. paint) to road maps for improving local conditions.
Necessary measures to achieve HKC compliance in Bangladesh:, Maria Sarraf, 2008 (See Chart 2)
If the assumptions of Mrs. Sarraf are correct, Bangladesh earns at least $24 million annually from tax and duties related to ship scrapping. Hence a long-time investment of $53 million over 10 years seems feasible as it will avoid high costs in the future. Additionally, even small steps like avoiding the manual handling of asbestos without protective gear can bring great improvements.
However, the sad truth is that nothing is likely to happen – and for the usual reasons: the problems are remote, and who cares about the poor, when so many people are making a profit?
The Author
Andreas Bargfried is CEO and Founder of the maritime IT company CODie software products e.K., a Germany based producer of fleet and crew management systems. www.codie.com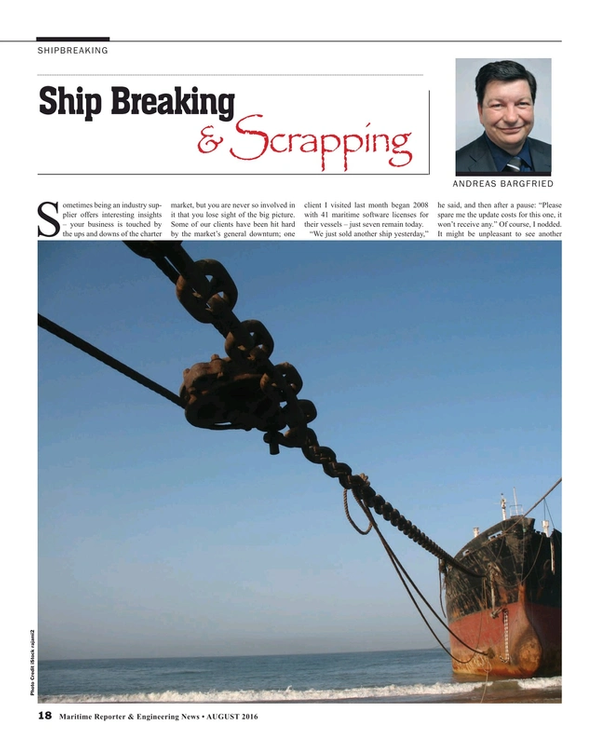 Read The Economics of Ship Breaking & Scrapping in Pdf, Flash or Html5 edition of August 2016 Maritime Reporter
Other stories from August 2016 issue
Content