Arpoador Shipyard and Pre-salt FSVs
By Claudio Paschoa
Logistics hubs and Fast Supply Vessels will be key assets in the complex offshore transport solution Petrobras has devised for moving workers and goods, to and from Brazil's remote pre-salt plays. Here is a look at a modern local shipyards building the heavy-duty aluminum vessels, with overall lengths ranging from over 30 meters to around 50 meters. Claudio Paschoa, Maritime Reporter's correspondent in Brazil spoke to Flavio Santarelli, Arpoador Shipyard's Director of Operations.
Pre-salt Logistics Hubs
The logistics involved in transporting supplies and people to the production FPSOs located as far as 300km offshore has been daunting. Offshore logistics hubs, to be located about midway to the pre-salt plays will be used to land helicopters flying from shore, bringing oil workers, which will then be transferred to FSVs for the remainder of the journey. Bulk supplies and equipment will be brought from ports using transport ships and also transferred to the same FSVs that transport the workers.
Petrobras has been using large long-range helicopters for a few years, these can fly between 18 and 22 passengers direct to the current drill ships and FPSOs already operating further offshore at pre-salt plays and some will continue to fly from the hubs and even from land to the FPSOs. However, with the large workforce to be transferred offshore when increased production commences at plays such as Lula, Libra, Sépia and others, solely using helicopter transport would become too expensive and even dangerous. FSVs have become a critical factor in guaranteeing that there is no transportation bottleneck at the pre-salt plays, which could ultimately affect production.
Arpoador Shipyard's Pre-salt FSVs
The Brazilian OSV market continues to struggle to rebound from the effects of Petrobras' crisis, with a considerable number of vessels off-contract and many being sent to other countries. There are few prospect of newbuild orders from the national operator in the near future, one of the few shipbuilding sectors that still has firm orders is OSV shipbuilding, mainly related to small shipyards building modern FSVs pegged to deliver crews and supplies to remote pre-salt plays.
Arpoador Shipyard, also known as Arpoador Engenharia, located in the city of Guarujá, on the coast of the state of São Paulo, can be considered a small to mid-size yard, with a total area of 75,000 sq. m.
"Arpoador shipyard has been in operation since 2006, our first headquarters was in Angra dos Reis, Rio de Janeiro where we produced our first boats in fiberglass. In 2009 we moved to our present site in Guaruja, where we started to produce and specialize in building aluminum boats," said Flavio Santarelli, Partner and Managing Director of Arpoador shipyard, who oversees daily yard operations.
"The yard has a large 75,000 sq. m. area, where only 10,000 sq. m. are currently in use, allowing us to expand when needed. With two 1,100 sq. m. warehouses, each equipped with a 10 ton traveling crane, along with an 80 meter long finishing quay with a draft of 4 meters, a 16 meter wide ramp and a 500 ton crane." Flavio explained that working to Petrobras' ship specifications had a major effect on its production line. "Working to Petrobras specifications affects us completely, since we produce exclusively for our customer, we always try to meet with the best quality all specifications. We always use the best materials on the market and have stringent quality controls. Our works are constantly supervised inspectors from Petrobras and funding organizations. The shipyard meets all safety standards required by Petrobras."
The shipyard's activities increased significantly after it was awarded a series of contracts to build three different FSV models to Petrobras' specifications. "Since the beginning of activities in Guaruja, we have already delivered nine boats; four P2 type, three P3 type and two of UT4000 type. Currently we are producing two DSVs, in this case, shallow water dive supply vessels (SDSV), which are pioneers boats in the Brazilian offshore market for shallow diving support and equipped with DP-2 system. We have a production capacity to build six boats simultaneously (Up to 50 x 10 m)," said Flavio. All the vessels were originally designed by Incat Crowther. "Our design projects are acquired from an American company, we bought the basic design and did all the detailing, electric and hydraulic projects with our team of engineers."
The P2 vessels have an overall length of 36 meters and a 7.5 meter beam, with a cruising speed of 17 knots and maximum speed of 25 knots. It can transport up to 50 tons of general cargo and carry up to 60 passengers, being equipped with three Doen DJ290 waterjets and three Caterpillar C32 engines, with a total output of 4,350 bhp.
The P3 vessels have an overall length of 45.4 meters and a 8.25 meter beam, with a cruising speed of 24 knots and a maximum speed of 32 knots. It can transport up to 150 tons of general cargo and carry up to 60 passengers, being equipped with four Caterpillar C32 engines, with a total output of 5,800 bhp.
The UT4000 has an overall length of 48 meters and a 9.5 meter beam, with a cruising speed of 21 knots. It can transport up to 250 tons of general cargo and carry up to 60 passengers, being equipped with four Cummins QSK 50 engines, with a total output of 7,200 bhp and two Rodriquez 150kw tunnel bow thrusters. "The main feature of these boats is speed. Currently our boats are the fastest of the Petrobras fleet and already won the title of fastest FSVs in Latin America," said Flavio.
The latest vessel built at Arpoador was a DP2 DSV (SDSV), with 43 meter overall length, for local dive operator Oceanica Offshore, and will be used for Petrobras dive support operations in Brazil. A sister ship is also being built at the yard. The innovative design was developed to meet RINA class requirements for special service, diving, and dynamic positioning.
"The large aft main deck will house the hyperbaric chamber, dive bell crane, a portside deck crane, and also a dedicated ROV crane, which will operate a 2,000 meter work-class ROV and a 300 meter observation-class ROV. The propulsion system is composed of four Cummins QSK-19 main engines, each producing 492kW, which will power the vessel's four Hamilton HM-521 jets. The water-jet propulsion has been specifically chosen with diver safety in mind," said Flavio.
Electrical power will be provided by three Cummins QSM 11,300 ekW gensets plus one Cummins 6BT5.9, 92ekW emergency genset. Two Rodriquez 150kw tunnel thrusters provide maneuvering and station keeping power. The vessels will have a cruising speed of 12.5 knots and have berths for 37 technicians in 13 cabins, including divers, operators and crew. It operates a Konsberg DP2 aided by Sonardyne's Hipap acoustic system. The vessel was classed by RINA as Special Service, Dynapos AM/AT R, Divingsupport, AUT-CCS, Unrestricted. All vessels being built at Arpoador Shipyard will be working for Petrobras, but have been ordered by three independent shipowners, two of which are Brazil Supply and Oceanica Offshore, who actually won the Petrobras tenders and awarded the actual building contracts to Arpoador.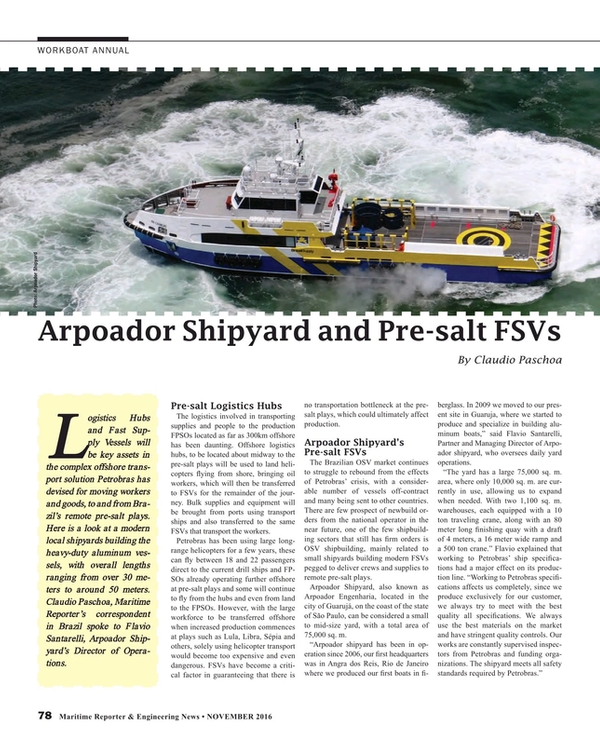 Read Arpoador Shipyard and Pre-salt FSVs in Pdf, Flash or Html5 edition of November 2016 Maritime Reporter
Other stories from November 2016 issue
Content