Fuel Talk: Greener Ships 'Abandoned'
By William Stoichevski
In the immortal words of one Kermit the Frog, "it's not easy being green." Nor inexpensive. Offshore ship owners managing the demand "fallout" of the past year and navigating myriad environmental strictures say their leap of faith toward greener fuels has taken its toll. The idealism of a decade ago has eroded, they say, in the face of lost offshore business, especially long-term contracts. Oil company clients that once insisted on high-spec, "green" vessels haven't renewed contracts for those ships. Still, ship owners love the new green tech for those fuels, even if the fuels themselves offer limited range.
For all the financial strains of recent months, offshore ship owners gathered for "hard talk" in a hotel meeting room say they're impressed with the performance of new tech they've taken on to conserve fuel and emit less: hydrogen fuel cells, batteries and liquefied natural gas (LNG). Ship conversions for these energy sources, especially LNG, have done "nothing" to ease the task of cutting costs heaped on them by their oil company clients, especially national champion Statoil.
Behind closed doors, senior representatives from Island Offshore, Remoy Shipping and Bourbon Offshore Norway gave voice to their frustration amid mounting costs. Asked if LNG has offered any help in any way during the current demand drought, the answer was a blunt "No. No." Three ship managers nodded in agreeance: "It's a bloody disaster," says Island managing director, Haavard Ulstein, his peers nodding in agreement. "The amount of environmental effect these (LNG) vessels offer and also the amount of pluses saved by the clients and that converted into day rates for the owners is a disaster, and personally I have asked (Rolls-Royce business) Bergen Engines (AS) for technical proposals to convert those LNG engines into diesel. LNG is a big, big … a huge disappointment," Ulstein adds.
The arguments for LNG as a ship fuel — less sulfur particulate, 15 to 20 percent les CO2, 90 percent less NOx — pale when you're forced to sell, say, a modern $12 million platform supply vessel for $2.5 to keep your company afloat.
Gas Reckoning
Most of Norway's LNG-fueled fleet sails near-shore, and offshore ship owners operate anywhere from one to two of these types, in the case of Bourbon, Remoy and Island, to half the PSV fleet in the case of gas and hydrogen pioneer, Eidesvik Offshore. About three dozen Norwegian-owned vessels are LNG-only, duel diesel-LNG or LNG-hydrogen. Another 40 or so are on order, as per numbers from The Norwegian Shipping Association.
Until now, it has been argued that the biggest deterrent to investments in LNG engines has been the shortage of harbors, tankers and barges offering LNG bunker and too little diversity among LNG bunker shuttles for remote operations. The ship owners' withering critique, however, suggests the lack of interest from clients who demanded the green specs; the technology's expense in tough times and unstable pricing for LNG are causing the most grief.
"The problem is that they cost a lot of money to build in the first place. Certainly, we have received a refund from the (national NOx fund), but it doesn't make up for the big change. These vessels are still very expensive vessels and we do not get any premium for chartering them. That is the big issue. We have two LNG vessels, and the next vessel that will go into lay up in our fleet will be an LNG vessel," Ulstein asserts.
Client LNG
His frustration is echoed by Karsten Sævik, CEO of Remoy Shipping: "We have one such vessel, and she's still on contract with Statoil. From a technical point of view she's working just perfectly with duel fuel engines. You can convert and burn whatever. What happens when she's finished her three-year contract we're quite excited to see," he says, subduing his sarcasm. "Will we have a need from the client to have her continue sailing? No, there's no premium for this installation (of an LNG-capable engine)."
Ulstein also seems to suggest that a vital potential income stream for some of his offshore vessels, well-stimulation or STIM, is negated because he can't convert his LNG vessels for the work, apparently due to the space requirements of LNG plant. STIM and other well operations in remote areas — potentially future lifeblood for high-spec fleets — might also be cut prohibitively short due to the lack of oceangoing LNG-bunker supply ships, generally only available in IMO-recognized Emissions Control Areas (ECA).
The "H" in Hurrah
It isn't just LNG-fueled vessel owners feeling the pinch. The world's first LNG-hydrogen hybrid, the PSV Viking Lady, will be out of work by the end of 2016, 10 years after her charterer trumpeted her hire. The ship's hydrogen fuel cells produce electricity by consuming the hydrogen in LNG, allowing a hybrid to use about half as much LNG fuel while offshore. The Viking Lady's owner, Eidesvik Offshore, has had its revenues halved and is looking at a 25 million kroner loss a year after a 145-million-kroner Q2 profit in 2015. Eidesvik, with more LNG vessels in her fleet that the others, has three of five in its LNG-fired fleet needing work in 2017.
One of Eidesvik's vessels is an LNG-battery hybrid and part of a burgeoning battery-hybridization wave in Norway and Europe, as suppliers begin offering ship owners an energy-conversion package (or "patch") to gain some of the benefits of energy storage. Yet, the effects of battery power in hard times isn't being felt yet: "The interest in batteries is primarily good for the oil company to save fuel costs," says Saevik. "For us it's just an extra installation, an extra investment. The only advantage (would be) to have a long contract (with a battery conversion written in)," he says.
Long-term contracts, as with Eidesvik's LNG-hydrogen hybrids, had previously helped justify the ship owners' adoption of climate tech. They and their charterers had answered calls to curb global warming, something many have their doubts about. In the past, financial help has also come from Norway's innovative NOx fund; Oslo's arm's length national tech-incubator companies (of foreign talent in Norway), and a raft of research and special-project money aimed mostly at creating "a major contributor to Europe's emerging hydrogen industry as a supplier of both hydrogen and hydrogen technology".
LNG's lower carbon and higher hydrogen count makes it an ideal way to curb carbon and grow a new hydrogen industry. It's been less than ideal for ship owners in need of relief.
In an oft-quoted, 300-page Danish Maritime Authority LNG feasibility study from 2012 which was sponsored by the European Union, concerns were raised that methane emissions from LNG engines were still an issue. Methane has as much as 10-times the greenhouse gas effects as carbon-dioxide. Still, this engine problem has been solved, "in theory", according to authoritative shipping voices in Norway.
Battery Power
Ulstein says he's had a Rolls-Royce frequency converter and battery pack on at least one of his vessels for six months and has saved on fuel for the generator and propeller peak loads absorbed by the energy storage unit. With engines running "more balanced", it opens the way for installing a small electric power plant next to the frequency converters on each propeller and thruster.
"That would be for future vessels," he says. "They (the supplier) were looking at (newbuilds) from 2025 and onwards. Battery technology for the massive power demand that you have on a big offshore supply vessel (or a cargo ship) won't help you one bit, because it would only be for the DP vessels. That's where it could have an effect."
Anda
One local supplier, Anda (meaning "the duck", part of the MMC Technology Group) offers a battery hybridization "patch" for high-power, peak-shaving hydraulic crane operations and a ship's power system hybridization conversion to connect batteries to a ship's grid, whether AC or DC. All here agree, battery fuel savings are great, and so easy conversion is needed.
This type of hybridization is likely as much as these ship owners are likely to be willing to afford for the next year. They're weary of pricy conversions. They're also concerned about LNG bunker price stability and having to also watch oil and natural gas prices. This writer long ago wrote of LNG markets' increased regionalization. Ulstein sees "a lot of disinformation out there" on oil prices that affect demand for shipping and, potentially, the cost of LNG bunkering.
The authorities, meanwhile, are influenced by that EU-funded Danish study on LNG infrastructure projects in Northern Europe. A key tenant of the study is that LNG-filling station survival will depend on how local LNG bunker pricing becomes. "Many spot charters don't even cover crew costs," one ship owner complains, and they can't take those specialized vessels out of their European LNG-bunkering station comfort zones. In the great beyond, it's up to bunker-delivery ships, and they're still servicing the major shipping lanes.
Resistance
The IMO, the EU and national planners simply exacerbate the confusion for ship owners who have paid the expense of an LNG engine: "LNG can be replaced by bio-LNG or LBG (Liquefied Bio Gas) without any impact on maintenance. Diesel can be replaced by biodiesel, hydrotreated vegetable oil, pure plant oil or possibly pyrolysis liquid, but these fuels may require engine adaptations and increase maintenance," another part of those studies say.
In the Danish report, offshore owners "resistance" (actual word used) to LNG was measured in percentages — offshore and workboats, "5 percent"; yachts, "10 percent" — and blamed on "uncertain fuel availability"; infrastructure for bunkering and the cost of new technology. They might have added "income uncertainty" and "returns on investment".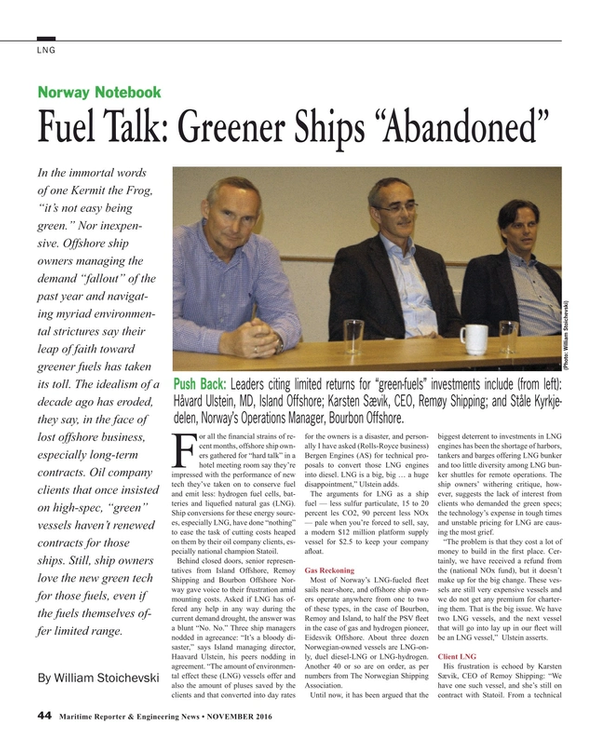 Read Fuel Talk: Greener Ships 'Abandoned' in Pdf, Flash or Html5 edition of November 2016 Maritime Reporter
Other stories from November 2016 issue
Content