Talking Dutch Designs with Damen's Peter Robert
Maritime Reporter & Engineering News
Despite the numerous challenges facing today's maritime sector, there are still opportunities to be found. After all, the world is constantly changing and it is those companies who are able to adapt and move with the markets that will experience long-term success. Damen Shipyards Group is an example of a company that does just that. Using examples from some of the newest maritime sectors, Damen's Head of Business Development & Market Intelligence Peter Robert talks about the importance of understanding, and reacting to, market developments.
A look at Damen's key figures – 32 shipbuilding and repair yards, employing 9,000 people worldwide – will show that this is primarily a shipbuilding group. A key aspect of the Dutch company's success is its focus on standardization, modular construction and keeping vessels in stock. "There are several important advantages of standardization," said Robert. "As well as guaranteeing short delivery times, we can provide our customers with proven and tested technologies. This reliable performance ultimately results in reduced total cost of ownership, and then potentially a high resale value." Whether you consider Damen's tugs, workboats, naval vessels, high speed craft, cargo vessels, dredgers, offshore support vessels, ferries, pontoons or super yachts, you find similar principles of standardization running through the whole portfolio. Damen is well known for providing 'the full package," said Robert. "We offer a broad range of services to complement our vessels. Maintenance, spare parts delivery, training and transfer of shipbuilding know-how, for instance."
In addition to new builds, the company also provides ship repair services. "There are 16 Damen Shiprepair & Conversion yards around the world with facilities for vessels up to 420 meters long." Handling 1,500 repair and maintenance jobs on a yearly basis, the experience that this part of the business has at its fingertips is considerable.
Finding Opportunities
Damen's scope of interest in the maritime market is broad – delivering some 180 vessels annually is no mean feat. Keeping a close eye on the changing dynamics of the entire sector is the company's business development team, headed by Robert. "The core essence of this department is to look into new markets; to which Damen can bring the same values and the same business model of series production and standardization," he said.
Illustrating just how 'future-thinking' Damen is are the examples of two up-and-coming maritime markets: aquaculture and decommissioning. "Aquaculture is a globally very interesting," he said. "Looking specifically at the salmon farming industry – and the issues they are facing with regard to disease – we are seeing operators moving their operations further and further offshore. This increases the parameters that a vessel has to address: "Think about offshore seakeeping, crane capacity and crew accommodation. Aquaculture is one of the sectors where our range of utility vessels can be mobilized."
The decommissioning market also holds great potential for the international maritime sector; the effects of which will be felt throughout the supply chain. With lifting capacities of up to 1,600 metric tons, Damen's recently introduced Decommissioning Series of vessels will specialize in three core areas of the oil and gas decommissioning sector: topside decommissioning and maintenance, offshore platform removal, and subsea cleaning and removal. The decom market is much more than heavy lift vessels though, said Robert: "There will be a need for accommodation vessels, pontoons and support vessels too."
Expedition Cruise
With the remit of looking into and developing vessels for new markets, the business development team at Damen has also been paying attention to the expedition cruise market. "This is fast-growing and very exciting market. Expedition cruise passengers will literally be able to sail anywhere on the planet – in full safety and comfort."
Damen is currently working on an expedition cruise vessel design with capacity for approximately 110 passengers. For this relatively young industry, there are several factors to consider when designing an expedition cruise vessel. Regulations concerning safety and environmental issues – wrapped up in the Polar Code – will play a major role in vessel design.
From a passenger's point of view, such a cruise will be all about the 'experience.' Guests will visit the most remote regions, including polar areas. To this end, Damen is drawing on the knowledge of an established name in the expedition cruise industry to develop the final vessel design. "We are working together with Expedition Voyage Consultants to develop this vessel. In view of their wealth of experience in organizing cruises to worldwide destinations, I think that we have the best people available giving their input into the design."
Modern Markets
Other maritime sectors also show potential for future growth. The offshore wind industry, for example, which is considerably more advanced in Europe than it is in North America. A notable fact for a shipbuilder is that the various phases of an offshore wind farm demand a variety of vessels. Damen has the bases covered: it has designed, and is currently building, a Service Operations Vessel (SOV) for dedicated O&M duties and its 26-meter Fast Crew Supplier (FCS) has virtually become the 'vessel of choice' for crew transfer operations.
Following a number of European and Middle Eastern sales, the FCS 2610, is also beginning to find its way in the oil and gas industry. "This development shows an interesting parallel: the oil and gas industry is looking closely at what offshore wind is doing. It is adapting their cost principles and using different tools, like vessels, to meet their goals. This is the reason why marine access is a strategic niche that Damen wants to develop."
Dedicated O&M Duties
When considering the potential of the North American offshore wind market, the SOV is perhaps one design that could be called a 'game changer'. Using walk-to-work access technology, the SOV is the first ship that is purpose-built for the transfer and accommodation of offshore personnel for the O&M phase of the offshore wind.
Rather than developing an existing design, Damen started from scratch, creating a vessel that meets the specific needs of the industry. The result? Seakeeping, fuel efficiency, comfortable accommodation and effective transfer of personnel – all of these elements have been designed to reach optimum levels. "This is much more than just a vessel – it is a total access and accommodation solution. This design has been tested to 'worst case scenario' conditions," said Robert while referring to the SOV's model testing results. These showed that the vessel exhibited minimal roll even when exposed to 8 foot waves approaching from the side.
"The design guarantees fast and safe access to turbines. In fact, we are able to provide 80% operability." Facilitating such high levels of productivity are a number of factors. The onboard work flow, for instance, has been designed for optimum efficiency; areas are divided into clean zones and dirty zones. Safety was also a crucial issue to address; resulting in a 'no steps, no stairs' design. The smooth flow of personnel to and from an offshore platform or turbine will be achieved by means of an Ampelmann motion compensated 'Walk-to-Work' gangway. In terms of comfort, vertical accelerations, sound and vibrations will all be reduced to a minimum, accomplished in part by the mid-ships location of the accommodation. "The most pertinent issue facing the offshore wind industry at the moment is the challenge to keep costs down. The Damen SOV will go a long way to helping the sector reach the goal of cost-effective operations."
Looking across the Atlantic and to a time when the North American offshore wind market gains momentum, Robert is looking forward to sharing Damen's experiences. "Indeed, this is going to be an interesting time. We do not have a yard in the U.S., therefore we will continue selling licenses to American yards. This has proved to be a successful business model for us in the past with tugs and patrol vessels. Our newly opened Houston office will be able to handle the offshore wind sector too."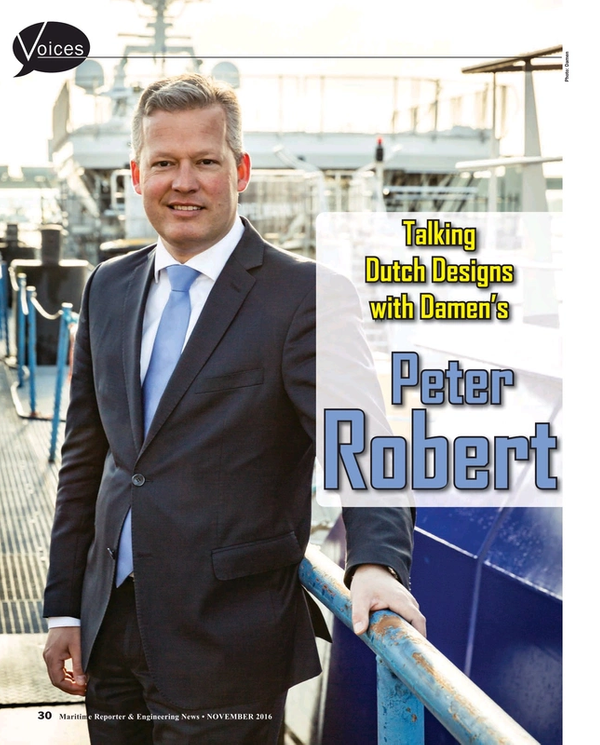 Read Talking Dutch Designs with Damen's Peter Robert in Pdf, Flash or Html5 edition of November 2016 Maritime Reporter
Other stories from November 2016 issue
Content