Interview: Morton S. Bouchard III Pulls No Punches
By Greg Trauthwein
Morton S. Bouchard III pulls no punches discussing the maritime business and the spate of over-regulation infecting U.S. industry.
Morton S. Bouchard III has served as President of Bouchard Transportation Co., Inc., the nation's largest independently-owned oceangoing petroleum barge company, since 1996 and CEO since 1999, the fourth generation of the Bouchard family to helm the company since its incorporation in 1918. The Bouchard name is iconic in North American maritime circles, and Mr. Bouchard was elected into the Maritime Hall of Fame in 2013, most recently last month he was honored in New York City at the Coast Guard Foundation 36th Annual Salute to the United States Coast Guard – The National Awards Dinner.
Please give an overview of your company.
Bouchard Transportation Co., Inc. is the nation's largest independently-owned oceangoing petroleum barge company. Our fleet consists of 26 barges and 25 tugs, with services operating throughout the United States, Canada, and the Caribbean. All barges are double-hulled, and all vessels include top-line equipment and fuel-efficient technologies that exceed industry standards. Bouchard's fleet is faster, larger and better equipped than ever before, and the recent investment made to expand in ATBs has increased fuel-efficiency, capacity and speed. The measures Bouchard has taken to construct vessels with state-of-the art equipment and fuel-efficient technologies not only exceeds industry standards, but acts as an efficient transporter for their customers, as well as a comfortable, reliable and safe fleet for their crew.
Your company is closing in on 100 years; has the business philosophy stayed the same?
Since Bouchard's incorporation in 1918, progressive thinking and a strong commitment to service and safety has fostered the company's continued growth and greater recognition. Expansion continues to be driven by our founding fathers and five generations of Bouchard's philosophy of investing profits in new, modern equipment to service customers in the most efficient and environmentally safe manner possible.
Today, Bouchard looks toward the future with further progress and adaptation in mind. However, three things will always remain constant: commitment to customers; safety; and a strong corporate identity founded on a rich heritage of barging experience and family pride.
Bouchard has a well recorded history investing in new boats and barges. Can you put in perspective for our readers your investment in new equipment over the last five years? What have been the driving factors in this development?
During the past five years, Bouchard has invested close to $300 million dollars into new equipment. This investment included two 260,000 bbl ATBS (M/V Kim M. Bouchard & B. No. 270 and M/V Donna J. Bouchard & B. No. 272), two 4,000 hp Intercon Tugs (M/V Morton S. Bouchard Jr. & M/V Frederick E. Bouchard), and the conversion of the B. No. 210 and B. No. 220 to Intercon.
We made the decision to make these investments well before the contracts were signed. The investment decision was based on how we felt we could improve and position our fleet to better serve our existing customers, as well as new customers.
In your career, can you point to the one technology that has helped to make your operations more safe and efficient?
The one technology that has benefitted not only our operations, but the entire industry and the environment is without a doubt, double hulls. I think back to when legislation was passed to mandate double hulls, and about their initial discussions and fear that they would be unsafe because vapors could accumulate between the hulls. Bouchard's fleet is 100 percent flat deck double hulls, no trunk tanks, which we do not believe meet the double hull requirements, but I will leave that up to the regulators.
How do you see your fleet and your company evolving over the next five years?
The investments we have made over the past five years have already paid off in marketing and advancing our fleet, and I see no reason for it to change. These advancements have increased fuel-efficiency, capacity and speed, and has expanded our ATB tug fleet to 20. With that said, we must remain efficient, safe and competitive.
In your position, what do you consider your number one challenge to operating an efficient, profitable fleet, and why?
The biggest challenge I find today is managing the new regulations, which seem to be endless, not only in our industry but in every industry. As a country, we need to take a step back and take a harder look at how over-regulating effects businesses and jobs. I support regulations that make us safer, but some of these regulations today are costly in a market that is weak, which is not a good formula. For example, we have been forced to make investments in new equipment on vessels, which for some; will be hard to keep up with. Bouchard will make these investments in a smart calculated manner; however, many smaller companies may have a difficult time.
New rules and regulation demand investment. What do you see on the horizon that you see as the most troublesome, from a financial standpoint, for your company or for the industry as a whole?
The clean water ballast system has been a disaster. Bouchard and others went out and built new equipment with clean water ballast systems installed that supposedly met the regulations, or we were told they would meet these regulations. However, after the investments were made we were then told that the system did not meet the regulations. This is just a disaster for companies like Bouchard who continuously make investments and advancements to meet regulations. However, I am told that the clean water ballast system manufacture is working hard to rectify the injustice, and I am confident that they will.
Looking in the timeframe of your career: How is running a fleet of workboats most the same, and most different?
Oh it has certainly changed, and it continues to change. The biggest change is in the equipment. Equipment today is bigger, faster and more complex which results in vessel employees requiring more training and education.
Morton S. Bouchard III Highlights
Promoted to President of Bouchard Transportation Co., Inc. at the age of 32
Following the passage of the Oil Pollution Act of 1990, he instituted the first double hull barge construction program in the United States.
The company started building flat deck double hull ocean going petroleum barges in 1992 and continues to do so today. This aggressive approach has resulted in Bouchard Transportation Co., Inc. owning and operating the largest flat deck double hull petroleum barge company in the U.S.
2016 marked the conclusion of Bouchard's most recent expansion program, which included the delivery of two 260,000 barrel ATBs, the M/V Kim M. Bouchard & B. No. 270, and the M/V Donna J. Bouchard & B. No. 272, as well as two 6,000 hp intercon tugs, the M/V Morton S. Bouchard Jr. & M/V Frederick E. Bouchard, which are pinned up to the B. No. 210 & B. No. 220, respectively.
The Bouchard Transportation Co., Inc. Tug & Barge Simulation Center – boasting the latest in Kongsberg Polaris Bridge simulation technology – opened its doors at SUNY Maritime College in October 2014.
In 2011 Mr. Bouchard established the Morton S. Bouchard Jr. Scholarship Program at SUNY Maritime in memory of his father.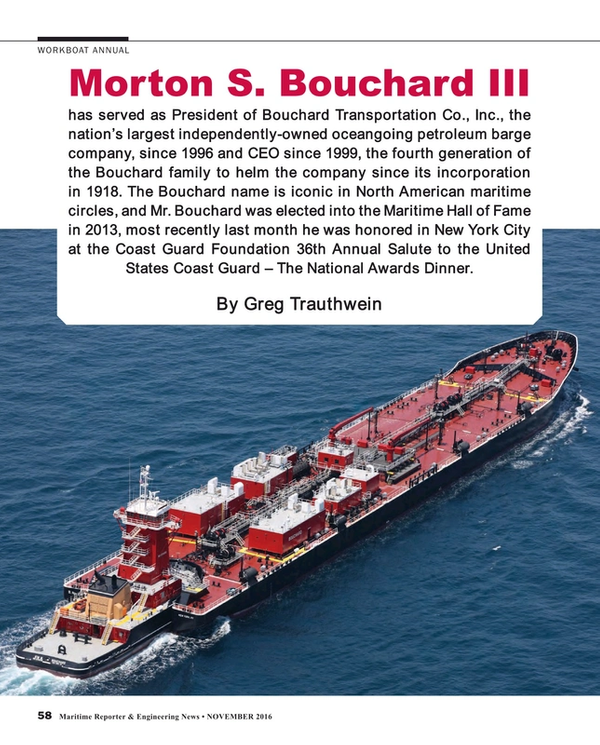 Read Interview: Morton S. Bouchard III Pulls No Punches in Pdf, Flash or Html5 edition of November 2016 Maritime Reporter
Other stories from November 2016 issue
Content